Winter is coming! And it really feels like it--at least in Seattle. The last few days have been cold, rainy, and stormy, with crazy winds that knocked our power out last night (so I wrote this post in the dark by candlelight--how's that for dedication?). With all the weather changes, maybe your summer bedding isn't keeping you warm enough. Or maybe you're just ready for a cozy change. I'm with you! As a matter of fact, we just gave our bedding a little update for winter...so I thought I'd share my tips for getting your bed winter-ready. Hint: It's all about the layers.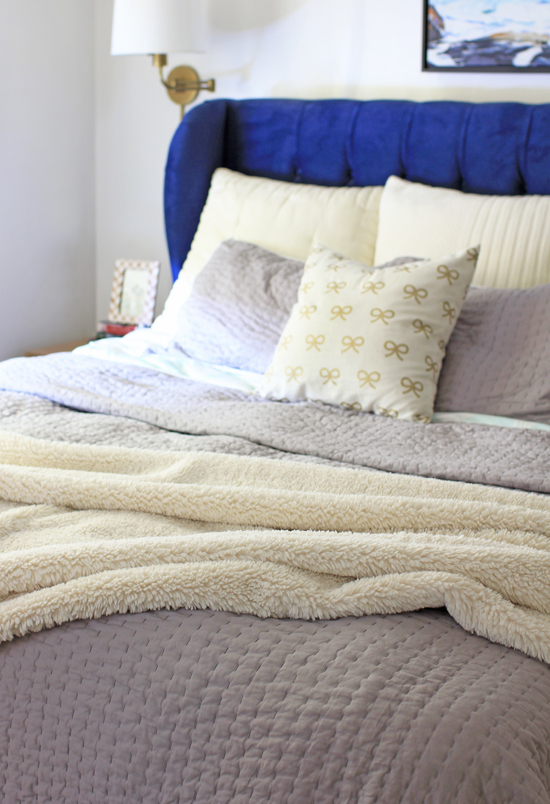 1. Start with luxurious sheets. A lot of people reach for flannel sheets when temperatures drop, but I don't like how they feel on my legs. If you're the same way, no worries--you can certainly keep the same sheets you use and love year-round. And if you've never had a set of sheets that you love, then I'd definitely recommend trying Crane & Canopy's. A good sheet set truly makes a difference in feeling comfortable and getting a good night's sleep!
2. Upgrade the quality of your comforter. You might be able to get away with a cheap, thin comforter in the summer, but during the winter you'll definitely be grateful for the warmth of a quality down comforter (or a good alternative, if you have allergies).
3. Layer on a cozy quilt. Wearing layers is the best way to stay warm in the winter, and it's the best way to dress your bed, too! Especially if you have two people who run at different temperatures, multiple layers are the key to keeping both of you comfortable. Quilts are my favorite layering piece because they're so soft and versatile--you can use them by themselves or on top of other bedding, across the whole bed or just the foot, etc. They're also perfect to provide for guests in case they get chilly at night and need that extra layer.
4. Add a blanket with some texture. A final layer to pull your whole look together is a nice, snuggly blanket. Sheepskin, faux fur, and chunky knits are all great options that add both warmth and style. They also visually give off those cozy cabin vibes that are perfect for winter!
5. Don't forget an accent pillow, for a finishing touch. If you're wondering how to take your bedding from meh to magazine-worthy, try adding some accent pillows in a contrasting color or a fun pattern. They won't necessarily add warmth, but they'll definitely make your bed look cuter.

All the products featured above are from Crane & Canopy, an SF-based online bedding brand that delivers luxury designer bedding at accessible prices. I love that they give a portion of all proceeds to their cause initiative, "A Safe Night's Sleep," which benefits women and children affected by domestic violence.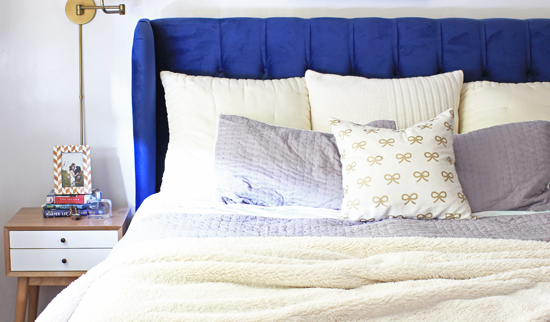 I got a new reversible pick-stich quilt from them, in light grey and blue. It feels both traditional and modern, and is a nice neutral layer that will work equally well for winter and summer. It's hand-quilted from 100% naturally breathable and premium cotton, woven in 300+ thread count. Needless to say, I love it!
Do you switch up your bedding for winter? If so, I'd love to hear your tips, too!
Thanks to Crane & Canopy for partnering with me on this post.