Summer is just zipping right along--I can hardly believe tomorrow is the 4th of July! This week is turning out great for me...we've been a bit slow at work, so not only did I have Monday off, but I also have half days today and Friday. And of course, I get tomorrow off too! It's almost like being on summer break (almost). And the weather here has been g-l-o-r-i-o-u-s! Sunny, cloudless skies and temperatures in the 80's. I've been loving wearing shorts and tank tops, making root beer floats, and going down to the beach almost every day. Summer in Seattle is a beautiful thing! These are some of my Instagrams from this past month. Here's to hoping July is just as nice (or better!)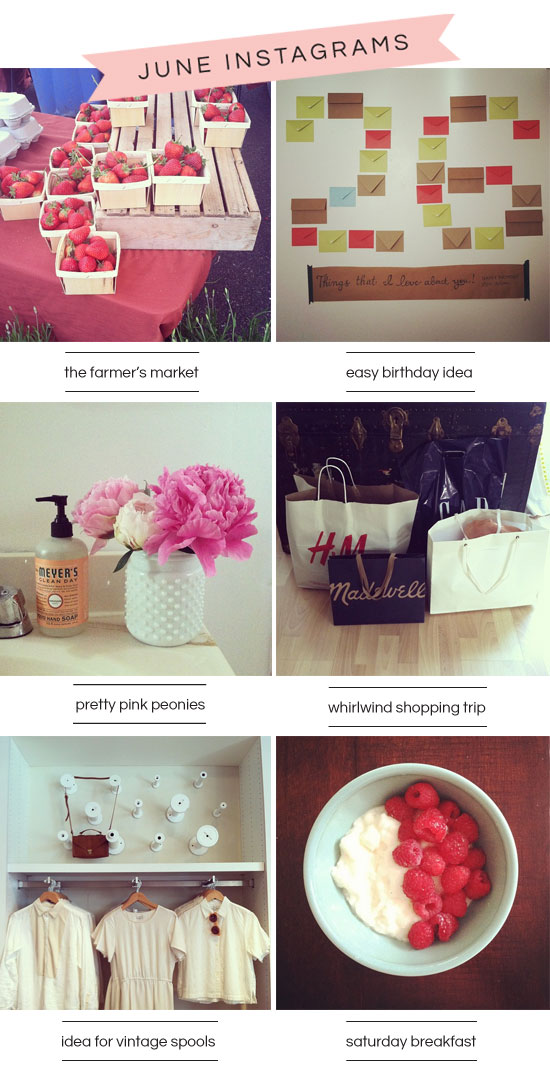 I loved the cute berry baskets at our local farmer's market / I made this birthday wall for Ben, with envelopes spelling out his new age (26). Each envelope had notes with things I love about him, interspersed with giftcards and notes telling him where to find gifts. I think this is a great idea that could also be used for kids...it adds a fun, surprise element / My favorite thing about June is probably all the peonies!!! I picked a bunch from Ben's parent's backyard and filled our house with them / Getting off work early last week meant I had a few hours to go shopping. With all the sales that were going on, I ended up getting a lot! / I thought this idea at Madewell was really cute. I have a vintage spool that I might turn into a hook for bags, jackets, scarves, etc. / Rice pudding & raspberries is a delicious breakfast combo. Try it!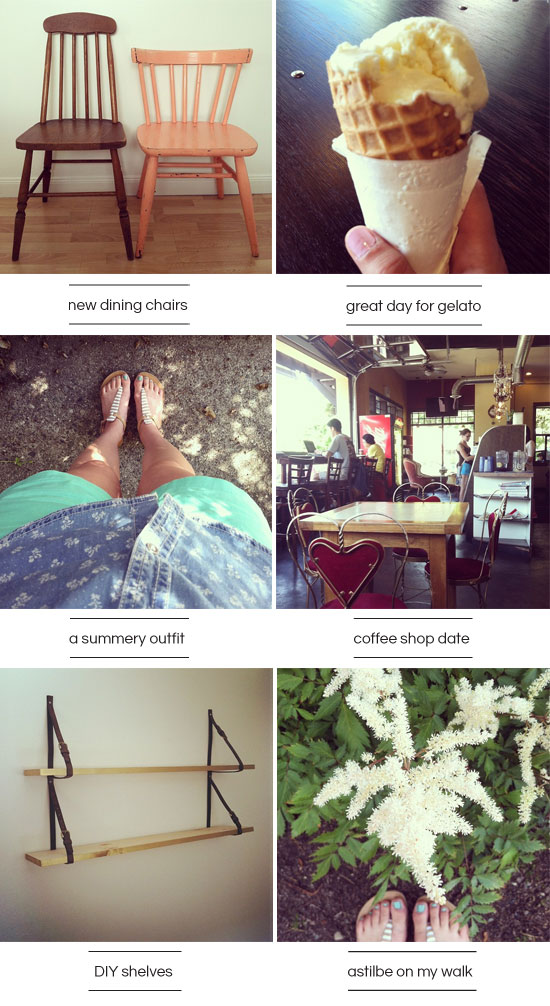 I got some new dining chairs over the weekend--$15 each / I went to get gelato at a new place by my house (twice!) / I painted my toenails, and had to take a photo when I realized they matched my shorts / Ben and I got crepes at a cute coffee shop near our house / We put together some DIY shelves! More photos of this project coming soon / I spotted some astilbe when I was on a walk. So pretty!
What were some of your highlights from this month?