As of 4:30 today, I will officially be on vacation! I've been patiently (or not-so-patiently) waiting all summer long; now it's finally my turn! For all the cities we'll be visiting, check out this post. Since I want this to be a true vacation, I won't be blogging--but don't worry, I've lined up some awesome guest bloggers to keep you guys inspired while I'm gone. I thought I'd share the lineup of lovely ladies so you can tell I'm not kidding when I say you will not want to miss a single day!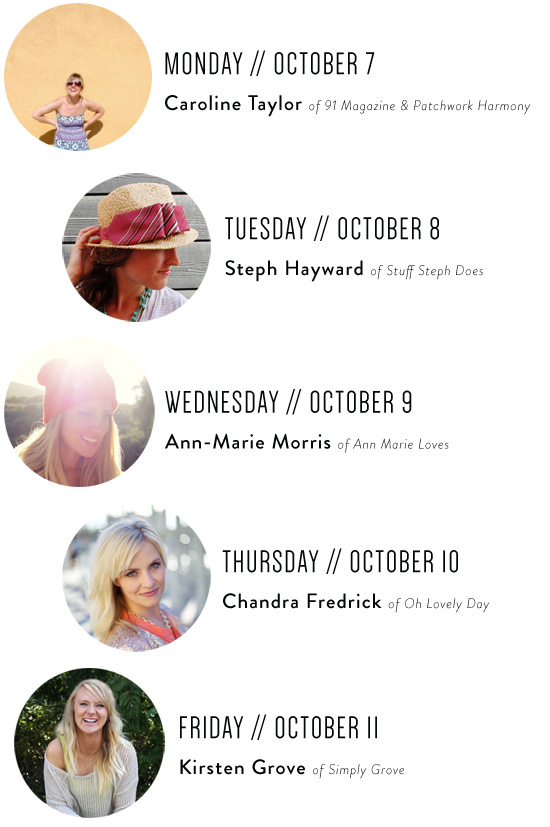 Week One:
Monday, October 7th // Caroline Taylor of 91 Magazine & Patchwork Harmony
Tuesday, October 8th // Steph Hayward of Stuff Steph Does
Wednesday, October 9th // Ann-Marie Morris of Ann-Marie Loves
Thursday, October 10th // Chandra Fredrick of Oh Lovely Day
Friday, October 11th // Kirsten Grove of Simply Grove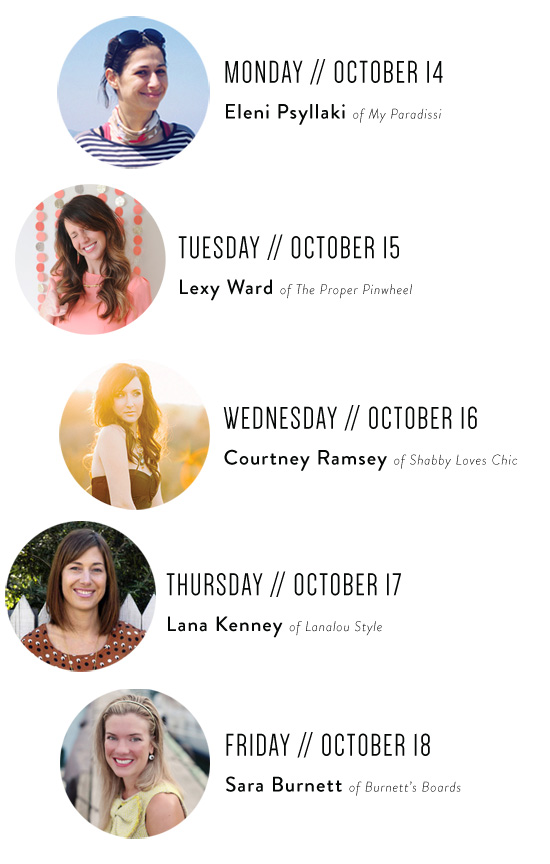 Week Two:
Monday, October 14th // Eleni Psyllaki of My Paradissi
Tuesday, October 15th // Lexy Ward of The Proper Pinwheel
Wednesday, October 16th // Courtney Ramsey of Shabby Loves Chic
Thursday, October 17th // Lana Kenney of Lanalou Style
Friday, October 18th // Sara Burnett of Burnett's Boards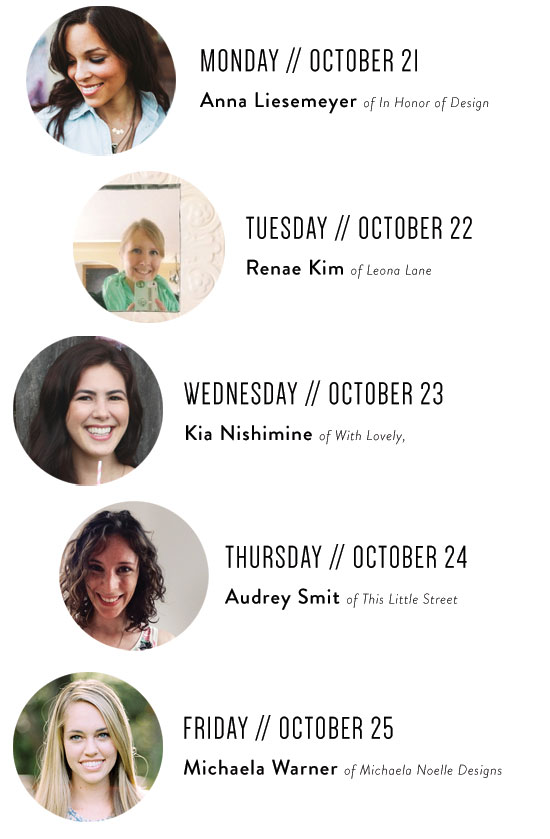 Week Three:
Monday, October 21st // Anna Liesemeyer of In Honor of Design
Tuesday, October 22nd // Renae Kim of Leona Lane
Wednesday, October 23rd // Kia Nishimine of With Lovely,
Thursday, October 24th // Audrey Smit of This Little Street
Friday, October 25th // Michaela Warner of Michaela Noelle Designs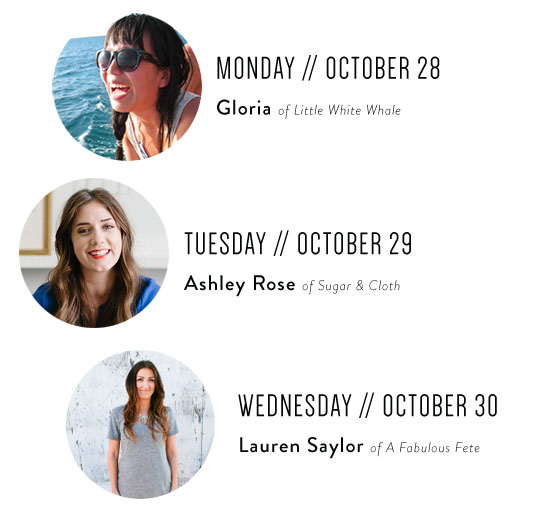 Week Four:
Monday, October 28th // Gloria of Little White Whale
Tuesday, October 29th // Ashley Rose of Sugar & Cloth
Wednesday, October 30th // Lauren Saylor of A Fabulous Fete
Thursday, October 31st // I'll be back!!!
Thank you so much to all these wonderful ladies! I'm so grateful to them for keeping this blog pretty while I'm gone. Be sure to check out all their blogs and follow them on every possible form of social media--they are all super creative and inspiring!
While I won't be officially blogging on vacation, I will be on Facebook, Twitter, and Instagram (in fact, I'll probably be Instagramming a lot). So follow me there if you want to see what I'm up to!