Until pretty recently, I always thought of wall sconces as something for the bathroom only...but I was so wrong! There are tons of different sconce styles. The great thing about them is that sconces can be mounted anywhere, so you can add light at levels that table lamps can't reach (and in spaces where you don't have room for anything on the floor). Plus, with swing arm sconces, there's the added benefit of them being adjustable, so you can change your lighting based on your needs--bring it closer for reading or turn it away for softer light. I'm pretty convinced that sconces are the perfect lighting solution for every room of the house!
1. In the bathroom: This is what I would consider the "obvious" way to use wall sconces--on either side of the mirror in the bathroom. That said, both of these rooms are far from ordinary. Bathrooms can often end up kind of neglected and bare, but both of these feel considered and well-decorated. The sconces definitely give them that finishing touch!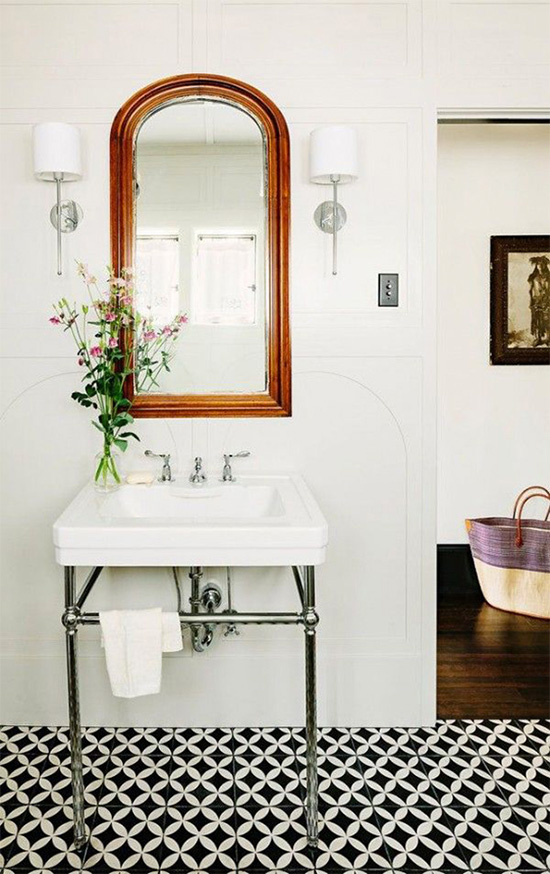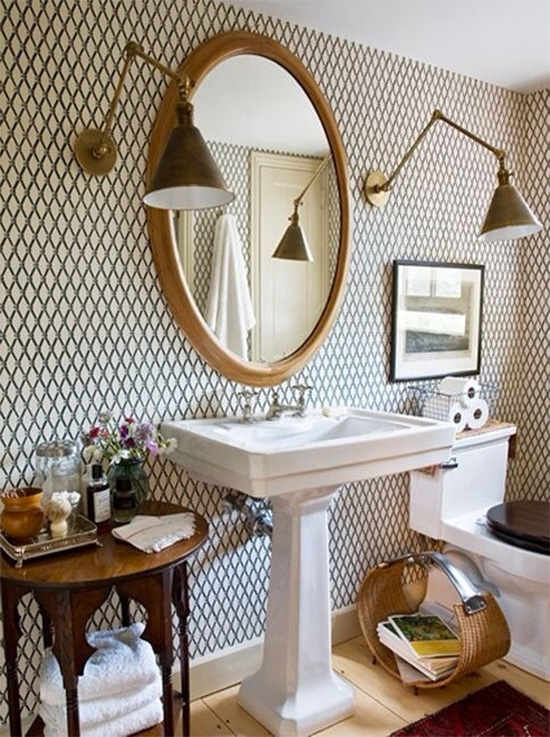 2. In the bedroom: This is the second most common way that I've seen wall sconces used--on either side of the bed. It reminds me of staying in a hotel room (in a good way). You can find lots of examples of stylish bedrooms with wall sconces, in all different styles.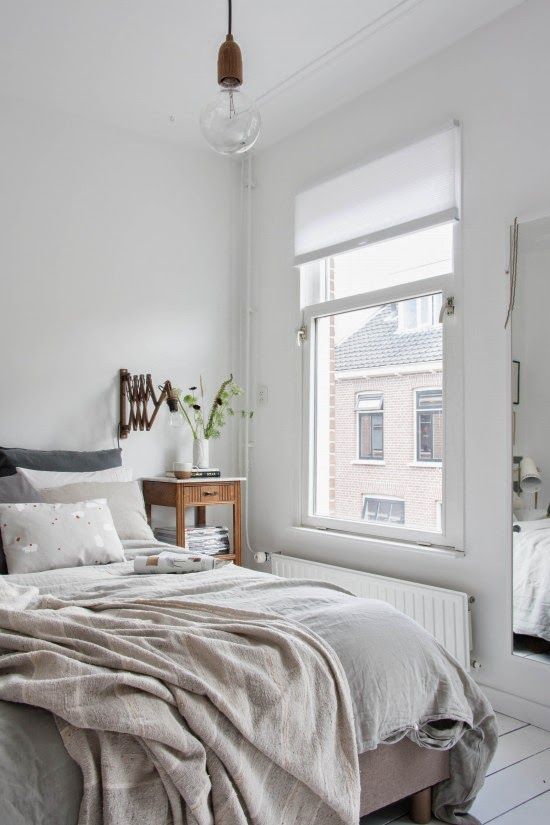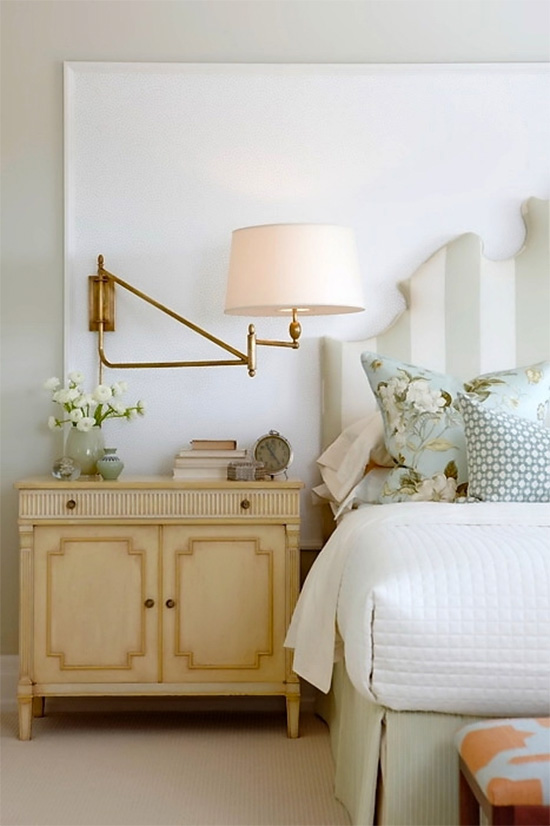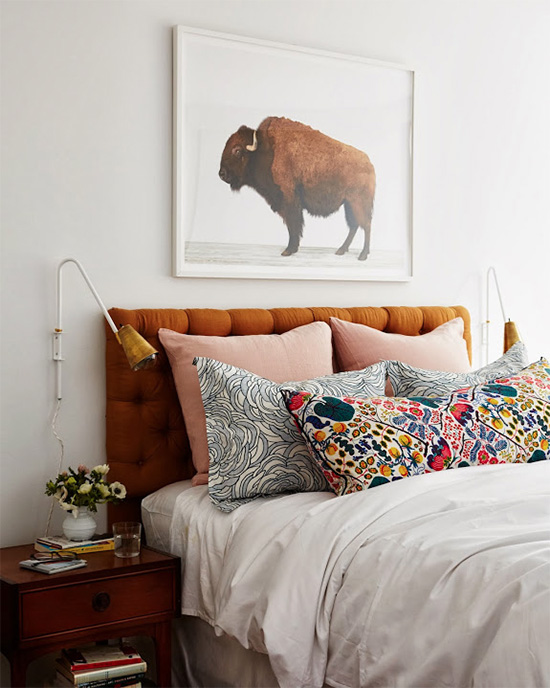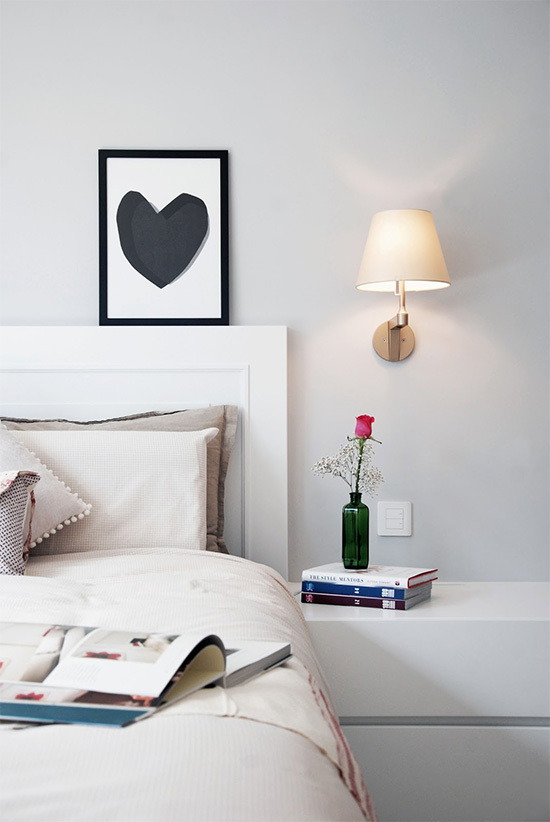 3. In the living room: I've just recently started noticing sconces in the living room, and I'm a huge fan! It's a great solution for small spaces, where you may not have room for side tables with lamps--or to add light somewhere a lamp won't fit, like behind an L-shaped sectional. I also thought the last photo was clever...if space is tight, try mounting a sconce on the side of your bookshelf instead of the wall!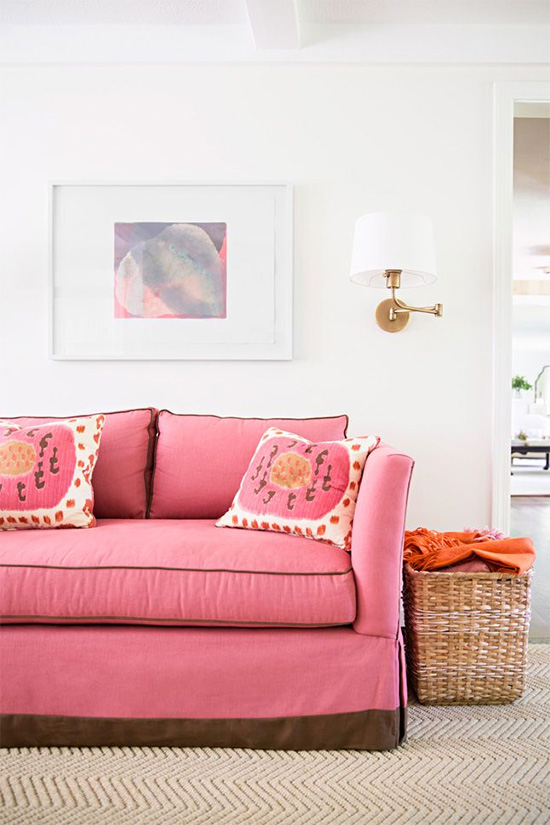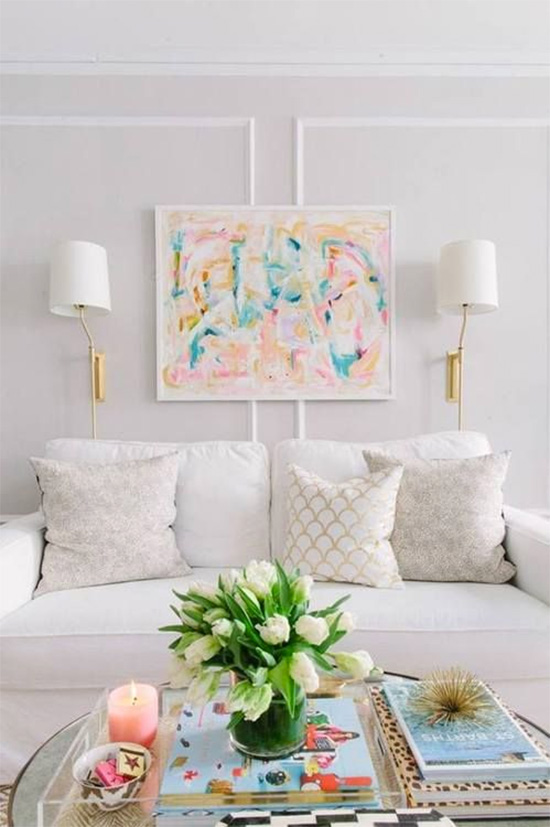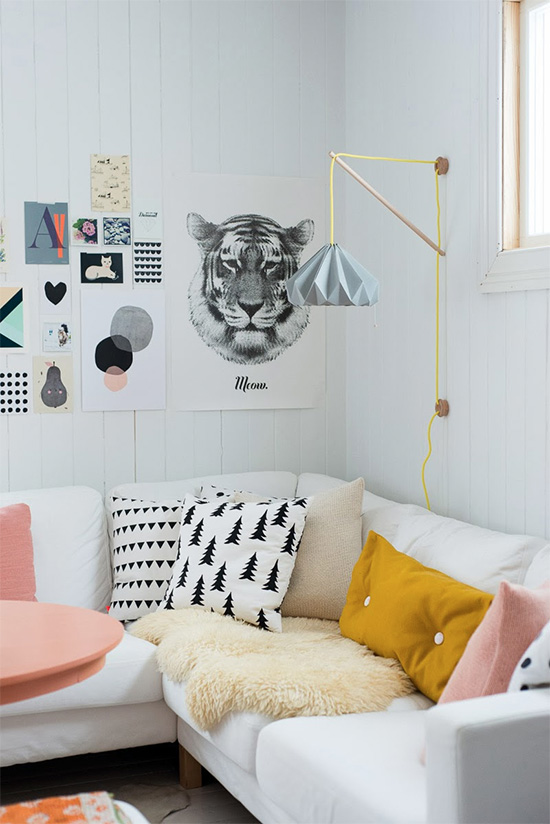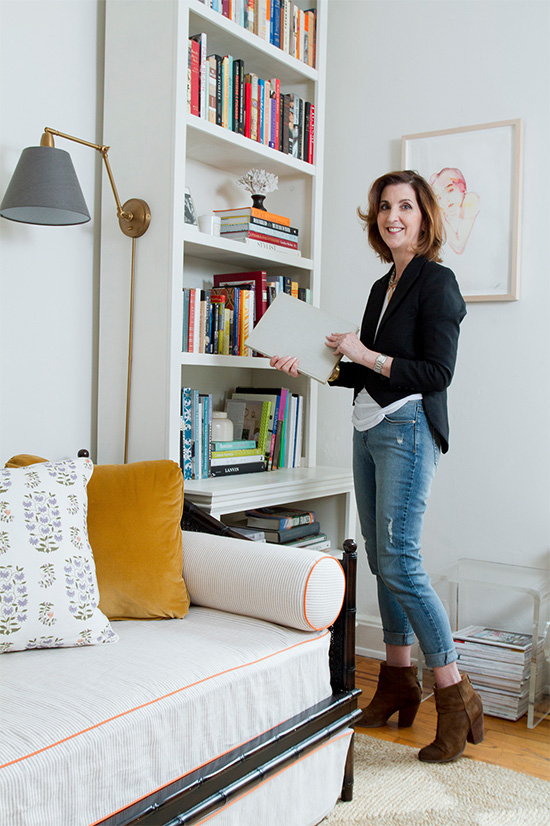 4. In the kitchen: Last but not least, let's talk sconces in the kitchen. I haven't seen this very much yet, but I like it a lot. Besides wall sconces flanking the sink (which is a more typical route), I've been loving swing arm sconces as lighting above open shelves. It works great, since there's more space on the wall if you don't have upper cabinets--and the adjustable arms mean you can shed light on whatever task you're working on. Seems brilliant to me...I know our kitchen could definitely use more light!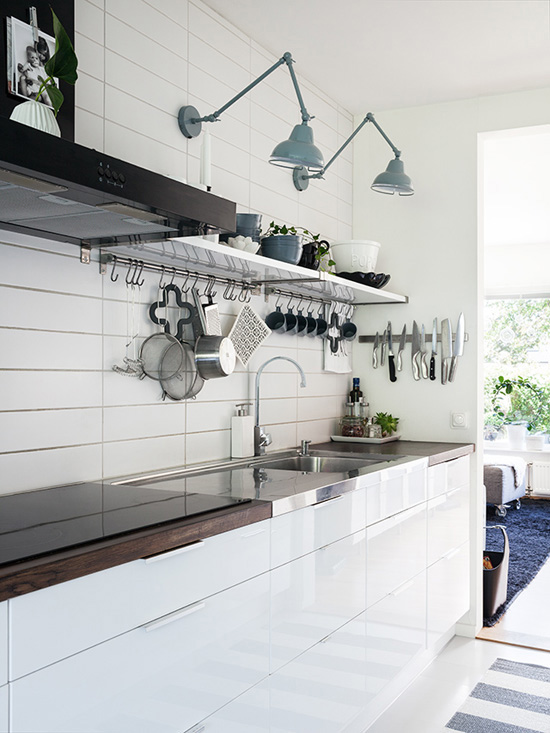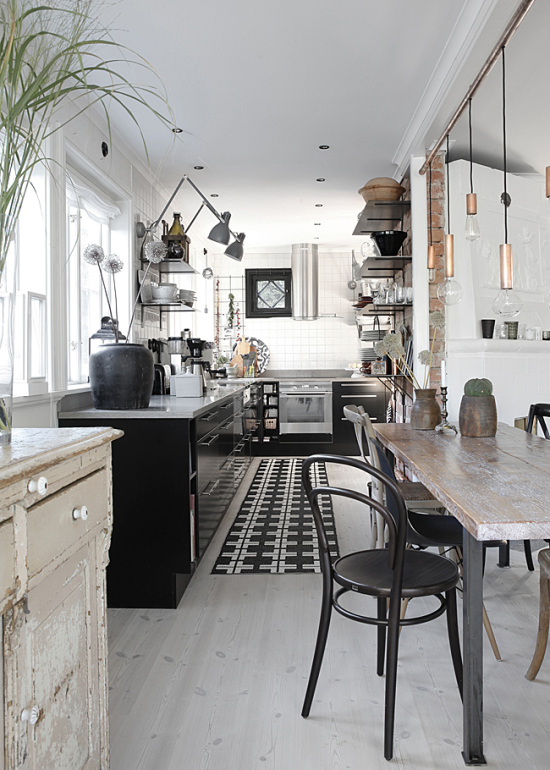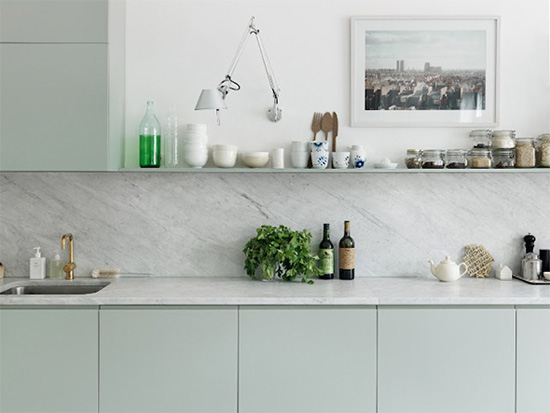 Okay, I know I said every room, but I'm going to skip the dining room, the nursery, and the office, because this post is already getting super long! But trust me, sconces look good in there, too.
Want to give them a try? Good, because I did a little online shopping for you! Here are some of my favorite options, from Lamps Plus. We actually have one of these styles in our bedroom currently (can you guess which one?).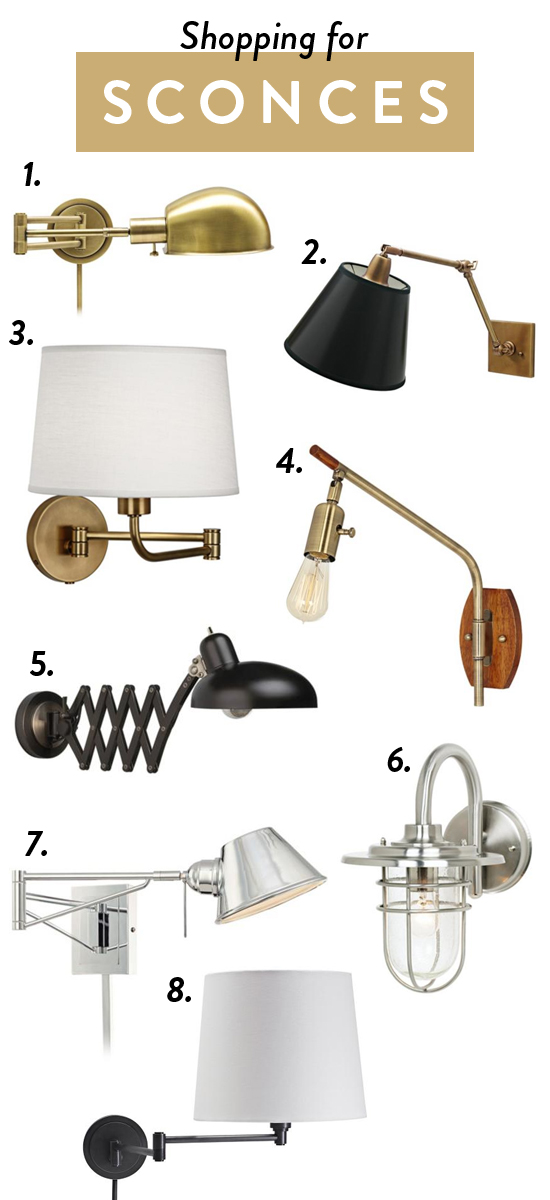 What room(s) would you put wall sconces in? And what's your favorite option, out of the sconces I picked out? I'd love to hear your opinions in the comments!
Thank you to Lamps Plus for partnering with me on this post!