This post is sponsored by Magic Memories. All opinions are my own.
Ok, first of all: yes, Ian is already 14 months. So yes, I'm way behind with this post. But better late than never right??? I always wanted to make him a cute one year baby book, but we were so busy this summer that it slipped down the priority list. So when Magic Memories reached out to me last month about creating a photo book with them, I was super happy for the reminder (and the extra motivation to get it done). And I love how it turned out! I'm so glad I didn't give up on this idea just because it didn't get done before Ian's birthday. Also! I have TWO $50 gift cards to give away at the end of this post so you can create your own photo book (or calendar? jigsaw puzzle? canvas for your wall? There are lots of options, and they all would make really cute personalized gift ideas too).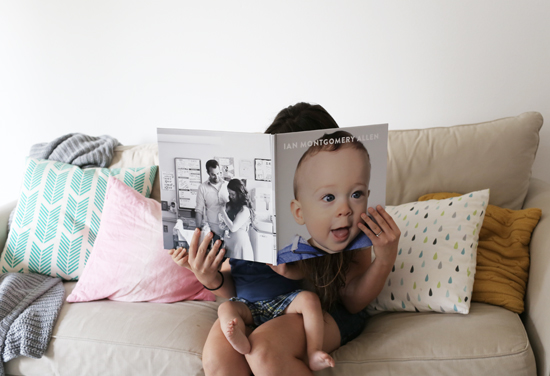 Magic Memories has a variety of pre-designed templates to choose from, for everything from baby books to wedding albums and more. They also have a "Blank" option that allows you to design your own book from start to finish. I went with the Blank for Ian's book, so I could have total control over the design, colors, number of photos, and everything. I'm used to working in Photoshop, so I created all the pages there, then uploaded them once I was happy with how they looked. But Magic Memories also has a built in editor you could use, with options to add text, photos, and effects. You can also save your progress as you go so you can work on your project over multiple days. And of course, if you prefer something that's less work on your end, they offer a number of cute templates that are ready to go.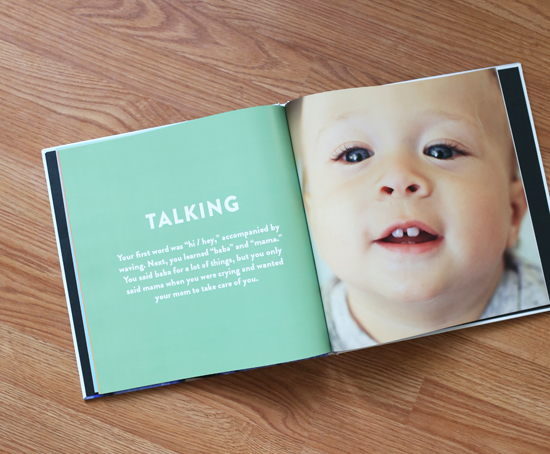 I chose to split the year up by different topics: the ultrasound, Ian's birth story, each season, and milestones like eating, growing, talking, etc...all the way up to his first birthday party. I created a template with a colorful background and descriptions in white, then I put full size photos on the opposite pages.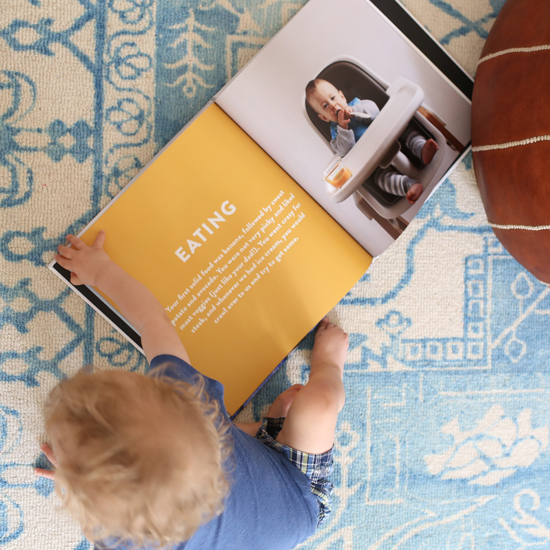 I was very impressed by the quality of the print job. Sometimes I feel like photos turn out darker than you expected, or the colors seem a little off. All of these photos looked amazing, and exactly how I expected them to look. Super happy with that.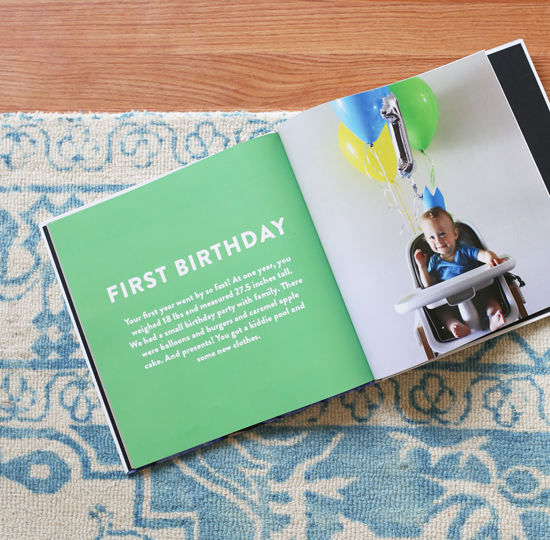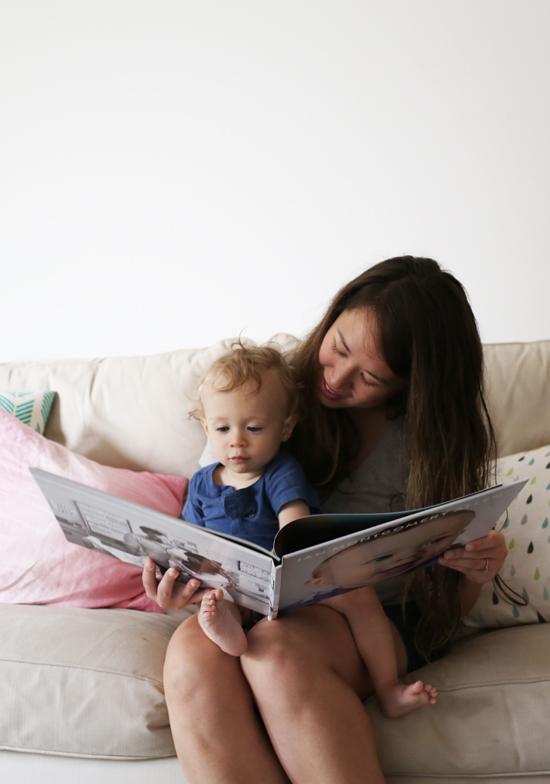 Ian loved flipping through his own personal book and seeing faces that he recognized. I think he was kind of unnerved at first by his big photo on the cover, haha!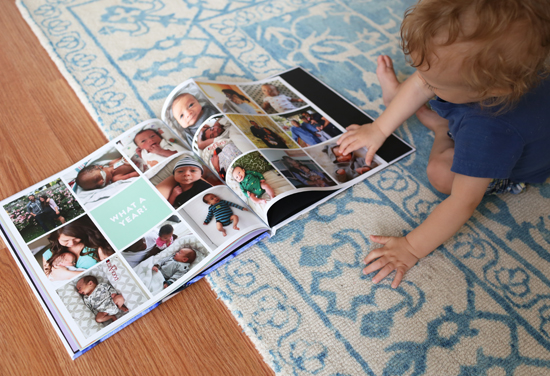 At the back of the book, I added a few collage pages of chronological photos to show Ian's growth over the year. It was a good way to squeeze in some cute photos that I wanted to show, without adding too many pages.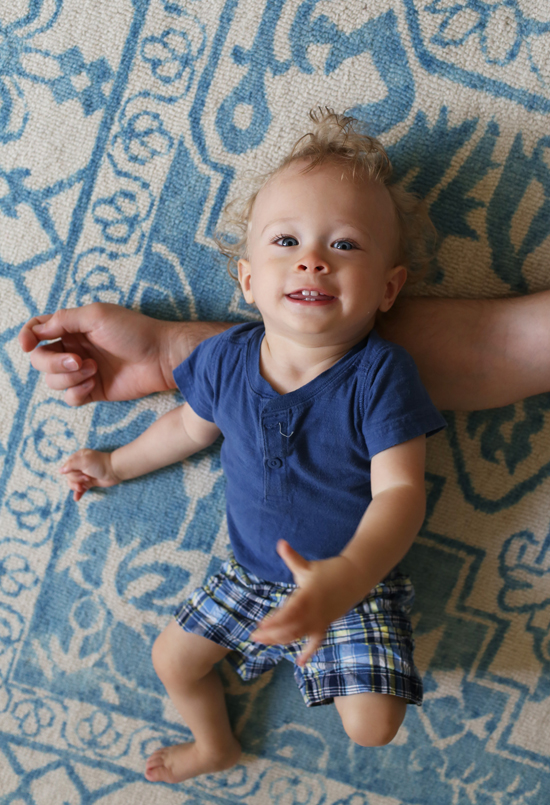 And I couldn't resist snapping a couple extra photos of Ian on the day we got this book. It's crazy how fast the year flew by! When I look at his tiny baby photos, they feel so fresh in my memory, but when I look at the boy in front of me now, he's a legit toddler! Time, you're gonna make me cry...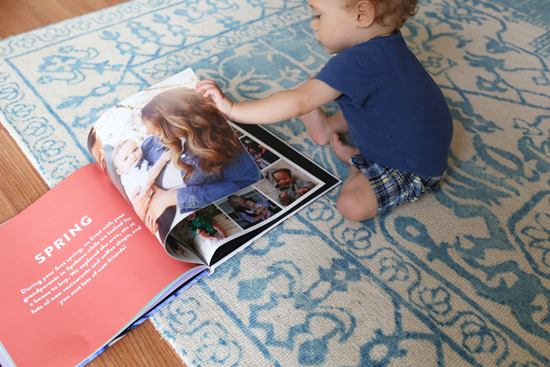 I just loved how our book turned out, and was really happy with the quality of Magic Memories and how customizable it was. I'm thinking next time I'll make a coffee table book of our travel photos (we'll see when I have time for that idea)!
Have you been wanting to make a photo book or some other photo project? Here's your extra push to get it done! Enter the giveaway by leaving a comment with what you would get if you won. I'll announce the two winners next week!
UPDATE: This giveaway is closed. The winners are Megan and Robyn!