I thought I'd share another house hunting update, because I've always been interested in hearing other people's house hunting stories. The reason I was so absent on the blog last week is because we came this-close to buying a house. Remember the Craftsman I mentioned? Well, we put an offer in on it two weekends ago, and it was accepted! We were super excited because it had so many of the things we wanted--lots of natural light, a big front porch, four bedrooms, two bathrooms, a fairly open kitchen, and a cottage in the back that could bring in some extra cash. It was even three blocks from a park that overlooked the water, in a walkable neighborhood filled with beautiful historic homes. There were a lot of things that felt right about it. So we met with our lender and turned in loads of paperwork, we wrote a check to the escrow company, and ordered an inspection. This was the farthest we'd gotten in the house buying process so far, and it was exciting to be so close to the finish line.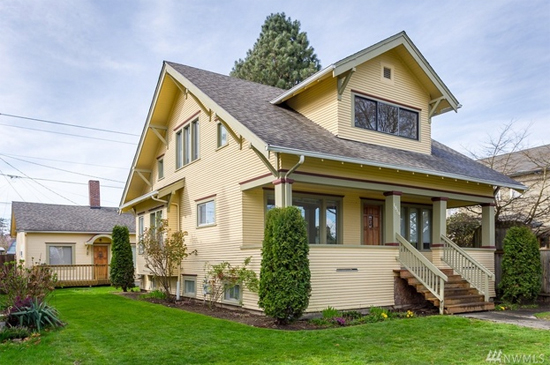 Alas, the inspection turned up a lot of issues that we did not foresee. Remember how I said it was updated and move-in ready? Well, I spoke too soon. Our inspector found (among other things) that there were rotting support posts, a crack in the foundation, and possibly other structural issues. The upstairs had knob-and-tube wiring which would need to be updated, and the sewer pipe had a leak. Those were just a few of the major things--there were also lots of little issues. We expected that with a nearly hundred-year-old house, we'd have to spend some money to fix it up...but foundation, electrical, and plumbing issues combined were more than we were willing to take on.
Especially since the cottage itself, which had seemed like such a plus, turned out to be in pretty bad condition. We hadn't seen it until the inspection day, because we had to give 24 hours notice to the current tenant. The minute we walked in, I knew we were not going to be able to rent it out right away. There was mold on the bathroom walls, rats living in the crawl space and attic, and the whole place stank. It would have taken significant work and money to get it fixed up. So what we thought would be a money-maker turned out to be a potential money pit. Booo.
Even with all its issues, we still considered trying to negotiate for a lower price, since we loved so many other things about the house. But in the end, we realized that it had a lot of the same things that made us walk away from the farmhouse fixer-upper...so we decided to back out (and get our earnest money back!).
I'm soooo thankful that we got an awesome and thorough inspector who found these problems before we moved into the house. The Craftsman wasn't meant to be, but it gives us another point of comparison as we continue looking for the right house.
Homeowners, I'm curious, how many houses did you put offers on before you found "the one?" Did you ever back out because of what an inspection turned up?