Roman shades are my favorite choice for window treatments. They're simple and streamlined, so they look good in modern homes and don't distract too much from the view. At the same time, they're sophisticated and elegant, making them a good fit for more traditional homes too. Little by little, I've been replacing the builder basic blinds in our house for Roman shades, and they feel so luxurious in comparison (beautiful and functional!). In the process, I've done a lot of research and learned a few things. Today on Bali Blinds, I'm talking about all the different options you have for Roman shades (everything from style, to liners, to lift options and more), and when you might choose one over the other. Go check out my guide, and let me know if you have any questions!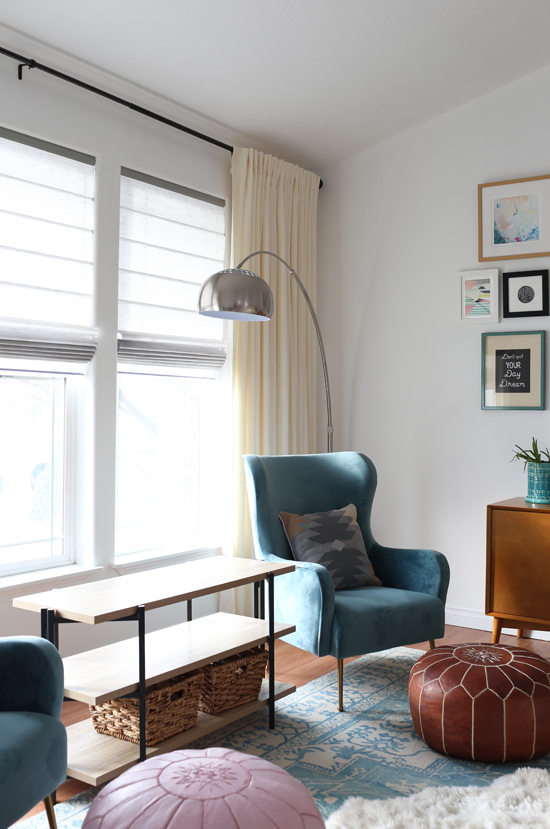 In our living room, we have classic Roman shades in the "flat" style. We decided to do an inside mount so we could layer drapes over them, and we chose no valance for a cleaner look. Since we have a toddler and another baby on the way, we upgraded to cordless lift for safety and peace of mind. We're so happy with these shades! The only thing I might change for future rooms is trying seamless tailored shades (no horizontal pleats).
P.S. There are a lot of cheaper readymade options, but if you have room in your budget, custom Roman shades are sooo nice. They fit your window perfectly, and the quality and attention to detail is much higher. With items that are purely decorative, I'm all about saving some dough. But for a window shade that needs to function well, pull after pull, day after day, and year after year...spending more upfront to get a high quality shade from a well known company like Bali can be well worth it in the long run.