Last but not least, my gift guide for baby (aka Ian!). Ok, I'll be honest, mostly these are things that I want for Ian...after all, it's not like he's actually wishing for any material things at his stage in life. So I guess you could call this a gift guide for new parents? Either way, here are a bunch of baby things that you can't go wrong with. Happy Friday!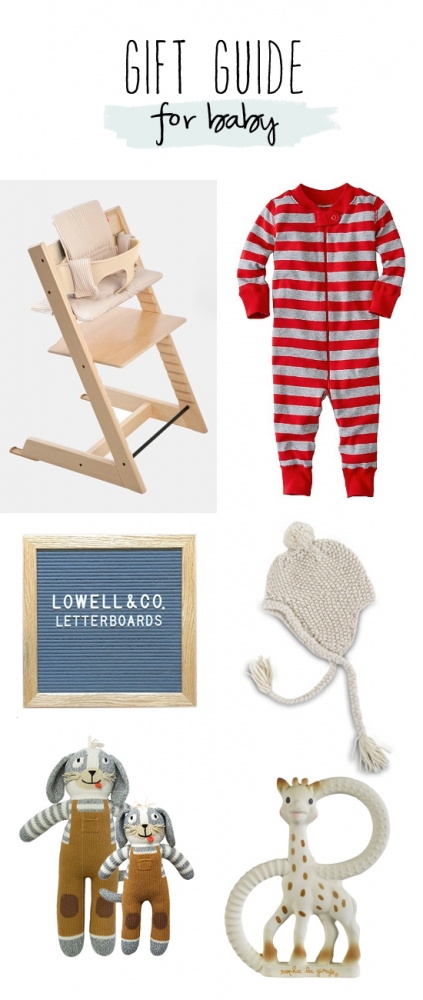 1. Stokke Tripp Trapp: The big-ticket item that I've been debating: to get a cute high chair that can grow with him and look good at the table, or just a cheap one that'll do the job? Give me your thoughts.
2. His first Christmas jammies: Because sooo stinking cute.
3. Letter board: For cute sayings and quotes, celebrating milestone and birthdays, and more. Seems like everyone I follow on Instagram has one, and I want one too! Just for a photo prop and decor, not for Ian to play with (the letters are totally swallowable).
4. Knit hat: To keep him warm on winter walks and outings. You can get a kit to knit the hat yourself, or just buy it ready-made.
5. A special stuffed animal: Ian already has several stuffed animals, but knit ones are just the sweetest. I'm really tempted to get him one of these, but I can't decide which animal I like best...opinions welcome!
6. Sophie teether: As a stocking stuffer, one of these would be perfect. He's starting to get super drooly and bite-y so I think teething is just around the corner...and he doesn't have a Sophie yet! I know, it's shocking.
In case you missed them, I posted my gift guide "for her" yesterday, and "for him" on Wednesday. Yes, I blogged three days in a row! Yay, productivity! :)