I received some of these products to review. All opinions are my own.
Even though our baby won't be born until March, I couldn't resist making a gift guide for babies this year, because...is there anything sweeter and more fun to buy than tiny baby things? (The answer is no). This list is a mix of things I used and loved with Ian, and some new things that have come on my radar which I would love to get for baby no. 2! What are your favorite newborn essentials to give & receive?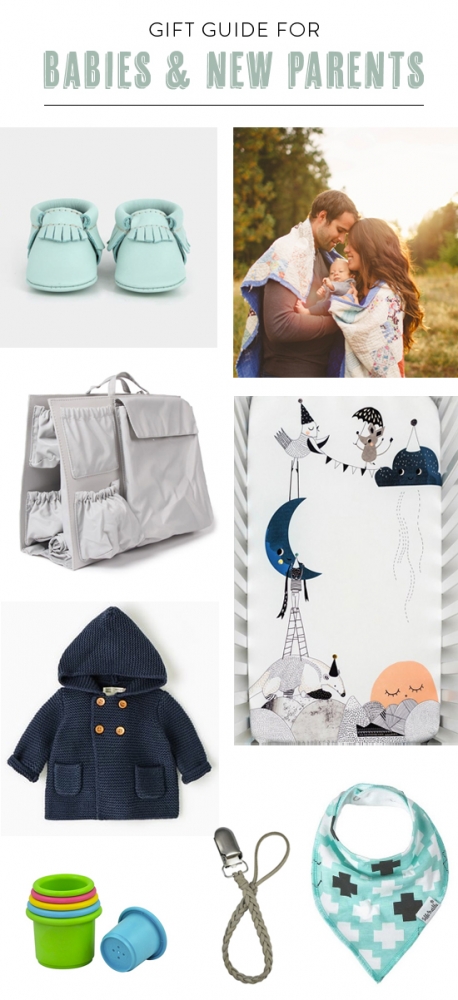 1. Moccasins - These are made especially for delicate baby feet, and they actually stay on! Lots of cute colors to choose from too.
2. Photo session - Help them capture this special time. Give them a newborn photo session or a new family session with a local photographer. Sweetest gift ever, you win.
3. ToteSavvy - For the new moms. This turns any bag into a diaper bag, so she doesn't have to sacrifice style for function. Fill it with diapers, a baby toy, etc.
4. Adorable crib sheet - An illustrated crib sheet turns baby's crib into a magical backdrop for photos. These come beautifully packaged for gifting too.
5. Knit sweater - The sweetest little baby sweater. They'll take about a million pictures every time he wears it.
6. Stacking cups - One of Ian's favorites. These cups stack, nest, and make good bath toys (they float and have little holes on the bottom for sprinkling water).
7. Braided pacifier clip - Keep baby's pacifier handy without detracting from his outfit.
8. Bandana bibs - Cute and easy to put on. Made of organic cotton with no chemical color fixatives--so you don't have to worry if baby sticks it in his mouth.