The first few months of my pregnancy didn't feel very real. We hadn't told many people yet, and I looked and felt about the same. I would forget sometimes, and then suddenly remember "Whoa, I'm pregnant!" Now that I'm almost 25 weeks, it's finally starting to hit me that this is actually happening. I feel the baby kick all the time now, my belly is getting noticeably bigger (I had a stranger stop me and ask when I was due for the first time on Monday), and in just three weeks we'll be in the LAST TRIMESTER. Whaaaat. Time is going by so quickly, and I'm starting to feel a little anxious about getting everything ready in time! It's funny, for those first few months, I felt like it was "too soon" to start prepping anything, like I was going to jinx our pregnancy or something. Now, I feel like there's so much left to do, I'm almost behind! So I've started researching baby gear, planning our nursery, and gathering baby stuff like it's my job. I thought I'd share some of the items we've collected so far and some things that are on our list, in case it's helpful for other mamas-to-be out there. Plus, I'd love to get feedback from those of you with experience...anything major that we're missing here? Anything on the list that is really not necessary?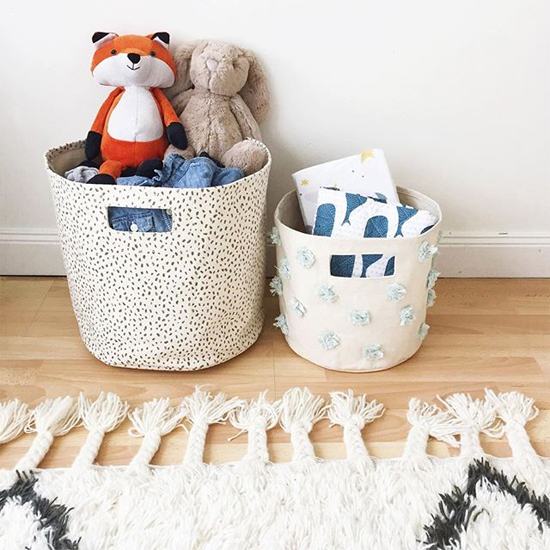 What we have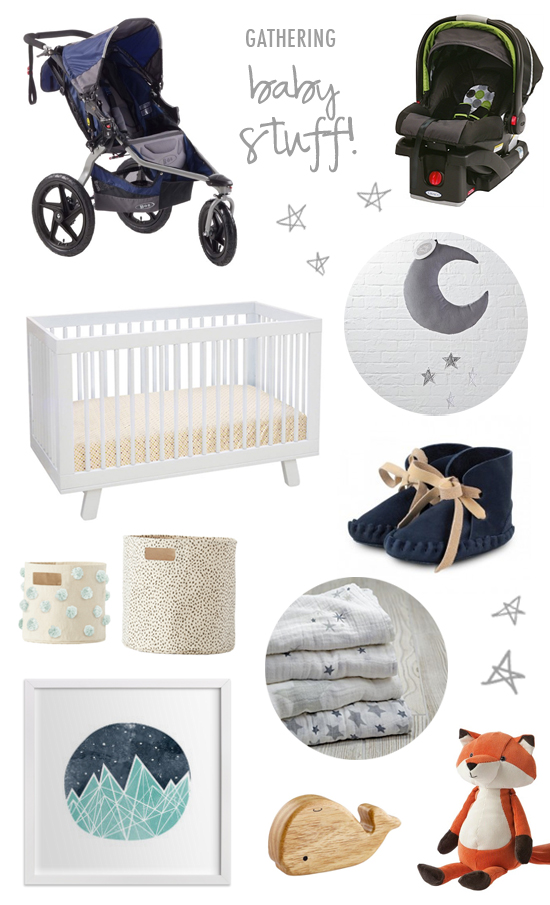 Stroller: We bought our stroller from Ben's brother. A lot of our friends have BOBs and recommend them, so we were already thinking of getting one. Getting a deal on a used one clinched it! / Car seat: Ben's sister is letting us borrow her newborn car seat. Her baby is only a year old, so I think it should still be in good shape as far as safety standards, etc. / Crib: We picked out the Hudson crib from Babyletto. I really like how it looks, and the price is not outrageous. / Mobile: We both loved this sweet moon and stars mobile from Land of Nod. / Baby booties: I know these aren't really a necessity, but I couldn't resist getting some cute baby booties. I got a darling pair from Donsje Amsterdam, as well as some Freshly Picked moccasins. / Canvas baskets: These canvas baskets from Pehr Designs are awesome and come in lots of great patterns. / Swaddle blankets: I kept hearing rave reviews for Aden & Anais swaddle blankets, so I got a pack and registered for a few more. / Nursery artwork: We got most of the art for our nursery from Minted. We're going with a nature/outdoorsy theme since my husband loves hiking and getting outside. / Toys and stuffed animals: I used to work as an assistant buyer for zulily's toy department, so I have a soft spot for beautiful toys! We've collected a few so far, from various places.
What we need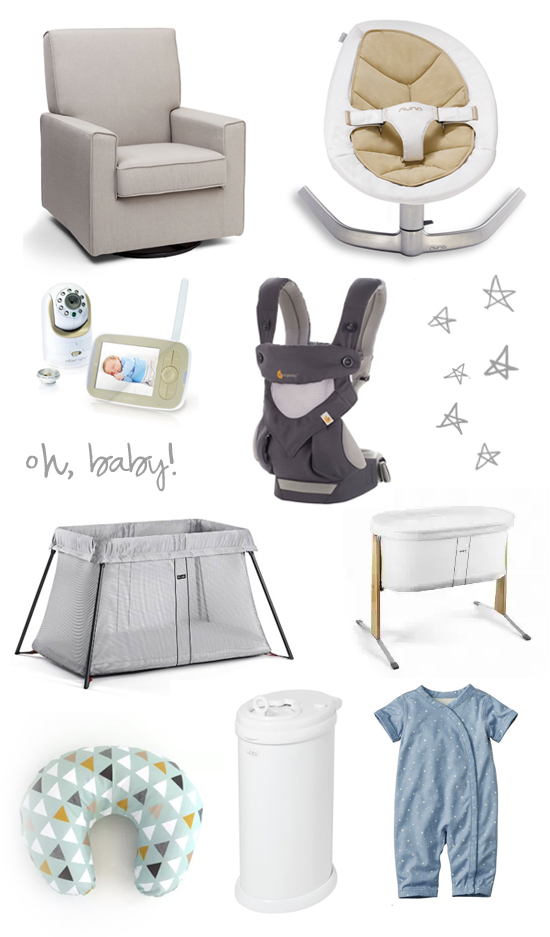 Glider: I heard these are a must, for nighttime feedings. I'm trying to pick a nice, neutral glider that can also transition to another room of the house someday (and won't cost us our firstborn child, cuz what would be the point then?). / Swing: I really like the way the Nuna Leaf looks, and it has mostly positive reviews...but I did see a couple not-so-great ones. Anyone own it and care to chime in? / Baby monitor: I definitely want a good quality video monitor. They're expensive, but I think the peace of mind would be worth it. / Baby carrier: We've heard good things about the Ergo 360 and Ben likes that it's not too feminine so he won't be embarrassed to wear it. I'm debating whether I should also get one of the wrap baby carriers for myself, like the Solly or Moby ones. A lot of people seem to love them, but I figure maybe one carrier is good enough? / Pack 'n play: We want one that is easy to use and light for travel. Some friends of ours have this Baby Bjorn one and recommended it. It's not the cheapest, but it looks nice, has great reviews, and is super light. / Bassinet: I heard if you have a pack 'n play, you don't really need a bassinet. But I still like the idea of something smaller and cozier for those first few months...and since this is our first baby, we'll get good use out of it with all our future babies too. Justifiable? / Nursing pillow: Did you guys use a nursing pillow? I've heard good things about the Boppy so I'm thinking of getting one of those. / Diaper pail: Not sure if one of these is really necessary, but I might get one anyways just in case, so we don't have to take the trash out all the time. / Baby clothes: Last but not least, I'm probably most excited for baby clothes!!! I'm trying to hold off for now--we've already gotten some free hand-me-downs, and I know we'll have a baby shower too...but it's definitely tempting to start buying some little outfits for our baby. Where are your favorite places to shop for cute, inexpensive baby clothes?
I know that in the end, the "stuff" isn't so important, and what our baby really needs is just our love and care. But I also want to be prepared...plus, it's kind of fun to shop for a whole new category of things (especially tiny, cute baby things!).
So, tell me. Anything else we should get/add to our registry? Anything we can skip? I totally want to hear your opinions.