Two very exciting things happened last week. Ian started saying "mama" AND we had an offer accepted on a house we really like! Woohoo! We are getting an inspection done on Thursday, so it's not final yet, but...it's looking like we might be buying a house!!! We found it literally the day after we started looked into rental options. Haha. We were feeling discouraged and wanting our own space so bad (we're super grateful to my parents, but you can only live in someone else's house for so long). We've been tryyyying to trust in the process, but neither of us are very good at patience--so it's a good thing this house popped up when it did! I'll give you some of the details now and see if you can guess the type of house we decided on.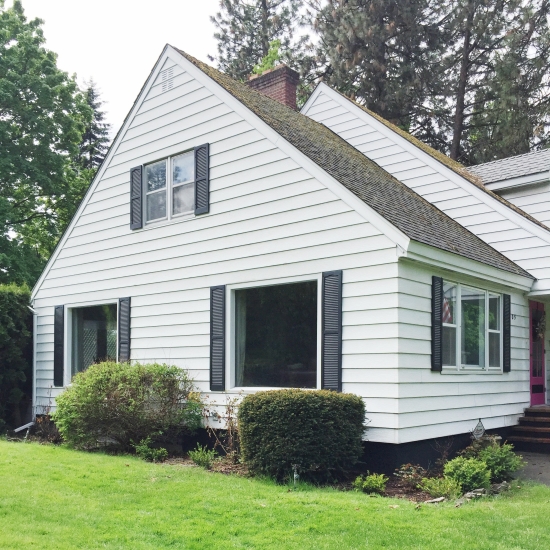 (not our house--I'm waiting to post pictures until the sale is final!)
The story of our house hunting journey might be titled as "Lowering Our Great Expectations." Ha! When we started house hunting in Seattle over a year ago, we looked on Zillow for houses in Spokane in the same price range and thought, "Mansions! We could literally get a MANSION for the price of a shack over here!" And that was part of what inspired us to consider moving. Fast forward a year and a half, and housing prices have risen everywhere. They're unbelievably high in Seattle now, but they've also risen substantially in Spokane. Also, let's be honest, staged real estate photos almost always look better than the reality. Plus we lowered our price range over here, since I'm not working a 9-5 job anymore.
Still, we initially started out with a big list of "wants." We wanted a farmhouse with a wraparound porch and four bedrooms, on a couple acres. Or a big, charming old house in my favorite neighborhood, with tree-lined streets and parks and coffee shops nearby. Or a house with a separate studio/guesthouse that we could rent out for extra income. These were our top three dream house scenarios. Little by little, we came to realize that our dream did not match our budget.
The farmhouses we looked at were at the top of our price range and still needed significant work (and not the fun kind of work--we're talking new roof, electrical updating, and structural work). Also, we realized that we're not farmers and we have no desire to own animals or run an operating orchard, etc. We just wanted land for our kids to run around in, and for privacy.
The houses in my dream neighborhood, while gorgeous and full of character, were also full of old-house problems. Sloping floors, knob and tube wiring, tiny bedrooms with ceilings that Ben would hit his head on. Plus, since it's such a desirable neighborhood, you get way less "bang for your buck" there. We couldn't justify it.
And we never found a house we liked that had a guesthouse, at least in our price range. I saw a few that were more expensive, but it kind of defeats the point of "extra" income if you need a renter to afford the house.
Sooo, we ratcheted down our expectations and started looking at houses with normal-sized yards, in some less expensive neighborhoods. We found three houses that we considered making an offer on (including the one we did). See if you can guess what we decided on, HGTV style!
Option 1
A new-ish house (built in the 2000s) with vaulted ceilings, lots of natural light, and a good floor plan. It's in a safe, newer neighborhood, and the schools are excellent. Best of all, it wouldn't need any structural work so we could get right into the fun stuff like remodeling the kitchen, doing cosmetic updates, and decorating! There's farmland within walking distance, so it still has that quiet, country vibe we like.
Option 2
A solid 1960s rancher in the neighborhood I grew up in. Walkable to my parents and several friends' houses. It's big, and has a recently remodeled kitchen and a fairly large, private backyard (with a hot tub!). Best of all, it's right across the street from a park/elementary school so it almost feels like a larger property than it really is...but without the upkeep. And when our kids are in elementary school, they can just walk right across the street themselves!

Option 3
A cute 1940s house in a nice, established neighborhood with a similar vibe to my dream neighborhood--but more affordable. It's not as big as the other two houses, but has a lot of charm with arched doorways and original hardwood floors. Best of all, it's way under our budget, so we'd have a lot of money left to update the house and save for another one. Our idea is to live in this house until we outgrow it, then buy a bigger house and keep this one as a rental.
What do you think we picked???