I've always wanted to have my own business cards. I feel like they're so official ("Here, have one of my business cards! See, I'm legit.") You know what I mean, right? In truth, I don't really need business cards that much--most of the time I connect with people online. But there have been a few times when I wished I had some to pass out--something for people to remember my name and contact info, and (I admit) to make me feel more official! So when RubberStamps.com reached out to see if I'd like to try out some of their stamps, right away I thought of making some DIY business cards.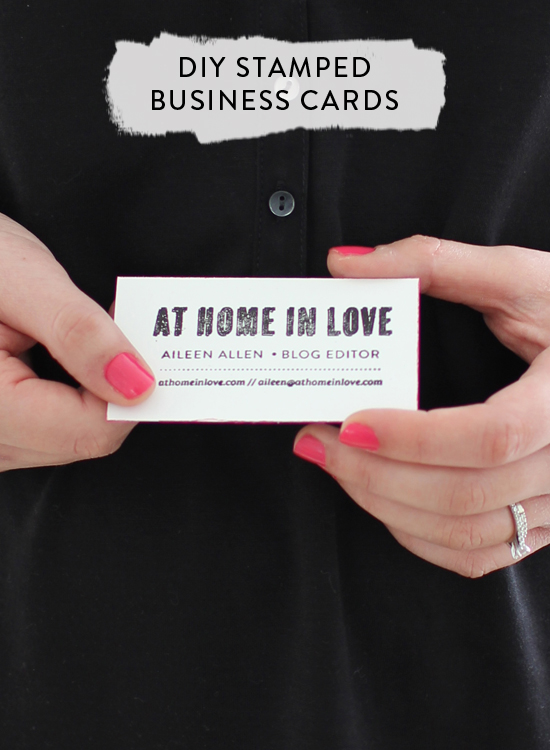 I liked the idea of stamping my business cards, because I thought it would be nice for them to have a little quirky, DIY feel. I'm all about budget-friendly, unique, and handmade decor, so it's fitting for my business cards to have those same qualities. But I also wanted to keep them fairly simple. I've seen some bloggers' business cards that are awesome (painted, glittered, with 3D elements, hand-stitched leather and more)--but look like they'd take twenty minutes to finish just one "card." I don't have that kind of time! So I decided to stamp my business cards on both the front & back, then paint the edges. Edge-painting business cards has been pretty popular lately (I'm sure this isn't the first time you've seen it). I really like how it adds a little extra element, without taking much extra time to do. And if I get sick of it later, no big deal. I can just stamp more cards!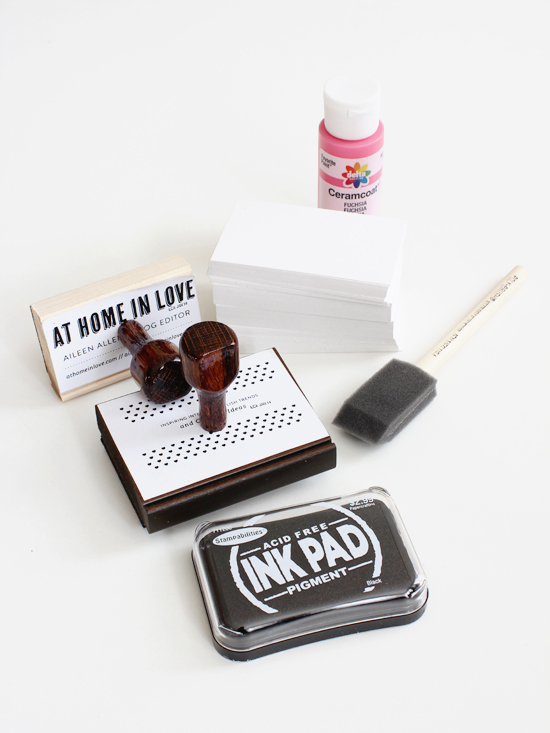 For this project, you will need:
Custom stamps (mine are from here)
Blank business cards
Ink pad (I used black, but I think a color would be fun in the future)
Acrylic paint in the color of your choice
A foam paintbrush
Clamps or something heavy to weigh the stack of cards down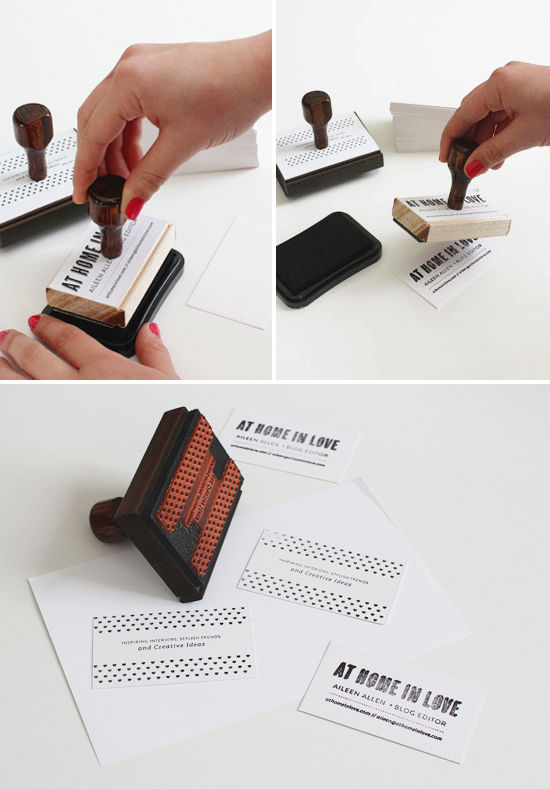 To get started, start stamping the front side of all the cards, then flip them over and do the back side. I didn't worry too much about getting each card perfectly centered. That's part of the charm of hand-stamped cards, in my opinion. Each one is a little different!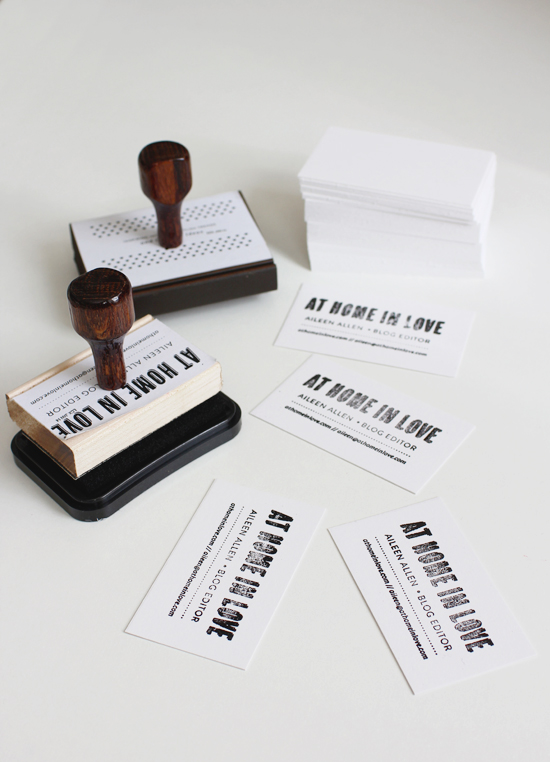 The other nice thing about using stamps is that I can always switch up my cards later! I could stamp different colored cards, luggage tags, etc. And since I don't have to worry about running the cards through a printer, I can use really thick cardstock--or any material that I could stamp. Little wood rounds would be cute, don't you think??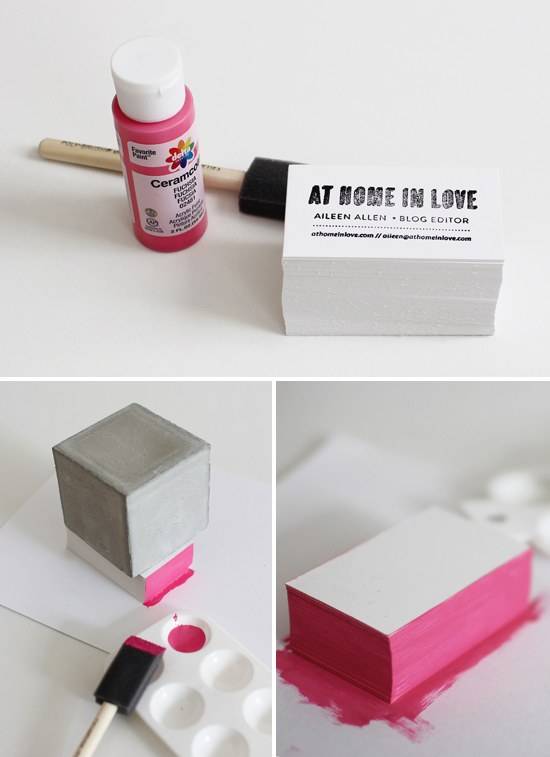 For the edges, I put a heavy block on top of the stack to hold it in place. You could use clamps, or any heavy paperweight type object you have. Then I simply painted the edges with acrylic paint. I put a blank card on top, because I figured it would get some paint around the edges.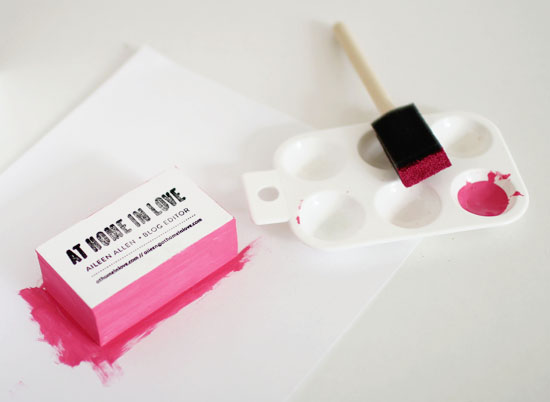 After the edges were dry, I peeled the cards apart. So simple!!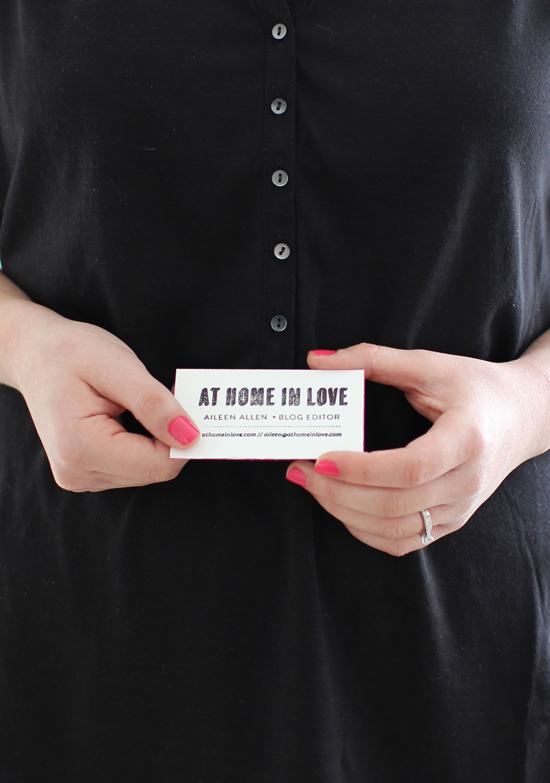 I really like how my cards turned out, and I'm super excited about my stamps. I like to switch things up a lot, so I'm sure I'll use these same stamps in a different way at some point to give my business cards a whole new look. Now I just need to make a DIY business card holder so I can keep my cards in my purse, ready to give out!
For more creative business card ideas, check out my business cards board on Pinterest.
This post was written in partnership with RubberStamps.com. I was really happy with how my stamps turned out, and I can think of so many other projects I'd like to get custom stamps for--addressing envelopes, party invitations, monograms, etc. I totally recommend them!