Today's DIY project was inspired by the house shaped boxes on the wall in this post. I thought they were so cute, and knew right away that I wanted to try making my own! But instead of building the house from scratch, I found a flatware organizer at Goodwill for $2.99, which served as the main part of my house. I've seen a lot of flatware organizers at thrift stores, so I'm pretty sure you could find one too if you look. Of course, you could always build the house yourself with wood boards from the hardware store. That way, you can make the shelves exactly the size you want!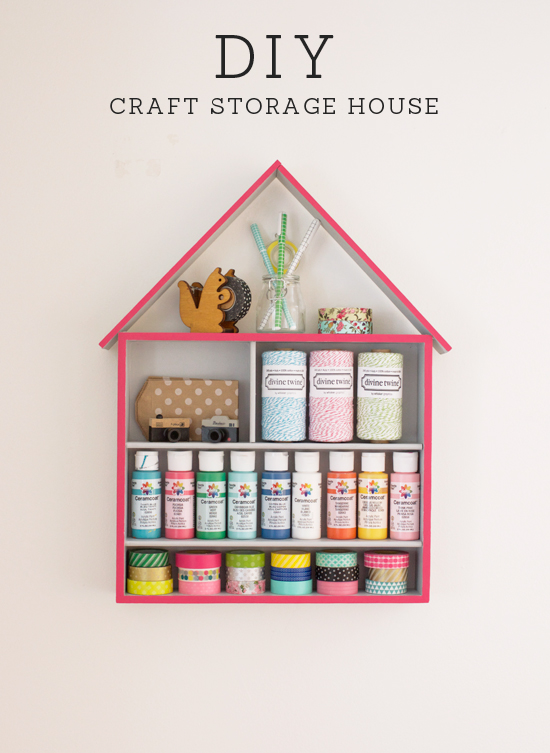 To make your own DIY craft storage house, you will need:
-One flatware organizer
-One thin wood board (mine was a 0.25 x 2.5 x 48" poplar board from Home Depot)
-Detail sander or sandpaper
-Two colors of paint (one as the base coat, and one for the accent color)
-Painter's tape
-Hot glue gun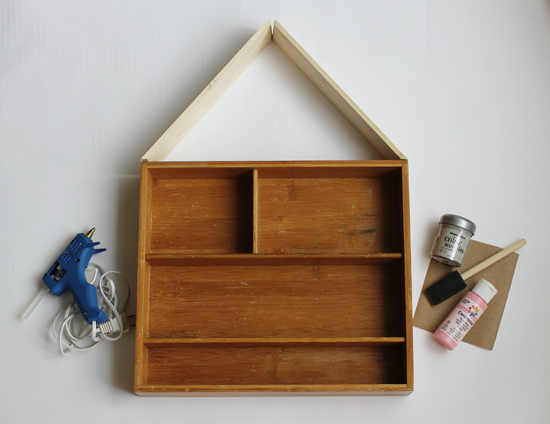 My original intention was to cut the boards at an angle to form the roof of the house, but as you can see in the photo above, I couldn't get the angles to meet just right (I only have a hand saw, no fancy power equipment). So I went with Plan B, which actually turned out even better. This time, I simply cut the board into two pieces with straight edges, meeting up at a 90 degree angle. I let the edges of the boards hang over on either side to form the roof. Next, I sanded the flatware organizer and the boards, then painted them gray. I taped off off the border of the house with painter's tape and painted the edges pink to give them a pop of color.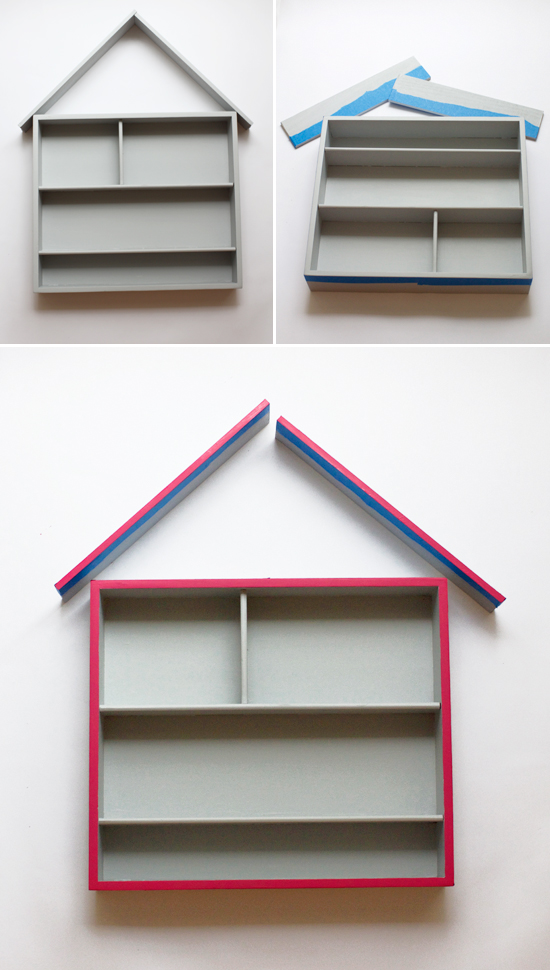 Once the paint was dry, I peeled off the tape. Next, I used hot glue to connect the two boards at the top at a 90 degree angle. Once that was secure, I centered the roof and glued it on either side, where it met the corners of the flatware organizer.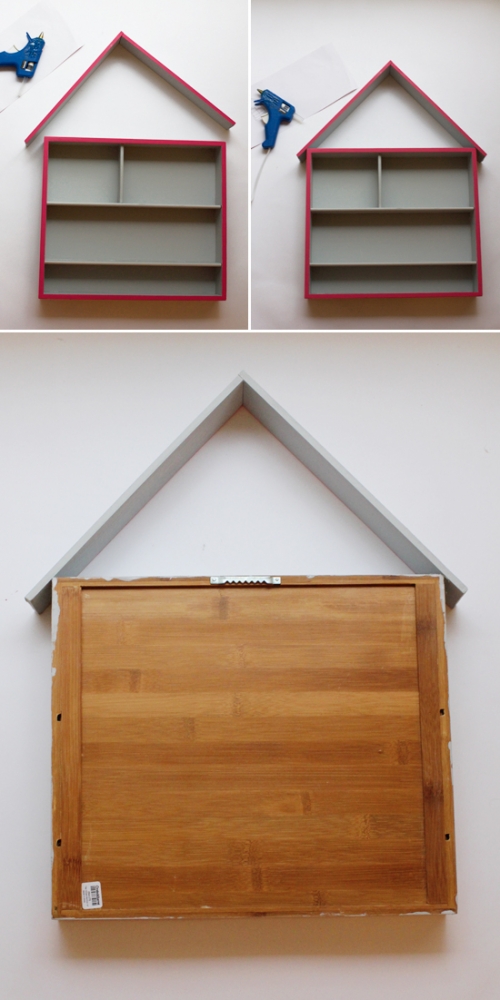 Lastly, I flipped the whole thing over and nailed a picture hanger on the back.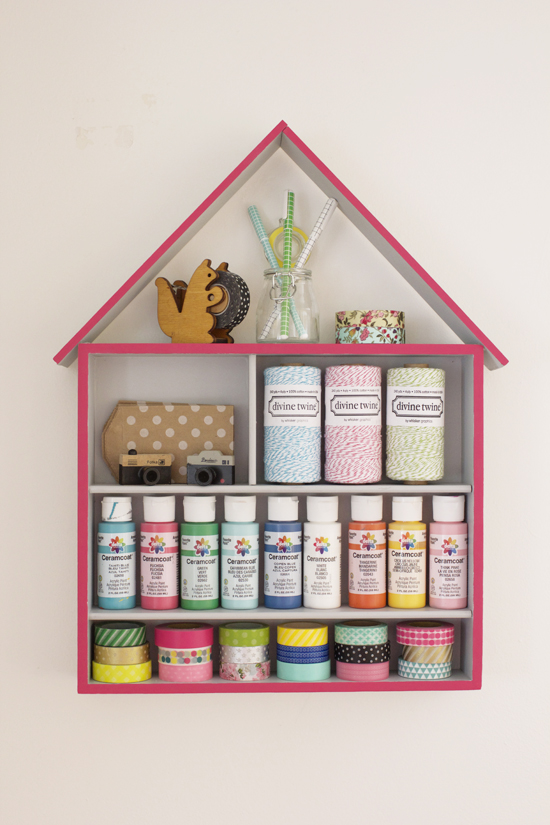 And that's it! I think this project turned out really cute, and once I figured out the roof, it was really easy. You could also use your DIY house box to store other small things like nail polish, or to display little treasures and tchotchkes.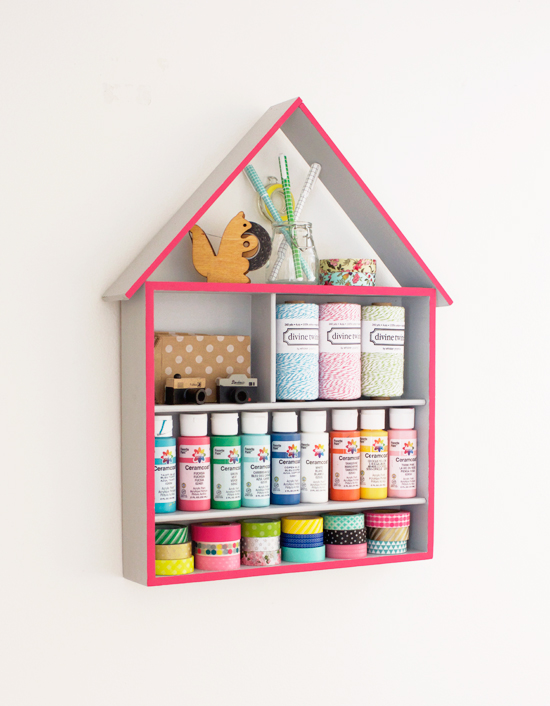 Now, let's talk about all the craft supplies stored in my little house. Aren't they cute?? Except for the acrylic paint, everything in there is from Cutetape. They seriously have the best selection of washi tape, not to mention other awesome craft supplies like baker's twine, stickers, pens, gift bags, and stamps. And that squirrel tape dispenser…SO adorable, am I right?
Thanks to Cutetape for partnering with me on this post!