Warning: these pictures aren't the prettiest. My craft room is fairly small, so it was hard to back up enough to get a good shot. And there's only one small window, so the lighting isn't great. But still, I'm proud of myself for starting to get organized and I wanted to share the proof with you guys--pretty or not! The beginning of a new year is always a good reminder to do some (much needed) cleaning and organization, and this year I decided to tackle my craft room first. I got this storage cabinet almost exactly two years ago, and at the time it was perfect for storing all my craft supplies. But over the last couple years I've accumulated a lot more stuff, and this poor little cabinet was overflowing. Trying to find anything in there was stressful, and often unsuccessful.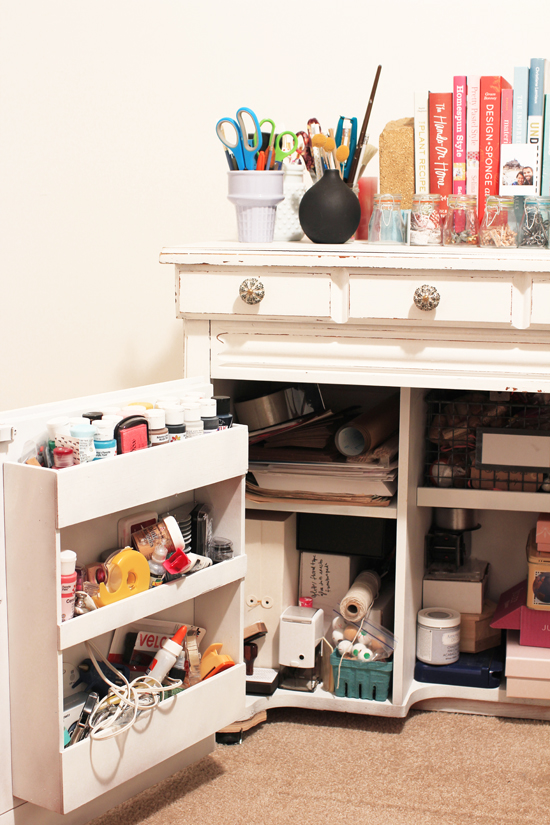 Here are a couple before shots. Yikes. Such a mess.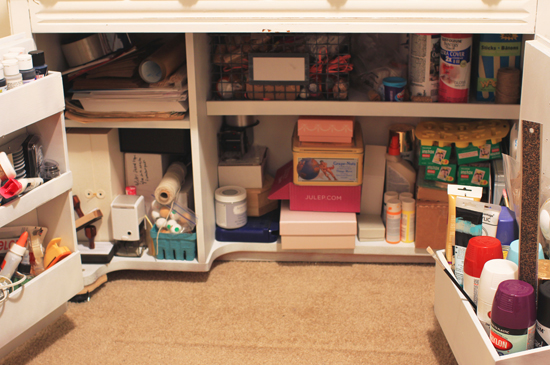 To get started, I went to Michaels and picked out a bunch of storage supplies. They have great options for craft rooms of all sizes, including a new line of organization product called Cre8ted Spaces.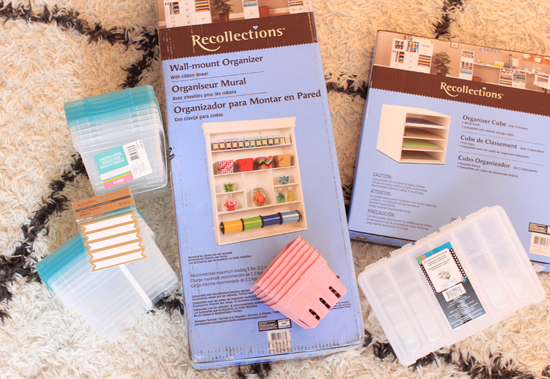 The first thing I did was take everything out of the cabinet and arrange like items together in piles. Sometimes, cleaning up a mess requires making an even bigger mess at first! Then I put those piles into clear plastic bins and labeled them--stamps, ribbons, glue, etc. I love that I can see the contents of the bins at a glance, plus they stack really nicely since they're all the same size. Much better than the random cardboard boxes I was using before.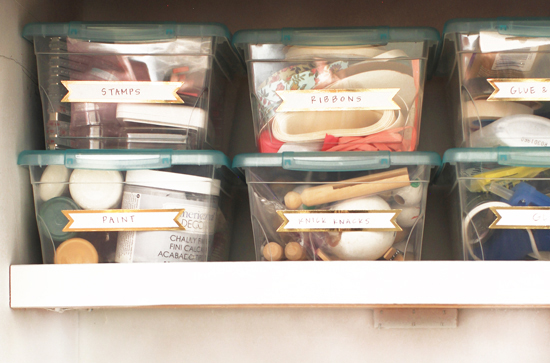 Next, I hung up a wall organizer for all my display-worthy craft supplies, like washi tape, baker's twine, and craft paint. It's like an upgraded version of this DIY project I made awhile ago!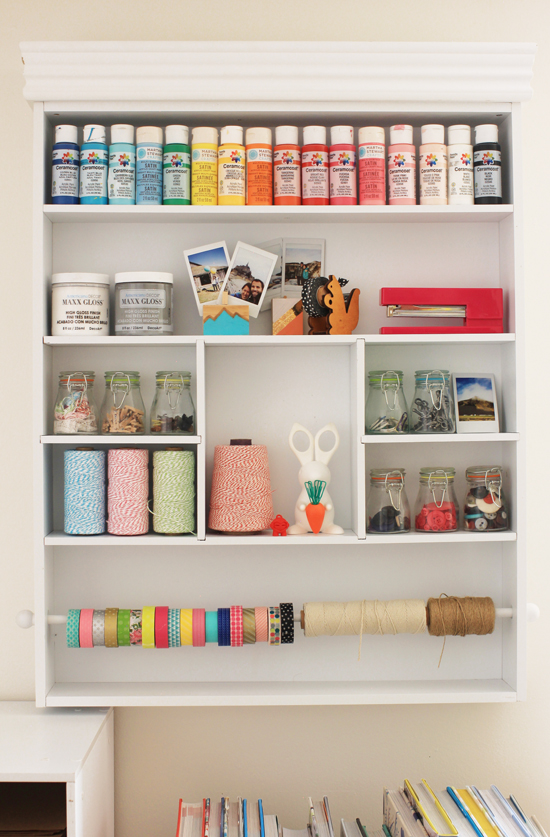 Then I put an organizer cube on the tabletop, for papers, cardstock, and envelopes.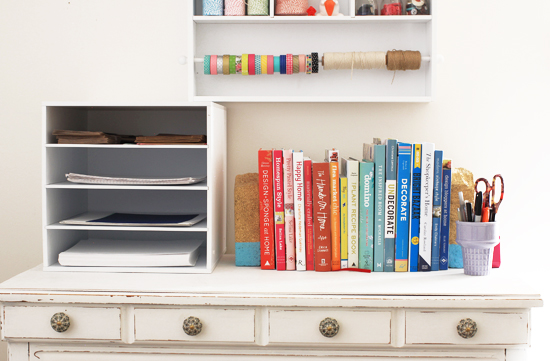 After those changes, the cabinet was looking a lot less crammed. I got rid of everything I wasn't planning to use anymore, and reorganized what was left.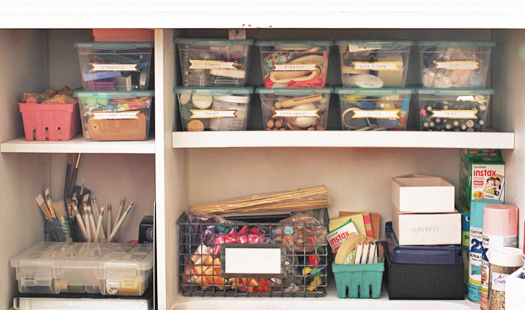 I know this picture is kind of dark, but seriously, it's sooo much better than before! It's funny how simple changes can make a really big difference. I don't feel stressed out when I open that cabinet anymore. Everything has a place!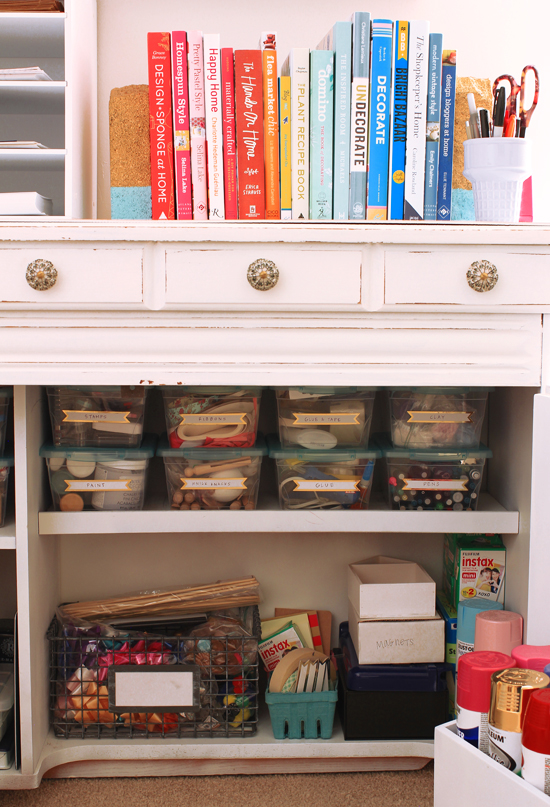 I'm also hoping that getting organized will be extra motivation for me to do more crafts in 2016. I feel like I lost some of my energy for DIY projects over the last year, partially because I never seem to have extra time, and partially because we're starting to outgrow our house and I don't want to fill it with more stuff, just for the sake of churning out projects. But at the same time, I want to keep crafting, because I really do love being creative and making things myself. One thing I've been thinking about is trying to do more crafts just for fun, not necessarily for a blog post...so there's no pressure to take photos with good lighting, and I can work on them at a relaxed pace, while watching a show at night or whatever.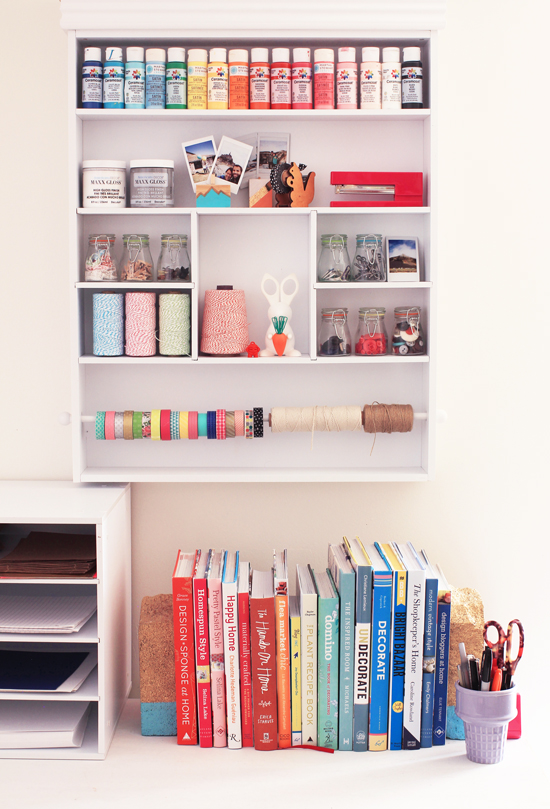 Another goal of mine is to tackle more areas of my house throughout this year...the next in line is my guest room!
Have you been bit by the new year organizing bug? If so, what room(s) have you been working on so far?
If you don't know where to begin, you can always take a look at some of the fun storage projects on Michaels.com or the other 49 makers' ideas on The Glue String for tips on designing, organizing and decorating their favorite places!
Thanks to Michaels for partnering with me on this post.