Happy Friday! I'm sooo ready for the weekend, how about you? It's been raining for the last week and the forecast says we have at least another ten days of it, so I'm hoping to get out of Seattle (at least for a day) this weekend. I don't mind a little rain here and there, but this constant drizzle is getting a bit depressing. And I'm kind of jealous of everyone who has snow! So maybe we'll go to the mountains and chase down some snow this weekend...but I gotta say, today's house tour definitely makes staying at home look pretty appealing too. I love how Anu from Nalle's House was able to make her home feel cozy and festive, while still keeping it light, bright, and pretty. Like I said in yesterday's post, you can get in the Christmas spirit with any color palette--no reason to go all red-and-green if it doesn't fit your style!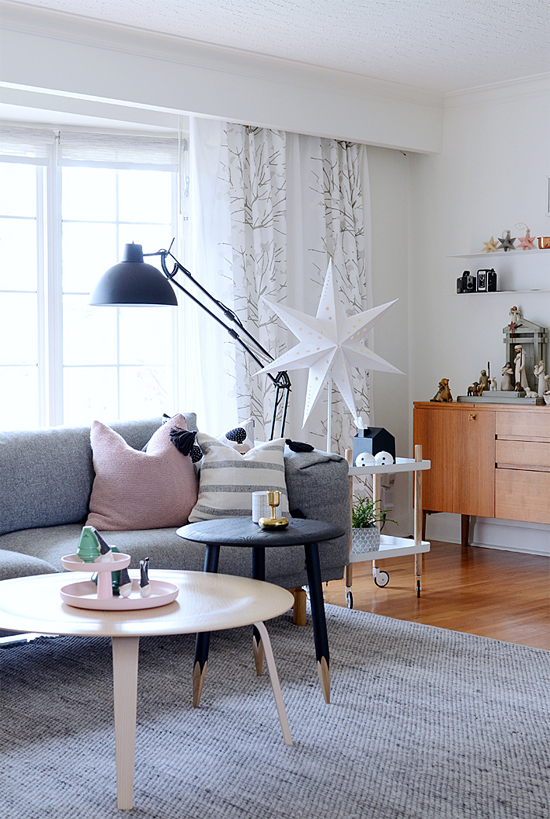 Anu kept her decorations simple, with subtle nods to Christmas--a nativity scene on the console table, ceramic trees, and paper stars.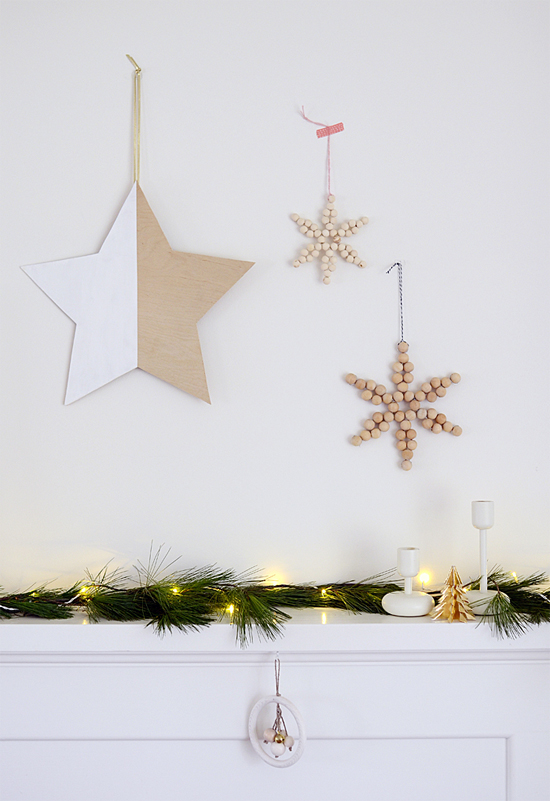 She also made these DIY wooden stars and the garland on their mantel.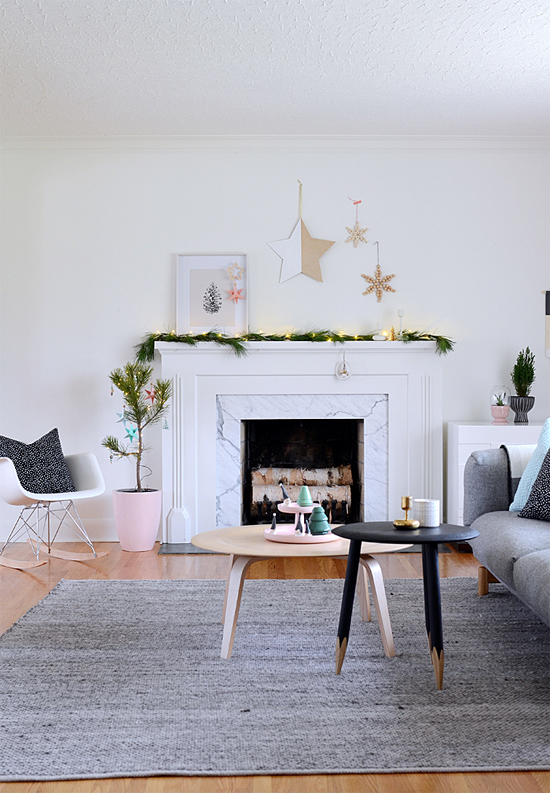 I love that she doesn't have a big tree in their house (at least not yet), but instead has hung some simple ornaments on a small Charlie Brown style tree, in a planter next to the fireplace.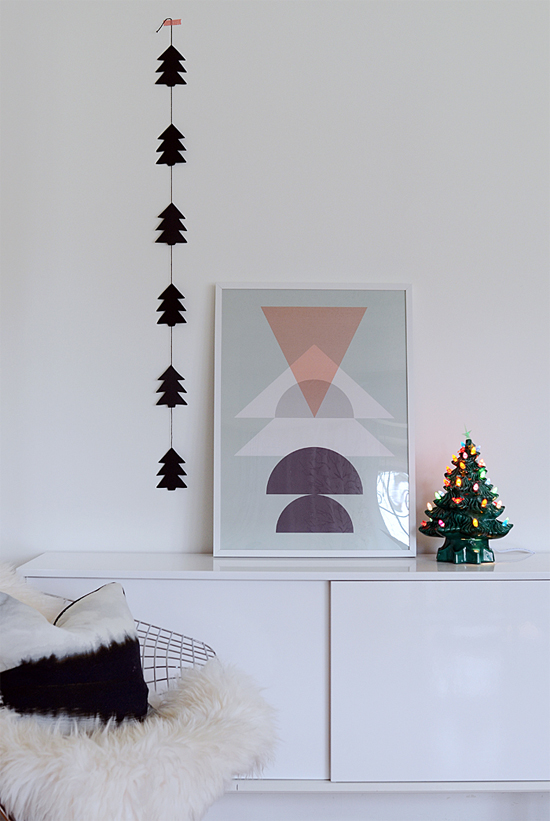 I also really like this simple, vertical garland of black paper trees. I shared some DIY instructions for a similar idea last year. It's a really easy way to add some Christmas cheer, Scandinavian style!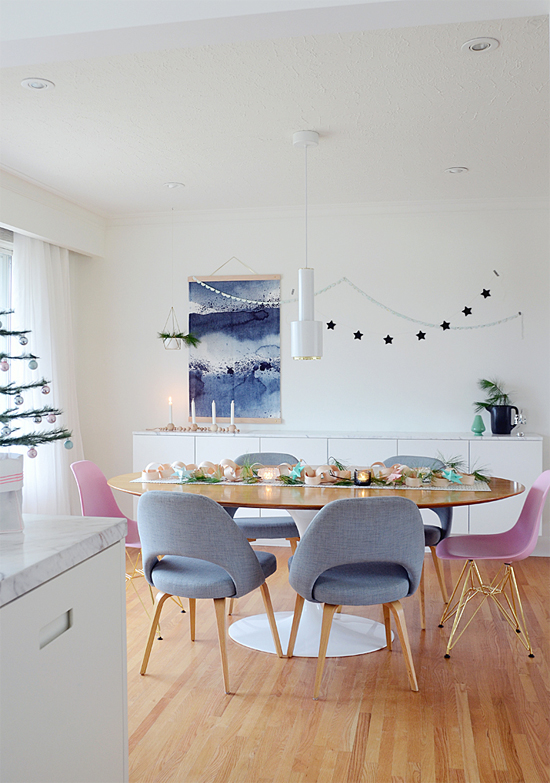 Last but not least, I'm in love with Anu's dining room. The pink Eames-style chairs (with gold legs, no less!), the wood veneer paper chain runner, and that lovely marble-topped sideboard. Yes, please!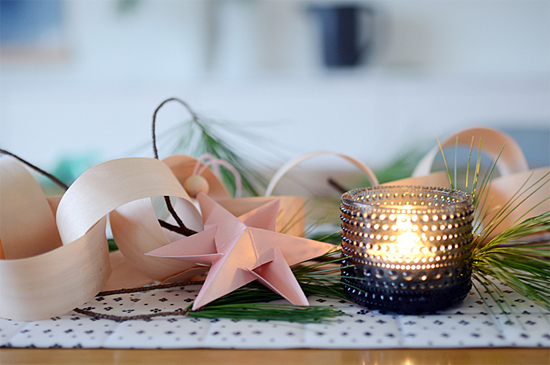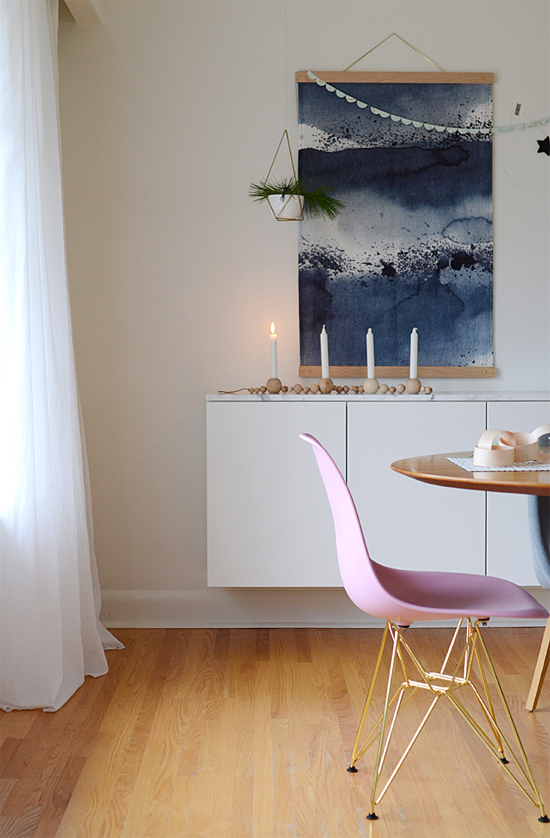 That beaded candle holder is a DIY project as well...I'm definitely inspired to make one for myself! Soo cute.
Be sure to check out Anu's original post on Nalle's House for many more photos. Thanks Anu, for letting me feature your beautiful home!
And everyone, have a fabulous weekend.