With Thanksgiving right around the corner, I thought it would be a good time to share my new favorite apple pie recipe. I just made it for the first time last week, after my sister-in-law told me about it. Then a couple days later, Allrecipes (which is based here in Seattle) delivered pie to a bunch of local businesses--including the company where I work. Guess which pie we got? Yep, this exact same one (it's their top rated apple pie). I figured that was probably a sign that I should tell you guys about it. This is seriously the best apple pie recipe I've ever found…and I'm a pie girl, so I've tried quite a few.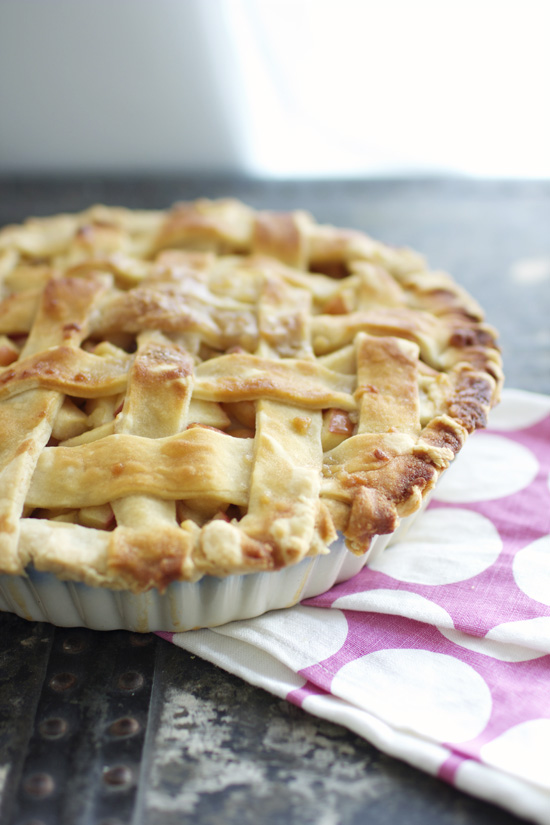 Apple Pie by Grandma Ople (from Allrecipes)
Ingredients:
9 inch double pie crust
1/2 cup unsalted butter
3 tablespoons all-purpose flour
1/4 cup water
1/2 cup white sugar
1/2 cup packed brown sugar
6 apples, chopped

1. Preheat oven to 425 degrees F. Melt the butter in a saucepan. Stir in flour to form a paste. Add water, white sugar and brown sugar, and bring to a boil. Reduce temperature and let simmer.
2. Place the bottom crust in your pan. Fill with apples, mounded slightly. Cover with a lattice work crust. Gently pour the sugar and butter liquid over the crust. Pour slowly so that it does not run off.
3. Bake 15 minutes in the preheated oven. Reduce the temperature to 350 degrees F. Continue baking for 35 to 45 minutes, until apples are soft.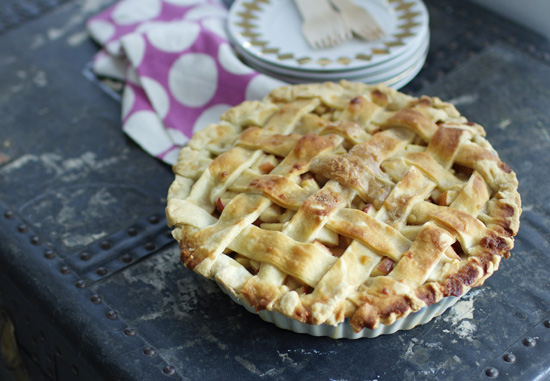 The instructions and ingredients are a little bit different than any other apple pie I've ever made (I know, no cinnamon?!), but don't be scared off by that. My favorite part is where the butter-sugar mixture gets baked onto the crust. It's so yummy.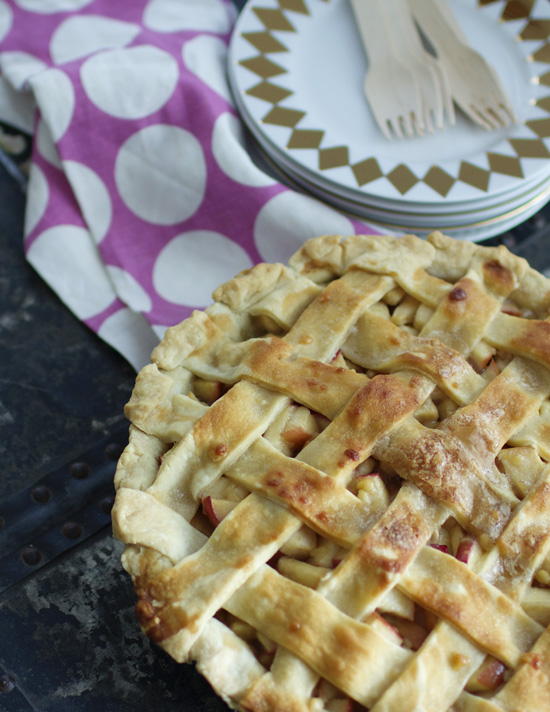 So, if you're on pie duty for Thanksgiving, give this recipe a try. And let me know what you think!