We've been working on our bedroom over the last couple months, and it feels so good to finally give it some love! I have a tendency to put all my energy (and my cutest stuff) into the living room and dining room, since that's what people see when they first walk into our house. But the bedroom is where Ben and I start and end every day, so we finally decided that it was time to put some effort into it. And it's really making a big difference! It's so nice to wake up and get ready in a room that feels more put-together (you can see some "before" pictures in this post)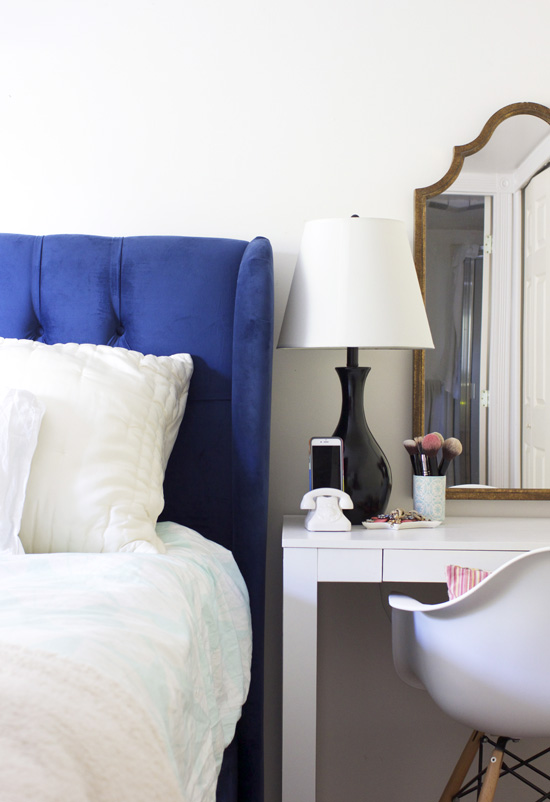 The biggest change is, of course, the bed. It's a tufted upholstered bed from Target. We got the navy color when they did a big sale about a month ago, and I love it! It's actually more of a deep royal blue than a true navy--which I was glad about.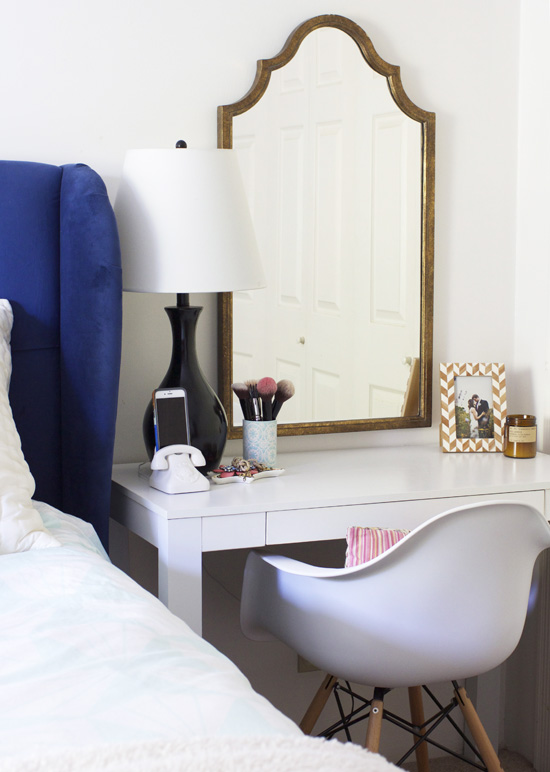 The other main difference that we've made so far is to move my desk into the bedroom. I'm now using it as a vanity. To be honest, I hardly ever sat at it when it was a desk, anyways--I guess I'm more of a sit-on-the-couch kind of girl. So this works great. I also finally got a "big girl" mirror for above the vanity. The one I had before was a cheapo $5 floor mirror, so this one is a huuuuge improvement. It's from Decor Planet!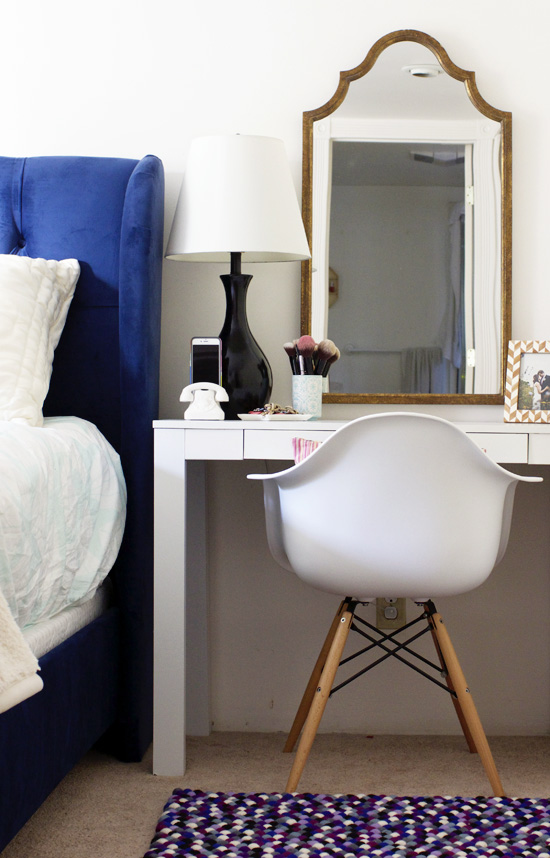 There are still several things on my list (a blanket for the bed, a rug, and a ghost chair for the vanity, to name a few) but at least we're getting closer. I would have loved to do a big makeover and reveal it all at once, but since our budget isn't huge, we've just been chipping away here and there…so I'll be sharing more bedroom photos again soon. Little by little!
What do you guys think so far? What room in your house are you working on? Do you like to do everything all at once and get it over with, or do you chip away at it month after month as well?
Thank you to Decor Planet for partnering with me on this post! Be sure to check them out for bathroom furniture, accessories, and decor--they have a great selection.