A couple months ago, Villeroy & Boch reached out to me with the opportunity to use some of their beautiful pieces in a post on summer entertaining. I've never owned nice china (most of our plates are ones I've collected from Ikea, Walmart, and Goodwill)--so I immediately said yes! I've been trying to embrace more colors that I used to shy away from (like orange) so I picked out their Anmut Orange Salad Plates. I had a bunch of ideas I wanted to do for this post, but I ran out of time to put together anything elaborate--so I just used some simple items I already had around the house. I realized that many of you are probably the same way. Maybe you're having some friends over for dinner, but you don't have time to run to the store and get anything fancy. Don't feel like it's a lost cause! I'll bet you already have plenty of items that you can dress up if you just put a little creativity into it.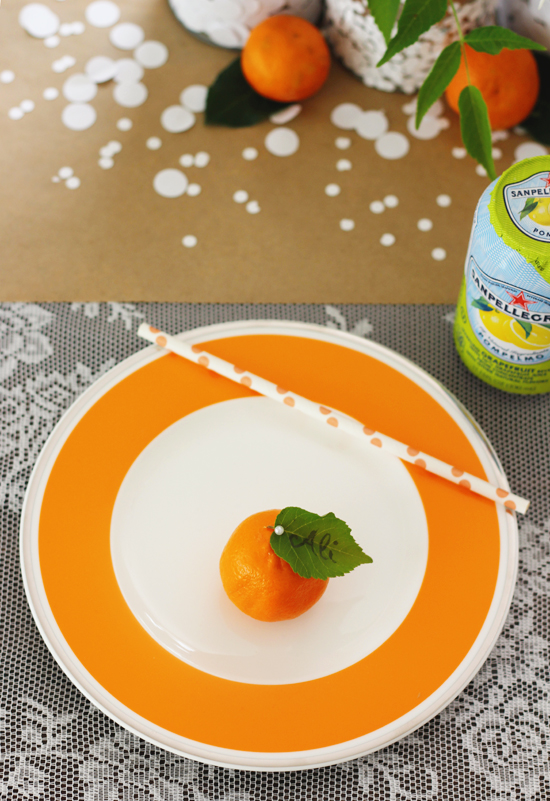 I put little clementine oranges at each place setting and pinned a leaf onto them. Then I wrote names on the leaves--a super simple idea for placecards.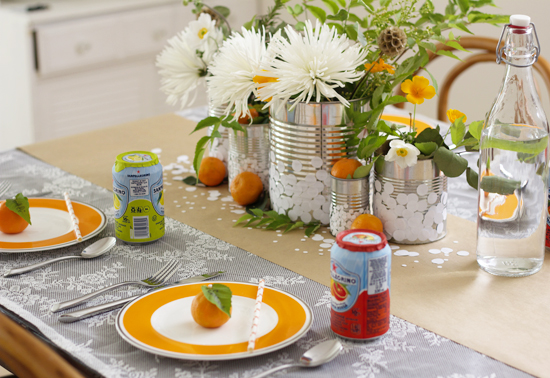 I love the ease of wipe clean tablecloths from Simply Tablecloths, and added an inexpensive table runner from a roll of painter's kraft paper. The color scheme was inspired by plates themselves: orange, white, and silver, with some green mixed in. Simple, summery, and fresh.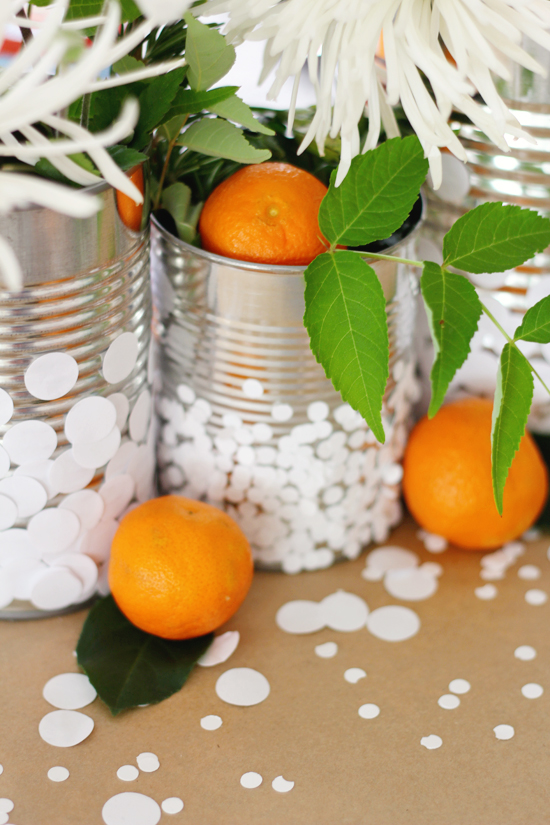 I rescued some tin cans from the recycling to use as cheap and casual vases. I've seen a lot of fun ideas with tin cans (painting them, wrapping them with fabric or yarn, etc.) but I wanted to do something different. I've been really loving confetti lately, so I got the idea to make confetti tin cans! I punched out two different sizes of circles from regular white printer paper, then I covered half the cans in glue and rolled them around in the paper circles. I love how they turned out, and it was so quick and easy! I sprinkled the remaining circles on the table runner.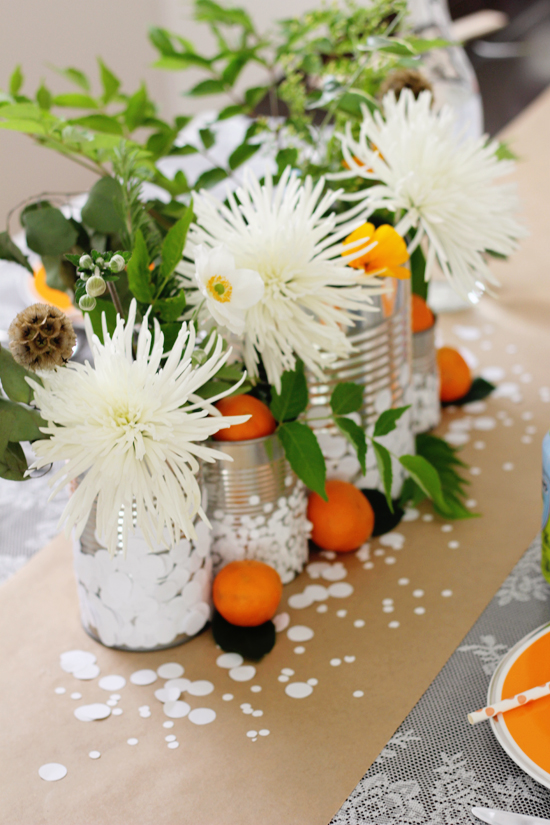 For the flowers, I grabbed a bunch of greenery from my yard, then mixed in more clementines and some white flowers from the grocery store. $5 for all of them! I really like mixing fruit with flowers--it's such a budget-friendly way to add some color.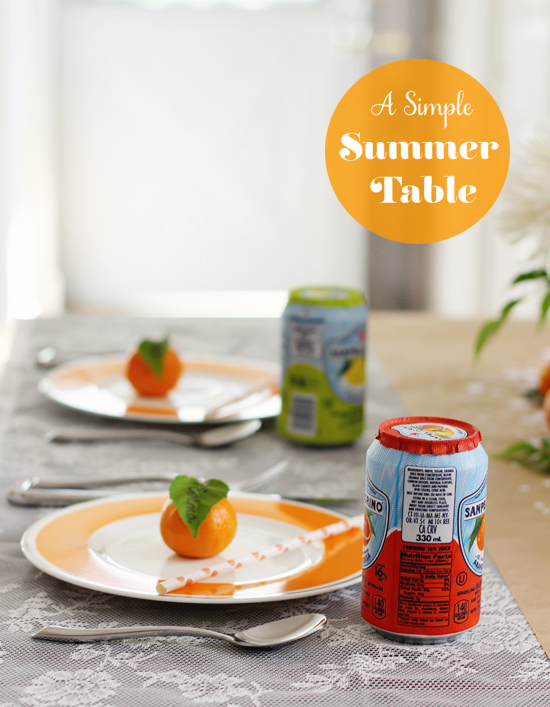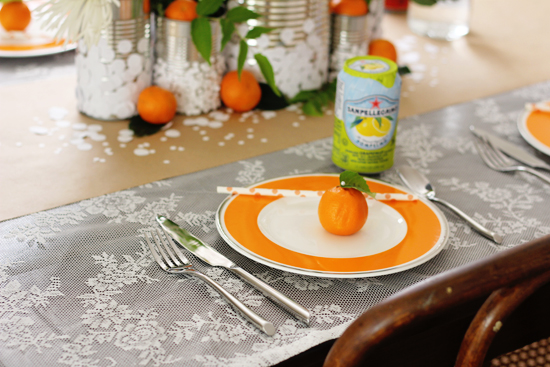 I also love mixing casual elements (like tin can vases and cans of soda) with luxury pieces like fine china and nice flatware.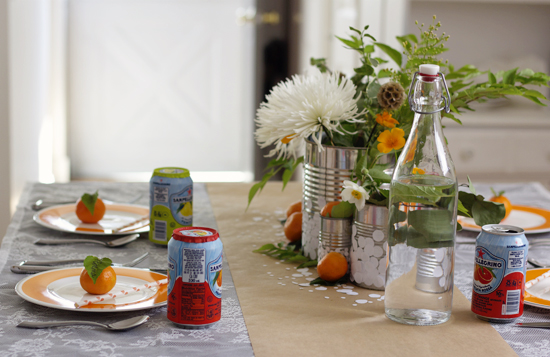 The whole thing took me less than an half hour to set up. I love how cheap and simple all the ideas are, and the china plates add a layer of luxury to the otherwise laidback tablescape.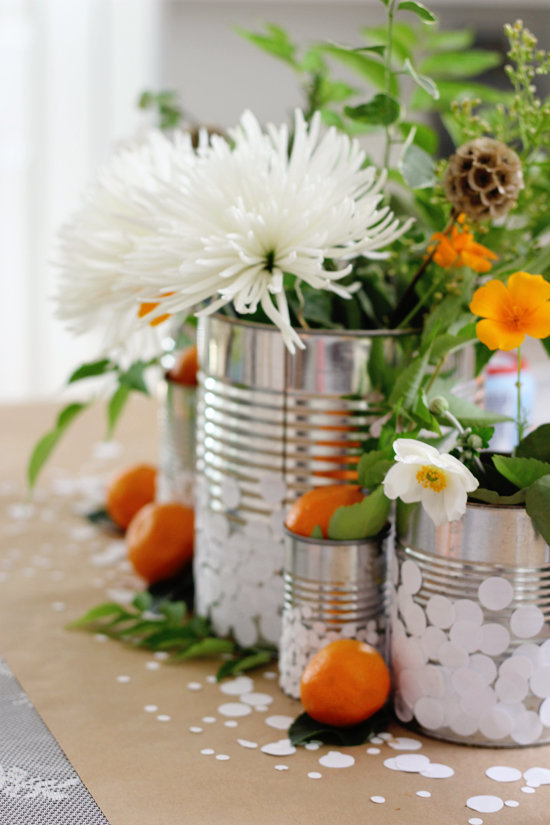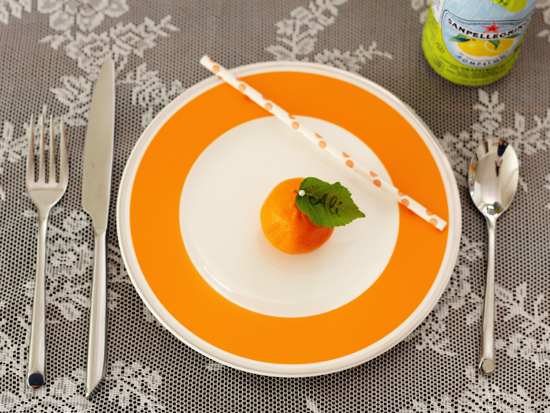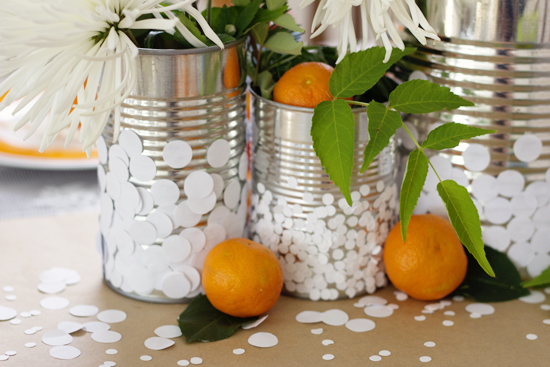 What do you think of these ideas? I really like the confetti tin cans--it would be easy to make a bunch of these for a wedding (just start saving tin cans now)! Thanks to Villeroy & Boch for sending me these beautiful plates. I'm excited to use them more!