Thank you to everyone who entered my giveaway this week! I read each and every one of your responses. I'm going to try to put together my FAQ page next week with answers to your questions (you asked me some good ones!) and I definitely want to incorporate the feedback and suggestions you gave me into future posts. So many of you asked to see more of my own home! Which is good, I need some motivation to keep working on the house. I have so many ideas but they keep getting put on the back burner (we've been having great weather in Seattle, so clearly spending time outside has been the priority). While I definitely don't feel like the whole house is ready for a tour, I am going to start sharing little corners of it, plus in-progress pictures of projects I'm working on. I'm a little bit of a perfectionist, so I have a hard time with in-progress pictures...there are still parts of every room that I really don't like. But hey, maybe you guys can help me figure out what to do with those areas! Let's start small, with a decision I've been thinking about for our living room...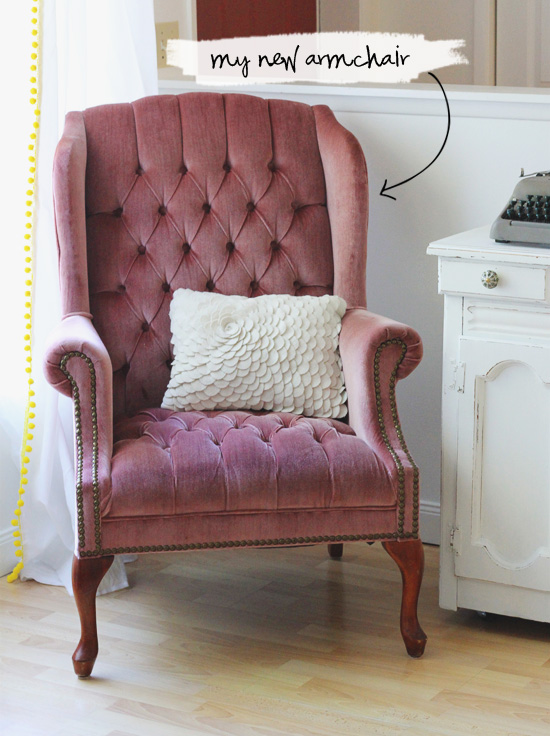 If you remember from this post, last month Ben and I bought a new armchair (the one above). I really like this chair. It's probably not the color I would have picked if I had gotten it upholstered myself, but for $90 with all those tufted buttons, nailheads, and velvet in really good condition, I wasn't about to be picky. As a side note, pictured in the back of this photo is my least favorite part of our living room--the front door. I hate that brick red color and would really like to paint it something bright and cheerful...but I'm not sure if our landlord would allow it. Ben says it's probably not worth it. I think it is :) But back to the chair decision! We'd like to get another armchair so we can have a pair of chairs across from our sofa, which is a stone-colored linen. My question is...what kind of chair should I get to pair with the velvet one?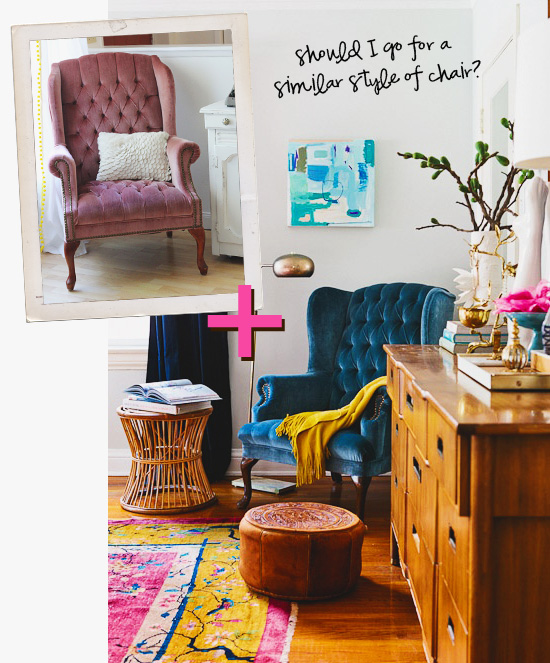 Should I go for another tufted wingback, in a different color? (I love this blue one...and that whole room, really).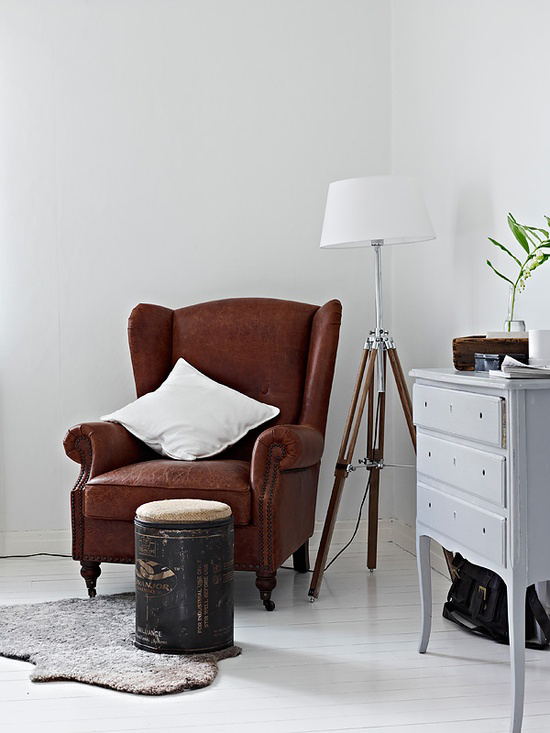 What about something that is a similar shape, but a different material? Like this leather wingback...or maybe a patterned one!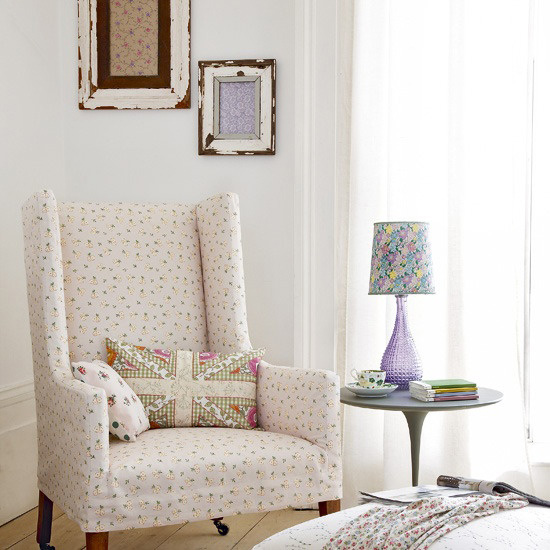 I do love floral...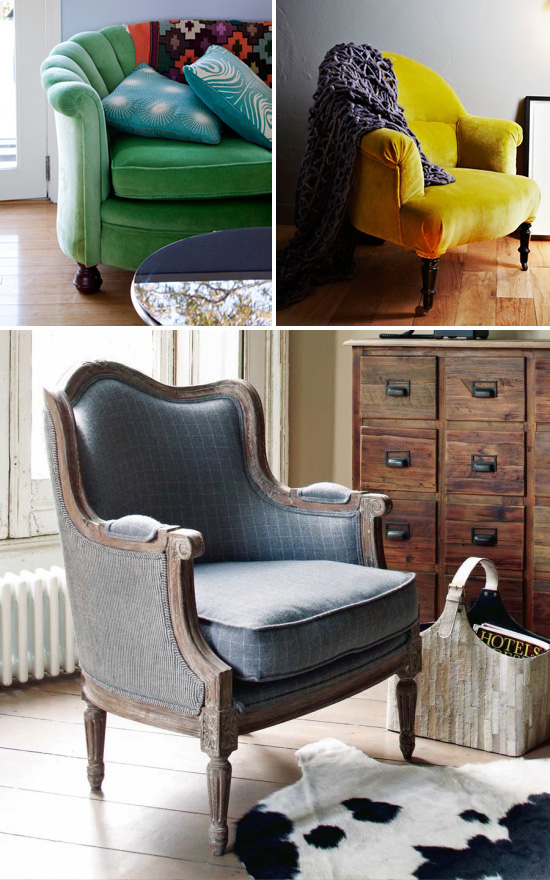 Or should I go for something totally mismatched--a different shape and a different color?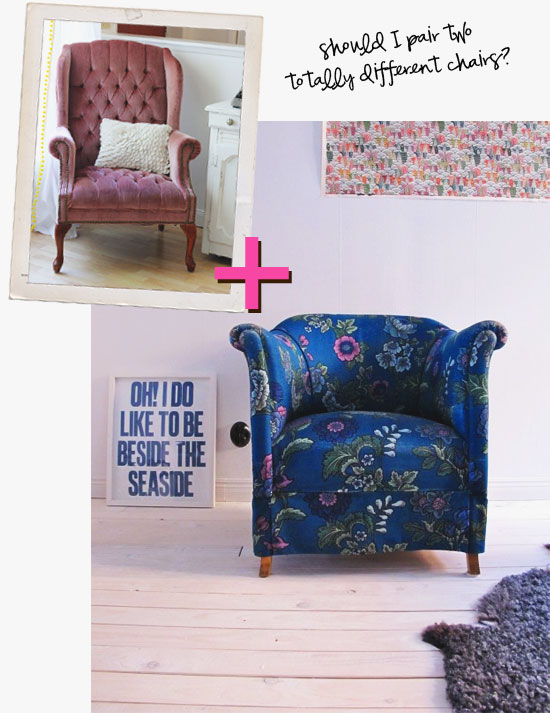 I do really like the mismatched look, especially with a chic floral armchair like the one above. I like how the pink flowers pick up the pink in the armchair, so they work together...but in a subtle way. Then again, I'm also digging the half and half chair below, with the cushion a different pattern than the rest of the chair!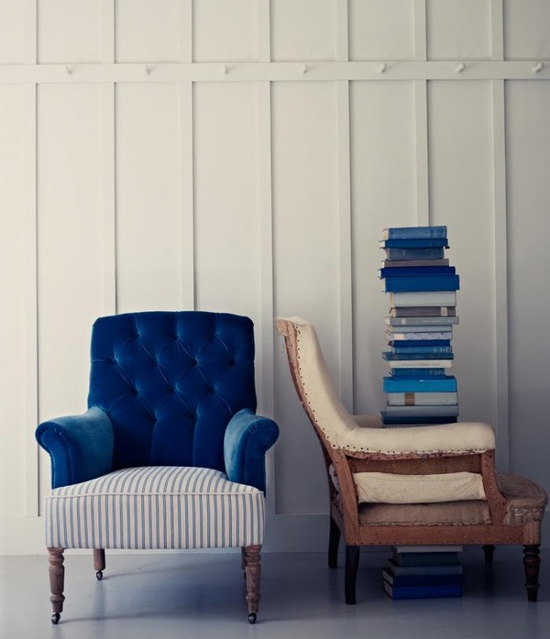 I'd love to hear your opinion--what do you think I should do? I'm going to try to take more photos of my home over the weekend so I'll have more corners of my house to share with you all!
Aaaaand as I promised on Monday, it's time to announce the winner of my giveaway! I just used a random number generator, so there was no bias or picking favorites...but I think it's pretty cool because it the winner has her birthday today! What? How crazy is that! Congratulations to Maria Malaveci...and happy birthday!
Sources: 2 / 4 / 5 / 6 / 7 / 8 / 9