I'm not a fan of lofty resolutions...they're kind of like strict diets if you ask me. Short-lived, no real results, and just make you feel guilty. BUT I do like setting goals every year. I try to be realistic and honest with myself, and I've found that the process helps me to narrow down all my random thoughts into some specific things that I want to focus on. Last year, we managed to knock out some big goals--moving cities, buying a house, and getting pregnant again. This year, I don't really have any BIG life goals in mind. Instead, I hope 2018 will be a year of enjoying where we are. Hanging out with people, appreciating what we have, and savoring this time of life. We're in a good place right now, and I want to simply enjoy it without putting pressure on ourselves to figure out the next big thing. After all, life is not about acquiring and achieving as much as possible. So my goals this year are all pretty low-key. I'm open to new changes in 2018...but I'm also content with things continuing along the same steady path. I love the quote below, it pretty much sums up how I feel. I hope I can keep that attitude in mind throughout the whole year!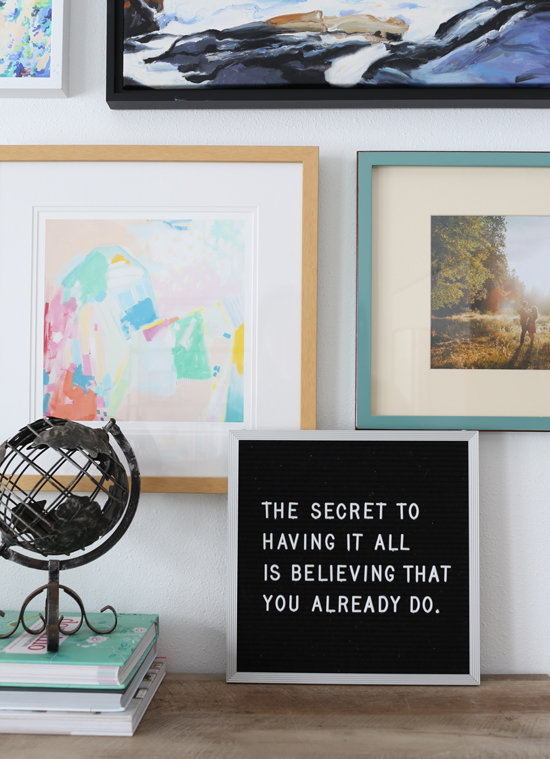 GOALS FOR 2018
1. Have friends over more often - We like having people over to our house, but we haven't done it much since we moved. Either the house is too dirty, or I don't have the energy to make a fancy dinner, or we wait til the last minute and assume everyone has plans already. Well, this year I want to kick those excuses to the curb. Having friends over doesn't have to be stressful...it can just be afternoon coffee and games, or spaghetti from a jar and salad from a bag. And who cares if the house is perfectly clean? It's about spending time together. I think the reason it sometimes feels overwhelming to invite people over is that we don't do it often enough. If we've never had someone over to our house, we feel like we have to impress them and prove that we don't live as messy slobs. But it's more laidback with the people we see regularly. So here's to having people over more often this year, in a low-key, casual, no-pressure way!
2. Explore the area around us - We probably won't be able to take any international trips this year (unless you count Canada!) due to limited vacation time + new baby + saving our money for remodeling. But that doesn't mean we can't travel! There's a lot to see within driving distance of Spokane, and this year I want to take advantage of that and do more small trips. Glacier? Yellowstone? Banff? There are actually a lot of really great possibilities that I haven't been to since I was a kid--and Ben has never seen.
3. Meet local creatives in Spokane - I'm not sure what my next step will be career-wise, but I have a feeling it will be something local (I'm toying with the idea of eventually starting a decorating/staging business). In all the years I lived in Seattle, I only met a few creatives in person...partially because I was intimidated by most of them, but also because we weren't sure if we'd stay in the Seattle area. Now we're settled in Spokane, and we plan to be here for the foreseeable future. Plus this smaller-town community seems less intimidating. So I want to start getting to know people and building connections! As an introvert, that's definitely waaay out of my comfort zone, but I want to challenge myself to reach out to at least a few people this year.
4. Make time for reading & relaxing - It's going to be an adjustment for me to have a baby and a toddler this year, and I know my free time will be pretty limited. Luckily, my mom lives nearby and has offered to watch Ian on a regular basis once the baby comes, which will be a huge help! I'll mostly use that time to work on blog posts, clean the house, and get practical stuff done...but I also want to give myself some time for reading, taking naps, and watching shows while snuggling the baby. Sometimes I feel guilty about relaxing and taking time for myself, but it's necessary for my well-being! So I'm putting it on my list of goals so I can feel good about making relaxation a priority.
5. Renovate the kitchen - This is my one big goal for 2018! It's a little intimidating since we've always rented before, so renovations are new territory for us. Decorating is gradual, evolving, and easy to rearrange. But renovations are all at once, hard to change, and SO much more expensive! I want to make sure we don't waste a bunch of money or end up dissatisfied with the end result. In my dreams, everything goes really well, we love the process, we learn how to do some things ourselves, we get to know a good contractor we can trust, the kitchen turns out fabulous, we stay on budget, and we're motivated to tackle the bathrooms afterward! Is that too much to ask for? Haha. :)
What are your goals for 2018? I'd love to hear!