The other day I had a reader ask me where I get all my fonts (I admit, I do have a lot). I've bought a few, but actually most of my favorites are ones I downloaded for free, or came with my computer. If you're anything like me, you love free stuff, so I thought I'd share their names so you too can expand your font collection without spending a dime. Here they are--fifteen fabulous free fonts!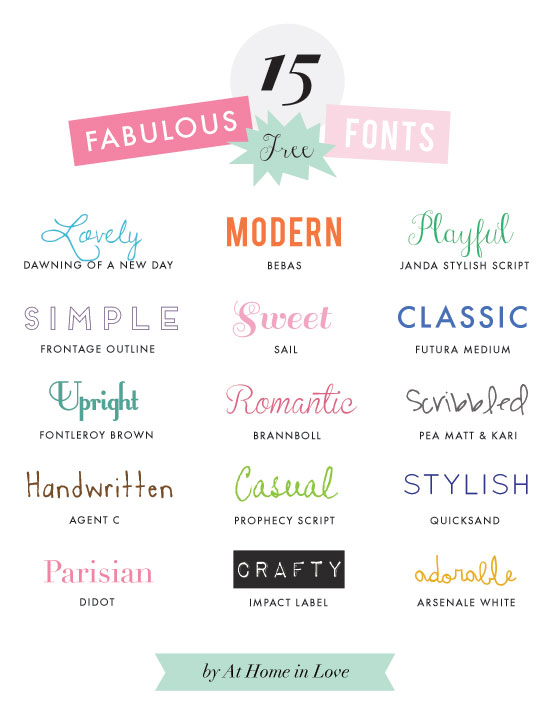 1. Dawning of a New Day // 2. Bebas: With clean, modern fonts like this one or Futura medium, I often increase the tracking (the space between the letters) // 3. Janda Stylish Script // 4. Frontage Outline: The rest of this font is not free, but you can get the outline version by "paying" with a tweet or a facebook post. // 5. Sail // 6. Futura Medium: This came with my computer. If you have it on yours, you should definitely use it--it's my go-to! Simple without being boring, it looks good with just about anything. // 7. Fontleroy Brown // 8. Brannboll // 9. Pea Matt & Kari: There are tons of fun handwriting fonts at this site--you can even submit your own handwriting! I have several of their fonts; this is one of my favorites, probably because it's pretty similar to my handwriting. // 10. Agent C // 11. Prophecy Script // 12. Quicksand: I recently started using this font a lot and I love it! The "Q" on it is especially cute. It's the font I used for this post. // 13. Didot: This also came with my computer, so if yours doesn't have it I'm sorry! It's pretty in regular, bold, or italic. // 14. Impact Label: This is fun novelty font, that looks like old Dymo labels. I haven't used it in any posts, but I think it would be cute for scrapbooking or card-making. // 15. Arsenale White
Do you have any favorite fonts, free or otherwise? Leave their name(s) in the comments so we can all check them out!
P.S. I've written some new font posts since this one--check them out here and here.