Our IKEA is really far away, and Ben is not a big fan of shopping...so for me to convince him that it's worth the hour+ trek, we gotta have some items on our list that are really worth the trouble. In fact, we haven't been there in three years! So I figured maybe it's time, especially since I've heard good things about a number of their baby items. I browsed through their website and picked out a few pieces that I really like...and I'm sure a few more might catch my eye in the store. I know this is kind of contradictory to the post I wrote last week about getting rid of junk and being really conscientious about every new purchase, though. What do you think? Are any of these items worth getting? Am I letting cheap prices tempt me into buying stuff I don't really need?
For baby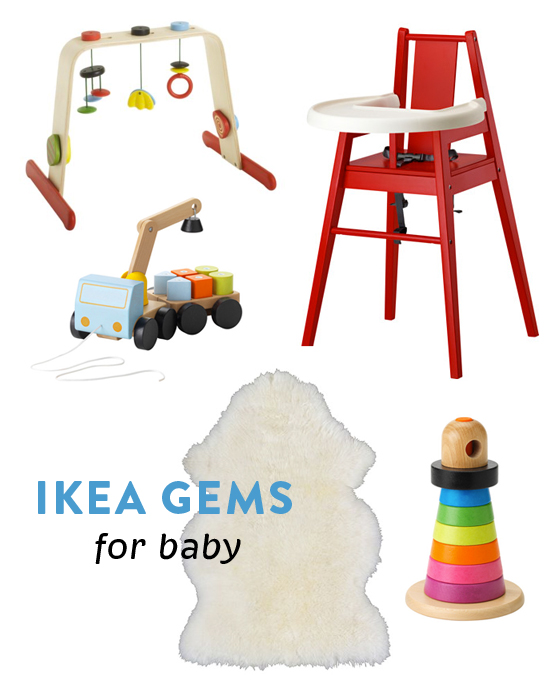 LEKA wooden baby gym - It seems like most wooden play gyms (especially the pretty ones) are around $100. So at $30, this one is definitely a deal. I also found a DIY tutorial for making it more minimalistic, if you're not a fan of the colors.
BLÅMES high chair - My favorite high chair is the Stokke Tripp Trapp, but it ain't cheap (nearly $300). This $60 IKEA chair seems like a good alternative that is still fairly attractive and design-conscious. Then again, we won't need a high chair for quite awhile, so maybe it's silly to buy one now and store it for that long...
MULA wooden crane - I love wooden toys, and IKEA has a number of cute ones that are fairly cheap. This one is $15.
RENS sheepskin - Sheepskin and babies just seem to go together, don't you think? I think it's because sheepskin is such a soft surface, plus it has interesting texture for photos and is just the right size for a baby. Worth $30?
MULA wooden stacking toy - Another cute wooden toy! At $8, it's considerably cheaper than the stacking toys I've seen at other stores.
For the home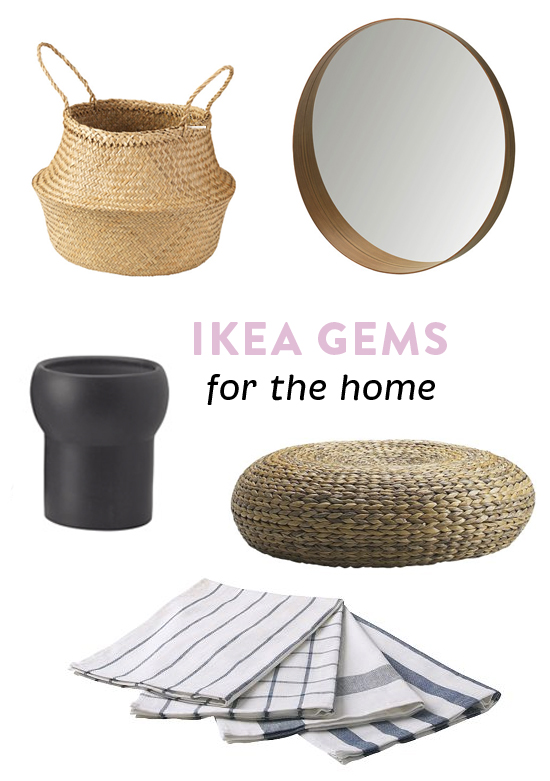 FLÅDIS basket - Ok, it's harder for me to justify purchases for the home because we are already bursting at the seams. But I really LOVE these baskets. They're perfect for holding plants or storing blankets, toys, etc. And they're only $10!
STOCKHOLM mirror - I don't actually need a new mirror for my house, but thought I'd include this in case any of you are in the market for a stylish-yet-inexpensive ($100) mirror. My sister-in-law has this one in her entryway, and it's beautiful!
SINNERLIG plant pot - Another thing I don't really need. But for some reason, I keep collecting more vases and planters! I love the simple, modern shape of this $14 beauty...and the matte black color is really nice too.
ALSEDA woven pouf - At $30, this is a great option for a stylish pouf or footstool. Stack two for even more versatility.
ELLY dish towels - Last but not least, IKEA is a great place to pick up kitchen textiles like dish towels. These are only $4 for a 4-pack! You could use them as cloth napkins, too.

What do you think? Is an IKEA trip in order? Or should I wait and see how much stuff I still "need" once our baby arrives? Any other IKEA gems that you would recommend?