I can't believe I'm already at 30 weeks! Two weeks into the third trimester, woohoo! This pregnancy is going by so much faster than when I was pregnant with Ian (I think it's because I was always thinking about it then, and this time I'm so busy chasing Ian around). I feel kind of bad that I've barely documented my bump or this pregnancy in general, so I thought I'd do a little update here. This is mostly for myself to look back on in the future since the blog is also like my digital diary...but in case any of you are curious too, why not put it on the internet for all to read? Haha.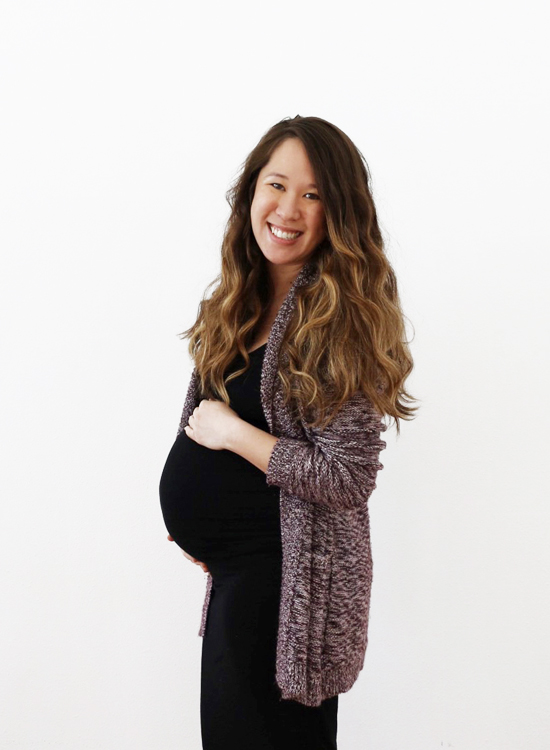 So, here I am at 30 weeks. And just for fun, here's what I looked like at the same point last time, on our babymoon. It was around 30 weeks with my last pregnancy that I started noticing swelling in my face, hands, and feet (a warning sign of preeclampsia, though I didn't realize it then). So I'm definitely a bit nervous this time around, and I'm making a conscious effort to take it easy, put my feet up, and watch out for swelling. I do feel like my face is a little bit swollen, but it's nothing like last time--I could barely fit in any of my shoes and my face was really puffy then. To be safe, I'm going to the doctor every two weeks, and we have an at-home blood pressure cuff. So far so good!
I can't remember exactly how much Ian was kicking around at 30 weeks, but this baby is super active. It's fun, bizarre, amazing, and WEIRD to see my belly shifting and bulging and moving around when I'm just laying still in bed.
We have another ultrasound in two weeks, which I'm excited about (I love getting a peek at the baby). On the same day, we also have a consultation to decide whether I should do a VBAC. Part of me thinks a repeat c-section seems easier, but another part of me wants the "normal" birth experience this time. If you had a c-section with your first baby, I'd be curious to hear what you chose with your second, and why.
Then at the end of February, my sister-in-law Ellen is throwing me a baby shower--my first one! (Ian was born before his shower ever happened). We already have most of the baby stuff that we need, so I'm not doing a registry or anything. But a lot of Ian's old clothes will be off-season for this guy, so I realized I do need some baby clothes...which, after all, is the most fun thing to buy and receive. :)
What else? We have a first name picked out! Still deciding on a middle name, but at least we've got a first name that we both agree on.
I think this baby will sleep in our room at first, same as Ian did, so I haven't put too much effort into the nursery. Actually, it's kind of a mess right now with boxes and bins of baby gear. I need to set aside some time to get it all unpacked and organized soon!
It's really crazy to think that if this goes like last time, my baby would be born in THREE WEEKS. Of course, I have my fingers and toes crossed that this guy stays in all the way til full term...but it is somewhat reassuring to know that his chance of survival at this point is very good. And once I hit 33 weeks (same as when Ian was born), I will breathe easier and easier with each week after that. We're in the home stretch!
I think that's everything that's going on with me and this pregnancy. Feel free to comment if you have any questions!

It's been awhile since I found a blog that made me want to binge-read every single post back to the very beginning. I haven't (yet!), because duh, I have a toddler...but I've definitely been reading a lot of The Grit & Polish since I came across it this week. I'm really inspired by their story: Cathy and her husband Garrett have renovated five houses since 2008, and the rental income from those houses allowed them to "retire" by age 34 (read more about that here). They're currently working on their sixth house, a farmhouse that they intend to keep as their forever home. And it's here in Washington state! They recently moved from Seattle to Ellensburg, a town in central Washington that I've been to many times. That definitely made me extra interested in their story, especially when I saw they have an HGTV pilot in the works. I'd love to see a show based in Washington take off, and I'll definitely be rooting for them when it airs!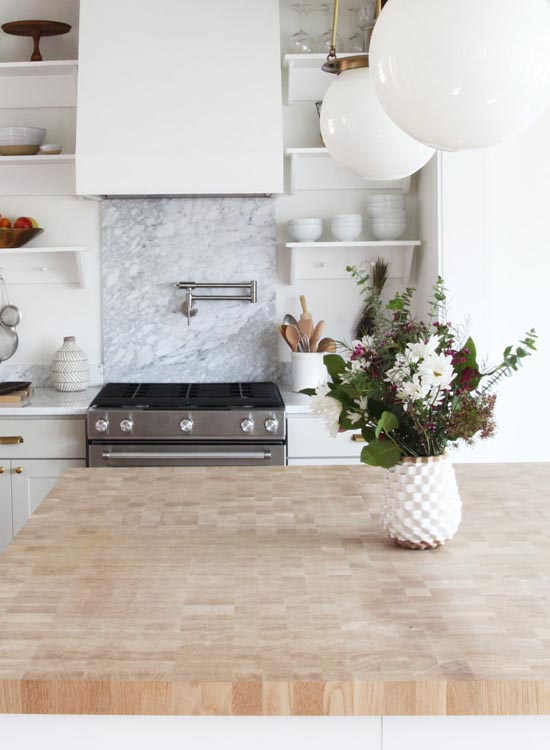 The photo above is the kitchen from the house they renovated for HGTV. There aren't many pictures of that house up yet (I think they're waiting for the show to come out), but if this sneak peek is any indication, it's gonna be good.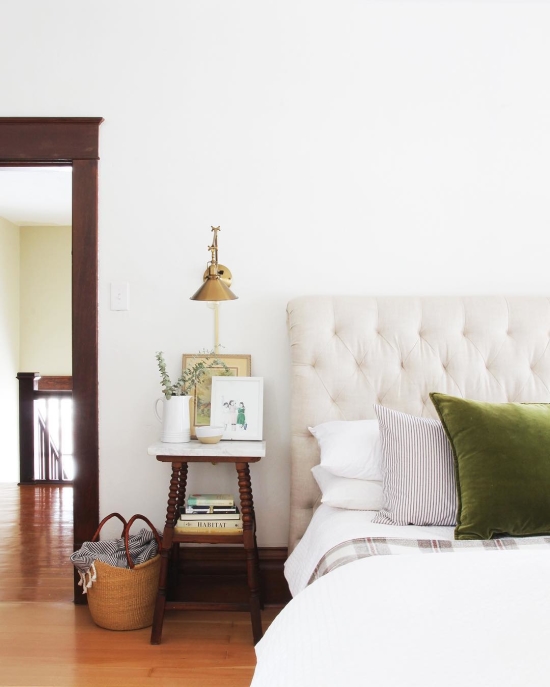 Cathy's style leans vintage, which works well with the houses they buy (all of them were built pre-1930). She finds a lot of unique pieces on Craigslist and salvage shops, but she also sources great designs that look vintage. Best of all, most of the pieces they use actually align with my budget! There's nothing more discouraging than falling in love with something you see in a photo, only to have it be hundreds or thousands of dollars more than you can afford.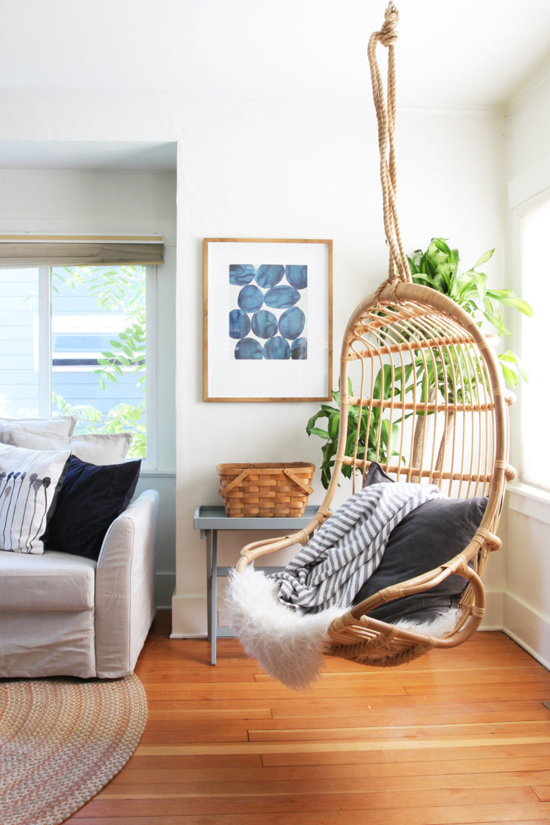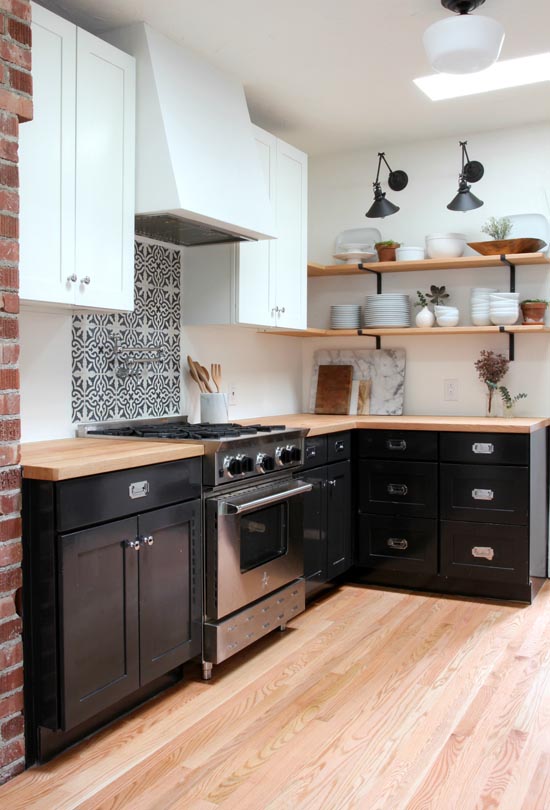 Since we'll be tackling our own kitchen renovation for the first time ever this year, I was especially interested in the posts where she breaks down what they spent on their kitchens, and where everything is from. The one above is the Dexter kitchen, and the one below is a kitchen they remodeled for some friends of theirs (lucky friends!).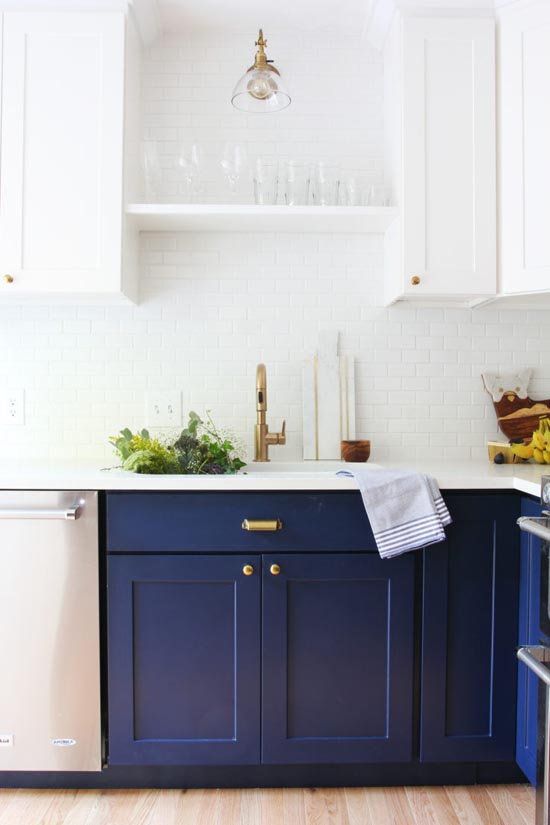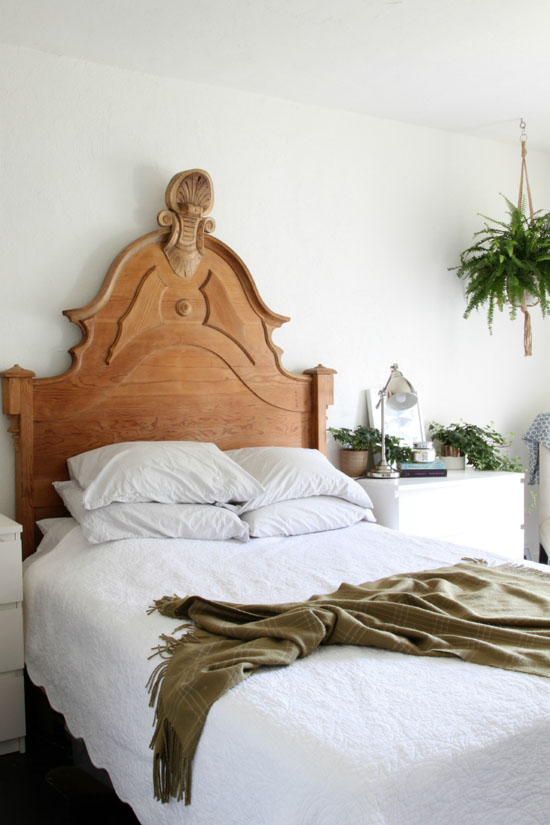 There's so much more inspiration on Cathy's blog, The Grit & Polish. Go check it out and join me in my binge-reading! And be sure to follow Cathy on Instagram too.


I'm not a fan of lofty resolutions...they're kind of like strict diets if you ask me. Short-lived, no real results, and just make you feel guilty. BUT I do like setting goals every year. I try to be realistic and honest with myself, and I've found that the process helps me to narrow down all my random thoughts into some specific things that I want to focus on. Last year, we managed to knock out some big goals--moving cities, buying a house, and getting pregnant again. This year, I don't really have any BIG life goals in mind. Instead, I hope 2018 will be a year of enjoying where we are. Hanging out with people, appreciating what we have, and savoring this time of life. We're in a good place right now, and I want to simply enjoy it without putting pressure on ourselves to figure out the next big thing. After all, life is not about acquiring and achieving as much as possible. So my goals this year are all pretty low-key. I'm open to new changes in 2018...but I'm also content with things continuing along the same steady path. I love the quote below, it pretty much sums up how I feel. I hope I can keep that attitude in mind throughout the whole year!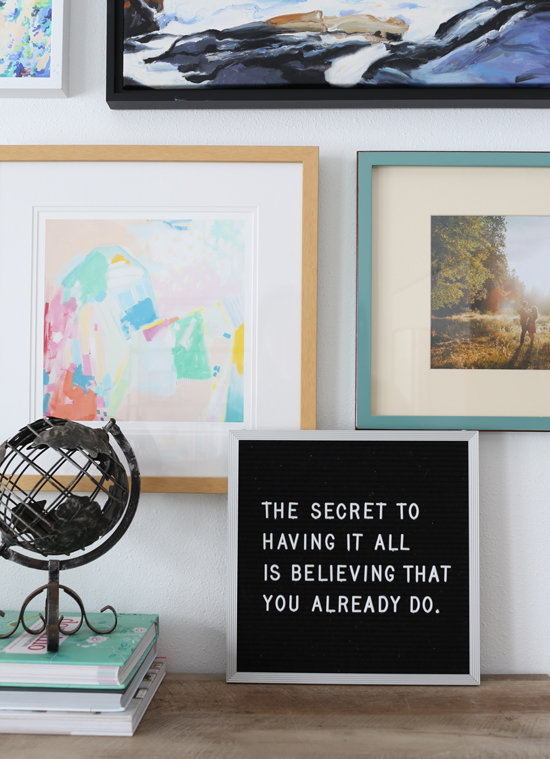 GOALS FOR 2018
1. Have friends over more often - We like having people over to our house, but we haven't done it much since we moved. Either the house is too dirty, or I don't have the energy to make a fancy dinner, or we wait til the last minute and assume everyone has plans already. Well, this year I want to kick those excuses to the curb. Having friends over doesn't have to be stressful...it can just be afternoon coffee and games, or spaghetti from a jar and salad from a bag. And who cares if the house is perfectly clean? It's about spending time together. I think the reason it sometimes feels overwhelming to invite people over is that we don't do it often enough. If we've never had someone over to our house, we feel like we have to impress them and prove that we don't live as messy slobs. But it's more laidback with the people we see regularly. So here's to having people over more often this year, in a low-key, casual, no-pressure way!
2. Explore the area around us - We probably won't be able to take any international trips this year (unless you count Canada!) due to limited vacation time + new baby + saving our money for remodeling. But that doesn't mean we can't travel! There's a lot to see within driving distance of Spokane, and this year I want to take advantage of that and do more small trips. Glacier? Yellowstone? Banff? There are actually a lot of really great possibilities that I haven't been to since I was a kid--and Ben has never seen.
3. Meet local creatives in Spokane - I'm not sure what my next step will be career-wise, but I have a feeling it will be something local (I'm toying with the idea of eventually starting a decorating/staging business). In all the years I lived in Seattle, I only met a few creatives in person...partially because I was intimidated by most of them, but also because we weren't sure if we'd stay in the Seattle area. Now we're settled in Spokane, and we plan to be here for the foreseeable future. Plus this smaller-town community seems less intimidating. So I want to start getting to know people and building connections! As an introvert, that's definitely waaay out of my comfort zone, but I want to challenge myself to reach out to at least a few people this year.
4. Make time for reading & relaxing - It's going to be an adjustment for me to have a baby and a toddler this year, and I know my free time will be pretty limited. Luckily, my mom lives nearby and has offered to watch Ian on a regular basis once the baby comes, which will be a huge help! I'll mostly use that time to work on blog posts, clean the house, and get practical stuff done...but I also want to give myself some time for reading, taking naps, and watching shows while snuggling the baby. Sometimes I feel guilty about relaxing and taking time for myself, but it's necessary for my well-being! So I'm putting it on my list of goals so I can feel good about making relaxation a priority.
5. Renovate the kitchen - This is my one big goal for 2018! It's a little intimidating since we've always rented before, so renovations are new territory for us. Decorating is gradual, evolving, and easy to rearrange. But renovations are all at once, hard to change, and SO much more expensive! I want to make sure we don't waste a bunch of money or end up dissatisfied with the end result. In my dreams, everything goes really well, we love the process, we learn how to do some things ourselves, we get to know a good contractor we can trust, the kitchen turns out fabulous, we stay on budget, and we're motivated to tackle the bathrooms afterward! Is that too much to ask for? Haha. :)
What are your goals for 2018? I'd love to hear!
The Home Depot provided me with product and compensation for this post. All opinions are 100% my own​.
I'm welcoming in the new year by welcoming you into our entryway! When we first moved in, we loved the tall ceilings and all the natural light this space gets, but other than that it was looking pretty blah. Enter a fancy new light, a pretty tufted bench, and some other decor pieces from Home Depot, and it's making a muuuuch better first impression on our guests. I still have dreams of ripping out the boring brown tile and doing something prettier here, but other than that I'm very happy with this space.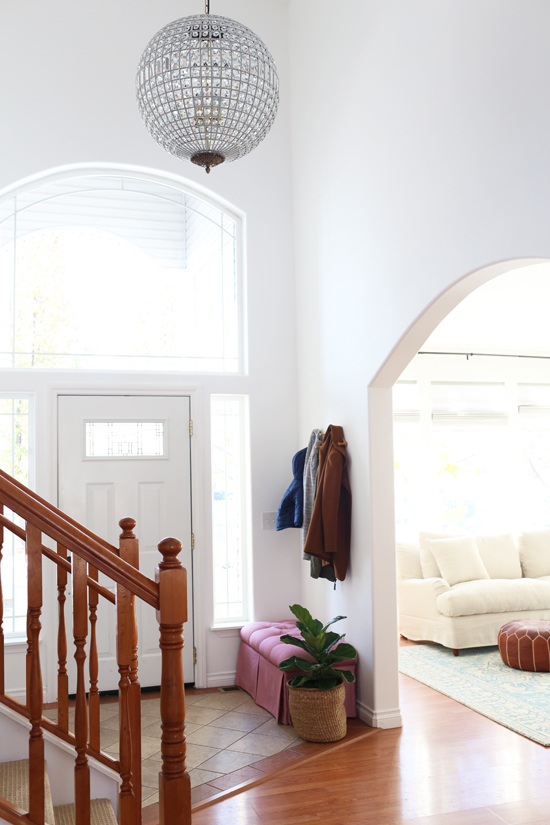 When you come in the front door, there's now a pink upholstered bench to your left, where you can sit to put on/take off your shoes. Best of all, the top lifts so we can store hats and gloves in there. It's been really handy to have that extra storage space this winter. Above the bench, there's a simple wall mounted coat rack for the coats we wear regularly (the rest of them are still in the coat closet, on the opposite wall).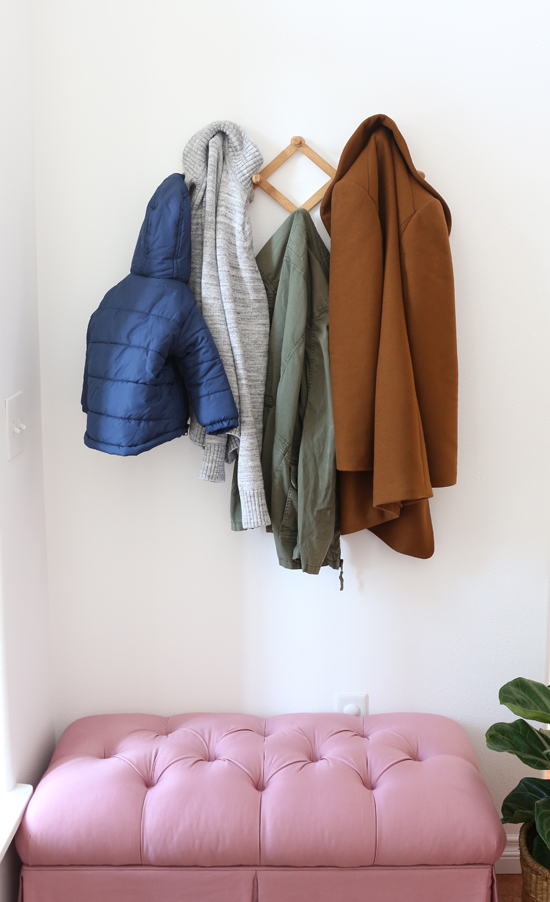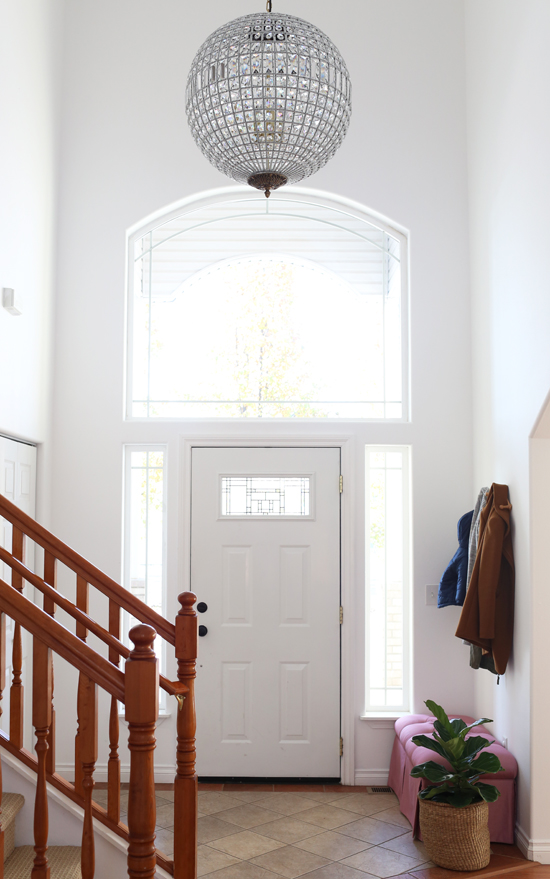 The biggest difference, and my favorite part of the whole entryway, is the new chandelier. It's the Olivia 5 Light Crystal Chandelier, and it's gorrrrgeous. It was a bit of a challenge figuring out how to wire a new light on a 17 ft ceiling...but we did it. Or rather, I should say, Ben did it with the help of his brother and two extra-tall ladders. We wanted something grand and dramatic (but not gaudy), and I think this chandelier fits the bill perfectly. The crystals feel really fancy, but the simple sphere shape keeps it from being over-the-top. A huge improvement on the light that was there before.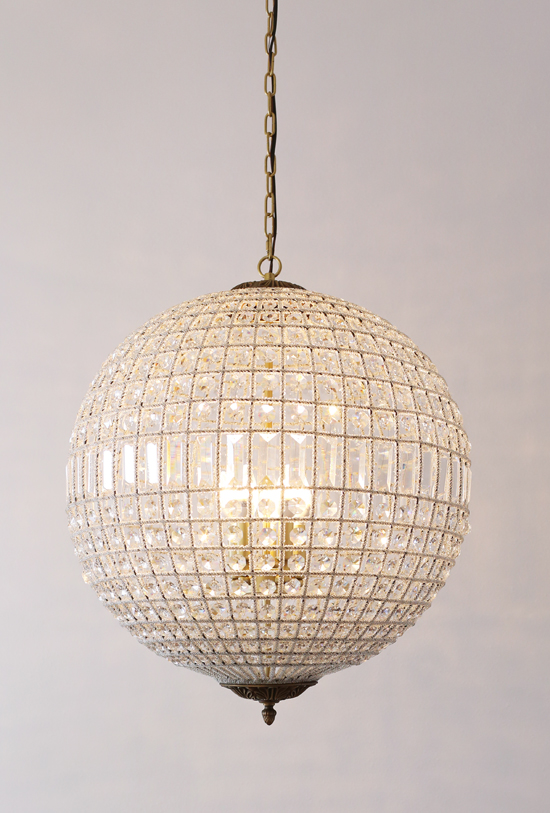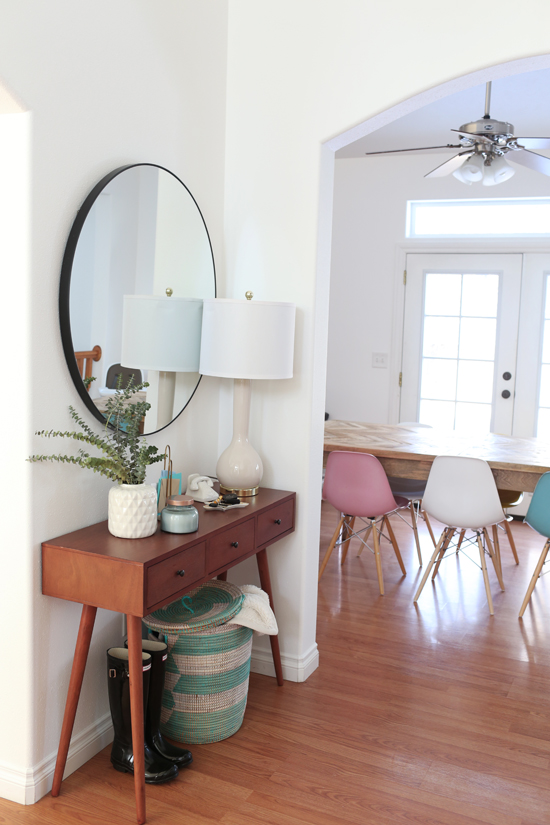 Past the stairs, we have a midcentury style console table with drawers for envelopes, stamps, and other small items that are nice to have accessible. Above it we hung a big round mirror with a simple modern frame. On the table, I put a skinny table lamp for extra light, plus a few small organizers for holding things like keys and mail. And under the table, I put a bigger basket for extra storage (right now we have throw blankets in there).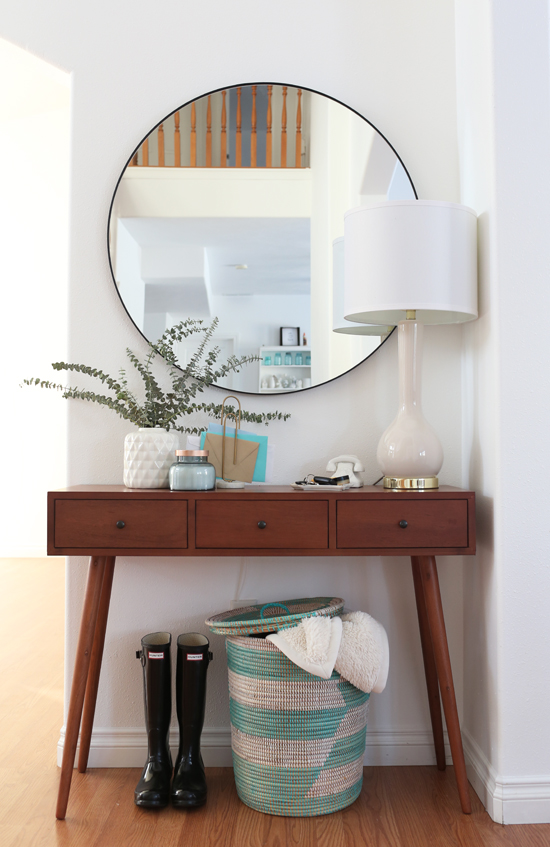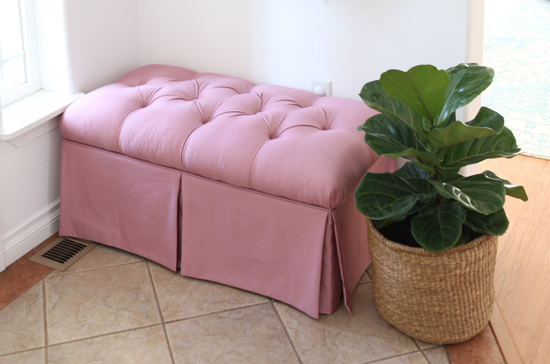 The last addition to the entryway was a fiddle leaf fig plant. I've wanted one of these for years! We killed all our old houseplants in the move (terrible) and at first I thought I should just admit my plant-killer status and start over with fake plants. But I decided to give it another try, and so far this guy is doing great! I think he likes all the natural light that the entryway gets.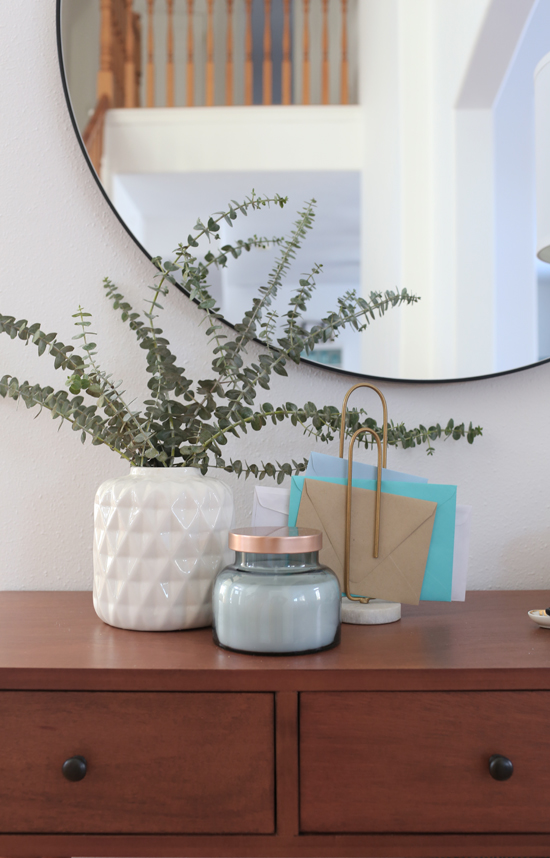 This space is so much more welcoming now! Since the entryway is the first thing people see when they come into your house, I think it's well worth spending a little time, effort, and money to make it feel decorated and considered.
P.S. Have you ever browsed The Home Depot site for decor? I think most people think of them as a destination for big renovation projects involving lumber, tile, paint, etc. Maybe plants and lighting too. But they have so much more online than what you see in the stores! I've been really impressed with their selection of decor and furniture. Definitely worth checking out! You can shop all the items from our entryway and see more ideas here.