Ben and I love lawn games (we even had croquet at our wedding!), and our family has a tradition of playing lawn games on the 4th of July. Obstacle courses, water balloon tosses, bocce ball, three-legged races, etc. It's always hilarious and a lot of fun, especially because we're all pretty competitive. So since the 4th is this Saturday, I started looking for some different lawn games to bust out this year...and I found a lot of great DIY versions! I'm not sure if we'll have time to make any of these by then, but they look easy enough to try--and fun enough to play all summer long.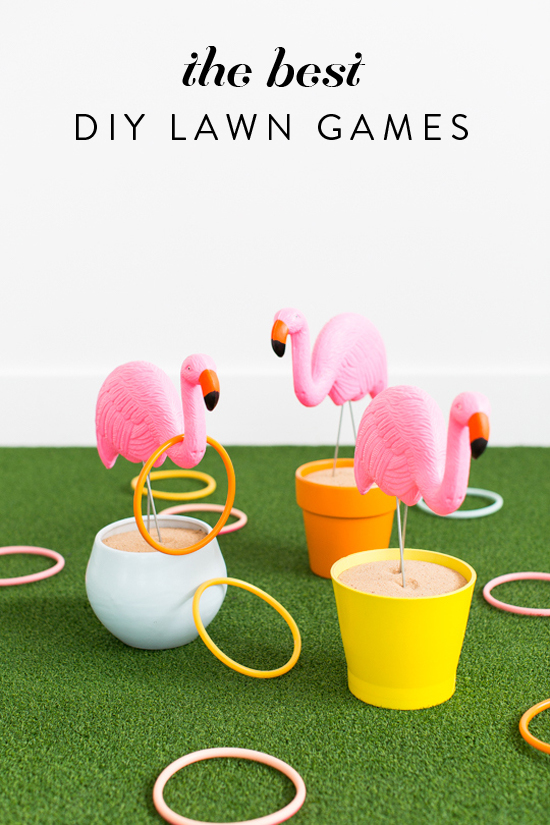 1. Flamingo Ring Toss: This idea is pure genius. All you need is those plastic flamingos you can buy at the hardware store and some rings to toss--and if you have grass in your backyard, you can just stick their legs into the ground (no need to "pot" them)!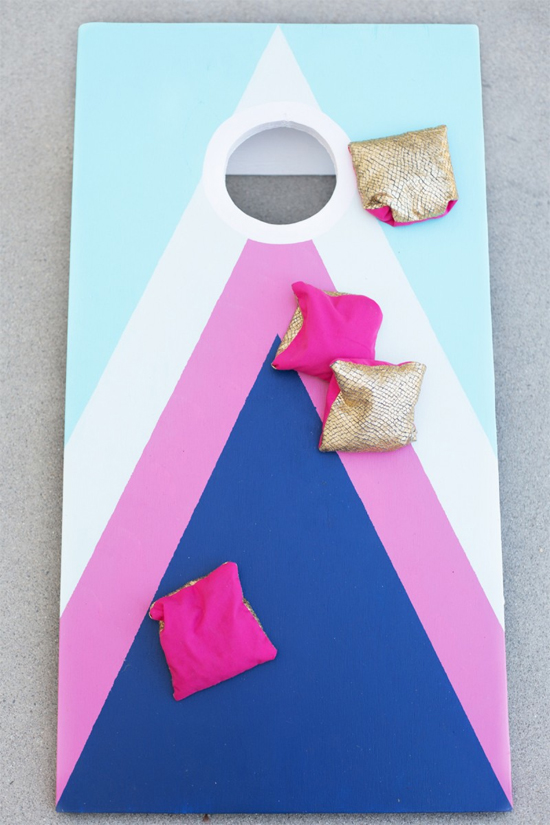 2. Painted Cornhole (aka Beanbag Toss): Cornhole is a classic--although I always called it beanbag toss, growing up. This looks like one of the easiest games to DIY. You'll just need some plywood, a drill, and some paint to personalize it.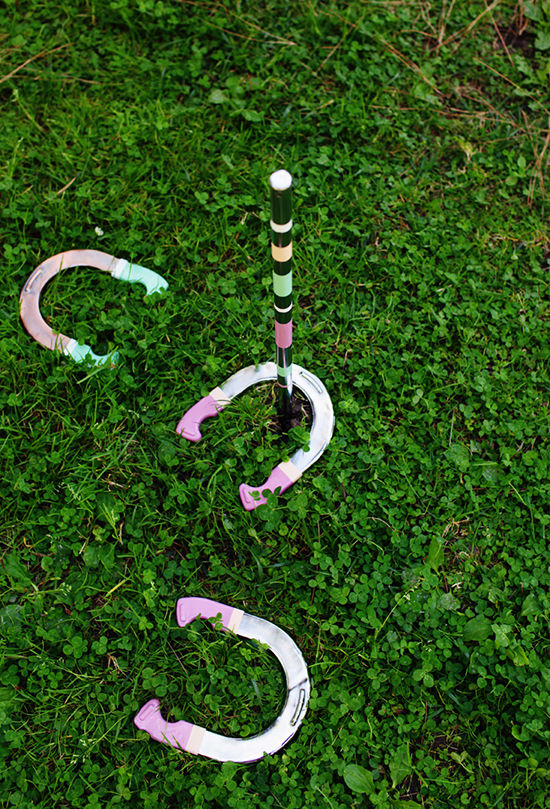 3. Prettied-up Horseshoes: Similarly, a little paint can make a game of horseshoes oh-so-pretty! This would be perfect for a wedding or backyard party.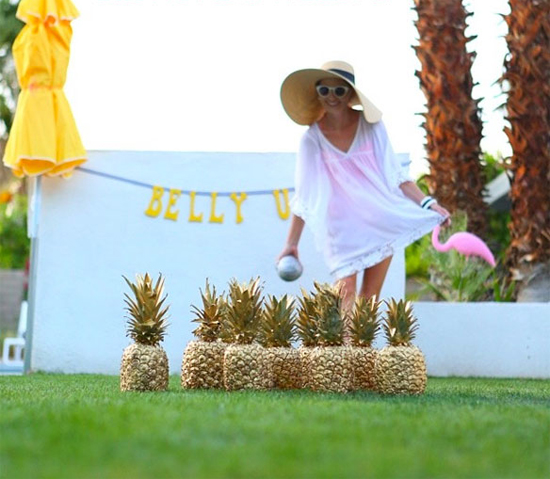 4. Pineapple Lawn Bowling: Pineapples are trending right now. I'm seeing them everywhere--so hey, why not bowl with them too? If you don't want to waste money on fresh fruit that will go bad later, there's also this wooden pineapple bowling set…it's adorable.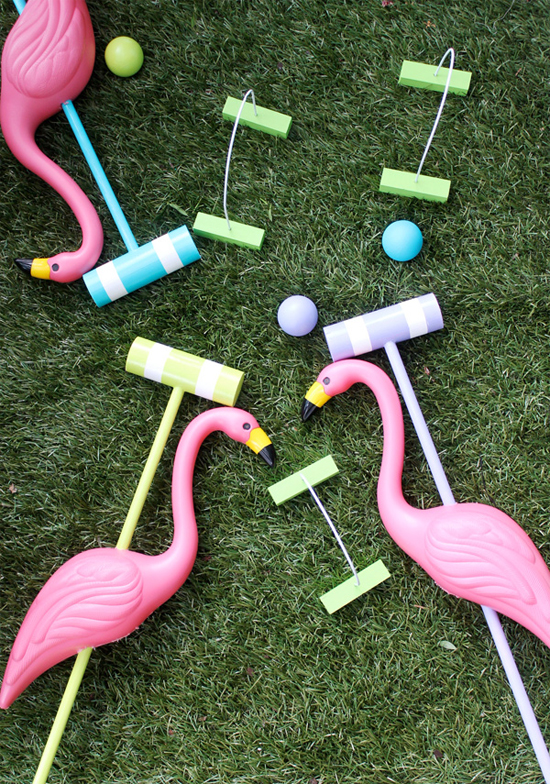 5. Alice in Wonderland Croquet: Last but not least, one of my favorite lawn games--with a twist! This tutorial shows you how to DIY an entire croquet set, complete with flamingo mallets à la Alice in Wonderland. So fun!

A few other ideas I've seen are giant versions of popular board games (Scrabble, Dominoes, Jenga, etc.), Kubb (also known as Viking chess--it's super fun) and even a macrame badminton net! What are your favorite lawn games?
And in case I don't fit another post in before then, what are your plans for the 4th?!


I can't believe tomorrow is already July!! Summer is going by way too fast--partially because the weather this year has been so freaking amazing. We normally have a rainy June, but this whole month has been sunny and warm and beeaauuutiful (but shhh, don't tell anyone--it's already too expensive to live in Seattle, we don't need anyone else moving here!). The longest day of the year has come and gone, but we still have a good stretch of summer ahead. I'm planning to savor it, get outside, and enjoy the sun as much as possible! And before summer is over, I also want to get a few things...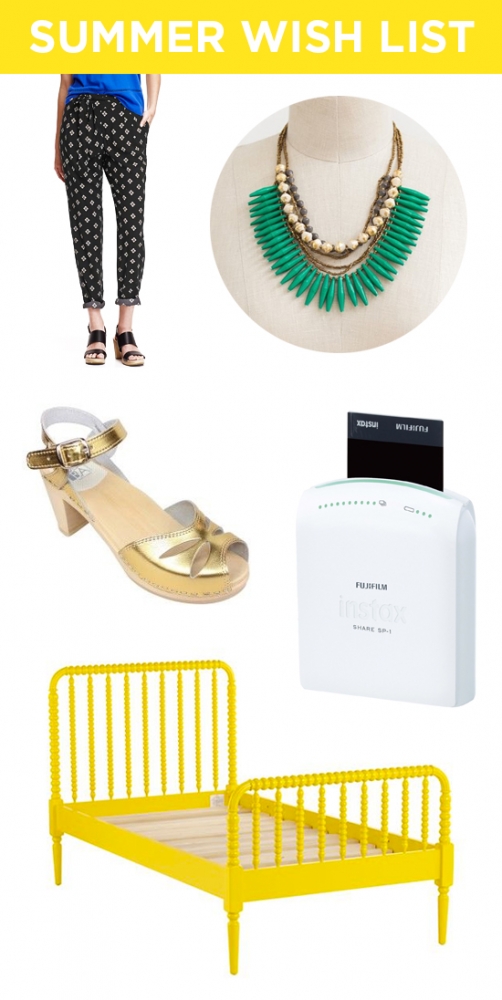 1. Breezy patterned pants: I'm looking for some lightweight pants that I can wear to work without being so HOT. Tight jeans and summer heat are not my favorite combination. / 2. Colorful statement necklace: For some reason, I really feel like I need this necklace (even thought I have plenty of jewelry already). It's just so unique and fun! / 3. Gold sandals: I love Swedish sandals, and I've been wanting to get a new pair. I think this metallic gold would be perfect (and go with everything!) / 4. Instax Smartphone Printer: This printer prints photos from your phone on Instax film (so you can turn your Instagrams into real Polaroids). So FUN--I want one! / 5. Bed for our guest room: We're working on our guest room (slowly but surely) and we need a bed. I thought a Jenny Lind bed might be a good option...they're so cute, and would transition nicely into a kid's room in the future. A full one would be ideal so it could work for couples, too!
What have you been up to so far this summer? And what's on your wish list?


Everyone knows kitchens can be majorly expensive to renovate...but that doesn't mean you can't do a makeover on a tight budget! One of the easiest and cheapest ways to make a BIG impact is to paint your cabinets--especially if you currently have those terrible, outdated wood ones (been there). I've always loved white painted cabinets. But lately, I've been noticing a lot of colorful ones...and I kinda love them too! What do you think? Would you paint your cabinets with a fun color? Or would you stick with something classic like white, black or grey?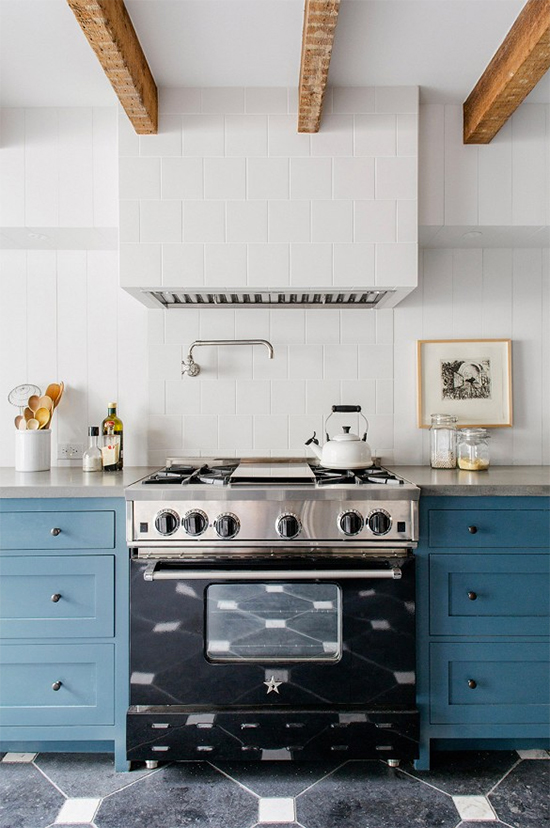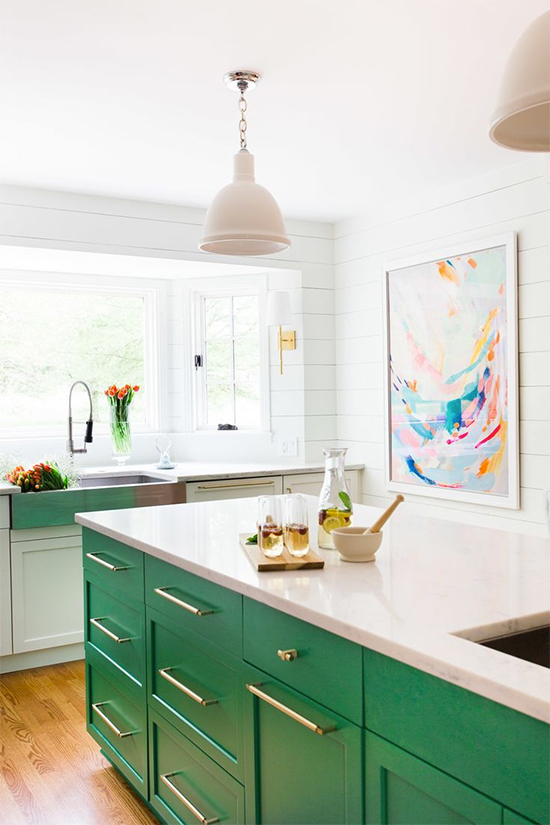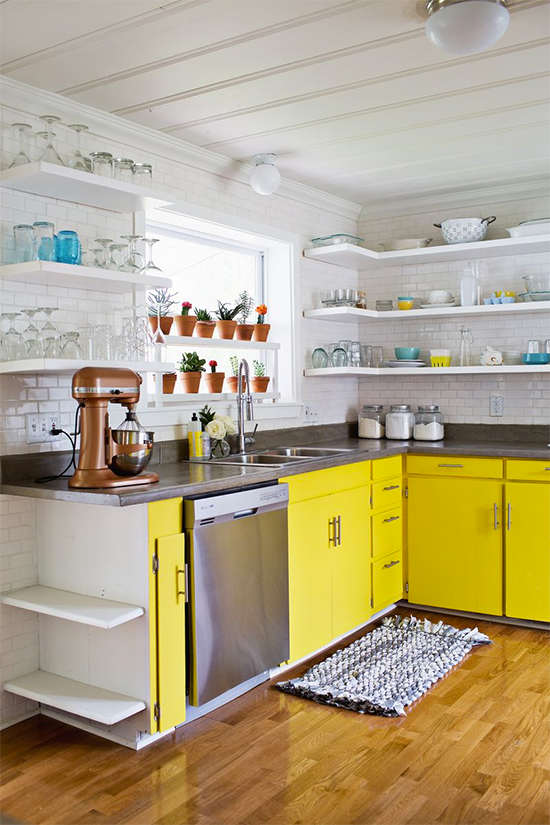 To keep this look from being too overwhelming, paint just the lower cabinets and do open shelving on the top (or white upper cabinets).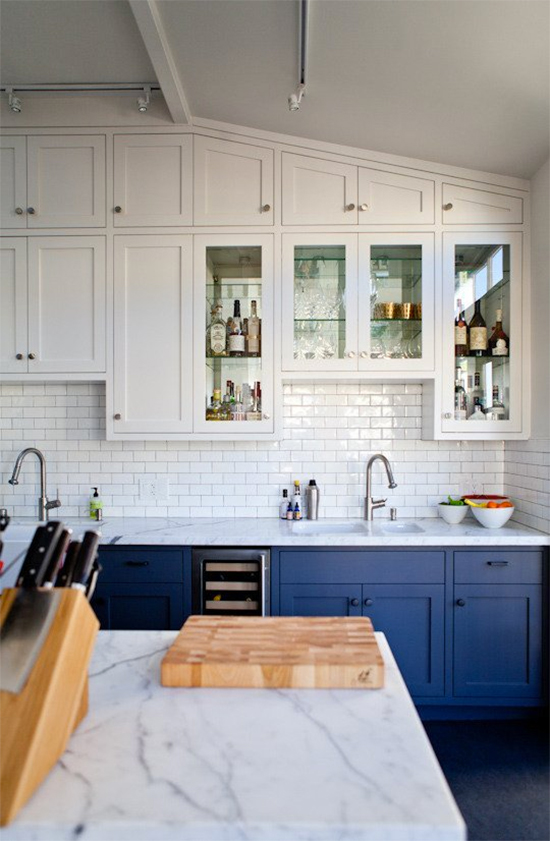 If you're worried about picking a color that's too trendy, go with navy. It's a traditional color, but still looks very striking and unique in the kitchen.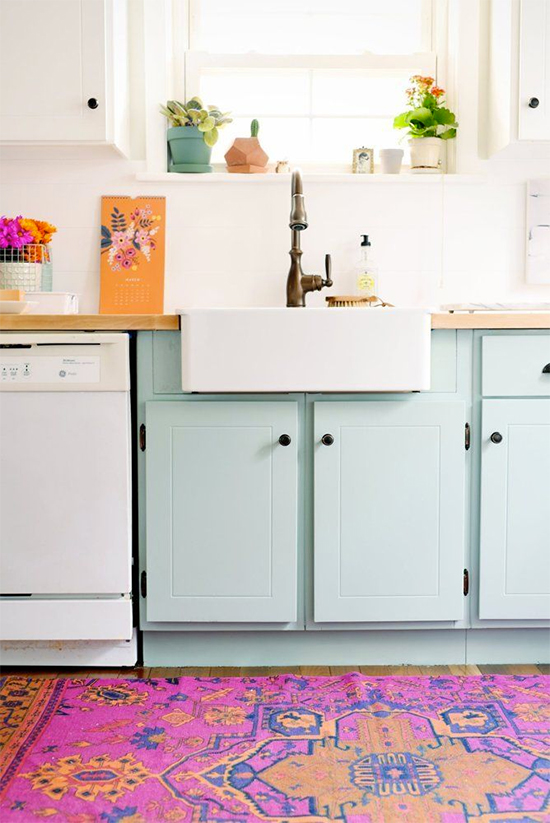 This mint green is really pretty too! What color would you choose?
Happy Friday, everyone! Hope you all have a great weekend.

Happy Tuesday! I'm over on Bali Blinds today, sharing some creative ways to paint your walls. If you've never considered anything besides just painting your wall in all one color...get ready. There are SO many cool and creative wall ideas, ranging from super easy to more complex.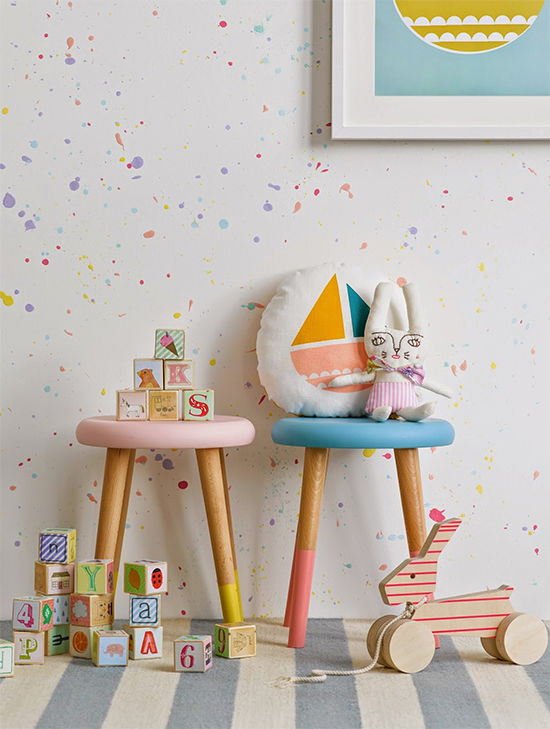 1. Splattered paint. Let's start with an easy one! This might even be easier than painting your wall the "normal" way. Just make sure you put down something to protect your floor, because it'll probably get a little messy. I love how splattering the paint allows you to incorporate several different colors in a simple, cohesive way that doesn't feel overwhelming. It's perfect for a kid's bedroom or playroom!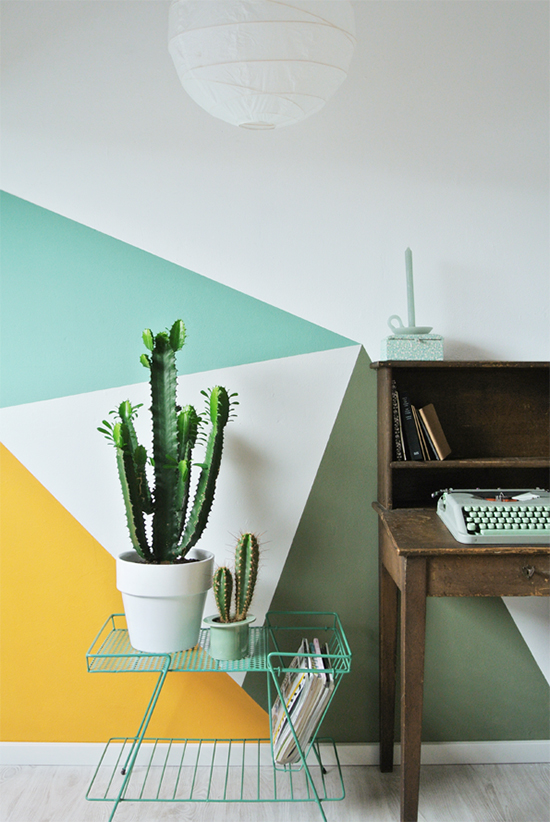 2. Triangle pattern. For a more grown up and clean look, try including a few paint colors in a graphic pattern like these oversized triangles. I looove how this wall turned out!
3. Scallops. This is another of my favorite ideas! It's similar to the half-painted trend, but the scallops make it look more finished and intentional.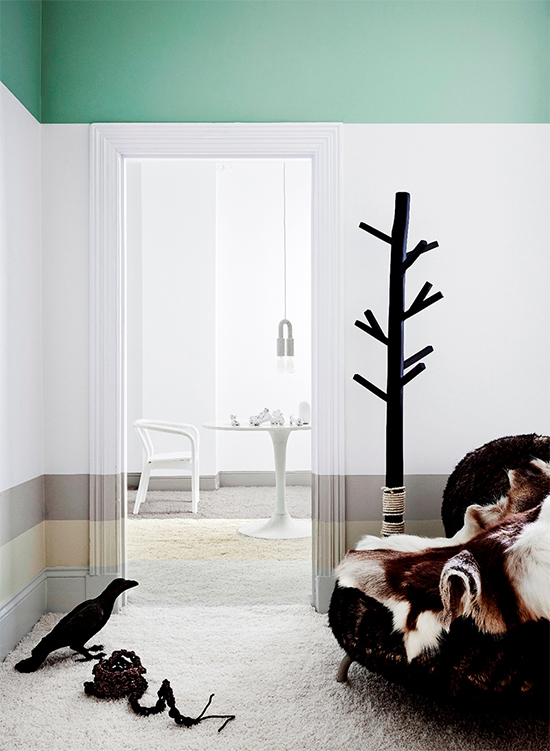 4. Bands of color. To get this look, divide the wall into bands of color at the top and bottom of the wall. It's much easier to execute than stripes, because the bands don't have to be quite as precise and perfect. And I think it looks more fresh and unique, too!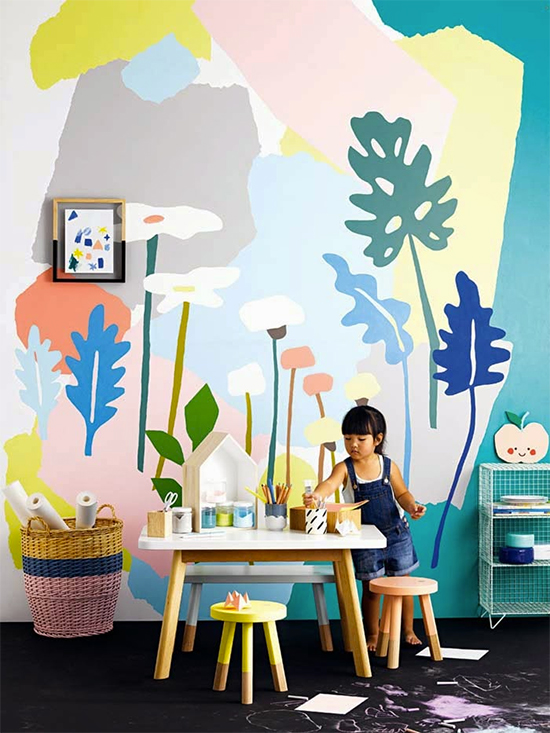 5. Colorful mural. Last but not least, I'm really digging this colorful mural. It's fun, cheerul, and imaginative--and it actually looks decently easy to recreate! I would start by rolling on paint in random patches to create the background. Once that's dried, add leaves and flowers and whatever else you want on top, either freehand or by using a stencil or projector.
Want more creative wall ideas? Check out this post I wrote awhile ago, plus my post on Bali Blinds today.
Then tell me, which idea is your favorite? Have you tried any creative wall ideas yourself?