We're starting to plan out our Europe trip, and I thought I'd reach out to you guys and ask for some suggestions/advice/opinions, since I totally trust your taste! Neither Ben or I have ever been to Europe, and we're having a tough time nailing down exactly where to go...there are so many places to see, and we only have three weeks. A little bit about our vacation style: we like to see a mix of nature, beaches, countryside, and smaller towns, as well big cities. We like both adventure and relaxation, with a little bit of shopping and of course, lots of good food! We're not big museum people, and we don't care at all about the nightlife.
Here's where we are definitely going:
1. Iceland. This was Ben's number one pick, and we found flights to Reykjavik that were dirt cheap. Iceland looks absolutely spectacular. Lots of natural wonders, from black sand beaches to hot springs and glaciers, to ice caves and (fingers crossed) the Northern Lights! Plus wild horses. We're planning to rent a car so we can really explore the island, and spend four full days there (not counting travel days).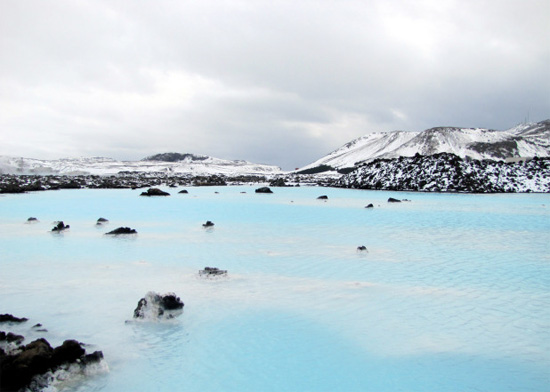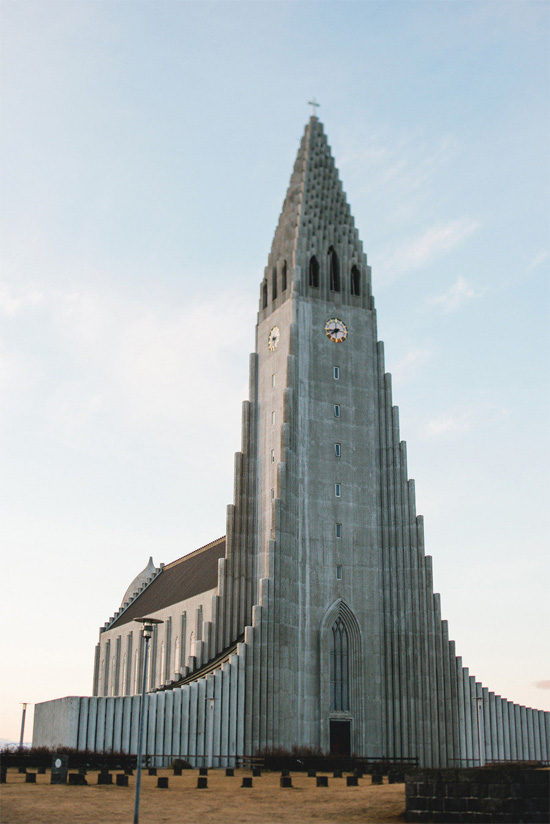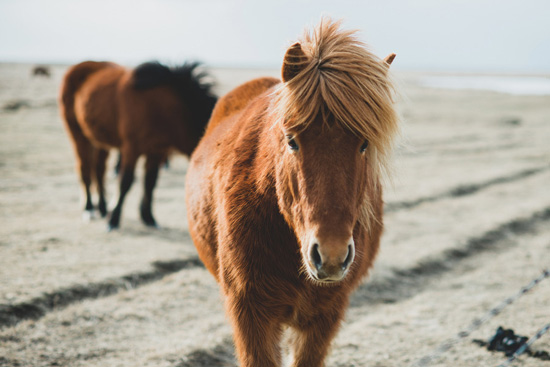 2. Cinque Terre. This was my number one pick. I've been wanting to go for a long time...ever since I took Italian in college and saw photos (I mean…so charming, amiright?!). Everyone I know who has been there has raved about it. I've heard you don't need a lot of time to see it, so we're planning to stay two full days (not counting travel).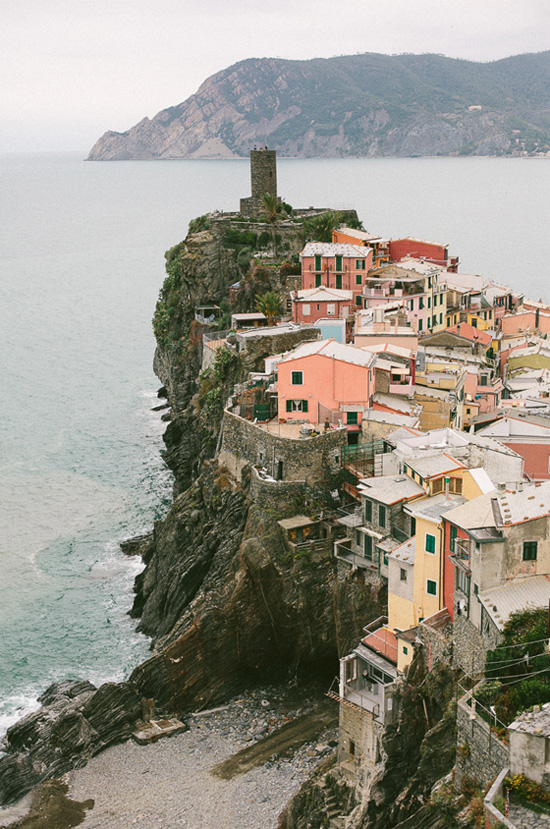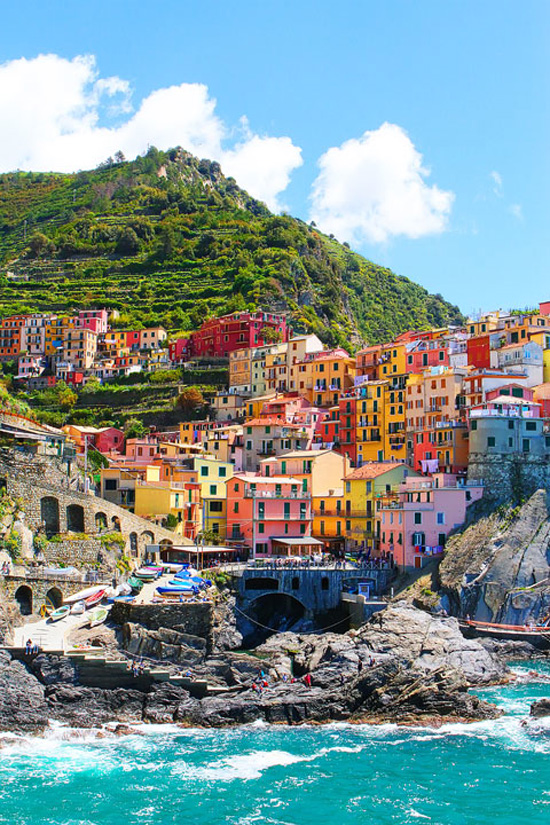 3. The Alps. We're thinking to go to Chamonix--we have some friends that went there and recommended it, and it looks b-e-a-u-t-i-f-u-l. But we're open to seeing the Alps on the Swiss side too. We'll probably pick one or the other--what would you recommend? And how many days would you spend there? We're thinking just one or two full days (not counting travel).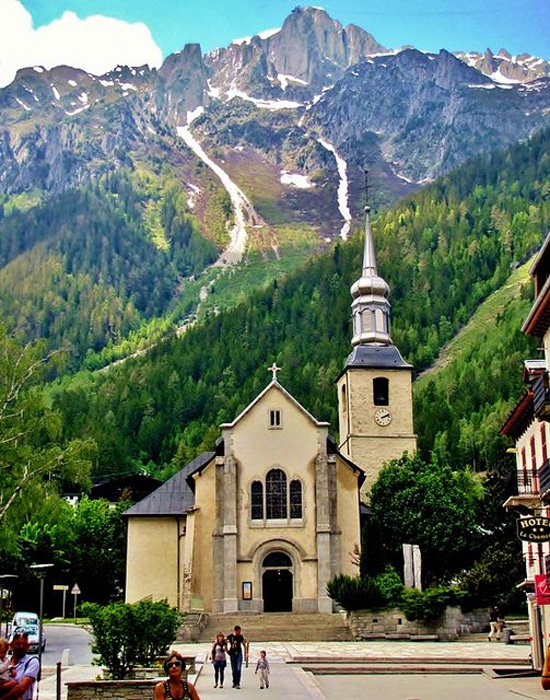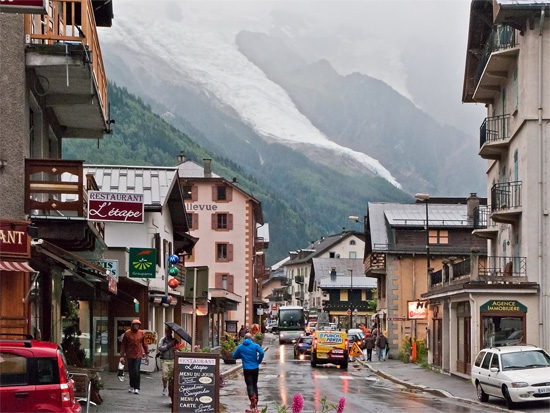 4. Paris. Obviously, we have to go to Paris! This will be our last stop on the trip, as we found cheap tickets back to Seattle from there. I want to see Versailles, shop at the flea markets, and spend a couple days wandering around the city, eating French food (macarons! croissants! pasta!). I think we'll spend either three or four full days in Paris.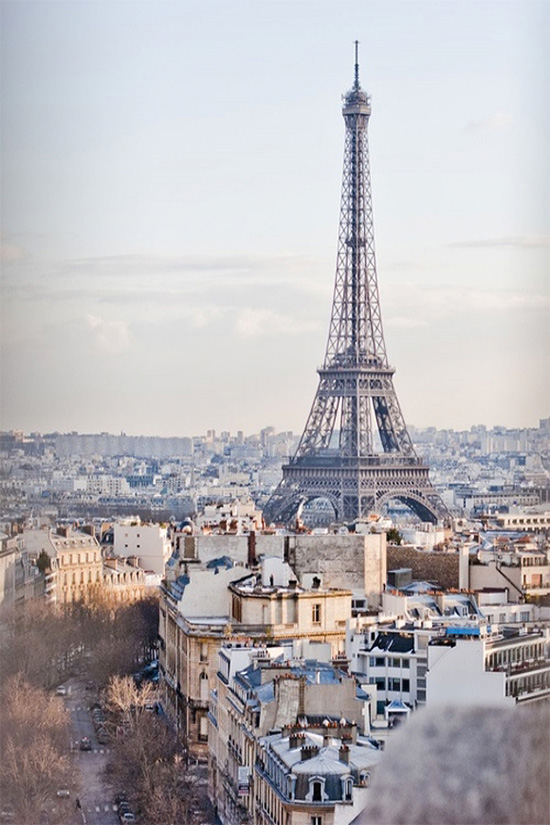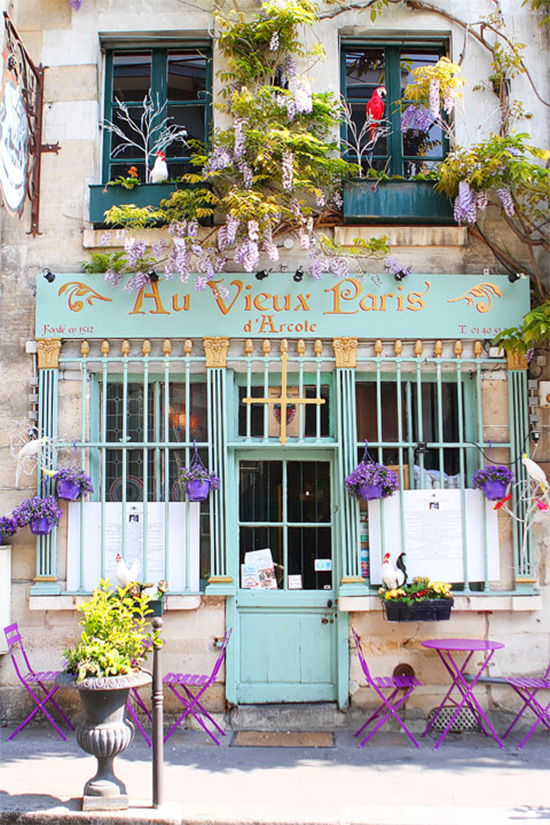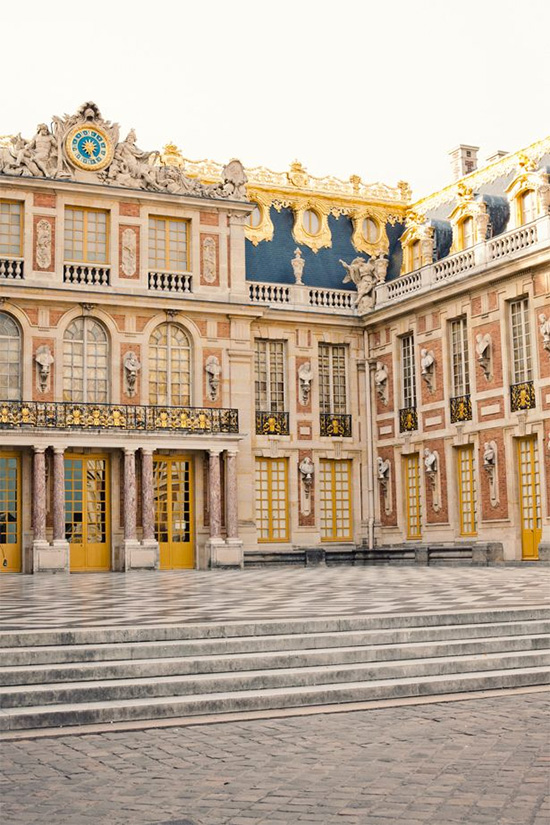 Here are the other places we are considering…and where we really need help! We have about four days left to allocate, so we have to pick one more place. If you've been to any of these, I would love to get your opinion. Even if you've never been, I'm curious--which one would you choose?
1. Marrakech. Morocco has been on my list for awhile, and I think it would be AMAZING to see. Beautiful architecture, shopping at the souks, riding camels to the Sahara…it sounds like an unforgettable adventure. But I've also heard that women get harassed, and that safety could be a concern. Have you been to Marrakech? Did you feel safe?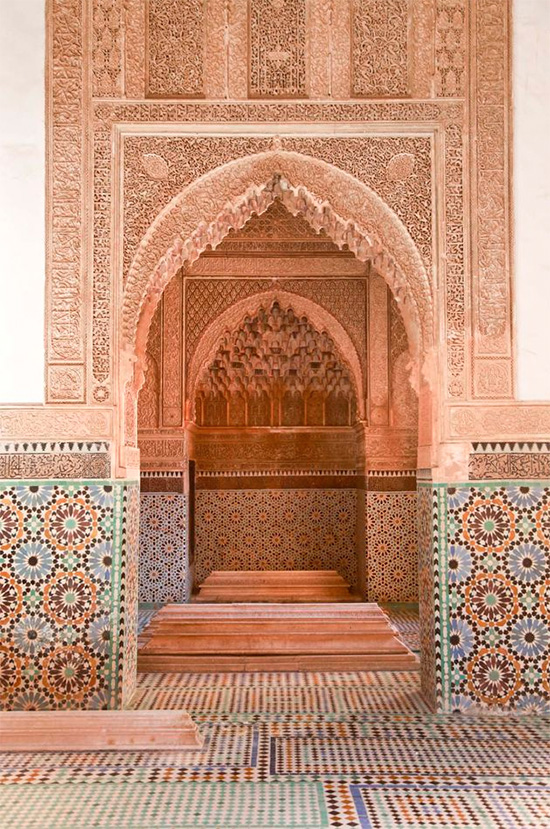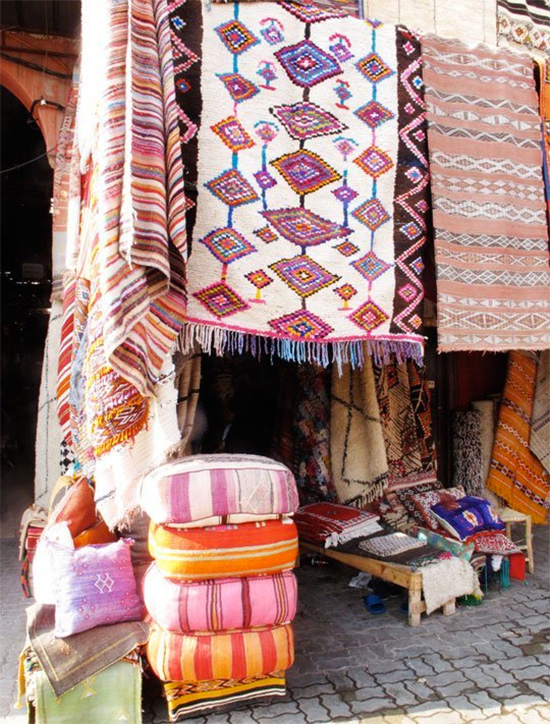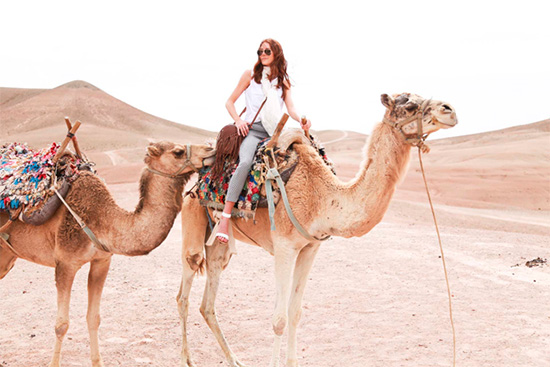 2. Tuscany (& maybe Rome). Tuscany definitely seems super relaxing, laid-back, and beautiful. And Rome is so full of history…it's a must-see on just about everyone's Europe list. But if we go there, we'll only be visiting three countries altogether, and I wonder if we'd regret not trying to see a little more.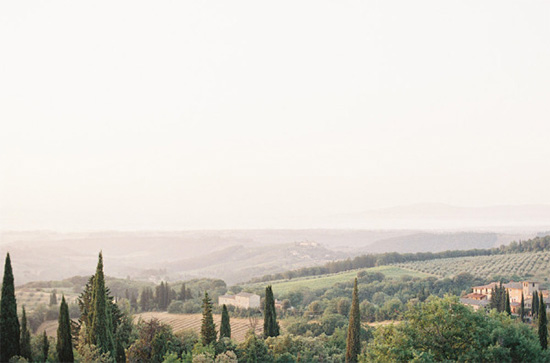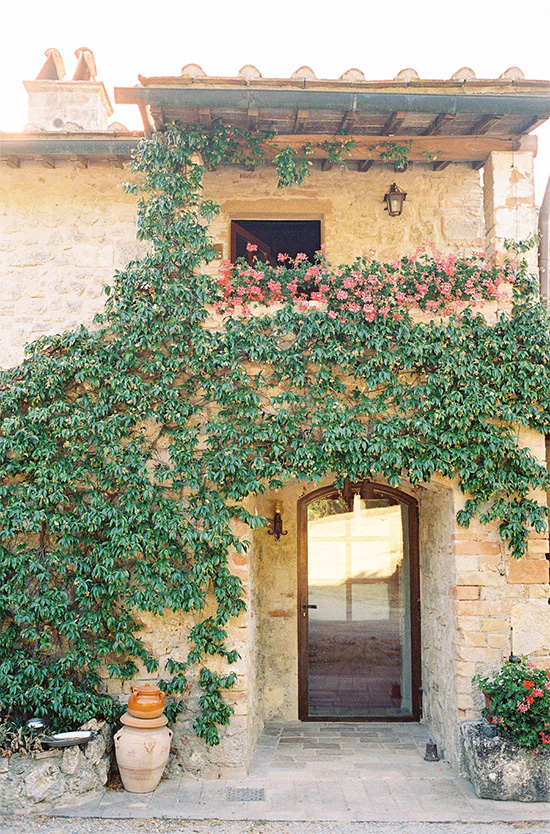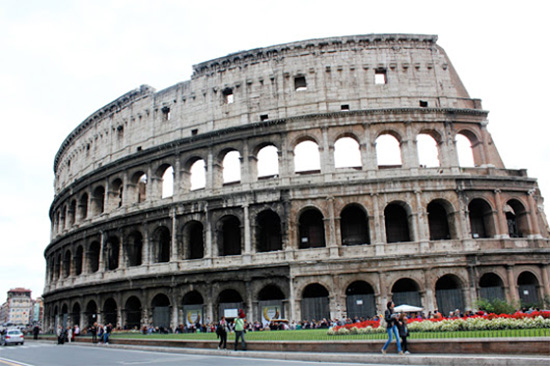 3. Santorini. I've wanted to go to Santorini for a long time. Ever since I saw The Sisterhood of the Traveling Pants, I think (but maybe even before then). Those white buildings with the blue domed roofs! Dreeeaaamy. But Santorini seems pretty similar to Cinque Terre, so I'm not sure if it's worth seeing both in the same trip.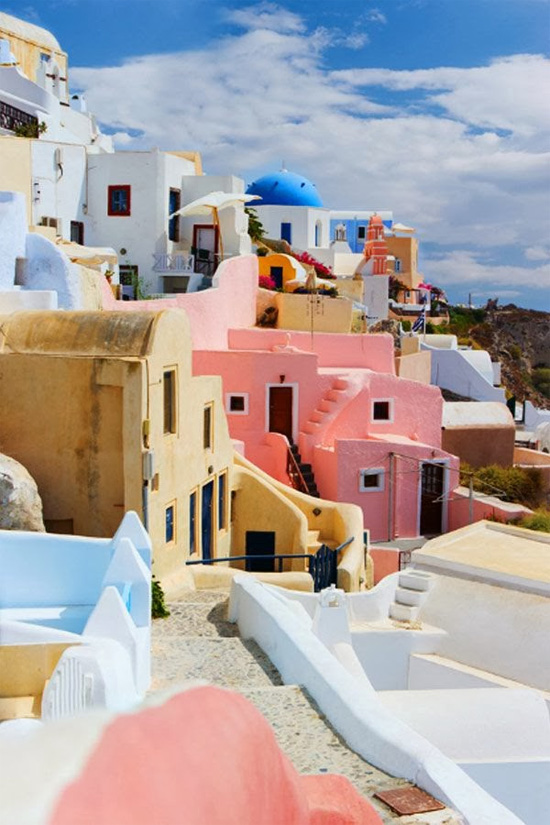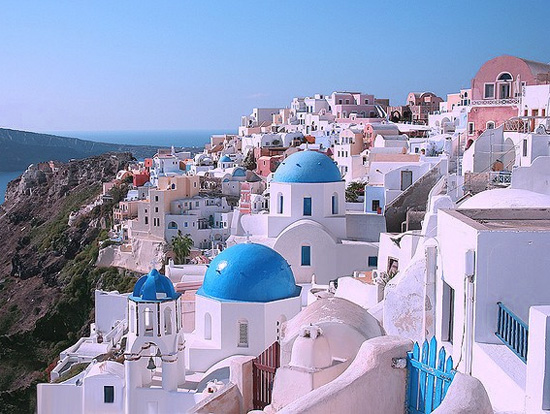 So! What do you think??? If you have any specific recommendations for the places we mentioned, I would LOVE to hear those as well. Or if there's a city that's not on this list, but you think we should visit, let me know.
Thanks in advance to anyone who leaves a comment! You guys are the best. And have a great weekend!


Do any of you guys do Stella & Dot? I've been eyeing their Renegade bracelet forever, and the idea has intrigued me for awhile…so when I saw their January signup special, I decided to go for it. Why not? The special is that you get $450 of free store credit when you sign up to be a "stylist" (which costs $199). If you're interested, you can get the same deal until 1/31 here. Yeah, I know that's in two days…sorry! I meant to post this sooner, but then we went on a little family vacation and I tried really hard to be "present" the whole time. So I didn't blog at all…but I did force everyone to watch The Bachelor with me. It's my guilty pleasure! Except I don't even feel guilty about it. In fact, I'm actively trying to get other people hooked, because it's soooo much more fun when you have people to discuss it with. Speaking of which, are any of you watching this season? Who's your favorite so far? I like Jade.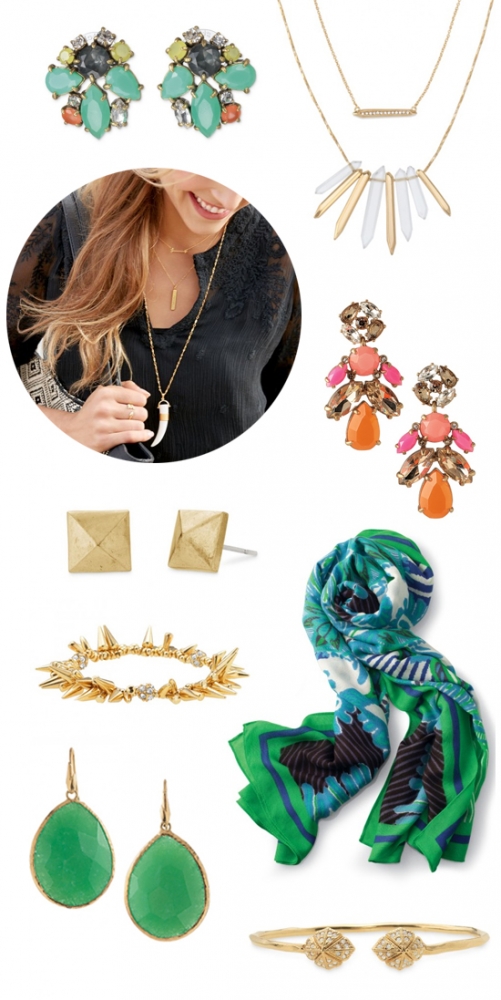 But back to Stella & Dot. These are some of my favorite pieces that I got with my $450 signup credit. You can shop them here, along with lots of other pretty accessories. I'm now plotting out some sort of jewelry stand to DIY, cuz I'm definitely going to need something bigger than what I have!
P.S. This post is not sponsored, but I will get commission if you buy anything from the links I put in. That said, I honestly love all the pieces I got and I think you should totally snag a few for yourself. #youdeserveit
P.P.S. If you can't tell from the colors and items I picked, I am SO READY for spring. Anyone else?


Happy Monday! That's not even an oxymoron because I'm currently on a mini-vacation with Ben and his family. Yayyy. And I have a fun little project for you! I know I've done a lot of magnet DIYs, but what can I say…they're the best way I know of to turn something cute and random into something that can actually be deemed "practical." And who couldn't use more magnets?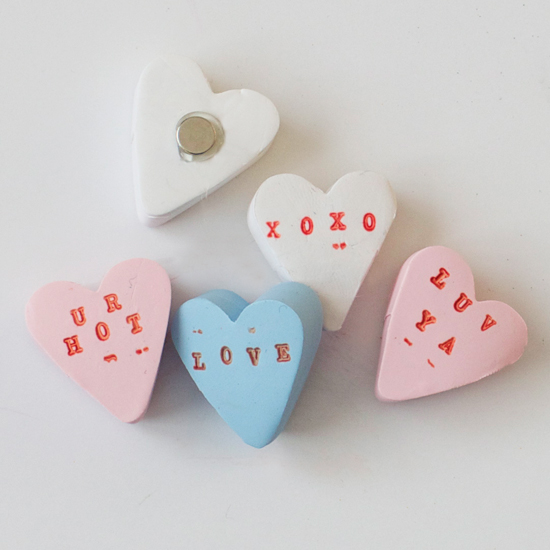 I think these would make a fun gift for Valentine's Day. Give 'em to your significant other, friends, coworkers, whoever! If you like puns, you could include a card that says "I'm stuck on you" or "You're so attractive." And the good thing is, since you're stamping these hearts yourself, you don't have to stick with the sayings that typically come on conversation hearts. If you have a nickname or an inside joke, you could totally stamp that…well, as long as it's short!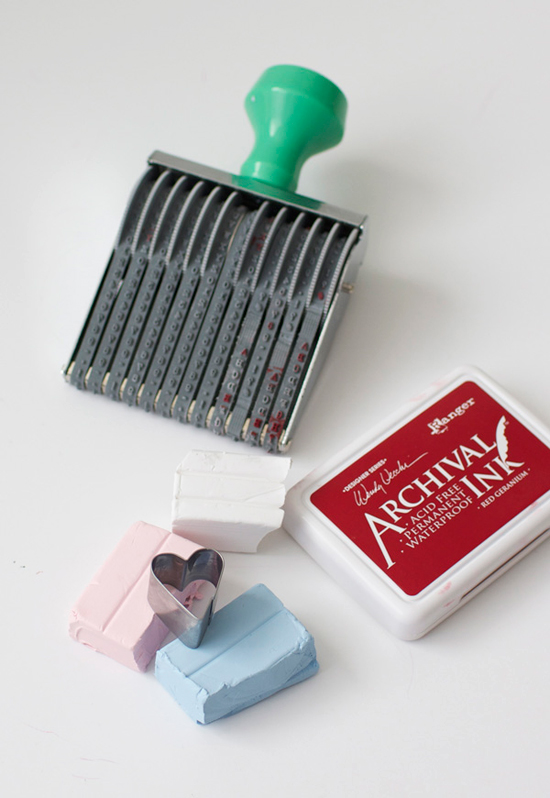 You will need: pastel clay in a few different colors, an alphabet roller stamp, red ink, a heart shaped cookie cutter, magnets, and a hot glue gun.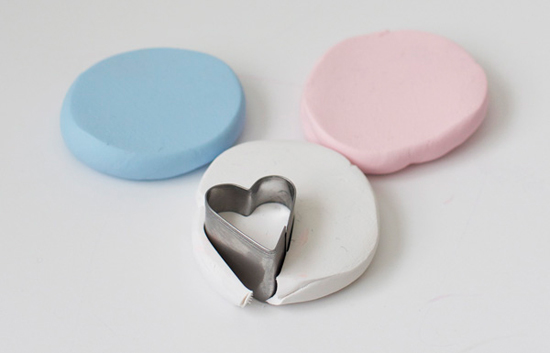 Roll out the clay to about 1/4" thick and start cutting out hearts with the cookie cutter.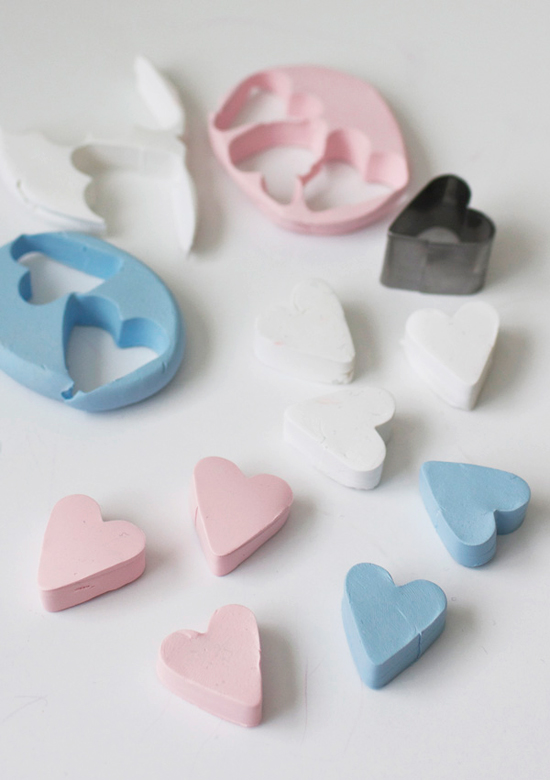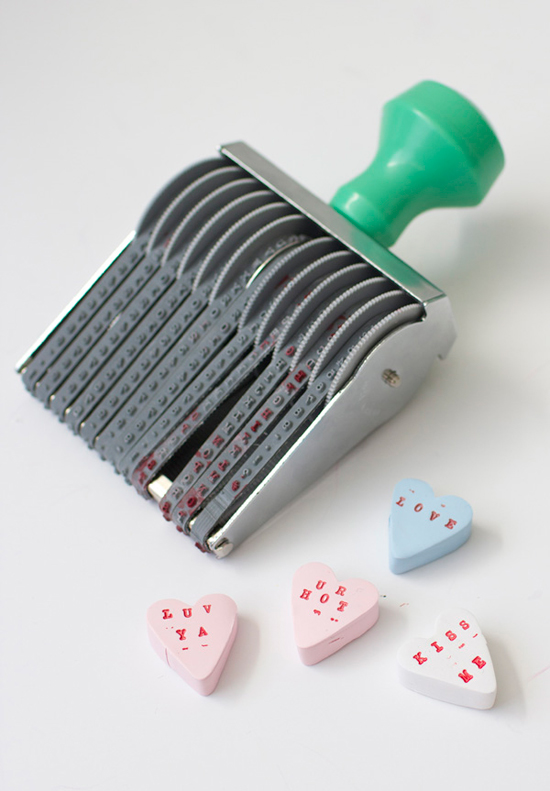 Next, decide on the sayings you want to stamp. Figure out how long the words can be to fit on your hearts (mine had to be four words or less), then stamp away! You might want to practice on some of the leftover clay first, to get the pressure and the amount of ink right.
Bake the hearts according to the instructions on the package. Once they're baked and hardened, glue magnets on the backs with a hot glue gun.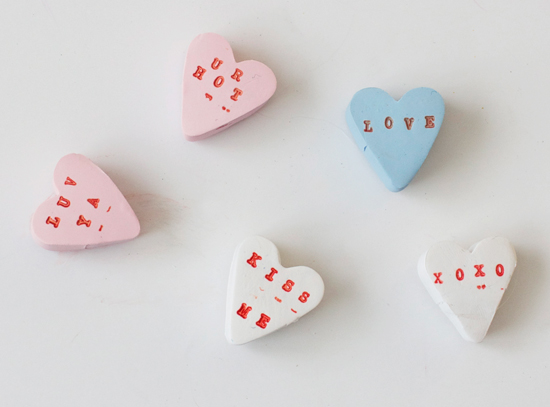 And that's it! Once the glue has dried, your magnets are ready to use. Aren't these cute? I feel like the clay actually looks quite a bit like actual conversation hearts (or candy hearts, or sweethearts…whatever you call them).
What sayings would you stamp on yours?

I'm not really a sports person, but I've been enjoying watching the Seahawks with Ben this season (let's be honest, it's always more fun to watch a team that wins). And that game this past Sunday? Unbelievable. There's definitely a lot of team pride in Seattle right now, and the energy is contagious! But I'm not planning to go out and buy a jersey or anything (they're, like, $100) so I thought I'd craft up a little something so I could show some Seahawks spirit for the Superbowl...in a more subtle (and inexpensive) way.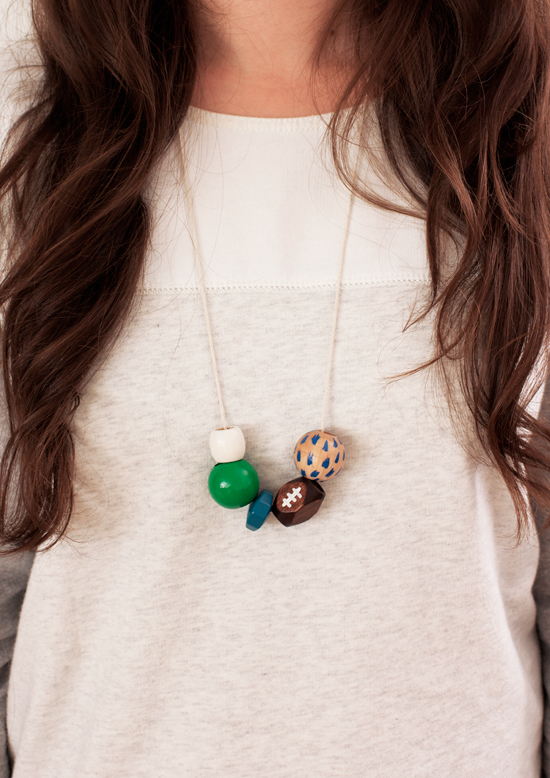 Yep, I went there! I made a beaded Seahawks necklace…haha. Are you going to make fun of me now? If you're not a Seahawks fan, or if you think this is super dumb, just ignore the instructions for the football bead and use any colors you like. You can still make a regular wood bead necklace--they're totally cute and on-trend right now!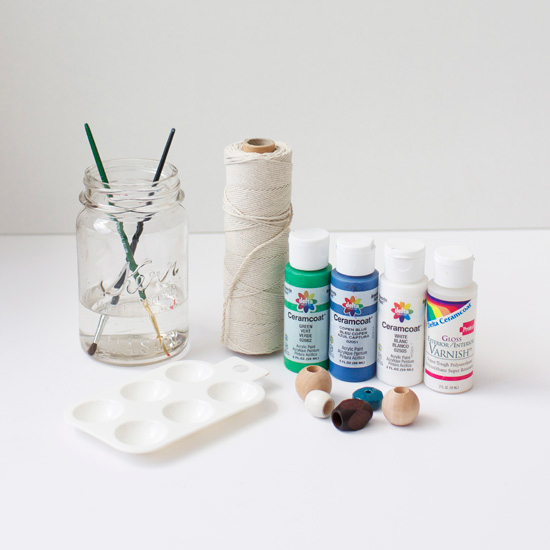 For this project, you will need: assorted wood beads (including an oblong one to be your football), acrylic paint in the colors of your choice, varnish, paintbrushes, and string.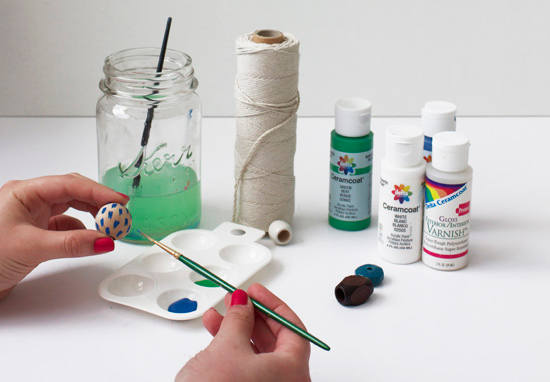 Paint one of your plain wood beads with a pattern. It could be anything: polka dots, stripes, brushstrokes, hearts, etc. A dipped effect would also be cute! Paint the other plain wood bead with a solid color.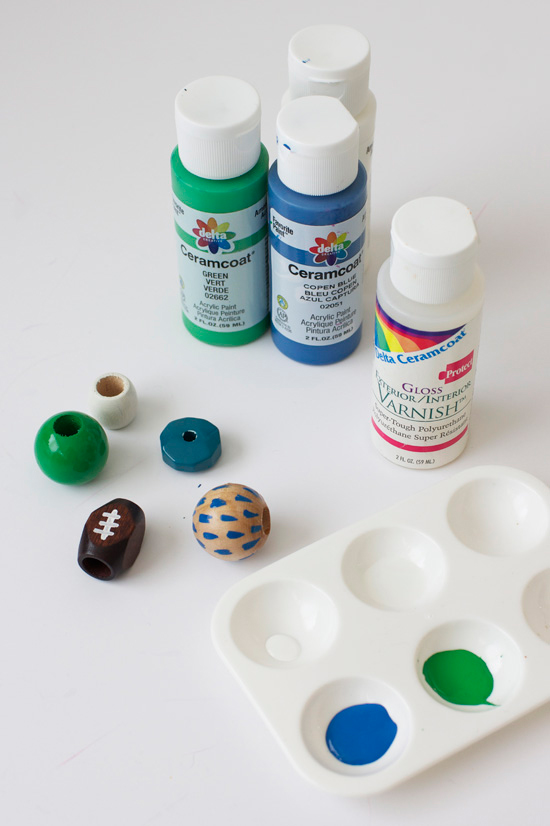 Use white paint to add "stitches" to your football-shaped bead. Once all the paint has dried, give your beads a coat of varnish to make them shiny and to protect the acrylic paint.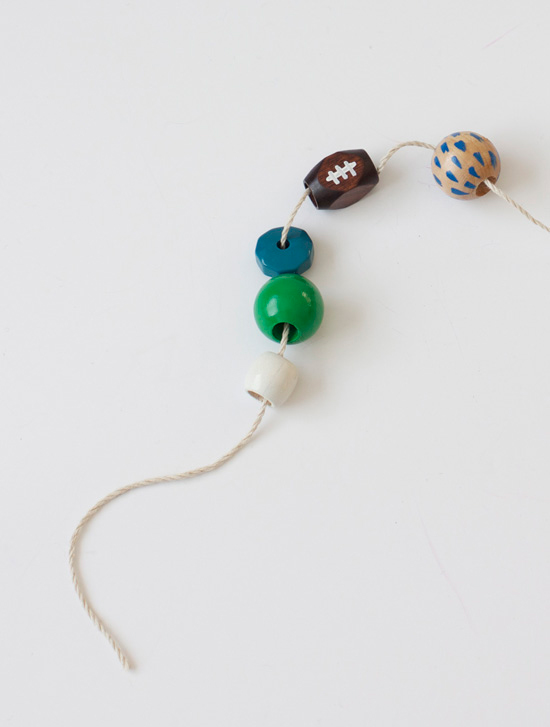 Then, string the beads up in the order you want them! Note: I used plain string because I already had some around the house, but if I had more time, I would have gotten some leather cord. I still might get some, because now I'm kind of addicted to making wood bead necklaces. They're SO easy and fun!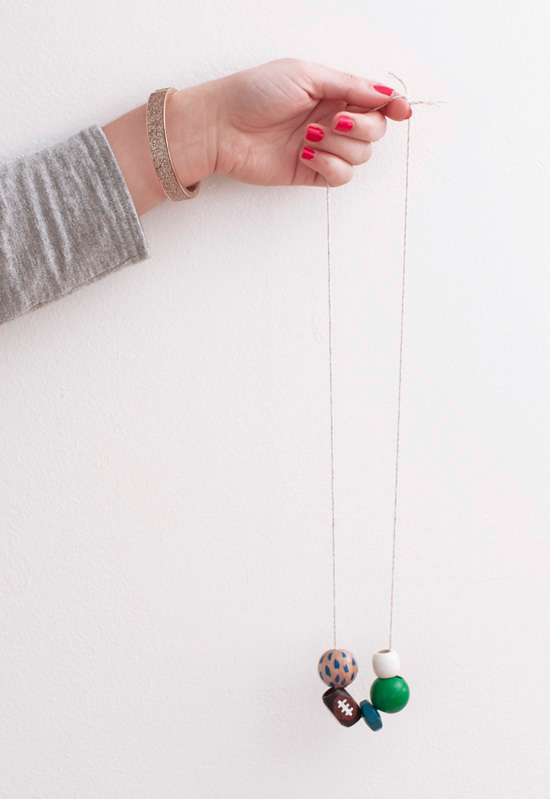 What do you think? I gotta say, I think it turned out pretty cute. And once the Superbowl is over, I can just take the football bead out and wear it like a regular beaded necklace! I'm seriously going to make a bunch more of these in all different colors--I could whip out at least ten while watching one TV show. My kind of project.