A couple weekends ago, my family was in town visiting (they live across the state), so I decided to throw my mom an early Mother's Day lunch! In addition to my mom and sister, I invited the women from Ben's side of the family (but no boys!) and took full advantage of the opportunity to go all out on decorating the table. I love any excuse to buy flowers and make a few DIY projects :) I kept the menu fairly simple and foolproof...cedar plank salmon, roasted potatoes, grilled asparagus, fresh rosemary bread, salad, and some delicious Chardonnay from Kendall-Jackson.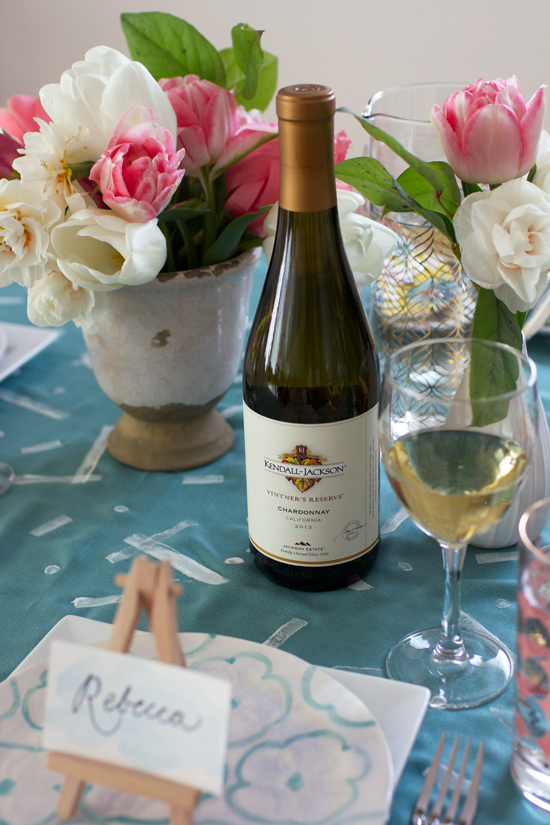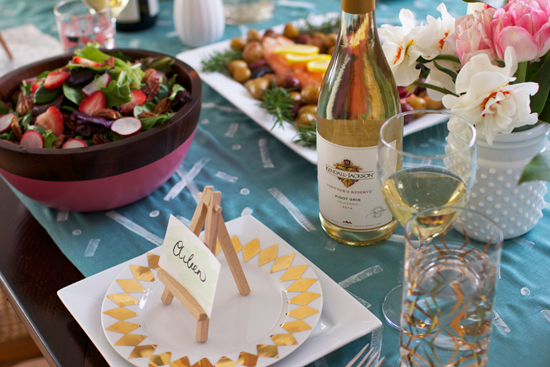 I got a bunch of flowers from Pike Place and made a block printed table runner (out of a scarf!).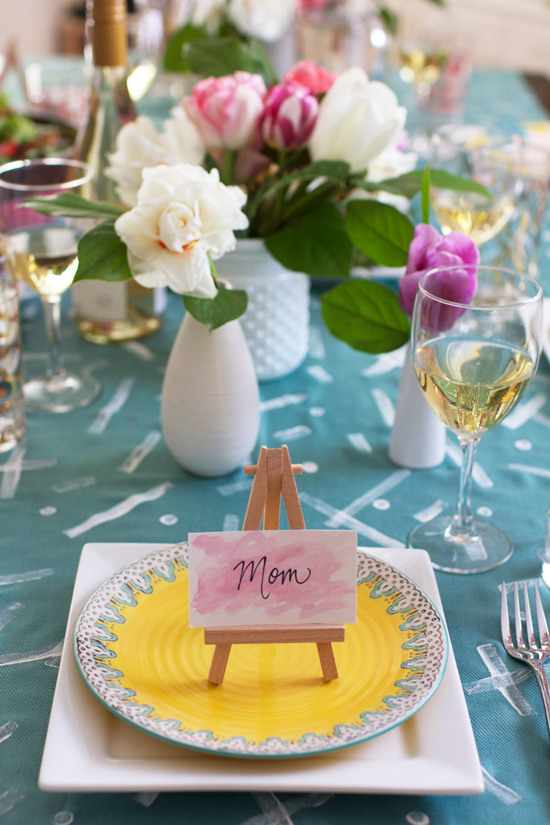 I also painted little watercolor place cards with each person's name, then put them on miniature wooden easels at each place setting.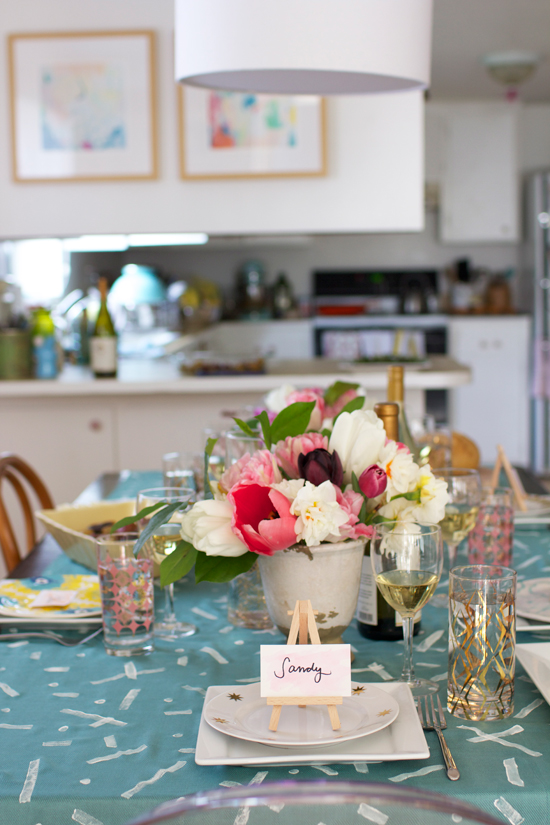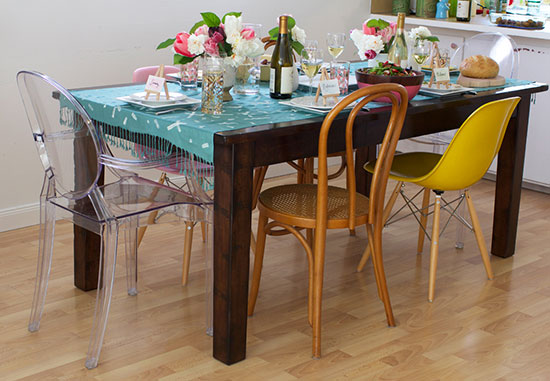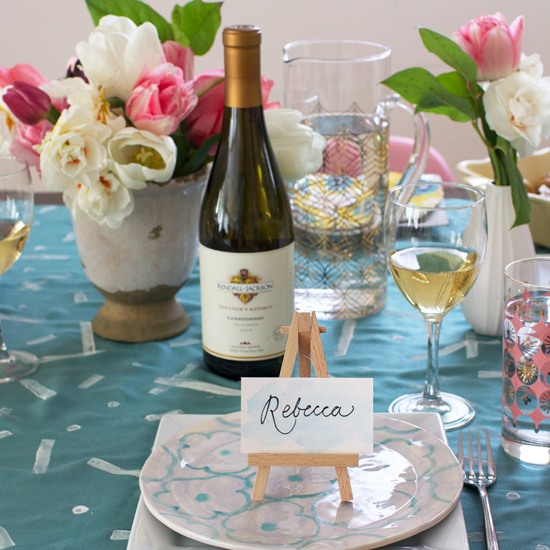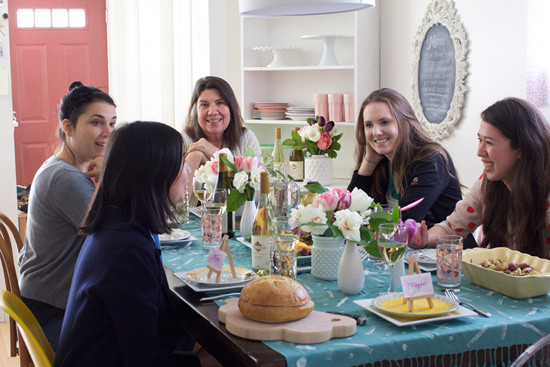 It was so fun to get everyone together! Check out the Kendall-Jackson blog today for more photos and instructions on how to make that block printed table runner. I also posted a recipe for the pears I made for dessert last week, in case you missed it!
Thanks to Kendall-Jackson for partnering with me on this post.


I shared a photo of these roasted pears with mascarpone on Instagram last week, and I promised that I'd give you guys the recipe...so here we go! This dessert is so easy to make and super delicious. Plus, since it's mainly fruit, I like to think of it as healthy (don't tell me if that's not true...I don't want to hear it!). I always make extra of the granola topping to snack on. It's so addicting, I usually end up eating it all that same day! Don't say I didn't warn you...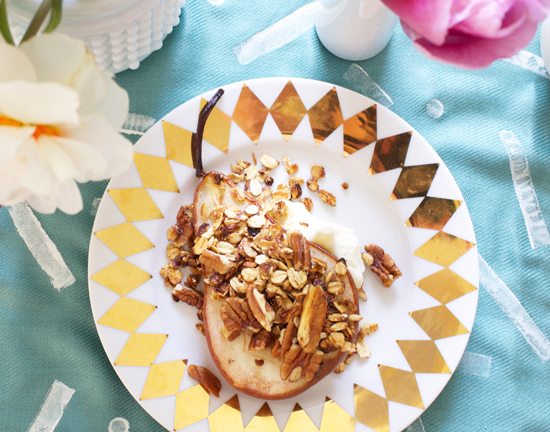 You will need:
2 Anjou or Bartlett pears
2 Tbsp olive oil
¼ cup pecan halves, coarsely chopped
2 Tbsp brown sugar
¼ cup old-fashioned oats
½ cup mascarpone
3 tsp sugar
To make:
Preheat the oven to 375°.
Cut pears in half and scoop out the cores with a spoon. Place them cut side up on a baking sheet and drizzle with olive oil. Roast in the oven for 20-30 min, until soft.
Meanwhile, toast oats, brown sugar, nuts, and olive oil in a cast iron skillet over med-high, stirring often, until golden (10-15 min).
Whisk mascarpone and sugar together in a small bowl.
Spoon the mascarpone onto dessert plates, top with the hot pears, and sprinkle on a generous amount of the granola topping. YUM!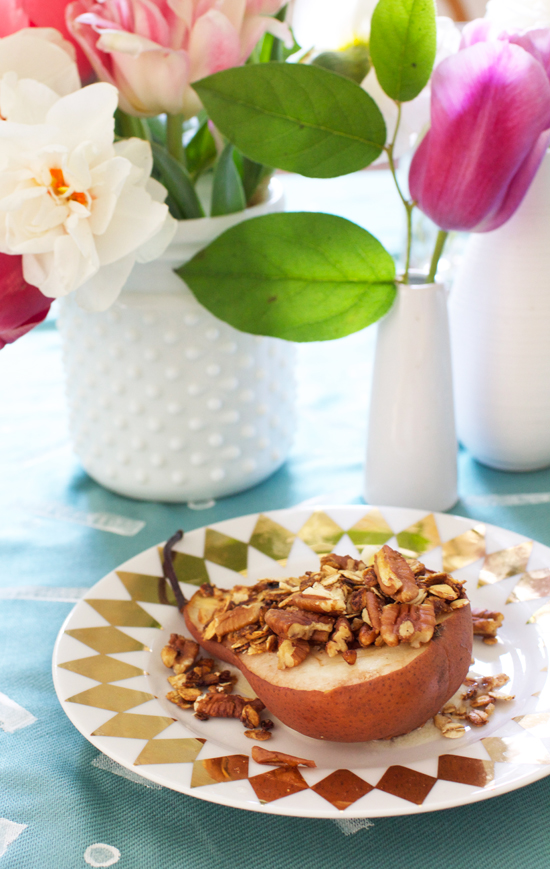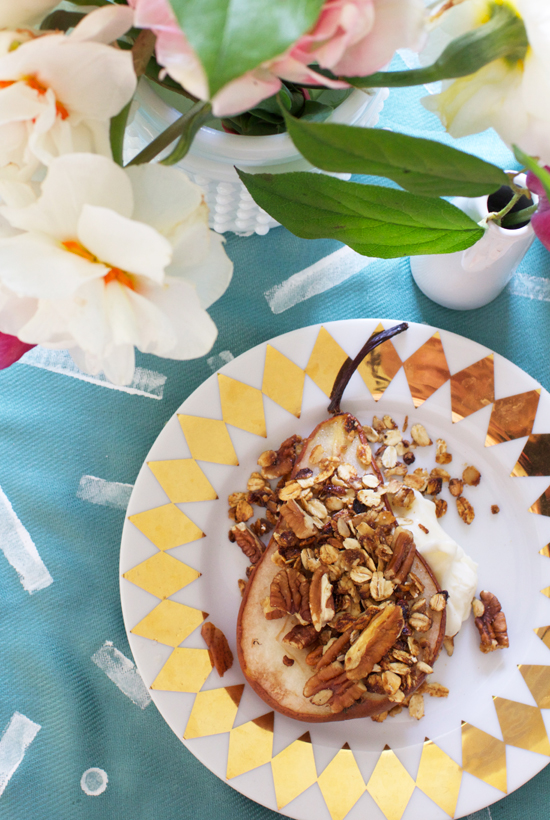 Hope you enjoy this recipe! I got it from a friend of mine who got it from Bon Appetit. If you check out their recipes, both of them do the granola a little differently. You can totally play around with it and load yours up with whatever you want: pumpkin seeds, hazelnuts, almonds, walnuts, coconut oil, etc. Have fun! And let me know if you try it.
What are your favorite easy dessert recipes? Send me links, if they're online! I'd love to try them.


Did you know that I used to run a wedding blog? My sister-in-law and I started one together in 2010, when I was engaged (and obsessed with weddings). It's being run by someone else now, and is not really my style anymore…but still, it was a big part of my life for a couple years, and it's how I got into blogging to begin with! I was just remembering this past weekend how, when I started At Home in Love, I was blogging five days a week here and on Love & Lavender…and working full time. Looking back, that seems craaazy! I'm so busy now with one blog and a full time job (and I don't even blog five days a week). And truthfully, it was kind of crazy, which is why I'm not doing it anymore. I definitely feel like I made the right choice with At Home in Love, but I still check wedding blogs occasionally. They're fun! I always find lots of inspiration that I can apply to my own life, even though I'm already married. So whether you're a bride or not, here are 10 creative ideas to steal.
1. Make a garland with hanging fabric strips. This idea is a cute and inexpensive way to fill up wall space behind a sofa or a bed. Choose a mix of fabrics that you like, cut them into strips, and tie them onto string. Easy!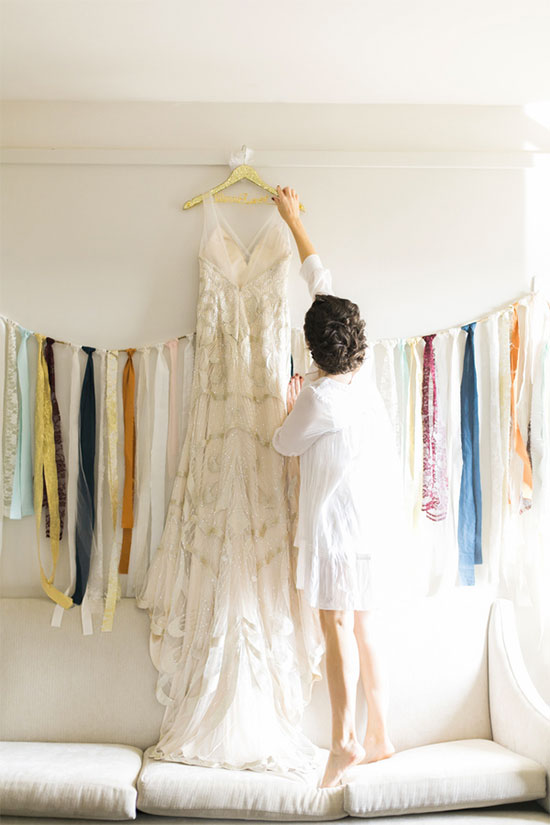 2. Spray paint pineapples to use as centerpieces. Flowers add up quickly, whether you're planning for a wedding, a baby shower, or a dinner party. Spray paint a pineapple gold, and you have a unique, on-trend, and inexpensive centerpiece that's totally easy to DIY!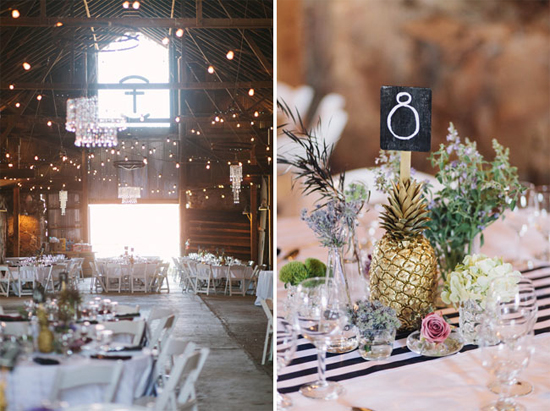 3. Create a dreamcatcher display. I love this dreamcatcher display made from embroidery hoops, doilies, and yarn. It would be so pretty behind a bed or in a baby's room. A miniature version would make a lovely mobile!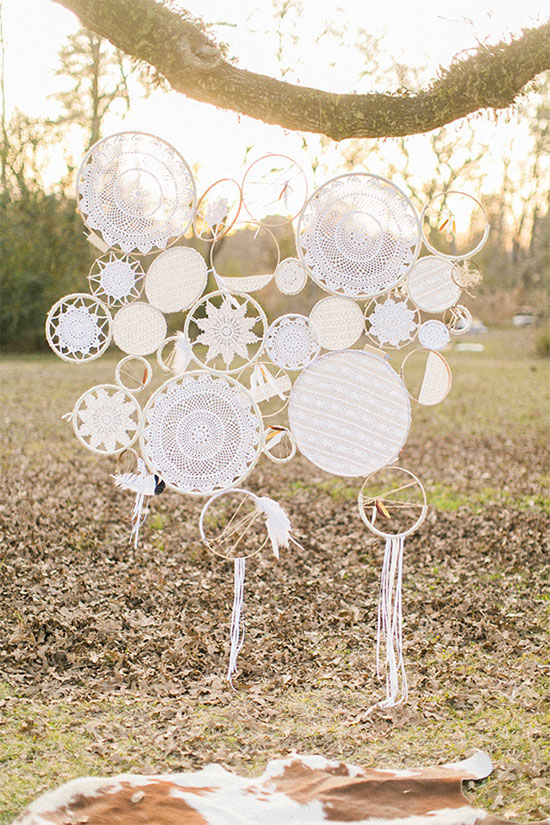 4. Use a floral frog to display cards or photos. I see floral frogs all the time at antique malls and flea markets, and they're relatively cheap. I have one that I use to hold recipe cards when I'm cooking, but I also like the idea of using them to hold photos, place cards, etc.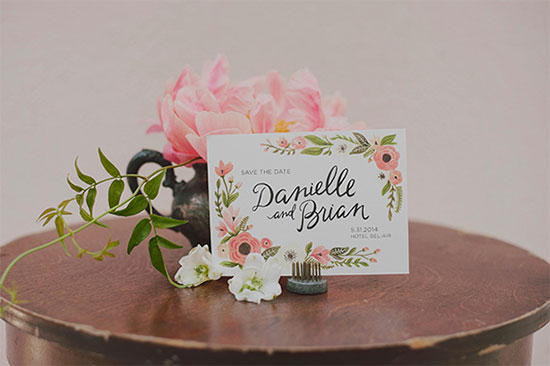 5. Make a dip-dyed coffee filter backdrop. Love this pretty DIY! It would be a beautiful ceremony backdrop, but I also think it would look great as a room divider or a unique curtain (obviously, not somewhere you need a lot of privacy).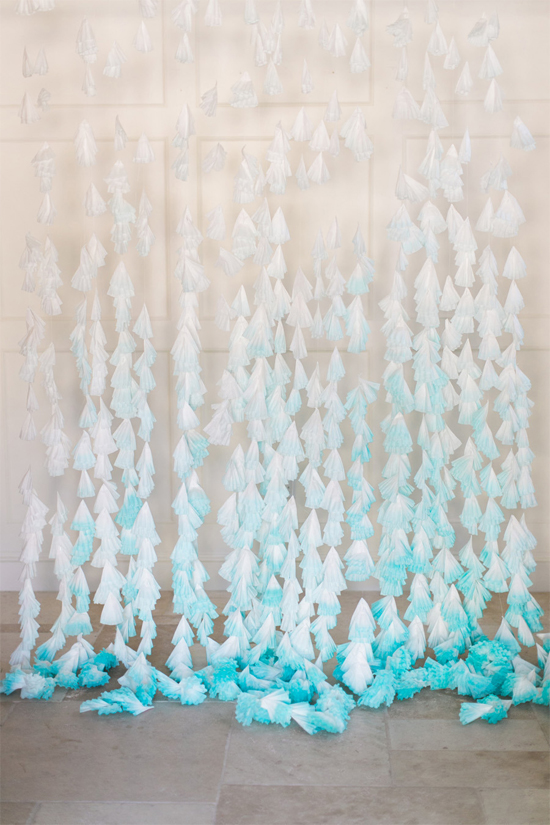 6. Write on glass with a chalkboard marker. This is a simple idea, but I like it a lot! Write favorite quotes on a framed piece of glass with a chalkboard marker. When you're ready to switch it up, the marker should wipe right off with water.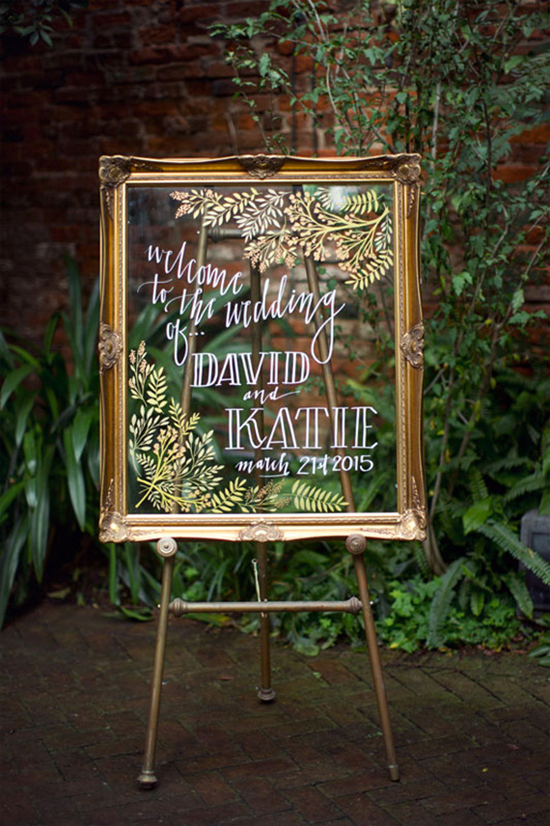 7. A naked cake…with strawberries! Naked cakes aren't exactly a brand new idea (I wrote a whole post about them in 2013)…but I still like seeing them. This one is especially pretty, with strawberries and flowers tucked in around it.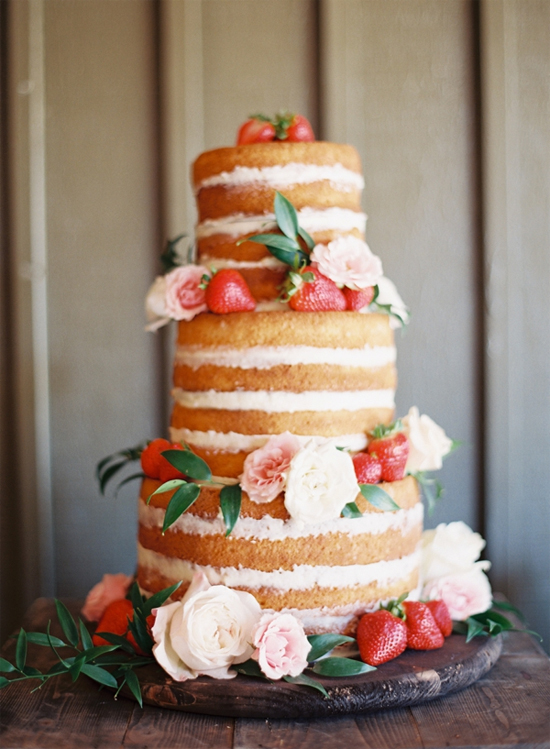 8. Macrame table runner. Macrame has been a big trend in home decor for the last couple years, but I haven't jumped on the bandwagon yet--partially because I've mostly seen wall hangings and I'm not sure if they would look quite right in our house. But this table runner is perfect--it's simple and pretty, and feels less permanent than putting something on the wall. I could definitely go for this.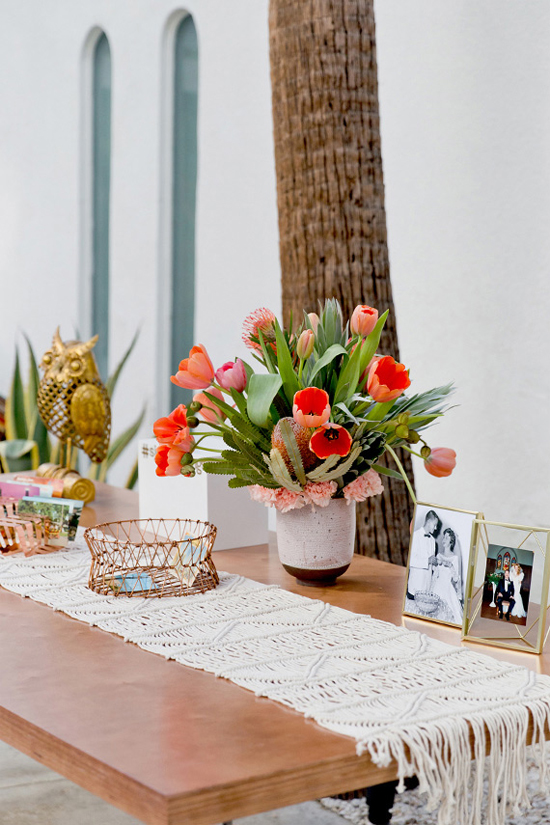 9. Display sweet treats in fruit baskets. First off, I love that these macarons are hand-painted with floral patterns. SO pretty! I've been seeing a lot of macarons with edible designs lately. Not that they need it--macarons are definitely pretty enough on their own--but it is fun to see different creative variations. Besides that, I love how these are displayed in little unassuming fruit baskets. This would be a cute way to display other treats like cookies or candy, whether they're for a wedding, a party, a shower, or just around the house.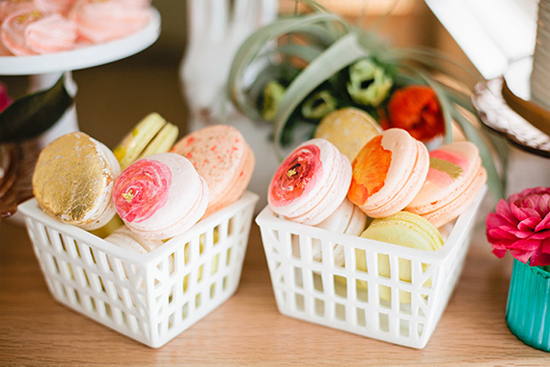 10. "Cheers" marquee sign. Last but not least, I love the idea of a light-up marquee sign for the home. A smaller version of this "Cheers" one would be fabulous above a bar cart, don't you think?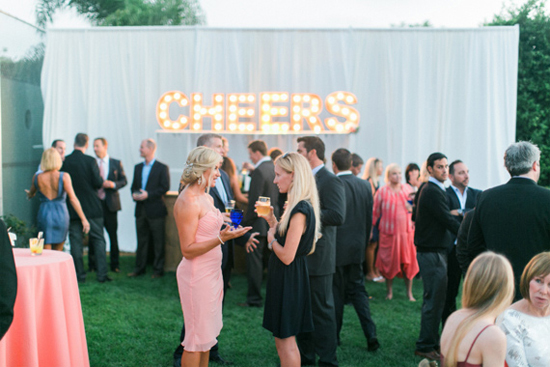 I definitely recommend checking out blogs from a different genre than you normally read, every once in awhile. Things start to feel a bit stale if you're always looking in the same places for inspiration. If your normal blogs are all DIY ones, try checking out a couple wedding blogs, design blogs, or food blogs. You never know what you might find that sparks your interest!
What's your favorite type of blog to read? And if you're not a bride, do you ever check out wedding blogs anyways, just for fun?
P.S. If you're looking for new blogs to follow, I listed some of my faves here.

I just realized it's been forever since the last time I did a giveaway. Hopefully this makes up for it--it's definitely a good one! I have been wanting some colorful Eames chairs for a long, long time (remember this post?), so I am super excited to show you my new fiberglass shell chairs from Modernica. I'm in love with them! And here's the really exciting part--one of you will also win the same chair, so we can totally be twinsies. Yay! You'll get to choose from any of the 35 colors that Modernica offers.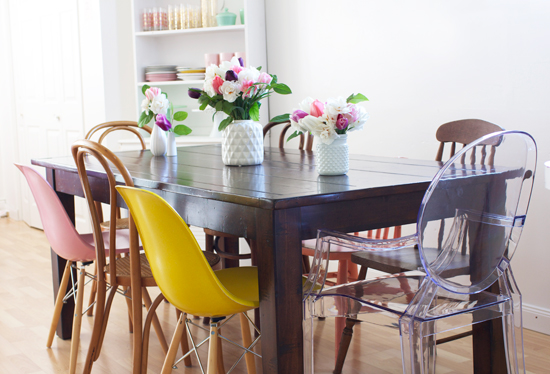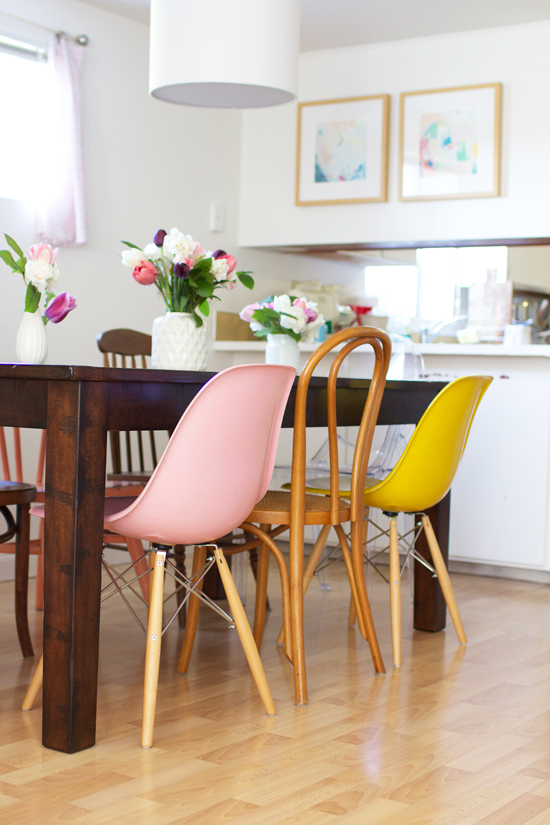 I had a really hard time choosing my colors (they're all soo pretty), but in the end I went with pink and sunflower yellow. They definitely fit well with the color scheme in our house, and I love how bright and cheery they are. If I was to get a couple more, I also LOVE the breeze and grass green colors. And magenta!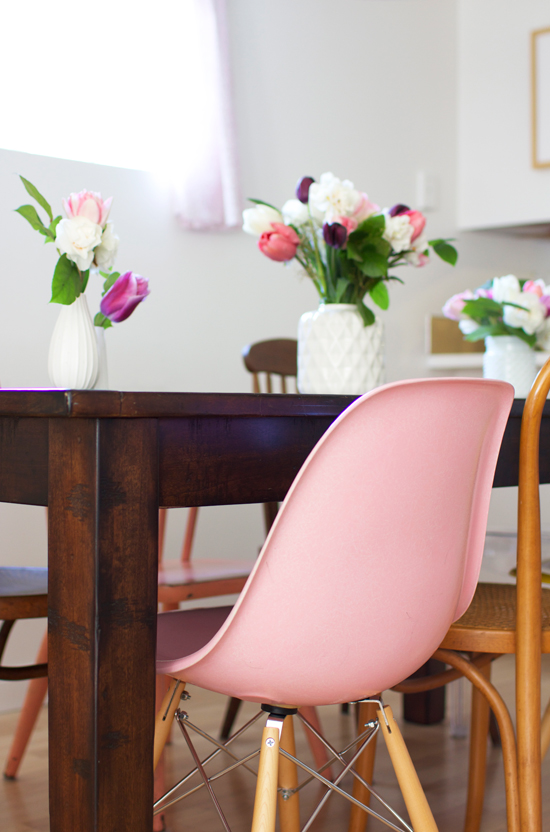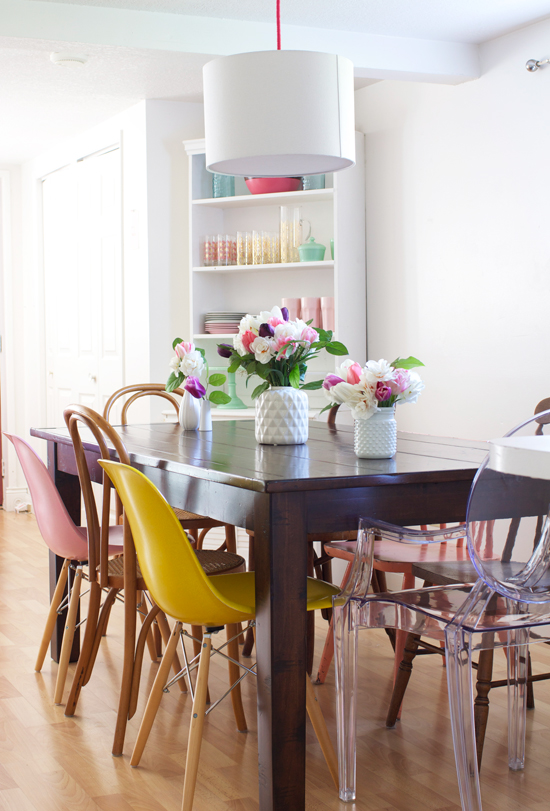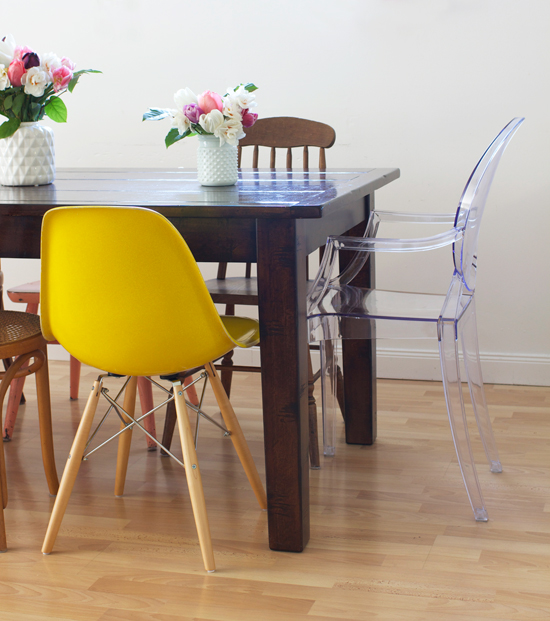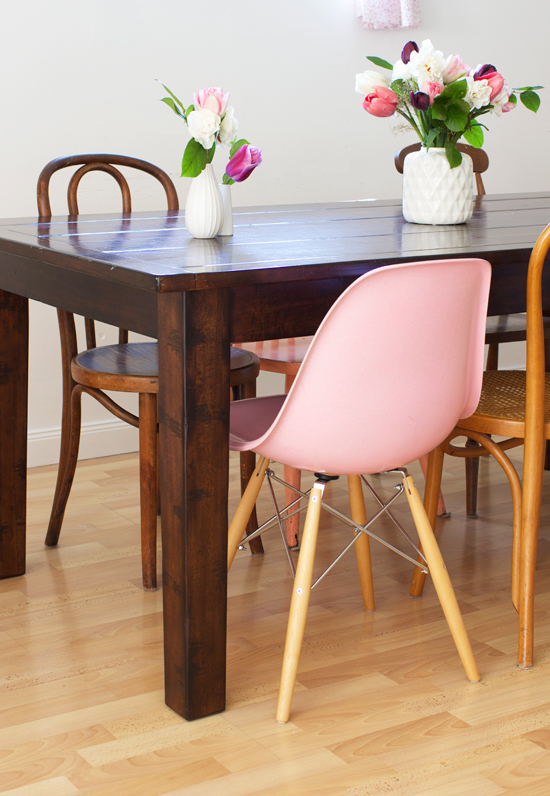 Now for the part you guys really want to hear about…the giveaway!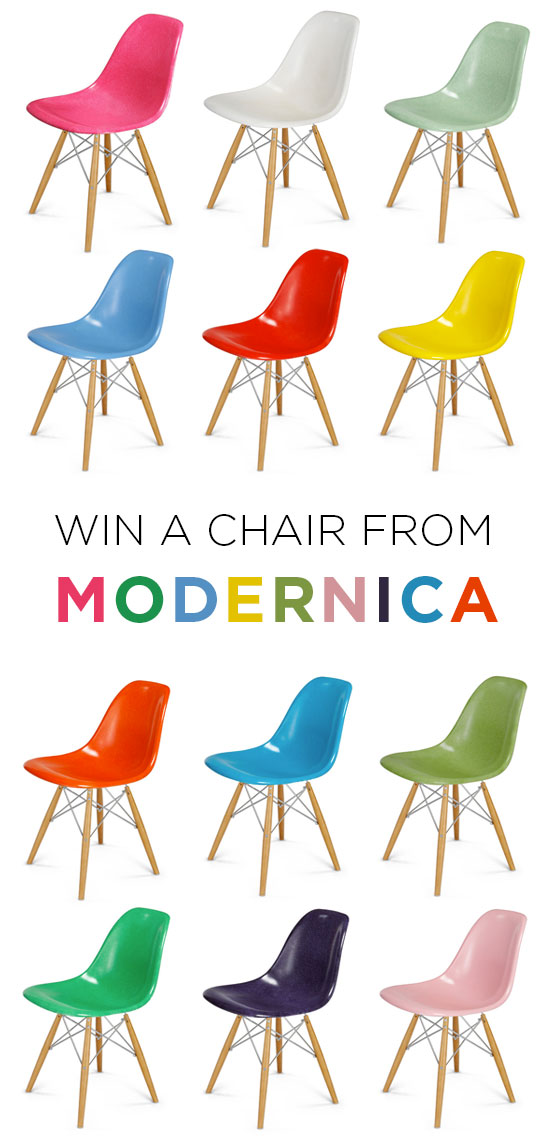 These are just a few of the color options you could choose from. Check out the rest on Modernica, and use the Rafflecopter below to enter the giveaway. Good luck!
Plus, if you've never shopped there before, you should definitely check out their other furniture and accessories. These are a few of the things on my wish list: a George Nelson pendant light, a Case Study planter, anything from their bentwood series (I love this dresser, and I also wrote about the nightstands here), and this wire chair. Let's be honest...everything they sell is beautiful!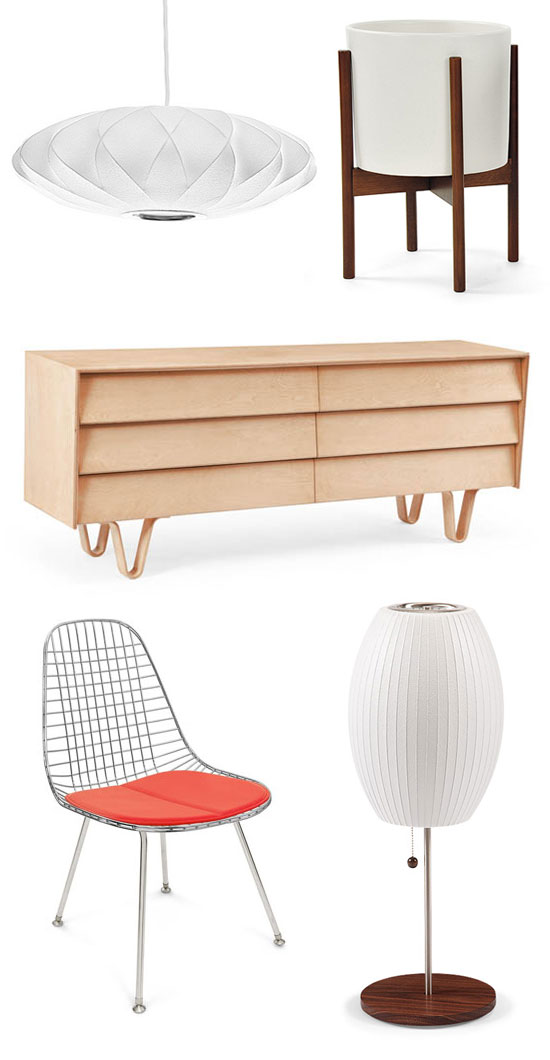 What are your favorite Modernica pieces? And what color would you get, if you won the fiberglass shell chair?
Thanks to Modernica for partnering with me on this post!