This post is sponsored by Magic Memories. All opinions are my own.
Ok, first of all: yes, Ian is already 14 months. So yes, I'm way behind with this post. But better late than never right??? I always wanted to make him a cute one year baby book, but we were so busy this summer that it slipped down the priority list. So when Magic Memories reached out to me last month about creating a photo book with them, I was super happy for the reminder (and the extra motivation to get it done). And I love how it turned out! I'm so glad I didn't give up on this idea just because it didn't get done before Ian's birthday. Also! I have TWO $50 gift cards to give away at the end of this post so you can create your own photo book (or calendar? jigsaw puzzle? canvas for your wall? There are lots of options, and they all would make really cute personalized gift ideas too).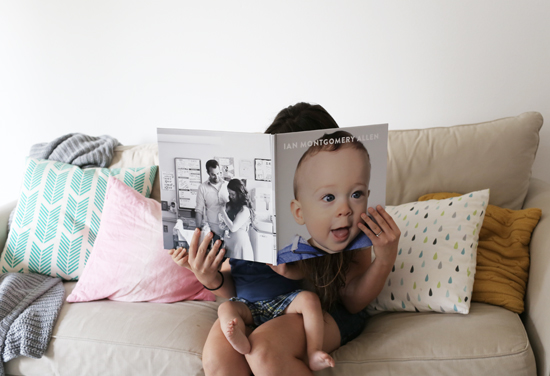 Magic Memories has a variety of pre-designed templates to choose from, for everything from baby books to wedding albums and more. They also have a "Blank" option that allows you to design your own book from start to finish. I went with the Blank for Ian's book, so I could have total control over the design, colors, number of photos, and everything. I'm used to working in Photoshop, so I created all the pages there, then uploaded them once I was happy with how they looked. But Magic Memories also has a built in editor you could use, with options to add text, photos, and effects. You can also save your progress as you go so you can work on your project over multiple days. And of course, if you prefer something that's less work on your end, they offer a number of cute templates that are ready to go.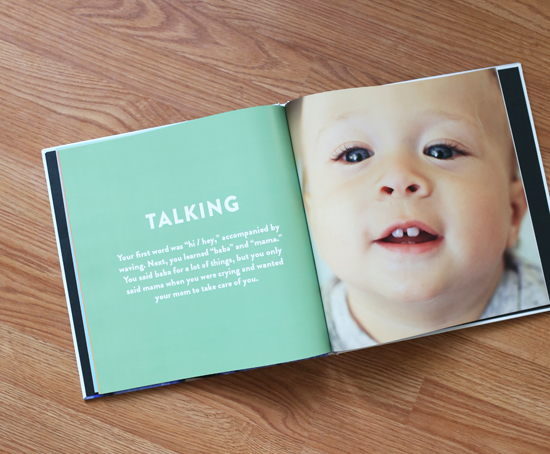 I chose to split the year up by different topics: the ultrasound, Ian's birth story, each season, and milestones like eating, growing, talking, etc...all the way up to his first birthday party. I created a template with a colorful background and descriptions in white, then I put full size photos on the opposite pages.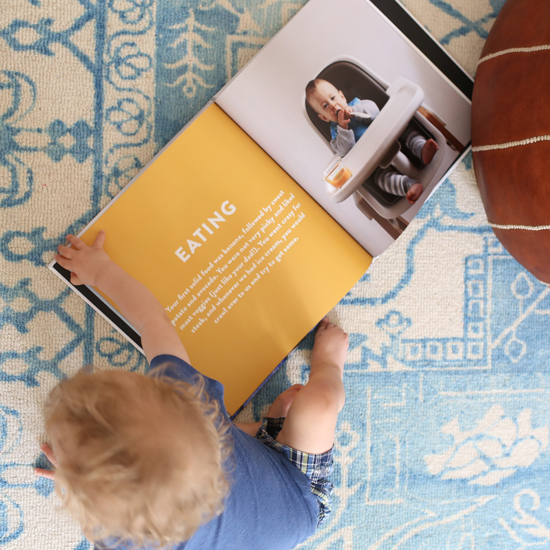 I was very impressed by the quality of the print job. Sometimes I feel like photos turn out darker than you expected, or the colors seem a little off. All of these photos looked amazing, and exactly how I expected them to look. Super happy with that.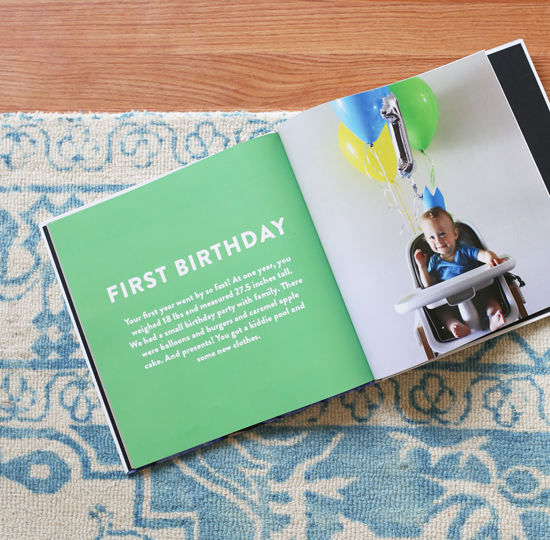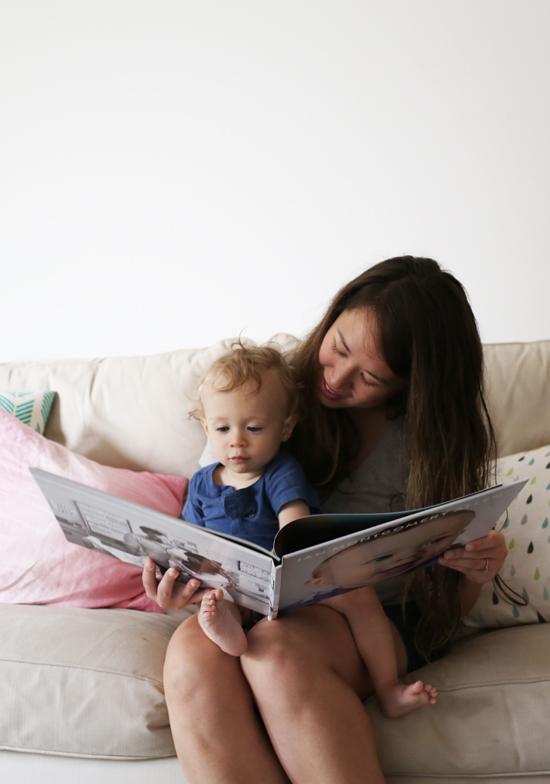 Ian loved flipping through his own personal book and seeing faces that he recognized. I think he was kind of unnerved at first by his big photo on the cover, haha!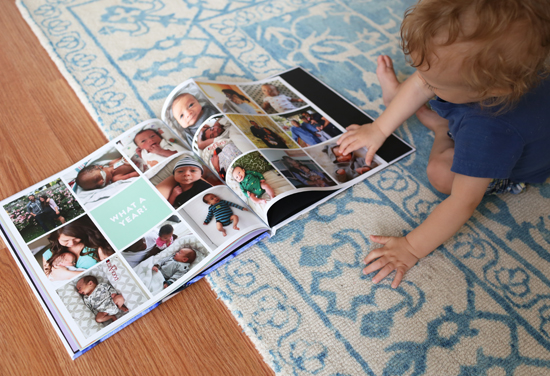 At the back of the book, I added a few collage pages of chronological photos to show Ian's growth over the year. It was a good way to squeeze in some cute photos that I wanted to show, without adding too many pages.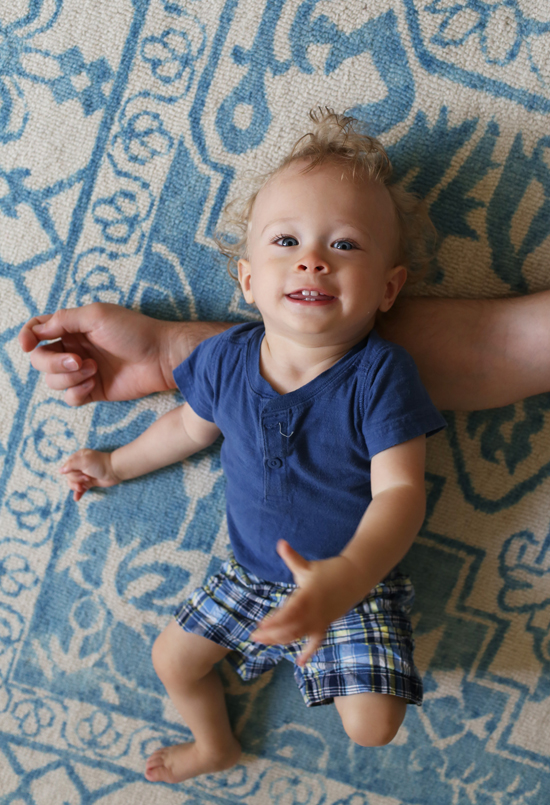 And I couldn't resist snapping a couple extra photos of Ian on the day we got this book. It's crazy how fast the year flew by! When I look at his tiny baby photos, they feel so fresh in my memory, but when I look at the boy in front of me now, he's a legit toddler! Time, you're gonna make me cry...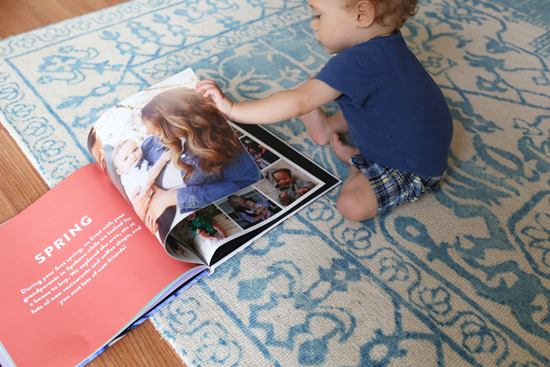 I just loved how our book turned out, and was really happy with the quality of Magic Memories and how customizable it was. I'm thinking next time I'll make a coffee table book of our travel photos (we'll see when I have time for that idea)!
Have you been wanting to make a photo book or some other photo project? Here's your extra push to get it done! Enter the giveaway by leaving a comment with what you would get if you won. I'll announce the two winners next week!


I used to love thrifting for everything from clothes to furniture to books, but lately it just doesn't seem worth it to drive from store to store and treasure hunt through all the junk. Actually, it's not just thrifting...I would do ALL my shopping online these days if possible. It's just so much nicer to get a box at the door than to take Ian in and out of the car seat all day long! Swap.com offered to give me some store credit to try them out, and since I've already been discouraged with in-person thrifting, I said yes please. They are the largest online consignment shop and offer more than 2 million top quality secondhand items to choose from (brands like Gap, J.Crew, and more). It's mostly clothes, but they also have some toys, books and decor. The site really is like a GIANT online thrift store...there's a lot of stuff to sift through, and most of it I wouldn't buy. But there are also some gems! So you can still get the rush of a great find, without having to physically drive to a store and flip through a bunch of racks. And it's way easier to get to the good stuff because you're to able filter by so many more things: brand, size, gender, season, price, color, condition, etc. I was able to snag a bunch of cute fall stuff for Ian, most of it with tags still on...plus a few things for myself. :)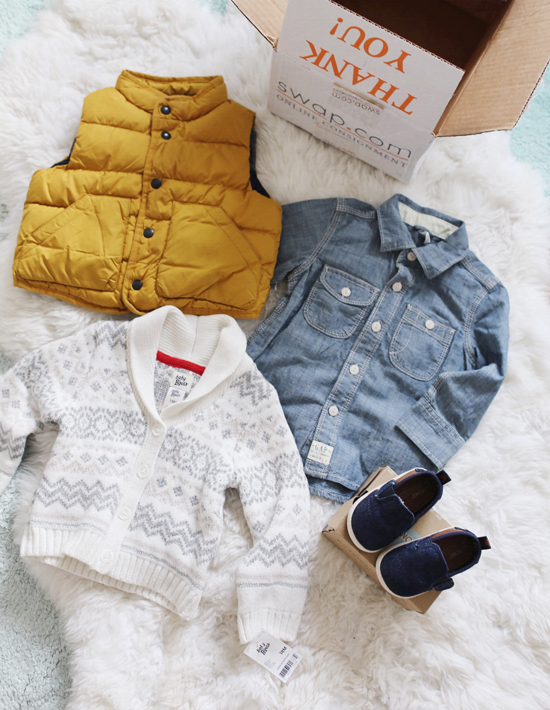 These are just a few of my favorite finds. Aren't those tiny Toms so cute? And the mustard yellow vest? Ahhh, I can't wait for colder weather to put him in that!
Like any thrift store, the majority of the items aren't that great, and it definitely takes some patience to dig through them all. And the presentation isn't as slick as if you were shopping for new clothes (the photos are obviously not as pretty as professional product shots)...BUT just like thrifting, if you're willing to do a little work you can find some amazing deals! And hey, at least you can do your treasure hunting from the comfort of your own sofa. Plus, to make the deals even sweeter, Swap.com is offering 25% off your first purchase, with the code 25OHBABY (expires December 31st). Let me know if you give them a try, and if you find anything good!
Happy shopping, and have a great weekend. :)


This post is sponsored by Lamps Plus. All opinions are my own.
When we were house hunting, one of my friends advised me to find a house that we could be happy living in as-is. She said, you'll have tons of ideas for projects and home improvements to do, and you may end up doing them all eventually, but for most people renovations aren't a quick process like on TV. It's going to take longer (and cost more) than you think, so make sure you'll be happy in the meantime. That will make the process much more fun, and less stressful on your marriage. I can already see the wisdom in her advice, because even the small changes like painting and light fixtures are taking us way longer than I thought. BUT! We are making progress, slowly but surely, and with every little change I like our house even more. Recently, we finally switched out some of our old builder grade light fixtures for pretty new ones from Lamps Plus...and they look soooo much better. Can I get a watt watt? ;) If you don't have a lot of money to spend on house renovations, but still want to do something that will make a big difference immediately, I highly recommend upgrading your lighting. It will instantly make your house feel 10x more stylish and intentional. Such a big impact for something relatively low-cost!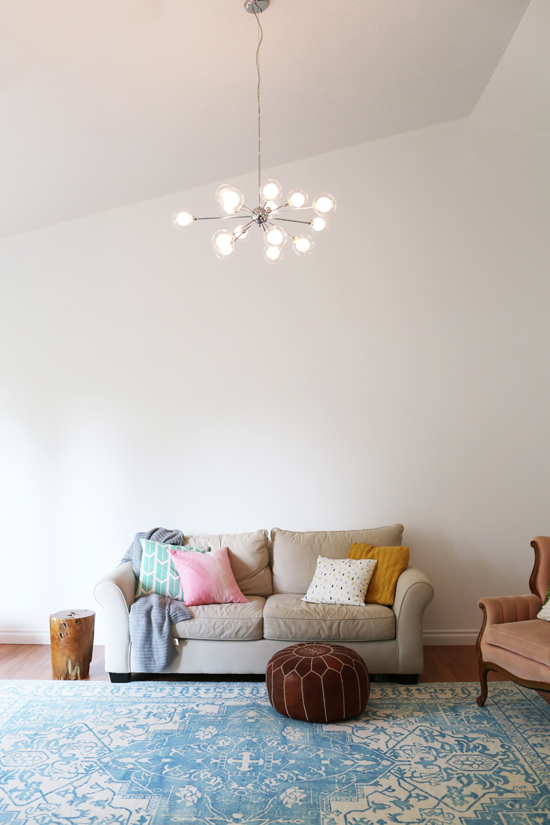 Lamps Plus is my go-to shop for beautiful-yet-affordable lights in every style, from close-to-ceiling lights to hanging pendants and chandeliers. Here's a round up of some fixtures that I considered for our house, and the ones I actually chose. These rooms are not even close to being done yet (the blank walls are so embarrassing!!!!), but I'm trying to celebrate every little bit of progress. So yeah, here's where we're at. I am CLEARLY not the kind of blogger who moves in and has everything remodeled and styled super cute within a month. I want to be that girl, but hey, life is busy right now...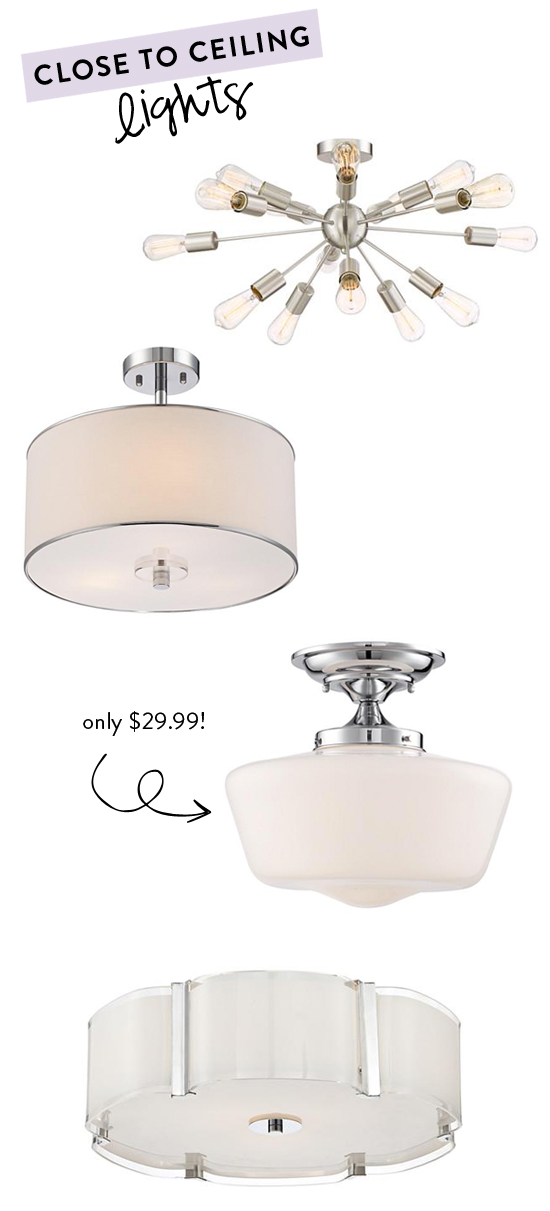 Close to ceiling lights: 1 / 2 / 3 / 4
For Ian's bedroom, I looked at ceiling lights to upgrade the standard "boob lights" our house came with. I loved the style of #1, the shape of #4, and the price of #3, but ended up choosing #2. It's a simple, classic style, a good size for the room, and a great price at $69.99. I might end up getting #3 for another room in our house though...it's hard to beat a timeless schoolhouse style light for under $30!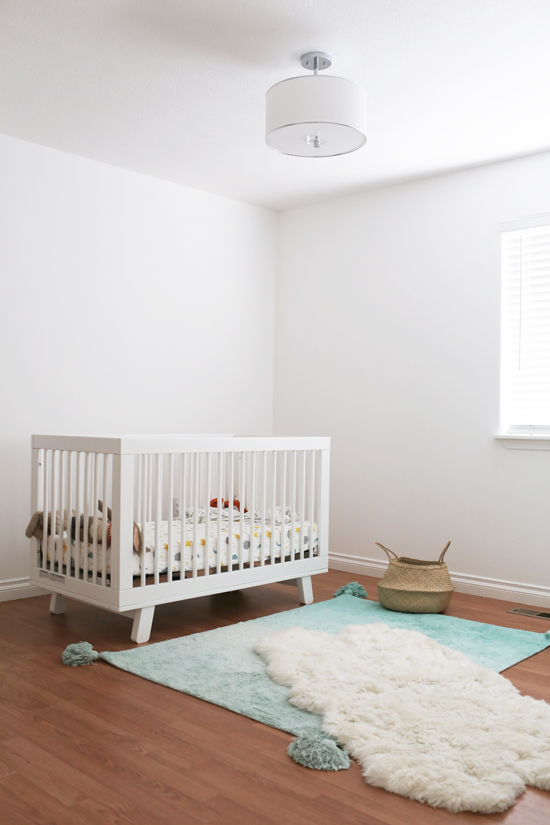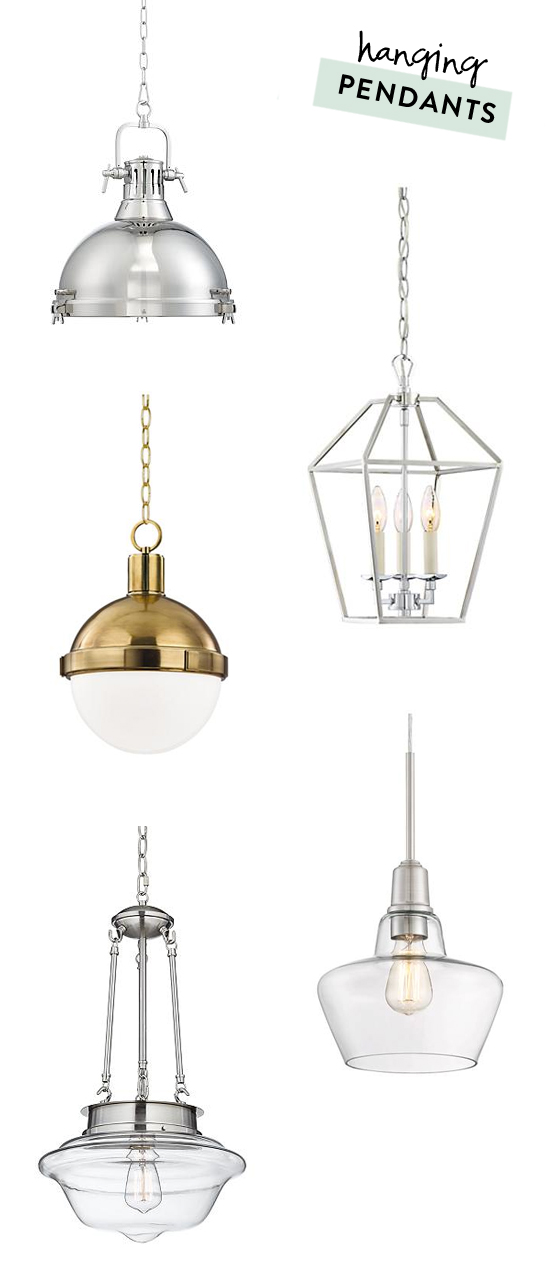 Hanging pendants: 1 / 2 / 3 / 4 / 5
For the kitchen, we had already removed some black track lighting when we painted the ceiling, and we needed something to replace it for now. Knowing that we're planning to remodel the kitchen soon, I wanted to pick something versatile since it won't stay in this spot for long. I looooved the look of #1 and #2, but decided to go with #4 because it was less expensive. It looks like it's currently sold out, but you can find lots of similar options under $200. When we remodel, I want to cut another window in the back wall and put a farmhouse sink under it. I'm thinking I will move this pendant to above the sink when that happens!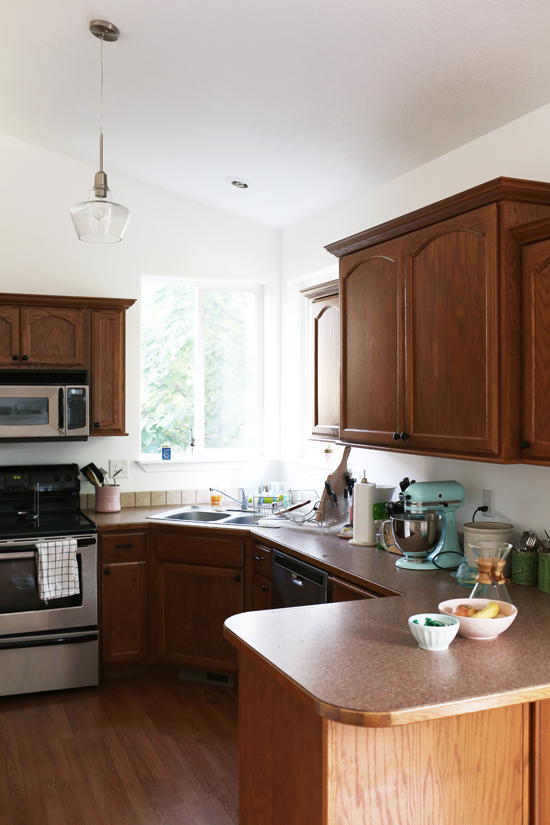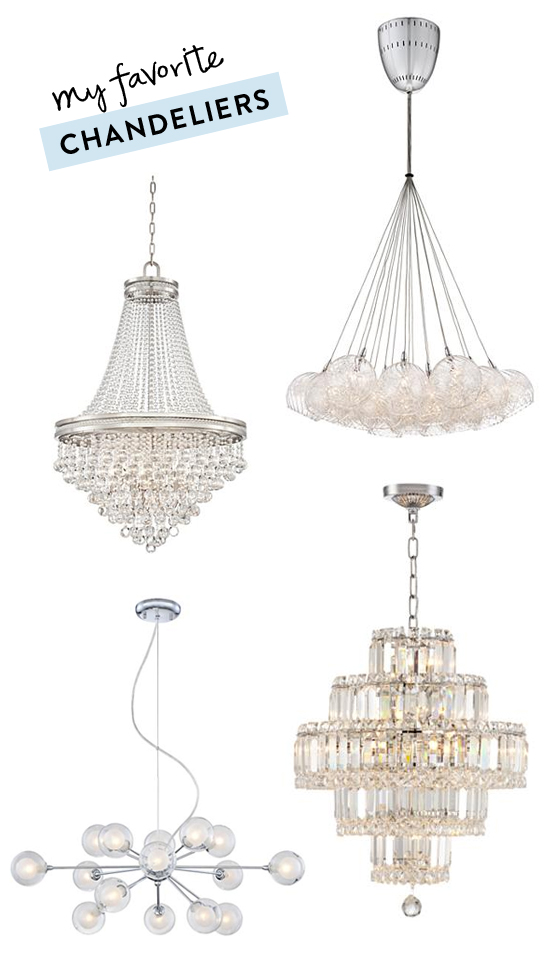 Lastly, we got a new living room chandelier to replace the boring 90's one that came with the house. It makes such a big difference! I ended up choosing #4 because it was a great deal (on sale for $299) and I love the look of Sputnik lights. It might be a bit trendy and less traditional, but it's really beautiful and it gives off a ton of light. We have it on a dimmer switch so we can turn down the brightness if we want to change the mood.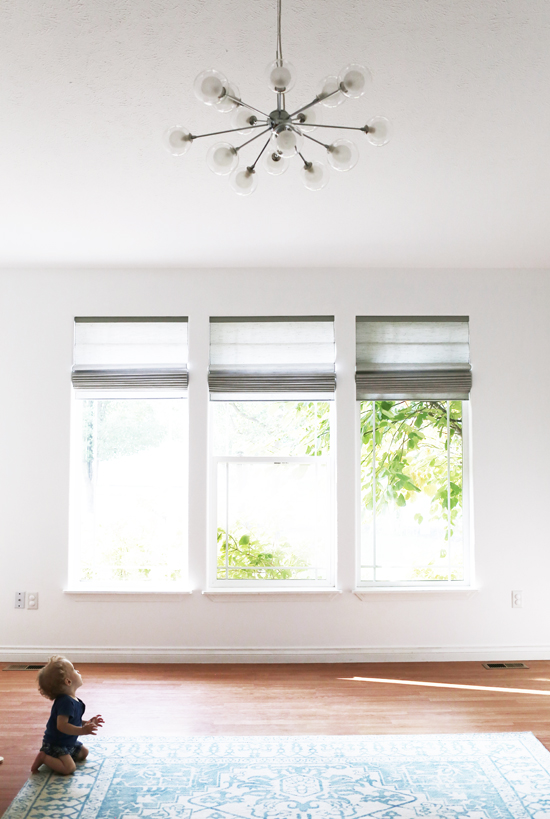 We still have a number of lights to switch out, so I'm keeping these lists handy for future reference! The next one on my list is the chandelier in our entryway. I did a little Photoshop work, and I think #2 from my chandelier round up would look amazing there. What do you think?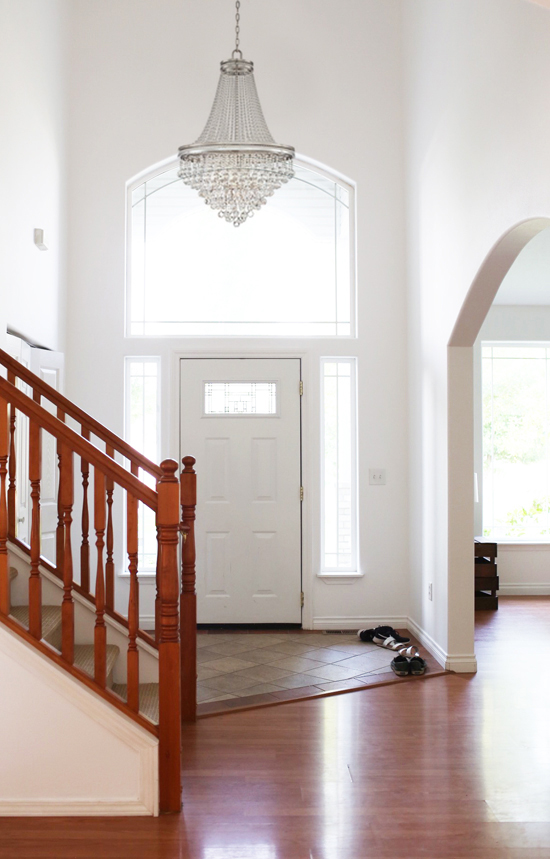 Do you have a favorite light from the ones above? What's your go-to source for lighting that's beautiful but not crazy expensive? I went to this local store that had SUCH gorgeous fixtures...but there were hardly any options under $1000!

Truth be told, I don't really miss our old apartment that much (except for its proximity to the beach). By the time we moved, we were sooo ready to be outta there. But I'm on Apartments.com today, talking about some common apartment woes and how to deal with them, and the pictures of our old place are making me feel a little bit nostalgic! I think it's because our current house is so unfinished (ugh). There's no art on the walls, the furniture hasn't been purposefully arranged, and we still need window treatments for most of the rooms...we're making changes slooowwwwwly. I thought I'd be able to get more done during the day while Ben's at work, but turns out that watching a busy one year old takes a lot of energy and attention (huh, imagine that), so we haven't been able to make a lot of progress except on weekends. And of course that's also when we also want to hang out and do fun stuff! Thank goodness we have a three-day weekend coming up. I have high hopes of knocking out a bunch of projects! Fingers crossed.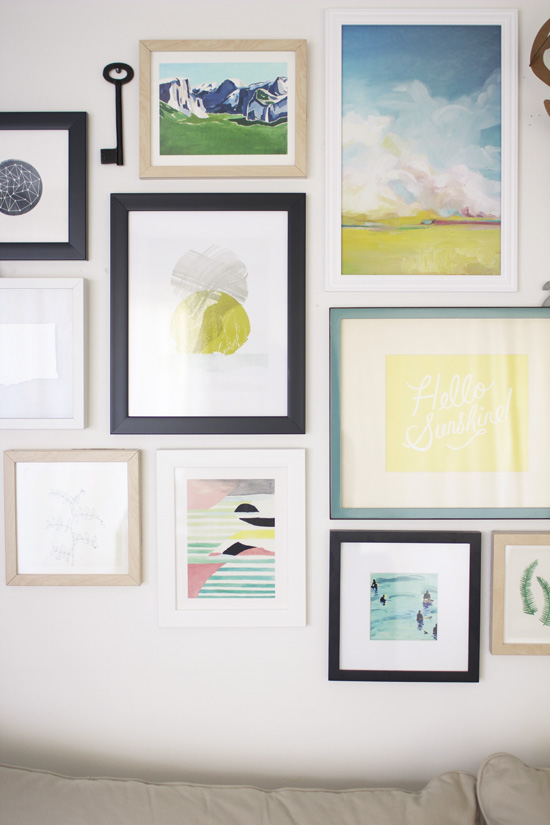 In the meantime, I'd love for you to check out my article: Five Common Apartment Woes & How to Fix Them. After living in rentals for the past 10 years, I feel like that's a topic I can talk about exhaustively! I also wrote an article for them last month that I forgot to share here: WHY It's Worth Making Upgrades to Your Rental Apartment.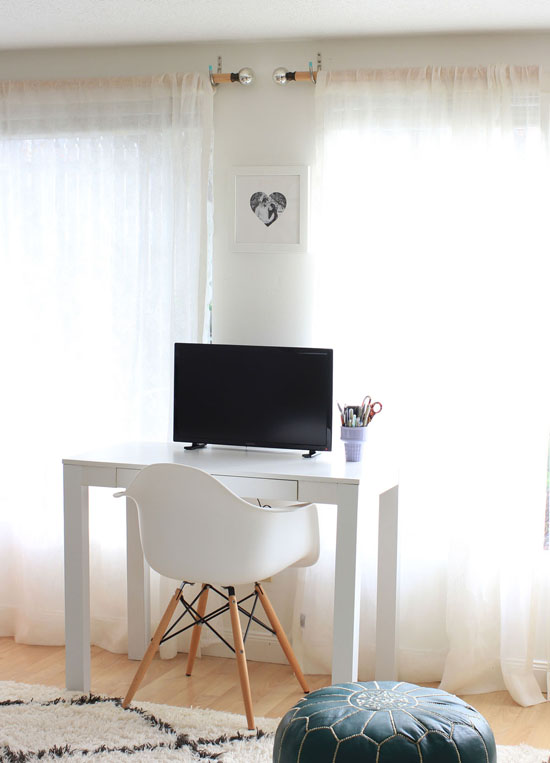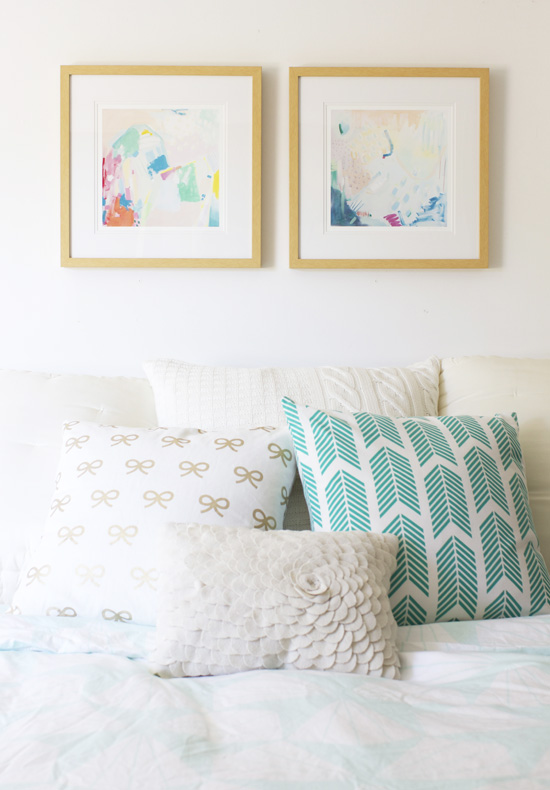 And while we're on the topic, I'm curious whether you guys are renters or homeowners...and if you're renting, is it because you choose to? Or because you're saving up to buy? For a long time we rented because we couldn't afford to buy a house. But now that I'm on the other side of the fence, I also miss some of the freedoms of renting: no lawn to mow, no spending money on expensive appliances, no paying for water & garbage, etc. I'd love to hear your reasons for renting or owning, if you're willing to share! I know, I'm so nosy...