I'm really excited to have joined Wayfair's Homemakers program. And I'm even more excited that for my first post with them, I get to give one of you $100 to spend there! Wayfair is a great place to shop for house stuff and more. They have so many options, and their prices are really great. For this post, I got to pick out $100 worth of product to add a pop of color to a room in my house. I debated between a colorful chair for my patio, a desk lamp for my new office, or something for the kitchen. In the end, I picked out a bright orange cast iron skillet and some striped yellow dish towels. Here is what our kitchen looked like before (from this post).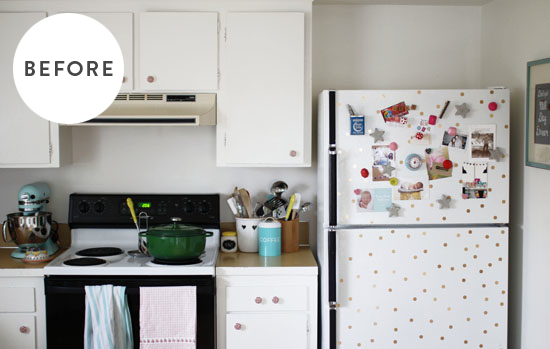 And here it is now, with our new goodies! The pop of orange makes me smile every time I walk by. And it's pretty enough to keep on the stove all the time, even when it's not in use.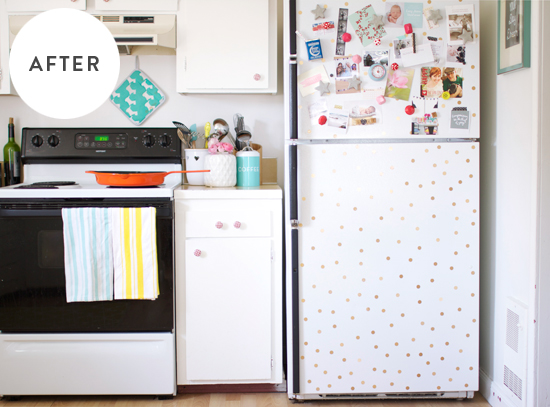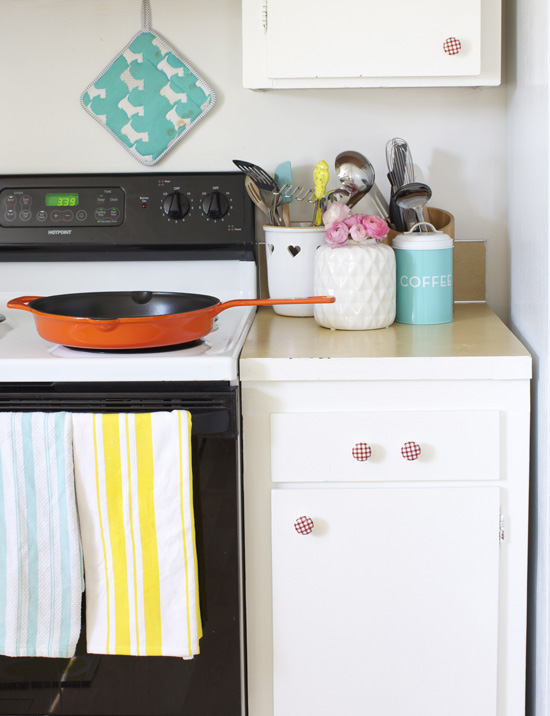 I love how bright and cheery it makes our kitchen look!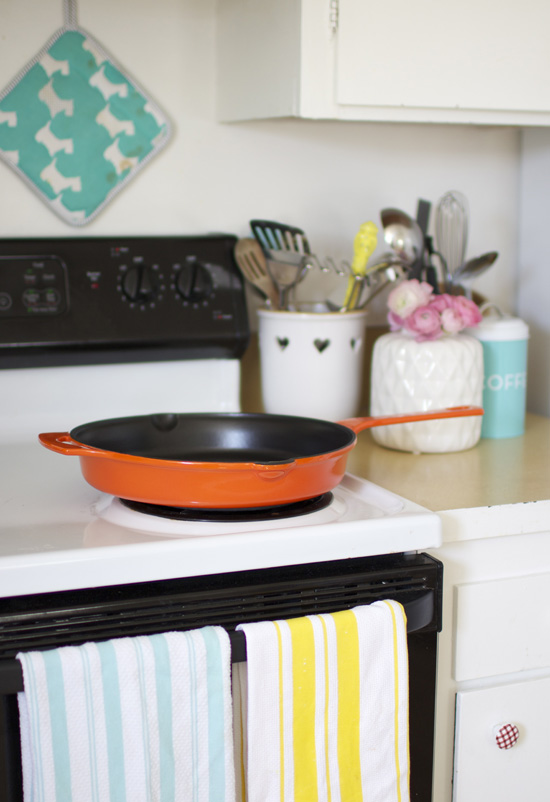 Here are a few of the other things I thought about getting from Wayfair (all of which are under $100).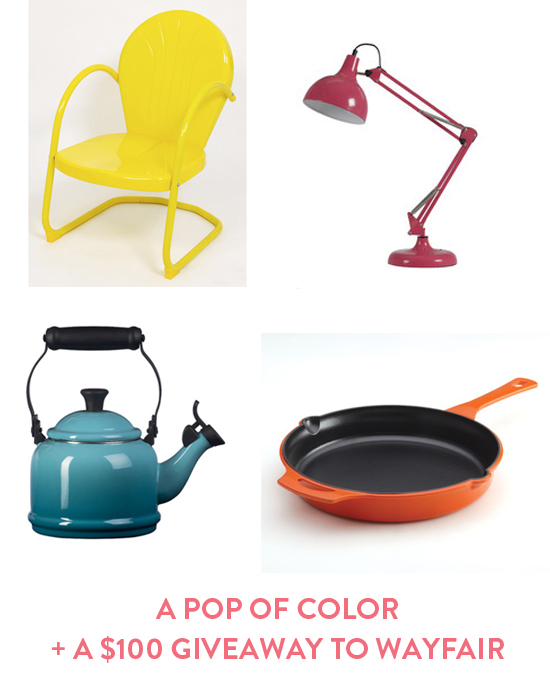 Tulip patio chair - $56.99 / Pink task lamp - $65 / Le Creuset tea kettle - $64.95 / My new cast iron skillet - $79.95
What would you choose to add a pop of color to your home? Enter the giveaway below, and you just might win a $100 Wayfair gift card to make it yours. Good luck!
No purchase necessary. By leaving a comment you agree to the rules of this sweepstakes. Each comment to this post equals one entry and must include a name and valid email address to be eligible. A comment must link to a product from Wayfair.com to be considered for this sweepstakes. One entry per household. Limited to entrants over 18 in the US and Canada, residents of Florida, New York, and Rhode Island are ineligible to enter. Contest begins as of the time of this post and ends on May 1st, 2014 at 12:00 AM. The winner will receive a Wayfair gift card/promo code, a retail value of $100 US. The number of eligible entries received will determine the odds of winning. All comments will be numbered in the order they are received and the winner will be chosen randomly by Aileen Allen using the Random Number Generator at random.org.  Winner will be notified by email at the address given in their entry and must respond within 72 hours to receive their prize. If the winner does not respond within that time, a new winner will be chosen. The prize will be provided by Wayfair.com. At Home in Love is not responsible for any problems with receipt of the prize. This contest is governed by the rules of Massachusetts, void where prohibited. This sweepstakes is sponsored by Wayfair LLC, 177 Huntington Ave., Boston, MA, 02115.
Thank you to Wayfair for partnering with me on this post!


I got the idea for this post from the elephant lamp in yesterday's post. I thought it was so adorable, and it got me thinking about elephant decor in general. I've actually seen it a lot! Elephants are supposedly a sign of good luck--and they're totally cute, of course--so why not put an elephant in the room? Whether it's a whimsical kid's room or an elegant living room, an elephant can fit right in.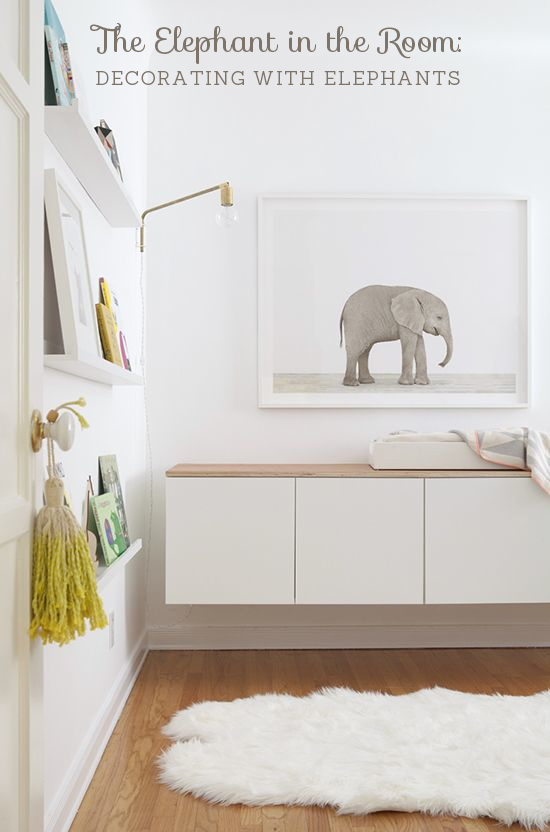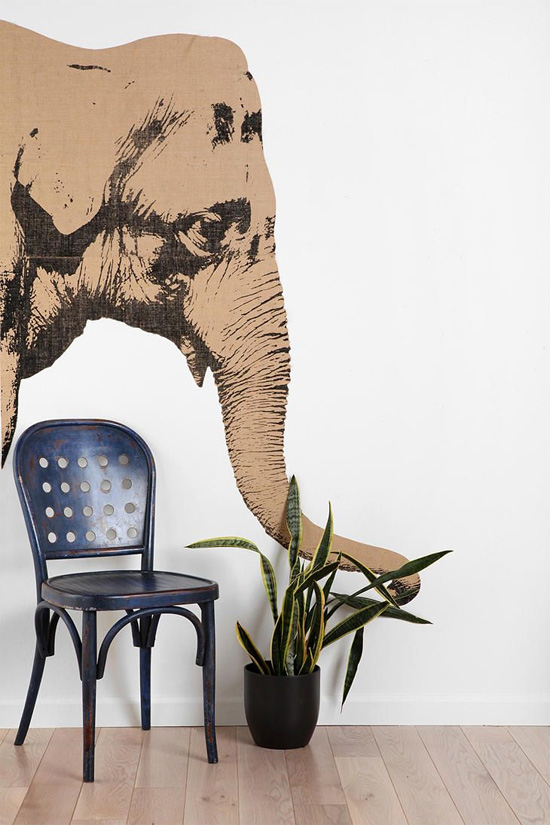 You can go big with this theme (like, really big--elephant big). Or you can keep it more small and simple. Personally, I'd never put a giant elephant head on my wall…but I do like how it looks like it's interacting with the plant in front of it. Clever!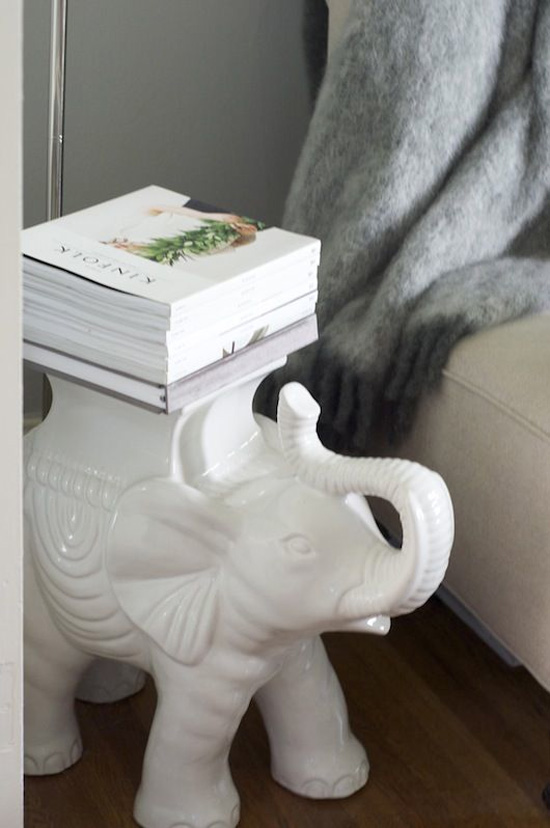 This idea, I would definitely do…an elephant side table? So cute!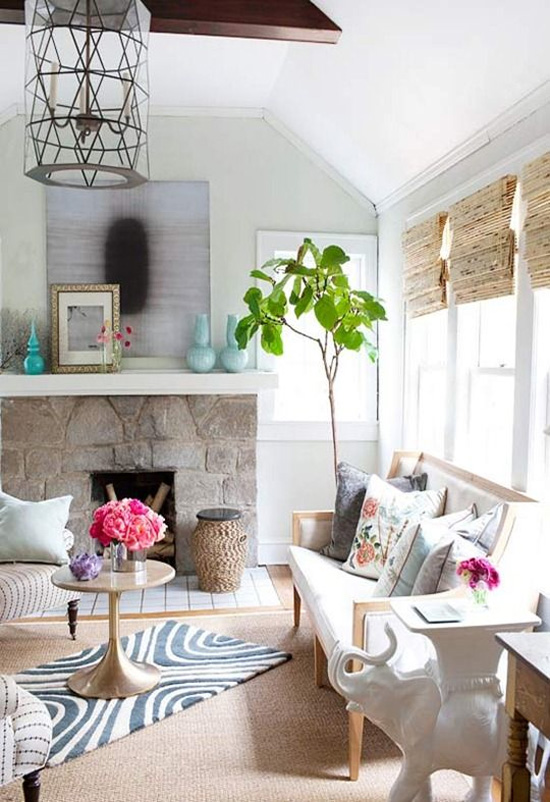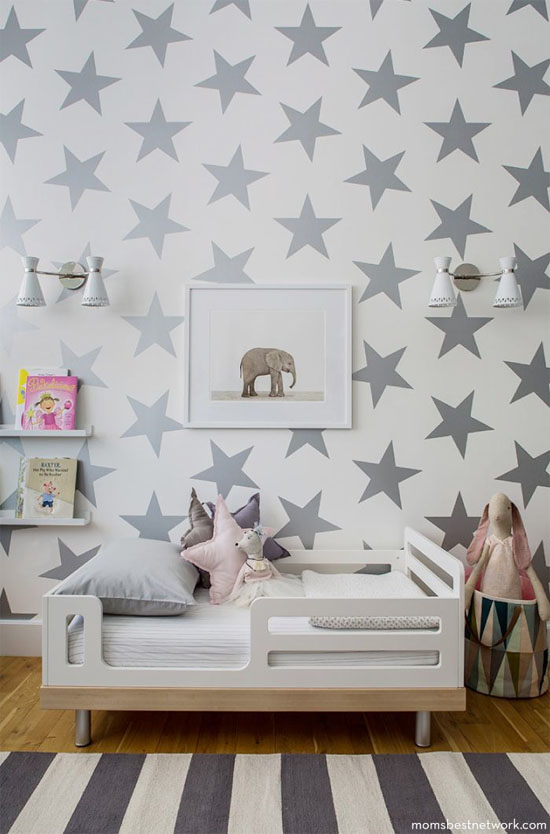 I think the plush elephant head below is really adorable too. Perfect for a kid's room. And the elephant lamp in the middle picture? Believe it or not, it's a DIY project!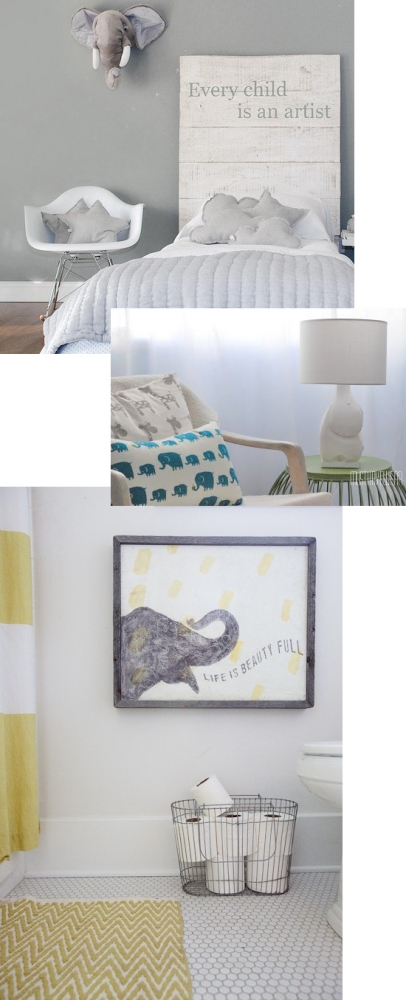 Which of these ideas is your favorite?
1 / 2 / 3 / 4 / 5 / 6 / 7 / 8 / 9
If you're digging this trend, I did a little shopping to find some adorable elephant themed objects that you can buy. I think the hook and the teapot are especially perfect, since the trunks are actually functional!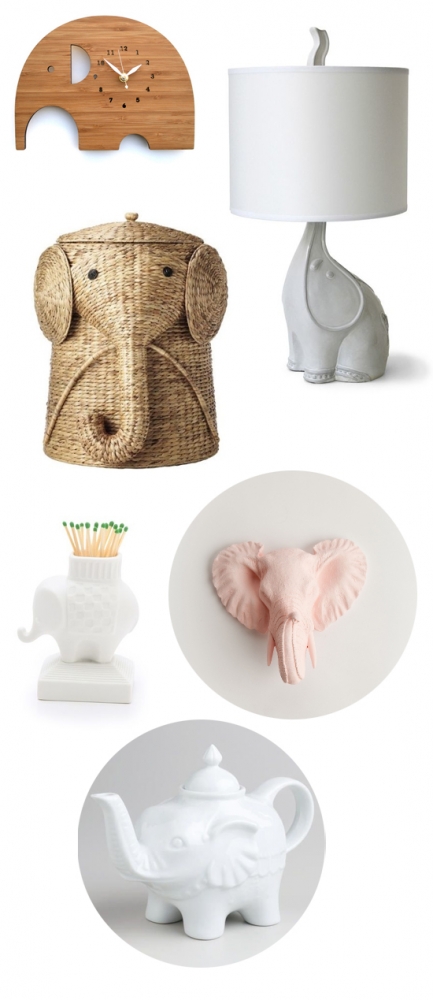 Wooden elephant clock - $70 on Etsy / Elephant lamp - $395 on Jonathan Adler / Elephant hamper - $69 on Amazon / Elephant matchstrike - $42 on Jonathan Adler / Elephant wall hook - $29 on White Faux Taxidermy / Elephant tea pot - $12.99 on World Market


Today, I thought we'd talk about lighting. Lighting is one of those "small" details that is actually not so small. A great lamp or pendant can totally make a room (and vice versa, a bad one can really bring a room down). That's why one of the tips I mentioned in my post on decorating a rental was to switch out the lighting! There's no reason to live with the outdated fixtures that came with your rental. Just store them somewhere so you can replace them before you move out!
Ceiling pendants. When it comes to ceiling lights, I'm partial to metal pendant shades. We actually have a linen drum shade in our dining room, and I do like it. But I still want some pendants like these at some point. Maybe in my kitchen!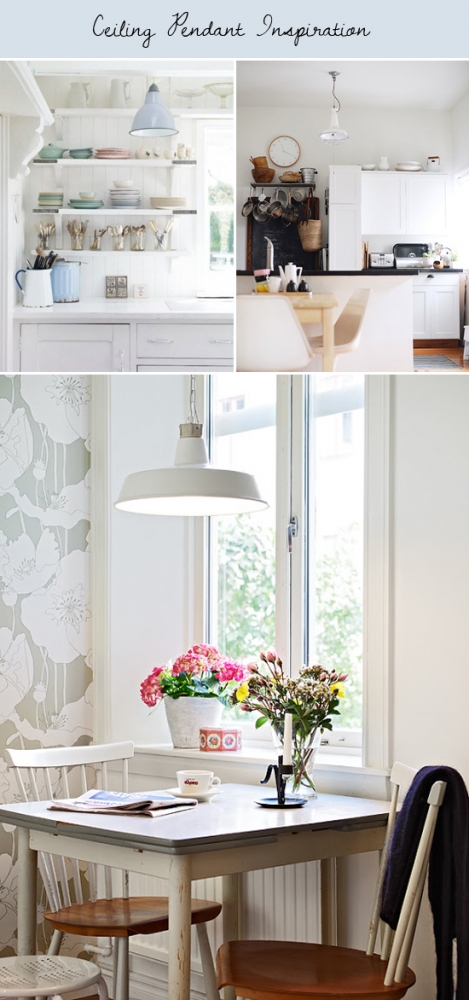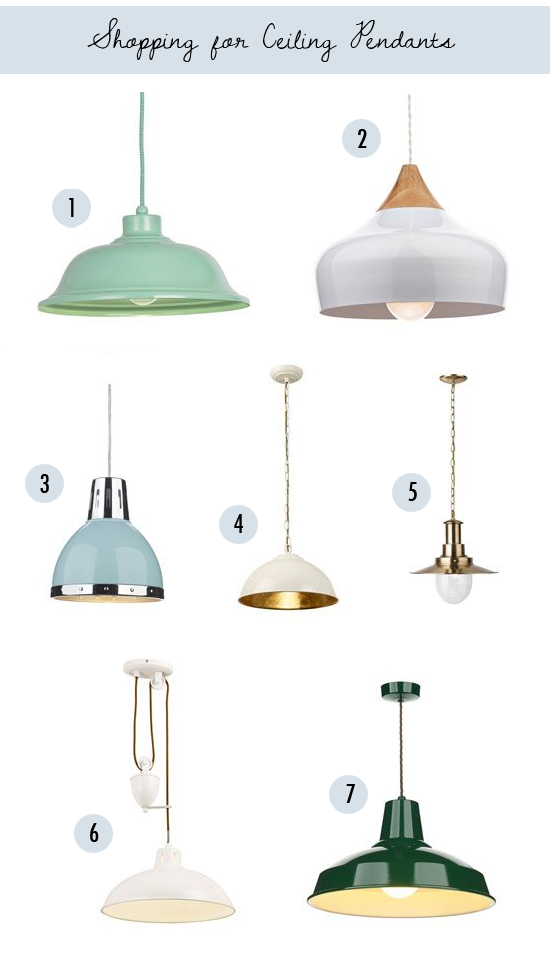 Get the look: 1. Mint green pendant / 2. Glossy white pendant with wood detail / 3. Light blue pendant / 4. Pendant with gold leaf inner / 5. Simple brass pendant / 6. Rise and fall pendant / 7. Hunter green pendant
Table lamps. For table lamps, I like ones with interesting bases and simple drum shades. The white one below is really similar to our bedside lamps (which I love!). I also really like colorful or wooden task lamps, and am still shopping for the right one for my desk.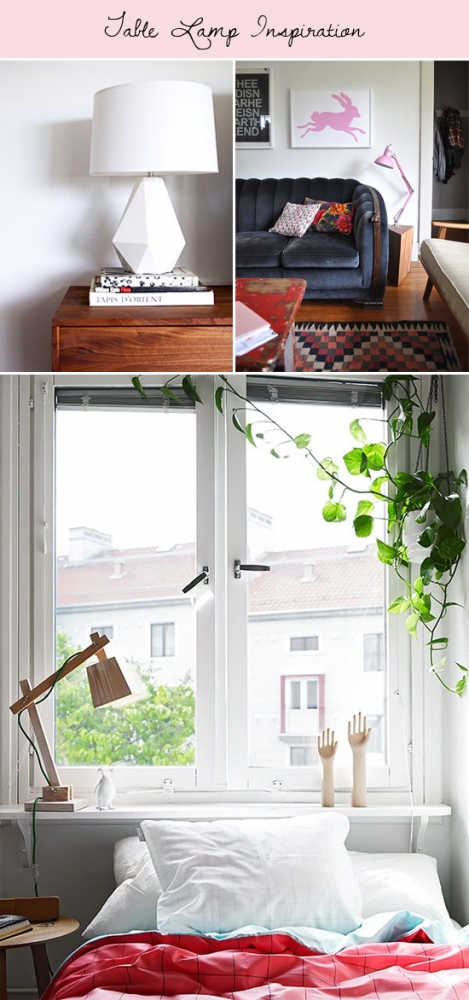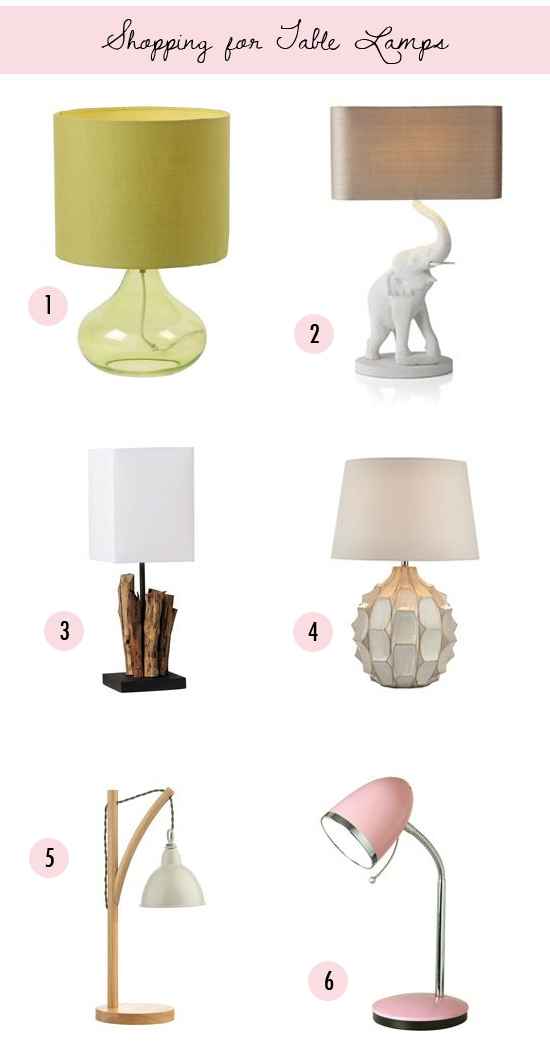 Get the look:  1. Chartreuse table lamp / 2. Elephant lamp / 3. Driftwood lamp / 4. Antique white table lamp / 5. Wooden desk lamp / 6. Pink desk lamp
Do you have a favorite lamp out of all the ones I shared above? Are you in the market for some new lighting? If so, what are you shopping for?
 Thank you to Scotlight Direct for partnering with me on this post.

I've posted about a few iconic furniture designs in the past (Bentwood chairs, Tolix chairs, Chesterfield sofas, English roll-arm sofas, and Eames molded plastic chairs). As you can tell by the pieces I chose, I LOVE chairs. And today I have yet another chair to share with you: the wishbone chair by Hans Wegner! It's a very recognizable and beautiful design, and just as fresh and contemporary feeling today as it was when it first came out in 1949. A design classic! I'm definitely wishing I could get a few for myself (ahaha, get it?).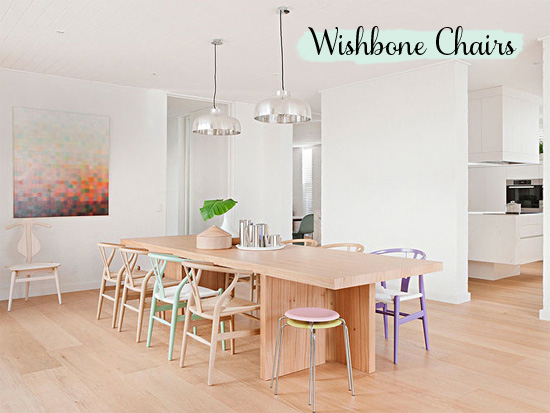 The photo above is my favorite, with the natural colored wishbone chairs mixed in with colorful, pastel ones. That mint green one…yes, please!!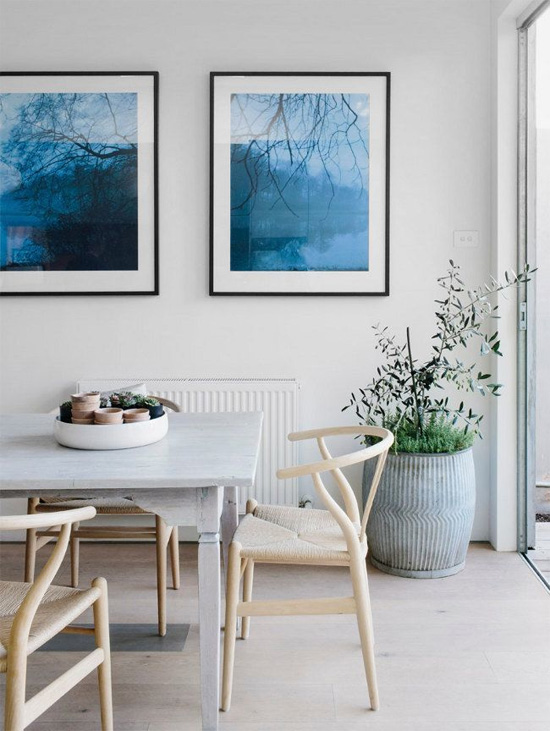 Wishbone chairs have a seat that is hand woven from paper cord, a material developed during WWII as a substitute for jute. It's beautiful, but I'd worry about spills and such. To protect your investment, you could buy the optional leather seat cover from Design Within Reach.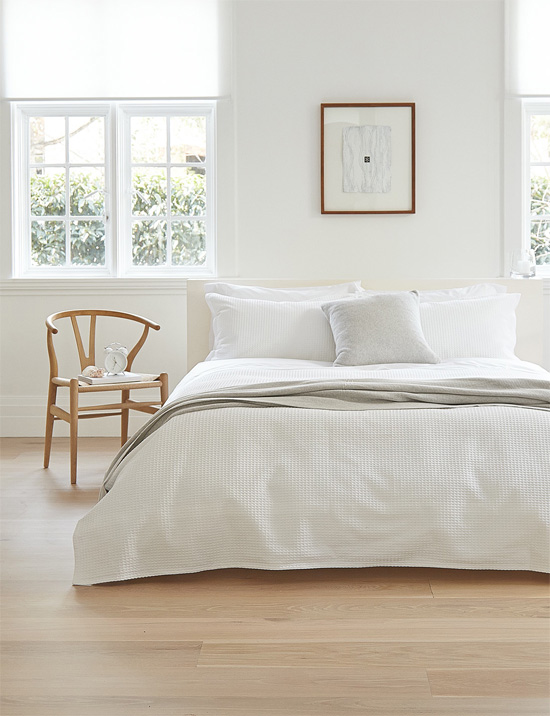 I love wishbone chairs in the dining room, of course. But I also love this individual wishbone chair used as a bedside table. It pretty much makes the room.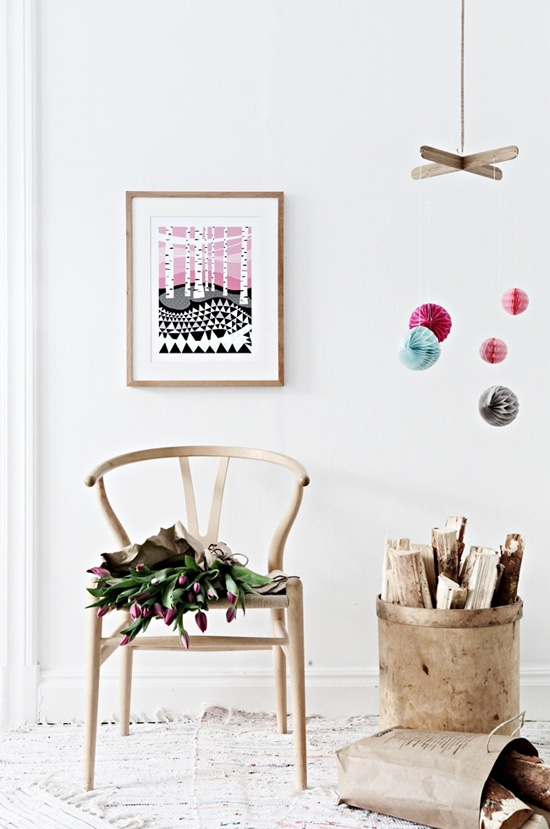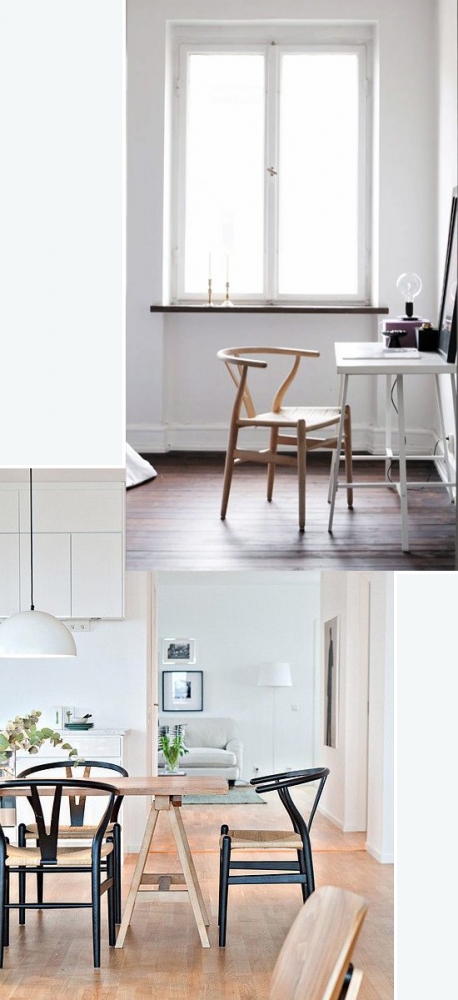 The photo with the black chairs above is from a stunning apartment in Malmö. The whole space is pretty drool-worthy and worth checking out--especially if you like Scandinavian design!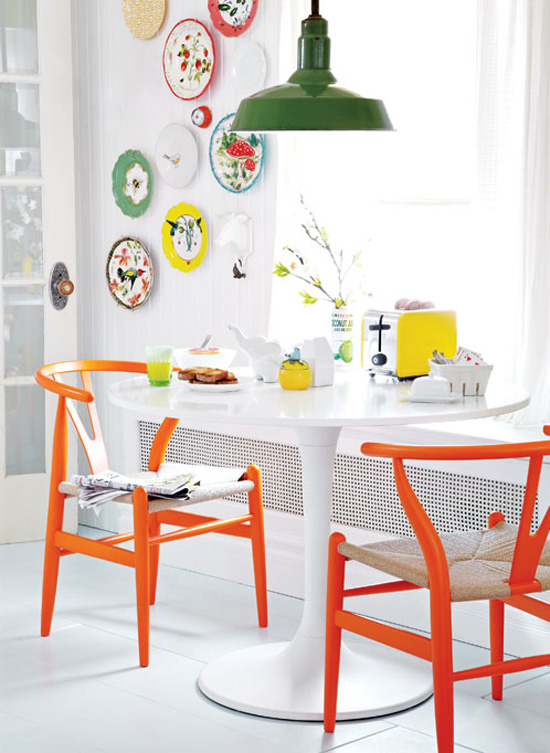 But wishbone chairs aren't just for stark, neutral Scandinavian spaces. See how good they look in this colorful, farmhouse-style breakfast nook?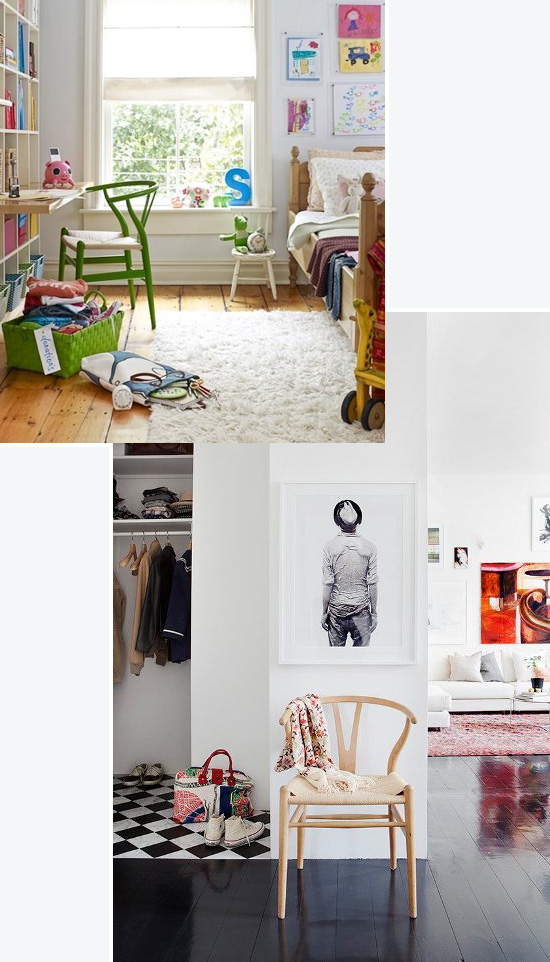 They're great for children's rooms or entryways too!
If you were to get a wishbone chair, would you do a color or the natural wood? And where would you use your chair?
1 / 2 / 3 / 4 / 5 / 6 / 7 / 8 / 9