I think everyone has their list of practical must-haves when they're looking for a new home (x number of bedrooms & bathrooms, good neighborhood, a backyard, etc.) and their "if money was unlimited" wish list (giant walk-in closet, hot tub, marble countertops, front porch...you know). In addition to all those things I just listed, my dream list includes a big window seat for reading, daydreaming, and enjoying a cup of coffee with a view to the outdoors. I've always loved window seats...they're such a cozy and serene spot to tuck yourself into for a few minutes. Plus, they turn unused niches into functional areas with storage and comfy seating...so really, they're super practical too. ;) Here are a few of my favorite examples, for inspiration.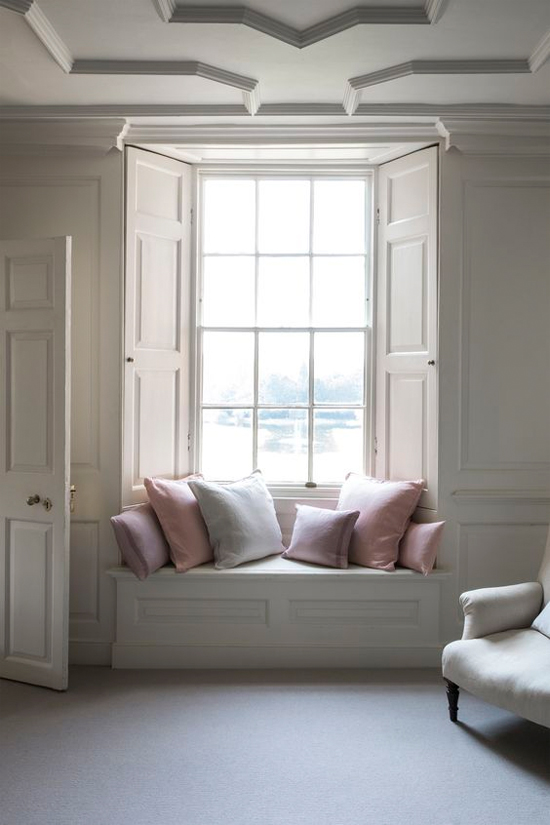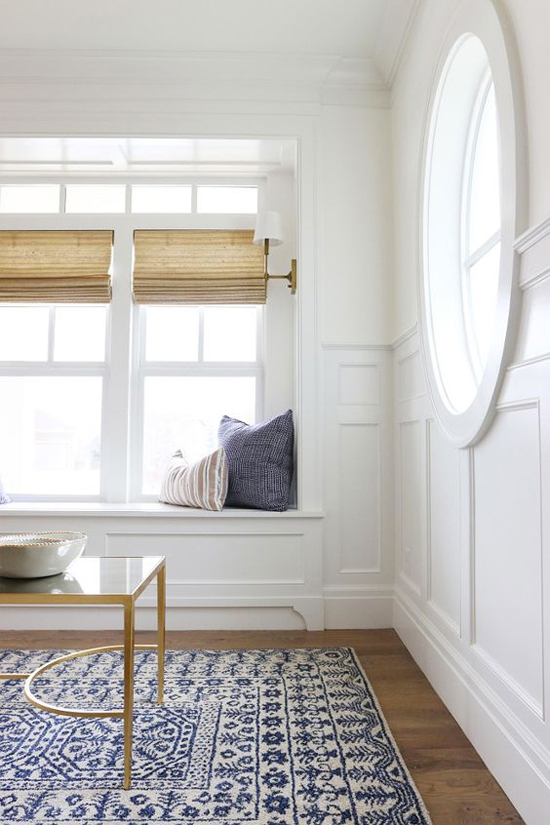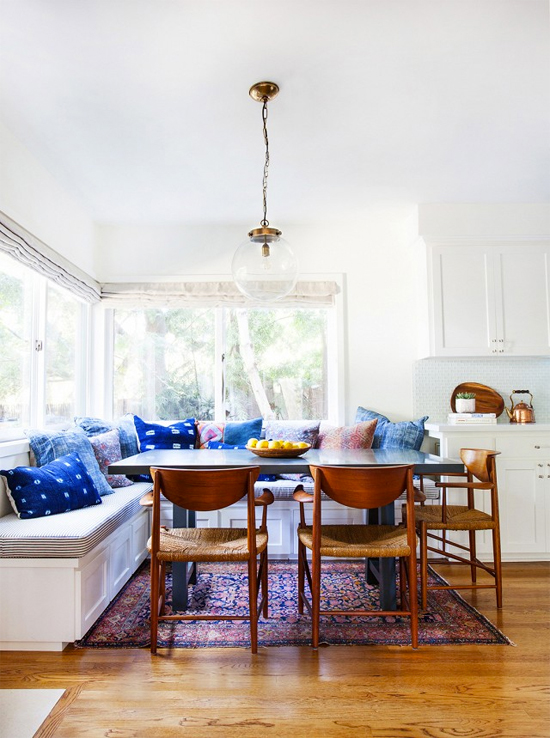 You can put a window seat in just about any room--a banquette in the kitchen, a reading nook in the library, a daybed in your home office, a bench in a kid's room, or an attic hideaway (just to name a few). The key? Make sure to add some cushy pillows to really give off that cozy vibe.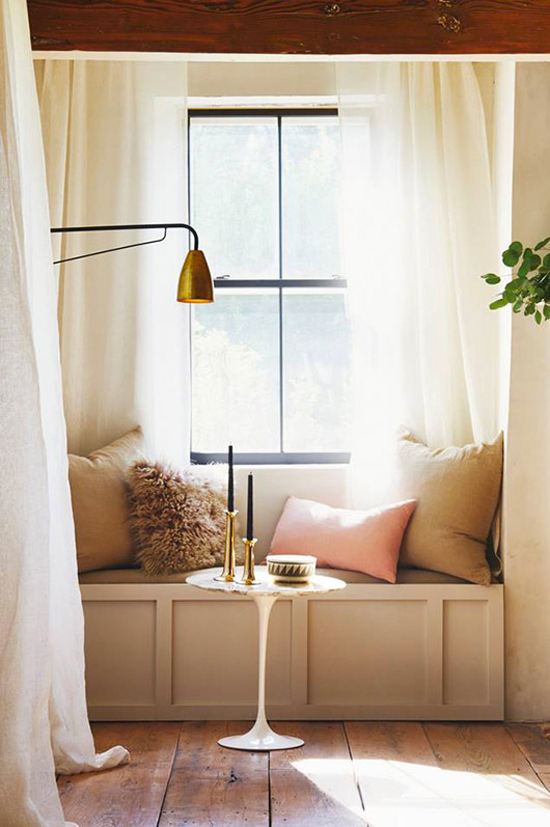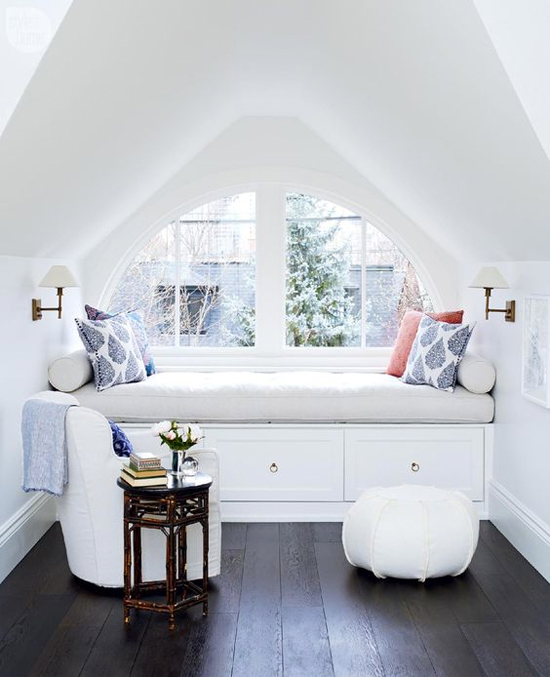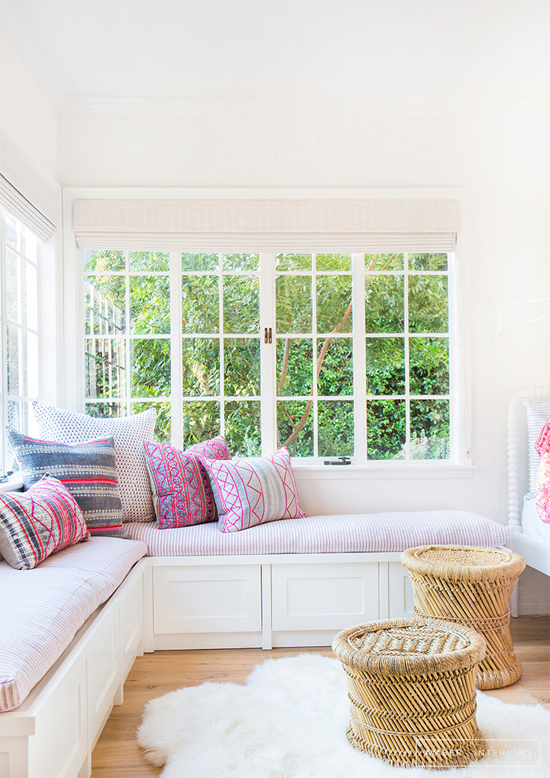 Luckily, adding window seats is pretty doable and not terribly expensive, so this is something on my wish list that I might actually be able to get...even if the house we eventually buy doesn't come with them built in.
I'd love to hear...what are some of the things on your dream house list? I know you have some!

Halfway through January, and I think I've got my "one little word" for the year. I did this in 2015 (my word was present) but I skipped it last year (although looking back I'd say my word for 2016 was BABY!). For 2017, I'm thinking my word will be "action." I realized when putting together my goals for this year that many of them have been on my list year after year. Clearly, I know the things I want to do...so why don't I go do them?? I think it's because my comfort zone is to talk-talk-talk and dream-dream-dream. Taking action is scary and hard. But without it, those dreams aren't ever going to become reality. "A year from now I'll wish I had started today!" and all that. So here's to a year of going and doing things. :) "Better an oops than a what if," right? I'm full of inspirational Pinterest quotes, people.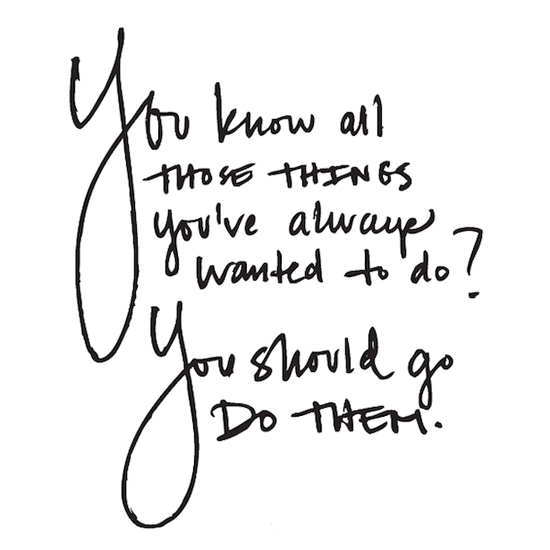 Source: Lara Casey
Obviously picking a word for the year doesn't actually guarantee anything, but I'm hoping this mindset will remind me to be more action-oriented throughout the year. If there's something I can do right away, I want to immediately take care of it instead of putting it on a to-do list for later. I want to recognize when the pro/con lists are becoming a crutch, instead of getting stuck in perpetual research and planning. I want to stop waiting until things feel perfect (aka never), and start taking steps. And in a more literal sense, I also want to get myself in action more than I did last year. Like, physically off the couch and moving.
So that's my word for 2017! Time to go and do.

My home is pretty much all soft pastels and bright cheerful colors, and I like it that way...it makes me feel happy. But decorating with all candy colors can make a room feel a bit TOO sweet, like a kid's room instead of a grown up space. So lately I've been drawn to black accents, mixed in with other lighter colors. A little bit of black can really ground a space and give it some gravitas. Want some examples? You got it.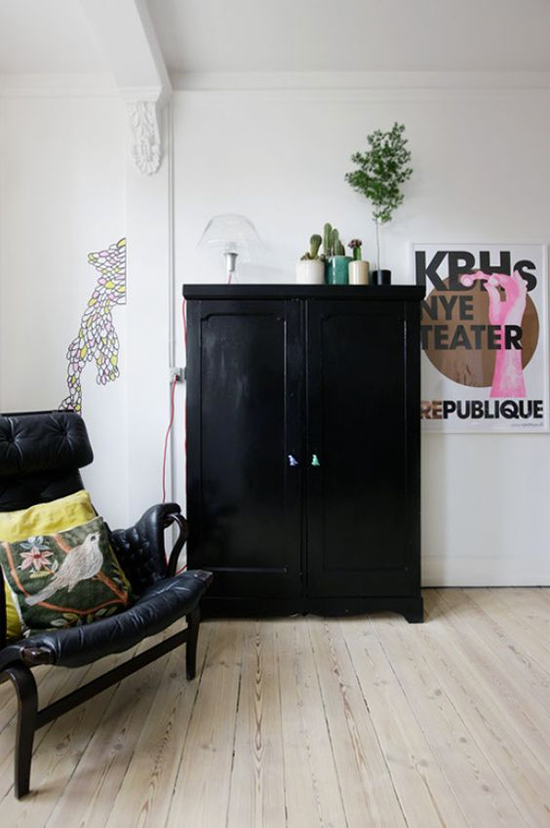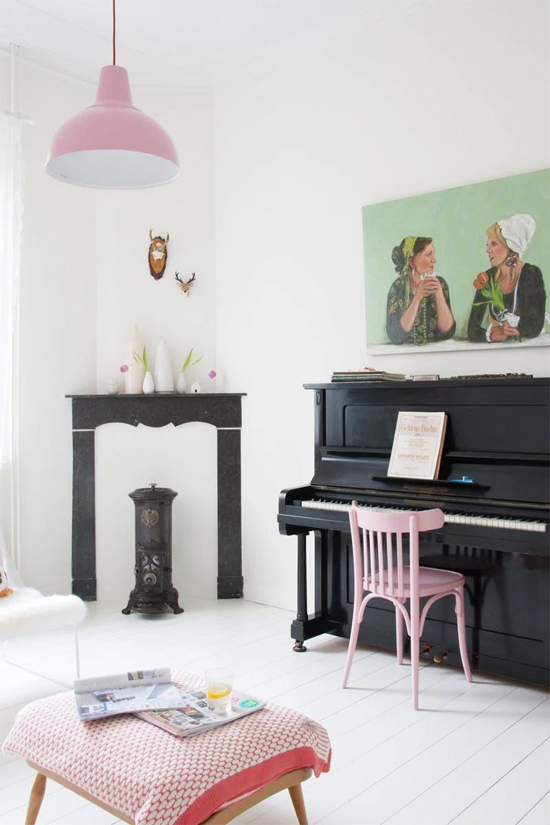 The room above might have looked rather precious before, with the bubblegum pink pendant and chair. But add a black piano and poof! it suddenly seems more chic and sophisticated. Magic!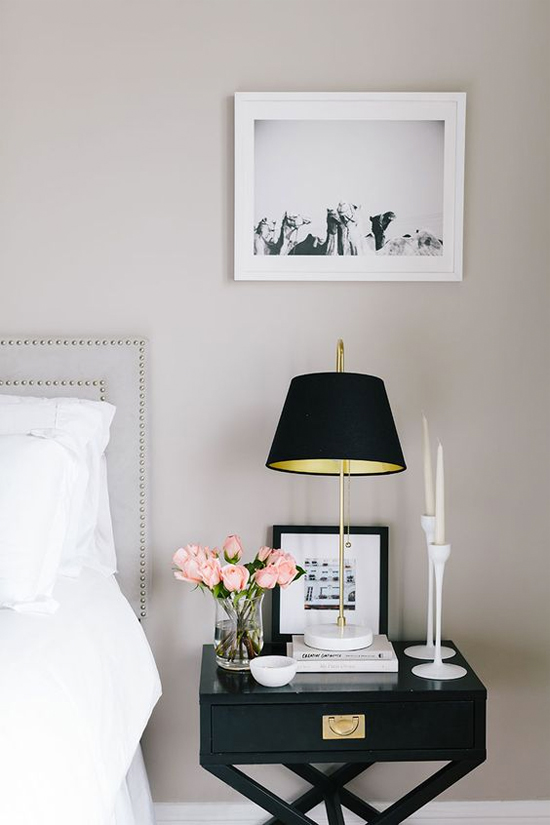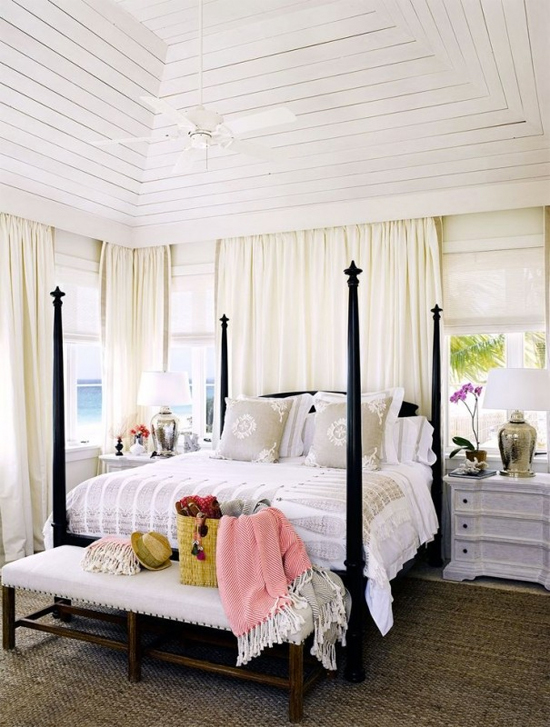 The key (for me) is to mix something black with other light and cheery colors. Plenty of homes go all black & white or all-neutral...but what I really like is a touch of "black magic" in an otherwise colorful home. It's just the right mix of serious and playful.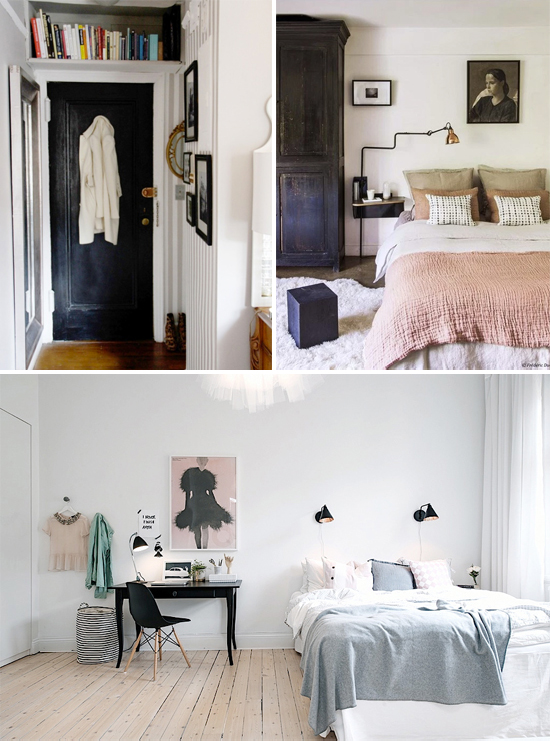 So if you have a home full of light, bright colors and you feel like it's missing something...try adding a little black! It will instantly make your space feel a bit more chic, and a bit less precious.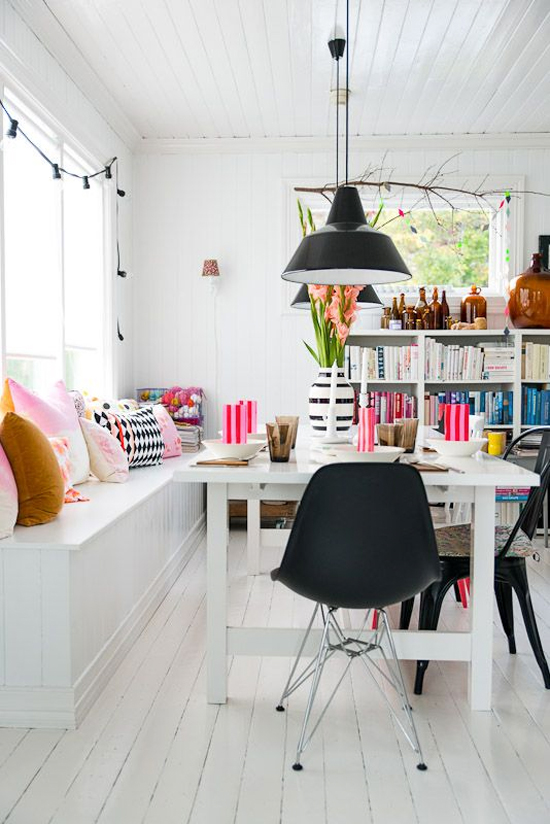 I had an idea for a new little series I'd like to start this year. I've often wished that I majored in interior design, but the college I went to didn't offer it. However, I'm a firm believer that you can learn most things on the internet these days if you just have the motivation. So I decided to teach myself everything I can about decorating and design! I already know a lot of random things, but in a very scattered way (from reading magazines, books, and blogs, and from observing what looks good). I think it'll be fun for me to start from the beginning and really learn the basics. Along the way, I'm planning to post about some principles, lessons, and decorating tips that I want to remember. Hopefully they'll be interesting and useful to you as well! For my first "Design 101" blog post, I thought it would be fun to start with the outside of the house. I've always had a thing for beautiful exteriors, so I decided to research the names and history of some common American house styles.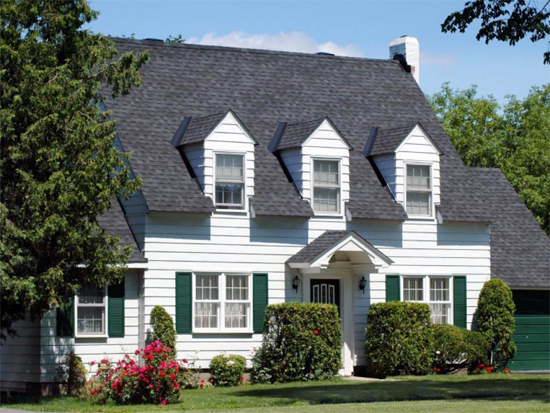 1. Cape Cod: This style originated in New England in the late 1600s, and features a central front door flanked by symmetrical windows and dormers up top. It was designed to withstand stormy Northeastern winters and was typically single storied. In the 1930s-1950s, this style enjoyed a boom in popularity and was adapted for middle-class housing developments. Most of today's Cape Cods were built during this time. Image source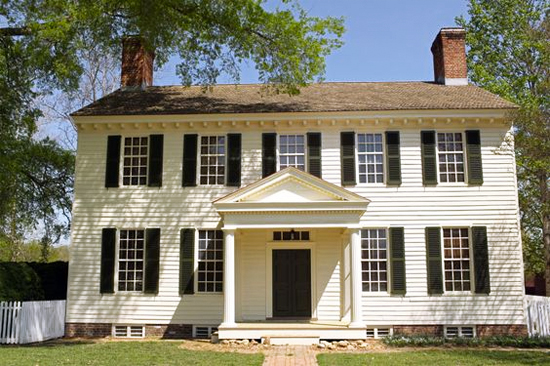 2. Colonial: This formal style dates back to the 1600s and is recognizable for its symmetrical, shuttered, multipane windows (think Father of the Bride house). Colonial houses are usually 2-3 stories with a central front door, often framed by a decorative crown and pillars. Image source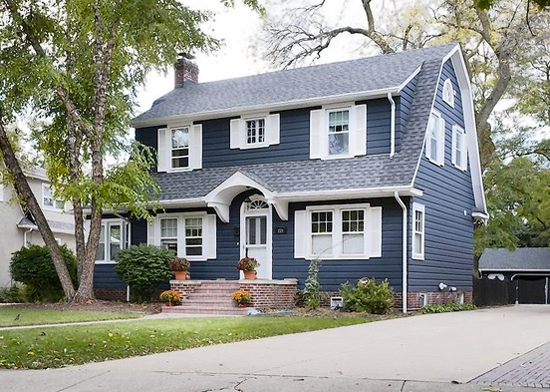 3. Dutch Colonial: This architecture style takes its name from the Dutch Colonists who settled in the lower parts of New York and New Jersey. Its most characteristic feature is the broad gambrel (barn-shaped) roof. Dutch colonials often feature dormers, a symmetrical facade, and a porch under overhanging eaves. Image source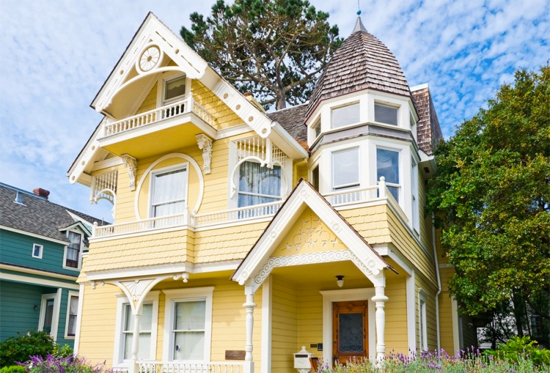 4. Victorian: Homes of the Victorian Era (1840-1900) can be identified by their complicated, asymmetrical shapes and elaborate decorative trim. Many have round towers and wraparound porches with ornamental spindles and brackets. Homes were usually large (2-3 stories) and full of detail and embellishments. Image source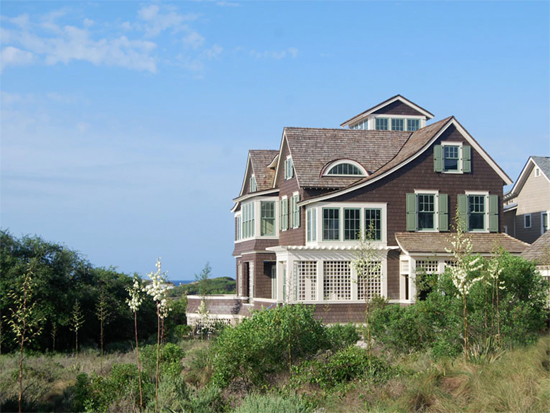 5. Shingle style: This distinctly American style started in New England between 1880 and 1900, and is popular among resorts and vacation homes along the coast (think the Hamptons house in Something's Gotta Give). It's similar to Victorian style--asymmetrical forms, complex shapes, and big porches...but always with shingle siding, whether its stained, painted, or allowed to weather naturally. Image source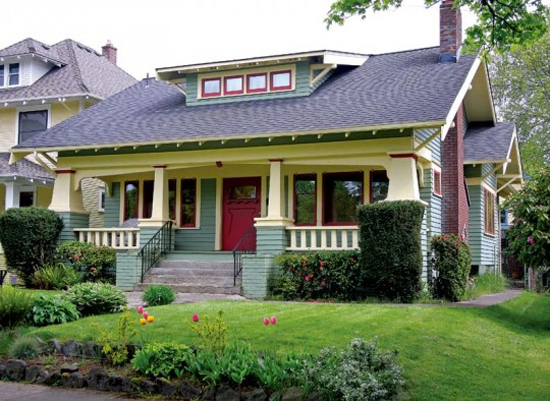 6. Craftsman: Popular from 1900-1930, Craftsman architecture exemplified the Arts and Crafts movement: simple forms, natural materials, and an emphasis on handicraft over mass production (a response to the "over-decorated" Victorian aesthetic). Craftsman homes feature wide porches supported by tapered square columns, low pitched roofs, a symmetrical design, and earthy colors. Image source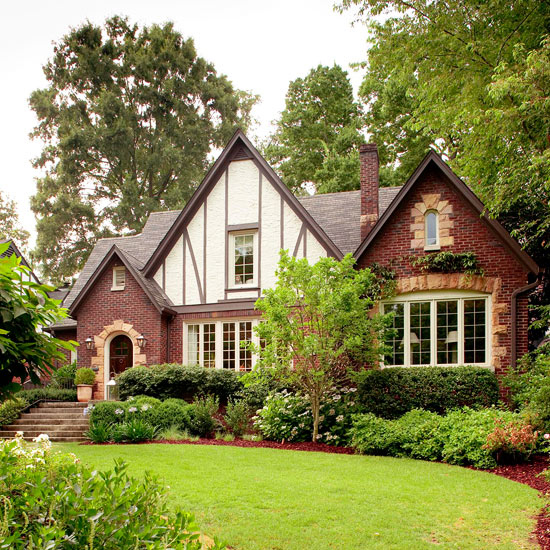 7. Tudor: One of the most distinctive home styles, Tudor Revival houses were popular in the U.S. during the early 20th century. Loosely based on the architecture of late Medieval England, you can spot a Tudor by its steeply pitched multi-gabled roofs, decorative half-timbering, narrow windows, and embellished doorways. They're the houses I've always thought of as "gingerbread houses." Image source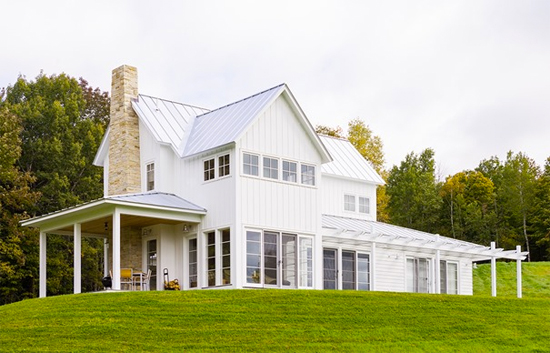 8. Farmhouse: There aren't specific identifiers for "farmhouse" style, as the term refers primarily to location: a house on a farm, literally. Still, there are some common qualities that I've noticed: a wide, welcoming porch, large windows that bring in the surrounding views, and a functional, unpretentious style. Many farmhouses are painted white, and modern ones often use vertical board and batten siding. Image source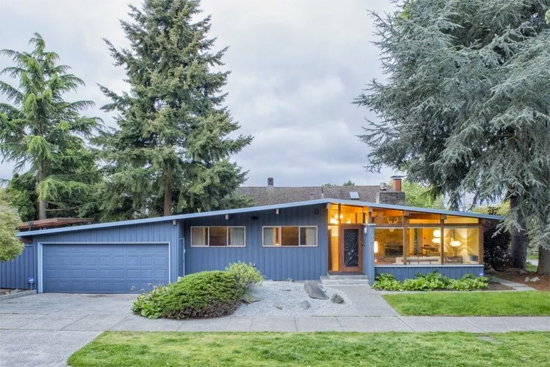 9. Ranch: This was one of the most popular building styles during the 1950s and '60s, when families wanted an inexpensive house in the suburbs. Ranch homes (sometimes called ramblers) are typically single-story, although you can also have split-level ranches. They're long and low to the ground, with a low pitched roof and very little ornamentation. Image source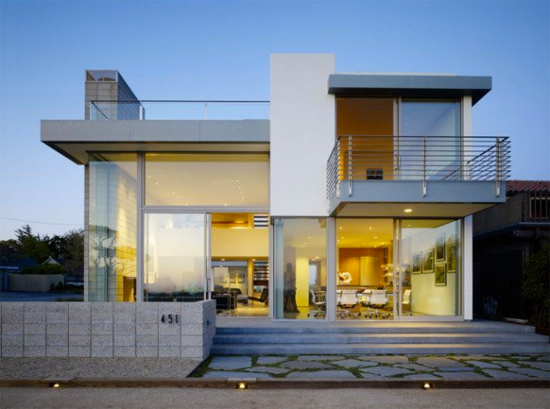 10. Contemporary: Last but not least, the term "contemporary" has come to describe houses built from 1950 onward, with a focus on simple forms, clean lines, and lots of natural light. Contemporary houses tend to have large, tall windows, asymmetrical shapes, a lack of decorative trim, flat roofs, contrasting materials, open floor plans, and a strong connection to the outdoors. Image source
Of course, this list doesn't exhaust every style out there, but it includes a lot of the most recognizable ones, as well as my favorites. Now you can play "name that exterior style" the next time you're on a walk in your neighborhood! No? Just me? (I also play the "name that font" game...I'm a whole lot of fun, haha).
What's your favorite exterior style(s)? Mine are Cape Cod, Colonial, and Farmhouse.