How do you write about the most life-changing experience you've ever had? The single most terrifying week of your life...but also, in a strange way, the most wonderful? I already know that I will not be able to adequately put into words all of my feelings over the last ten days, so I'm just going to start with the facts. A week ago today, on June 24th, at 8:43am, our son was born! And while that sentence fills me with joy, the way it happened was the scariest and hardest thing I've ever been through. You see, his due date wasn't until August 7th, almost seven weeks away. We went in for a routine doctor's appointment on Monday the 20th, and were told that my blood pressure was high (141/107). I had also been experiencing some swelling in my feet, hands, and face, but had written it off since swelling seemed like a pretty normal third trimester complaint and I had such a normal pregnancy up to that point. So when my doctor told us she wanted to send me to the hospital for monitoring, I figured it was just a precaution and we'd be on our way soon. I even texted my work and told them I wouldn't make it for our team lunch, but I'd be in later that afternoon. I peed in a cup, had my blood drawn, and was hooked up to a few machines that monitored me and the baby, as well as a blood pressure cuff that went off every 10 minutes. No big deal, I thought.

The day before our doctor's appointment at 33 weeks. Little did we know what was coming!
Boy, was I wrong. Later that afternoon, the doctor came in and told me that I had four times the normal amount of protein in my urine, and my kidney function was well below normal. In addition, my blood pressure had remained high throughout the monitoring. I had preeclampsia, a condition that affects about 5% of pregnant women and basically means your organs start to fail. It's really serious (leading to death if untreated), and the only cure is delivering your baby. However, there's a balancing act because at 33 weeks, babies still have a lot of developing to do so it's best if they can stay in you as long as possible. Our doctor spoke with us and we set a goal of getting me to 37 weeks, which is considered the beginning of "full-term." I would be closely monitored up until then, and might need to be in the hospital on bed rest all the way up until delivery. She also warned us that 37 weeks was the best case scenario, and if at any time my preeclampsia started worsening into dangerous territory, I might have to deliver our baby sooner. In the meantime, I got steroid shots to help the baby's lungs mature as quickly as possible, just in case.
I was still really optimistic that we would make it to 37 weeks, and figured that while the next month would pass by slowly, a little bed rest never hurt anyone. I started texting my sister-in-law about if we should move the date of my baby shower, emailing partners to cancel blog posts I had planned over the next month, and talking to work about transitioning my stuff to other people a little earlier than we'd expected. I also started thinking about how we were going to set up the nursery with me in the hospital and how many things we still had to get ready before the baby came, etc. Logistics stuff.
Meanwhile, my preeclampsia got worse. A 24-hour pee collection showed I had 6x the normal amount of protein in my urine, my kidney function dropped by half, and my liver function also started worsening. My blood pressure was also still fairly high, even after they started me on two different medications. My doctor told us the new plan was to get me to 34 weeks. Our baby would definitely be born prematurely, but his chances of survival at 33-34 weeks were almost the same as a full-term baby--he would just need some help to grow, mature, and develop at the beginning. We met the neonatologist, who worked in the hospital's newborn nursery, and she helped to answer a lot of our questions. She was really reassuring, but I still started freaking out and googling babies born at 33-34 weeks.
Then on Thursday, my symptoms took a turn for the worse (again) and the doctors decided it was time to induce labor. I was terrified, but also part of me was ready to get this part over with and meet our baby. They stuck some pills up my cervix to start softening it (ow) and then they broke my water (OW). I gripped Ben's hand so hard that I drew blood...let's just say it was not a fun experience. They got an IV in me (after calling a special IV nurse since my arms were so swollen at this point that they were having trouble finding my veins), and started me on magnesium and pitocin. I started having contractions (ow ow ow) and my labor was progressing slowly but surely. I got an epidural, and things started to feel a little better on my end. However, the baby was not tolerating the stress of labor very well, so they decided to move me to the operating room. I could still deliver vaginally there, as long as the baby was doing ok, but they'd be ready in case they needed to do a c-section. As the doctor was explaining this to us, the baby's signs took a dive for the worse and she decided that actually, they would definitely need to do a c-section--right then.
I was wheeled down the hall in a rush, and Ben was told that he could not be in the operating room after all. Once they got me in there, the anesthesiologist put me under general anesthesia (so I was totally out of it). I was so scared at this point, and Ben was too--everything had progressed so quickly.
The next thing I knew, I was being woken up and was told that our son had been born and was doing well. I was so happy, but I also felt really sad that we didn't get to have the "normal" birth experience that I had expected. I never got to push him out, never got to hold him to my chest after he was born, and neither Ben or I got to see him come into the world. I also heard that because I was on magnesium (which was necessary to prevent me from going into seizure), he came out groggy and limp instead of kicking and crying, like I had always imagined. And I felt sad that he was thrust into the world so soon, when he should have had another month and a half to develop inside me. He was born so small--3 lb 5 oz, and 16 inches long.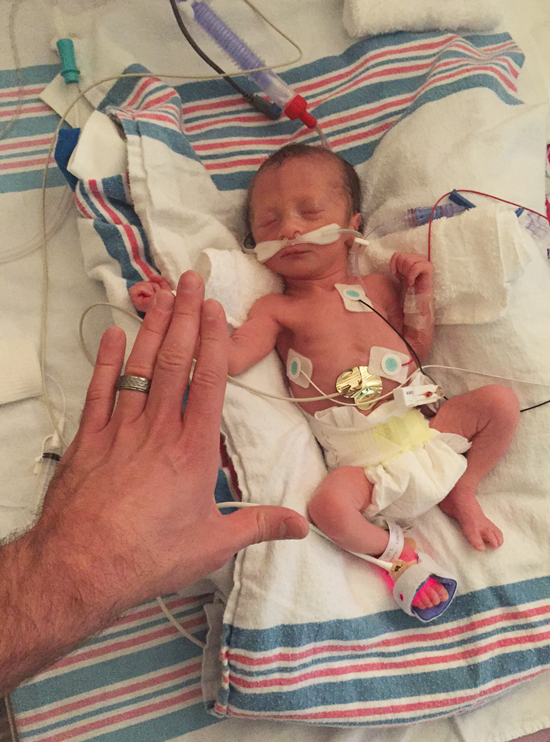 But all things considered, he was healthy! Praise the Lord. He could breathe on his own (a big concern for his age), and was being taken care of in our hospital's newborn nursery (which could handle babies born at 32 weeks and older). I got to see him that same day and even though I was in tons of pain from surgery and miserably nauseous and groggy from the magnesium, it was the happiest moment. Our baby was here! And he was the cutest, more perfect baby ever. We named him Ian Montgomery Allen.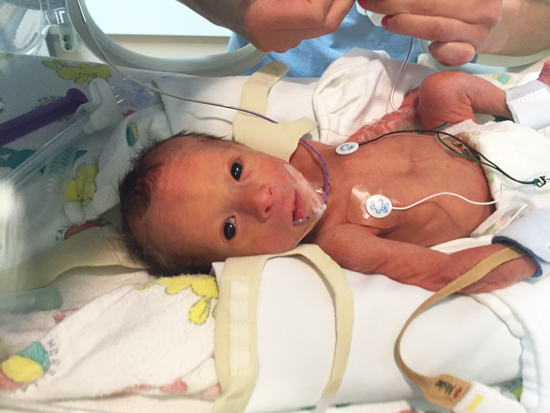 Alas, Ian's birth saga was not over. Although he could still breathe on his own, he started struggling with it, so they decided to transfer him to the NICU at another hospital in Seattle, which has the facilities for much more intensive care of preemies. This was really sad for me because I still hadn't been able to hold him, and my insurance wouldn't cover transferring me...so I had to finish recovering at my hospital while Ian was moved. Because of my preeclampsia, I had to stay at the hospital a few extra days, where I was stuck with about a billion needles, before I was cleared for discharge. Meanwhile, Ben went back and forth being the two hospitals, meeting Ian's team over there, taking pictures of him, helping me learn how to pump milk and delivering it, and just generally keeping our families updated and taking care of everyone. He is my hero--seriously, I was so proud of Ben for how well he stepped into the role of dad under the most stressful of circumstances.

I love this picture of Ian looking at Ben! Some people have said he looks like me, but I feel like he is totally a mini-version of Ben.
On Monday (exactly one week after we'd originally come to the hospital), I was discharged. It's crazy how much happened in one week--I felt like a different person, like I was walking around in a daze. We spent the first two nights after that in the "parent suites" at Ian's hospital, so we could spend the maximum amount of time with him. I got to hold him skin on skin for the first time which was sooo nice (I cried buckets, of course), and we learned how to change his diapers (the tiniest diapers ever!). He was on a CPAP (continuous pressure to make it easier for him to breathe), and had a PICC line in his ankle for IV nutrients. He also had a feeding tube in his mouth, other wires hooked up to monitor him, and was under a special phototherapy light to get rid of jaundice. It was hard to see him connected to so many things, but I knew he was getting the care he needs. My sweet baby!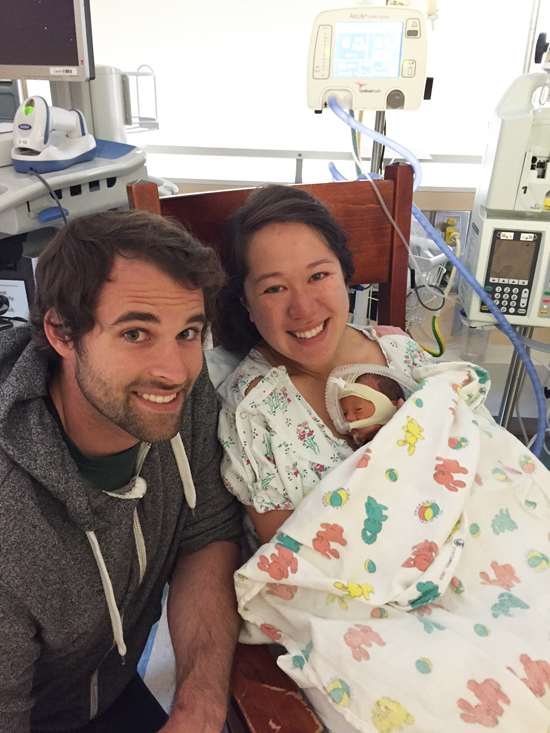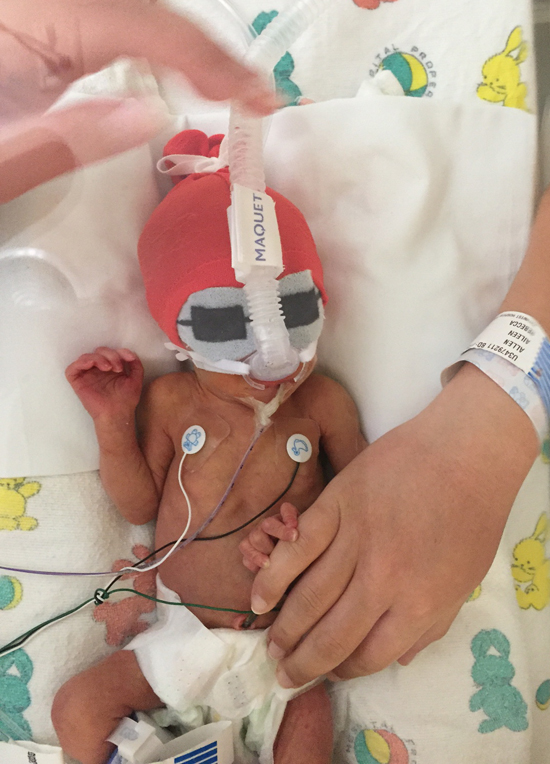 Now, one week from his birth date, Ian is doing really well. He no longer needs his CPAP, he's off the phototherapy lights, and he's gaining weight and eating more every day. I'm so proud of our strong and amazing little boy, and cannot wait until he's ready to come home. We've been told that he may need to stay at he hospital until his due date (August 7th--over a month from now), but I'm hoping that he'll be ready a little sooner!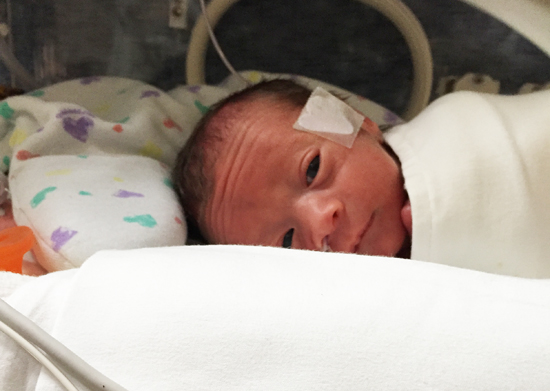 It feels strange to share these photos with the world because everything still feels so raw and intimate and new...but I wanted you guys to meet Ian! His birth story isn't what I had imagined when we first found out we were pregnant, but I'm so grateful for how everything turned out. It could have been so much worse--I mean really, both of us could have died if we lived in a different time or place, or if we hadn't caught my preeclampsia when we did. It's scary to think.
As for now, it's a little sad to be home without our baby boy...but we're planning to visit him at the hospital as much as possible over the next month. Meanwhile, we need a little time to get things ready for him at home anyways. I'm still resting and recovering as much as possible...I have the nastiest bruise ever from my c-section (it looks like I was kicked repeatedly in the stomach by a horse), and it hurts sooo bad every time I engage my abs (which is all the time--I never realized how much you use your abs until now). Ben is back at work because we still want to have the maximum amount of time with Ian once he comes home from the hospital. So life is going back to "normal" if you can call it that...we are finding a new rhythm after the most intense and surreal week of my life.
In summary: we have a son! Life is forever changed!
Welcome to the world, sweet Ian. We're so glad you're here and you are perfect just the way you are (but please, keep growing as quickly as possible so we can take you home and kiss you and hold you all the time). We love you SOOO much!


Hope you all had a great weekend! I'm on the Kendall-Jackson blog today, sharing an easy DIY project for Father's Day: trophy wine stoppers! These are really quick to make, and turn a bottle of your dad's favorite wine (always a good last-minute gift) into something more creative and unique. To make your gift even more personalized, wrap the wine bottle with a custom label. You can make your own using photos and inside jokes, or download this simple Father's Day label that I created. All you need to do is print it, cut it to size, and sign it with your name! I put two different versions on the same page--just choose the one you prefer.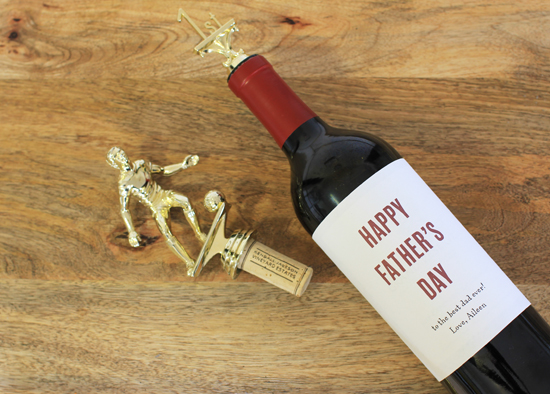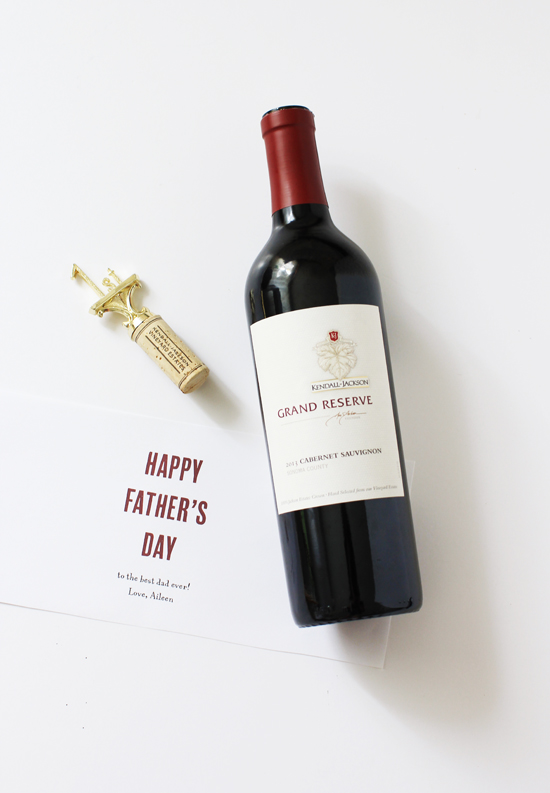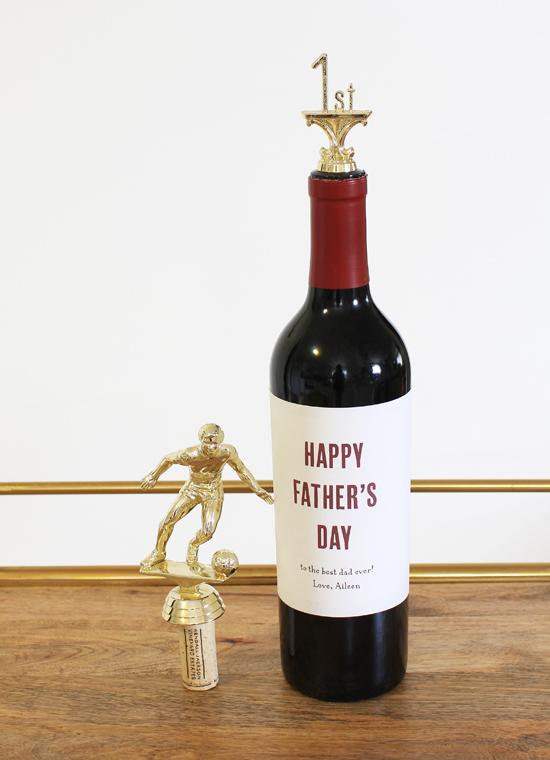 Don't forget to check out my post on the Kendall-Jackson blog for the wine stopper instructions. What are you getting your dad this Father's Day?
Thanks to Kendall-Jackson for partnering with me on this post!


Happy Friday! Whew, this week has been a blur. We just got back from our babymoon last weekend, and we're heading out again this weekend, visiting my hometown to celebrate my sister's high school graduation. So we've been busy trying to get caught up from our last trip and get ready for another one. This will be the last trip for me before baby comes, though. I'm definitely feeling more exhausted now, and between my back hurting and my feet swelling, relaxing at home sounds a lot better than adventuring outside. Of course, I'm still excited for this weekend! Most of my extended family is coming for my sister's graduation, which will be super fun. I haven't seen a lot of them in awhile. And I'm so proud of her! It's doubly weird because I remember distinctly when she was born, and here I am about to have a baby of my own while she's becoming an adult. AND it was exactly ten years ago that I graduated from the same high school that she's graduating from! So surreal in multiple ways. But anyways, before we head out, I wanted to share some photos from the second half of our babymoon...in Victoria, BC!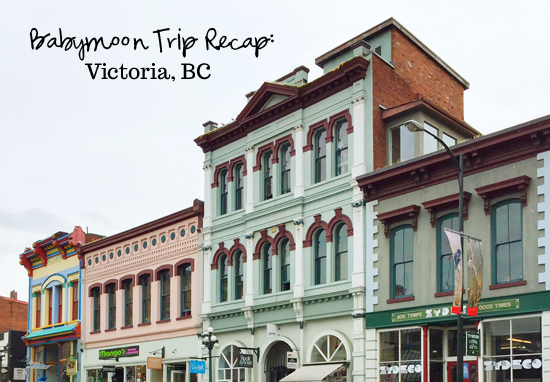 Victoria is a really beautiful city, right on the water and full of public parks, gardens, and gorgeous buildings to admire. Not to mention the food! We've been trying to cut back on eating out at home, so we totally took advantage of vacation and ate out a LOT. No regrets...everything was delicious, and now we got it out of our systems and are back to cooking healthy meals. By the way, thank you to everyone that left me recommendations here and on Instagram! We tried as many of your suggestions as possible, and loved them all. You guys are better than TripAdvisor!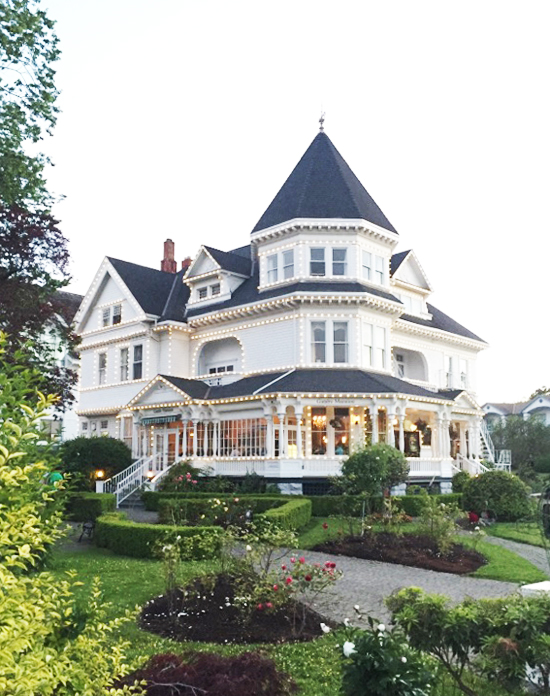 For lodging, we chose this Airbnb. It was on the 15th floor of a condo building downtown, and we had a beautiful view of the harbor, the Cascades, the cruise ships coming in to dock, etc. I was really happy with our choice! Sometimes, I prefer staying in really simple and cheap places, and saving that money for activities, food, etc. But for a babymoon, it was nice to have a place that really felt comfortable and enjoyable, since I had less energy and was more inclined to spend the evenings "at home." And it's not like we stayed at the Empress--it was still pretty budget-friendly! I saw lots of really cute B&Bs in Victoria too, so next time maybe we'll try one of them.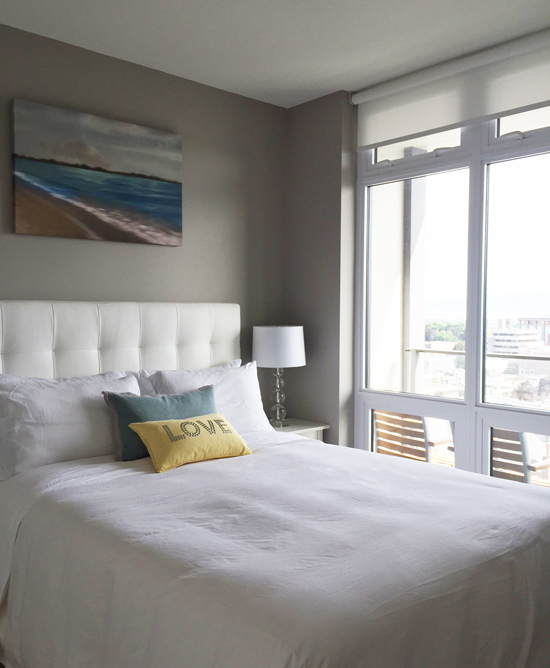 On the day that we arrived, we had lunch at Red Fish Blue Fish, which was DELISH. Their halibut fish 'n chips...yummmyyyy. Then we walked along the Inner Harbor, watching seaplanes take off and land, and made our way over to Fisherman's Wharf. I loved all the cute, colorful houseboats (or float homes, as they're called in Canada), and there were several seals in the water. Seems like they get fed there pretty regularly, so they're always hanging out.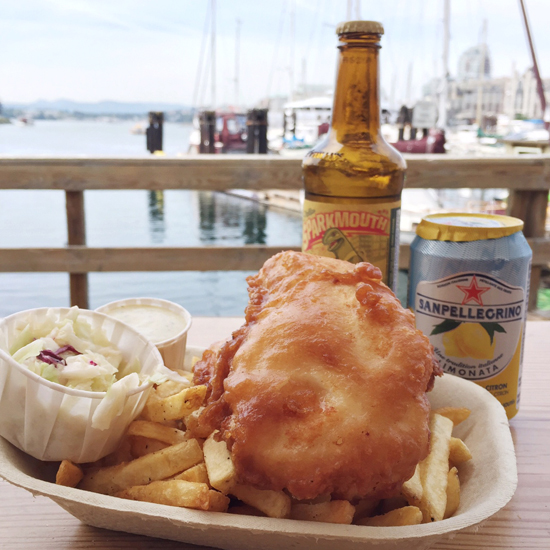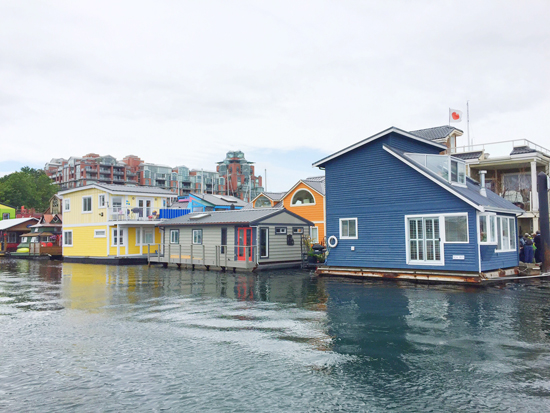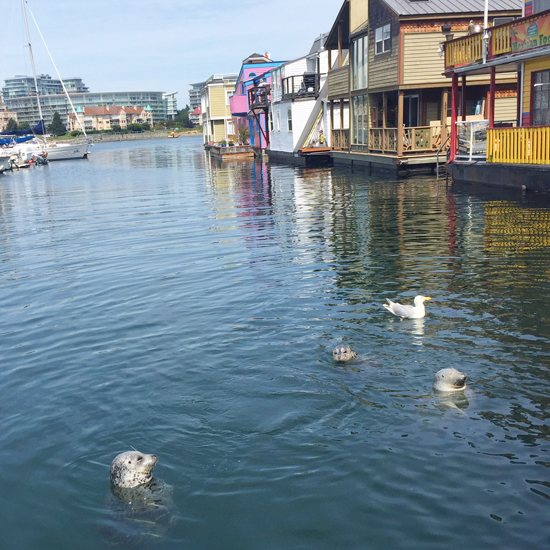 That evening, we checked out Beacon Hill Park, a free park in downtown Victoria that is really beautiful (and has peacocks!) and Craigdarroch Castle, which is basically a castle-style mansion in the middle of a residential neighborhood. We also checked out the British Columbia Parliament Buildings and waited for the lights to come on--over 3,000 bulbs light up the buildings every night! Really gorgeous.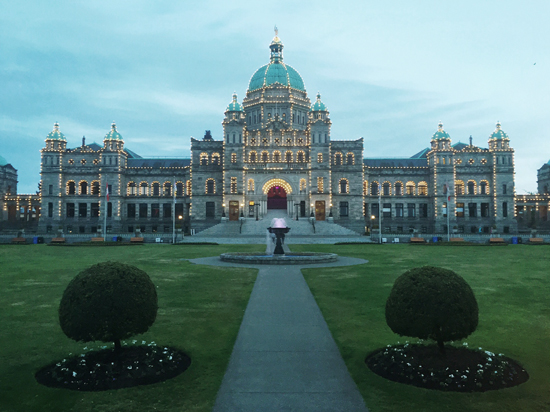 The next day, after breakfast, we headed to the Butchart Gardens. Honestly, I was a little bit disappointed by the gardens, but we were not there during the peak season so that may be why. I was expecting to be WOWed but while the gardens were lovely, most of the flowers weren't in bloom yet (the majority of the rose garden) or were already fading (all the peonies), and there wasn't any area that was fully in bloom and really spectacular. I may go back in the future if we're there at just the right time, but for early June I felt like it wasn't really worth the entrance fee. We did, however, have a lot of fun taking afternoon tea at the garden's restaurant. I felt very Downton Abbey, sipping tea and eating fancy pastries while looking out over the gardens.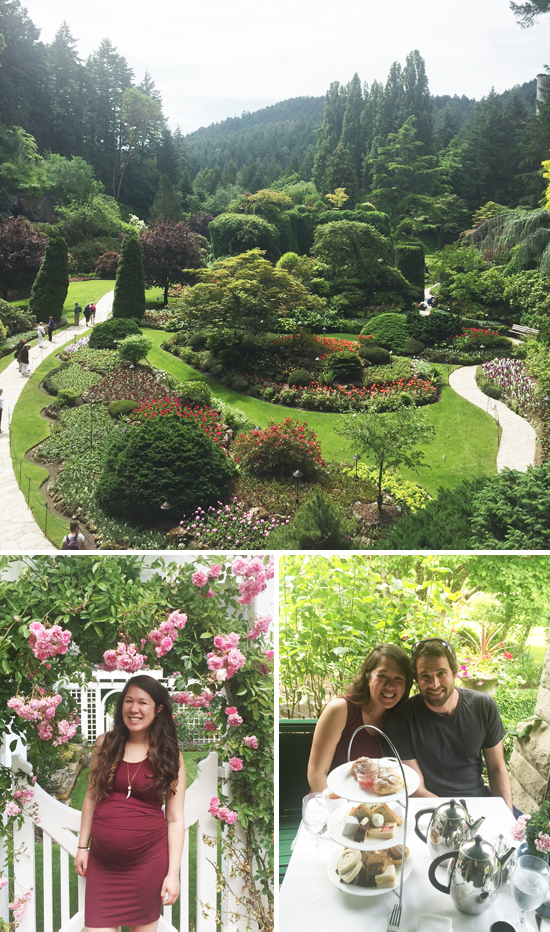 That same day, we went to Hatley Castle, which has been in multiple movies and TV shows including X-Men, Smallville, and Arrow. Do you recognize it? We couldn't go inside, but we did walk around their gardens (yes, we had a big gardens day!).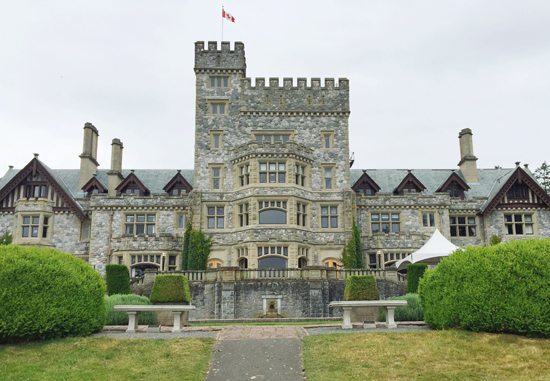 The next day, we had the most amazing lunch at Il Terrazzo (yummy and so cute--definitely recommend), then we went WHALE WATCHING!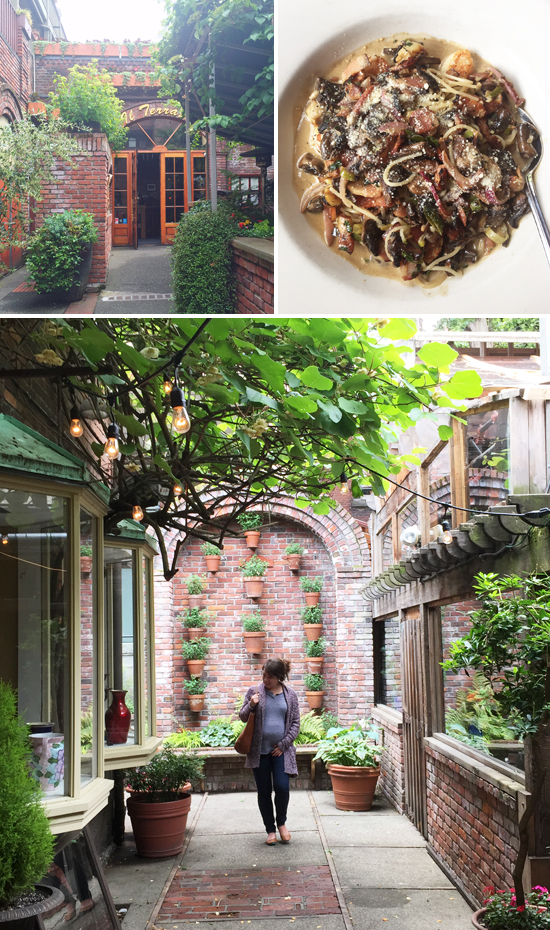 Whale watching is something I have wanted to do for a long time, and I'm so glad we finally did. It was a blast and yes, we saw orcas!!! I chose to go with Eagle Wing Tours because they were the highest rated on TripAdvisor and they had a nice big catamaran with two bathrooms on board. Being pregnant, bathrooms are important...and I wanted to give myself the best chance of not getting seasick. Luckily, it was a really smooth ride, and I felt great the whole time. Yay! We loved seeing orcas up close and personal. They came really close to our boat several times, and there was even a baby with the pod! We saw seven transient orcas in total--so majestic and beautiful. I was hoping we'd see them playing and jumping out of the water, but I guess that's fairly rare. As it was, though, we got to watch them for about two hours, moving along the surface, then diving down to hunt, over and over. Pretty amazing!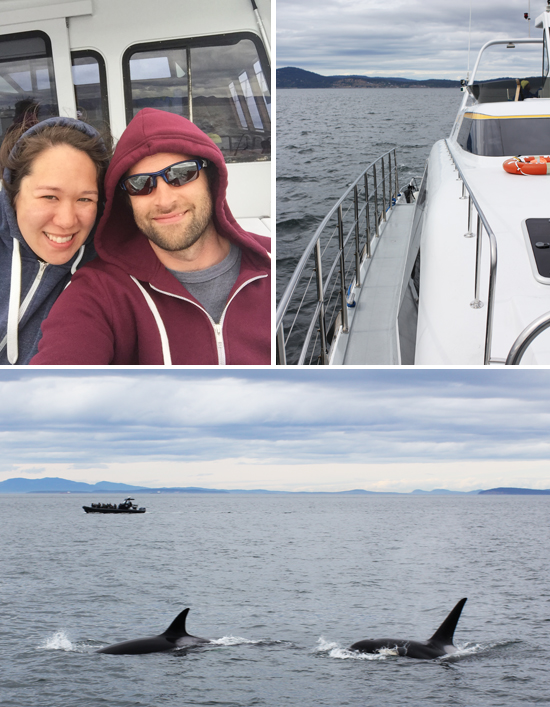 Our last full day was Ben's birthday. He turned 29, which is crazy because that means this year will be 10 years since we started dating (I was 17 and he was 19). I cannot believe it's already been that long...we are getting old! ;) We had the best breakfast at Blue Fox Cafe to start off the day, then we headed out for a little adventure. Ben loves nature, so I tried to pick some outdoorsy activities for him. Unfortunately, my planning was evidently not very thorough and I struck out with my first two ideas! One was a lighthouse that you can't actually drive to (Race Rocks--I guess you can only get there by boat) and the second was an area that looked really beautiful, but required some hiking to get to the viewpoints (East Sooke Park). Normally, we'd be all about the hiking, but my feet were getting puffy and uncomfortable soo that wasn't happening. But we made the most of it! We found a cute little town and got some coffee and ice cream, then we headed to this long spit with a picturesque beach on either side. We saw bald eagles diving for fish, more whale watching boats and orcas, and just soaked up the sun and chatted about life for awhile. I felt really bad about my planning fail, but it turned out fun anyways. That's when you know you're with the right person...when you have fun doing just about anything!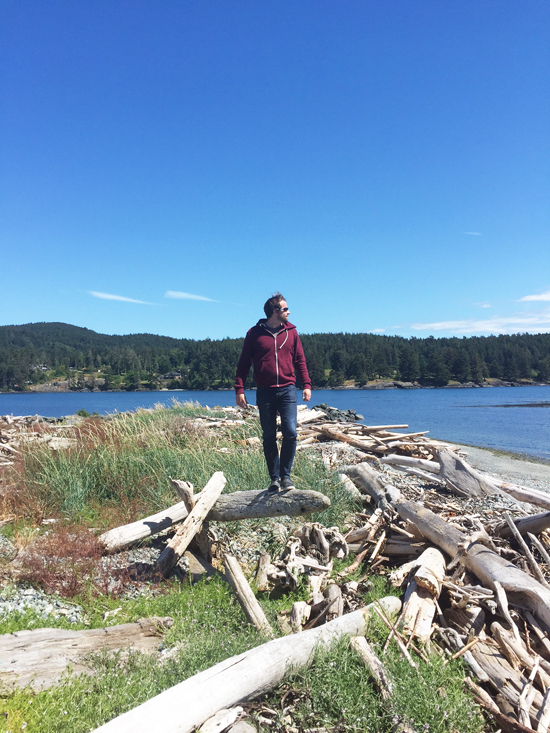 The next morning, we grabbed croissants at Crust Bakery (their raspberry lychee danish is delish!), then headed to Sidney and caught the ferry home. We had a really fun babymoon, and I think it was just the right amount of travel and activity. We had originally talked about going somewhere farther away like Hawaii, but I'm glad we kept it simple. I didn't have a lot of energy, so it was nice to be in a place where we could relax and not feel pressured to have a really packed itinerary and see a bunch of things. I can't believe that I'm almost 32 weeks along now!!! This pregnancy is flying by.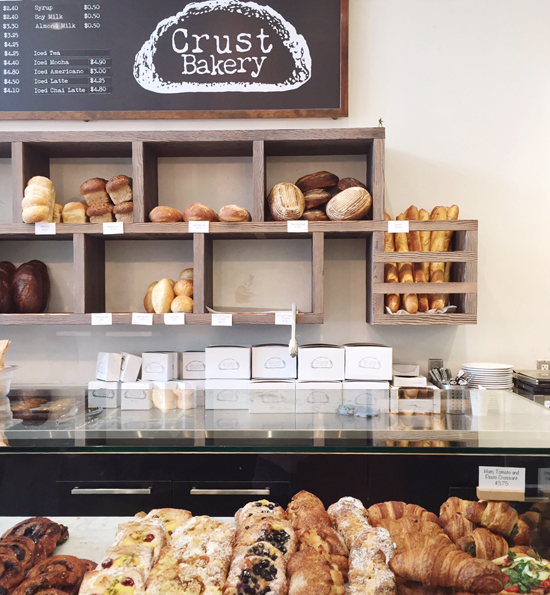 Hope you enjoyed reading and seeing the highlights from our trip! How are you all doing? I know my blog posts have been few and far between lately (sorry! again, I blame my lack of energy). I miss chatting with you guys and reading your comments, though. So let me know: what's new with you, what are you doing this weekend, do you have any fun trips coming up this summer???
P.S. Did you see part one of our babymoon? I posted our Vancouver Island photos here.

I'm back! It's taken me longer than usual to get caught up from vacation because, well, #thirdtrimester. I have to admit, as much as I love blogging, taking a nap just sounds more appealing these days. :) But I did want to share some photos from our recent babymoon! It was so much fun, and Ben and I had an amazing time hanging out with each other, exploring new places, eating good food, and getting lots of sleep.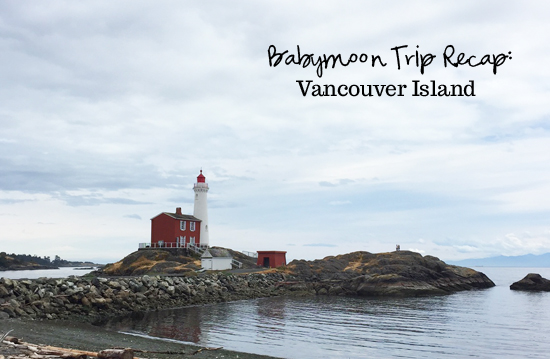 We rode the ferry over from Anacortes, which was long (three hours) but a relaxing and beautiful way to travel. Once we arrived in Sidney, we grabbed a late breakfast at a cafe there, then headed out to Fisgard Lighthouse, the cutest lighthouse I've ever seen! Not only is it adorable from the outside, but you can also go inside and see what it looked like when it was in operation.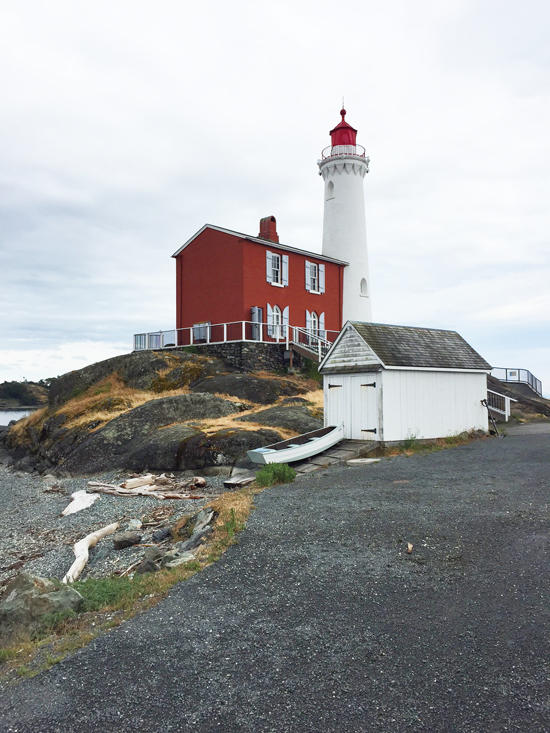 From there, we drove up to Parksville, BC--our destination for the first three nights of our babymoon. We stayed at the Tigh-Na-Mara resort, which I highly recommend. I picked it after reading this blog post from a fellow Seattle blogger. Plus once I saw that their spa is rated #1 in Canada, I was sold!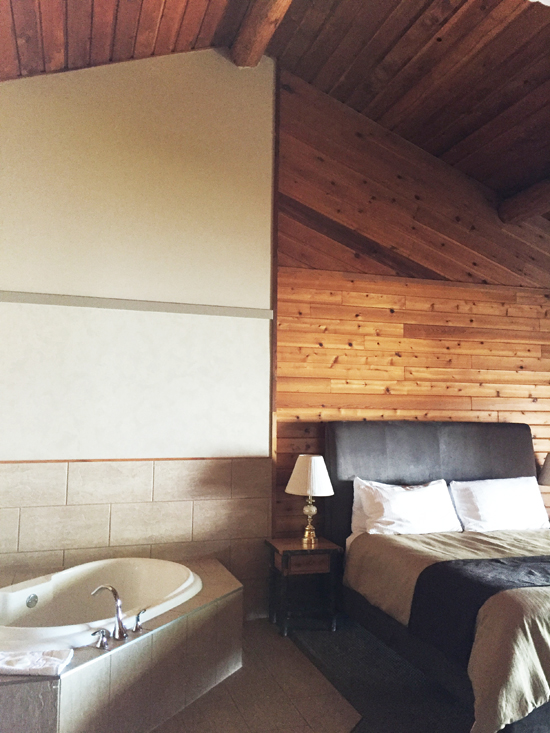 We got an awesome room with an ocean view, tall vaulted ceilings, and an in-room jacuzzi tub (which was heavenly). It even had a full kitchen! This was the view from our balcony: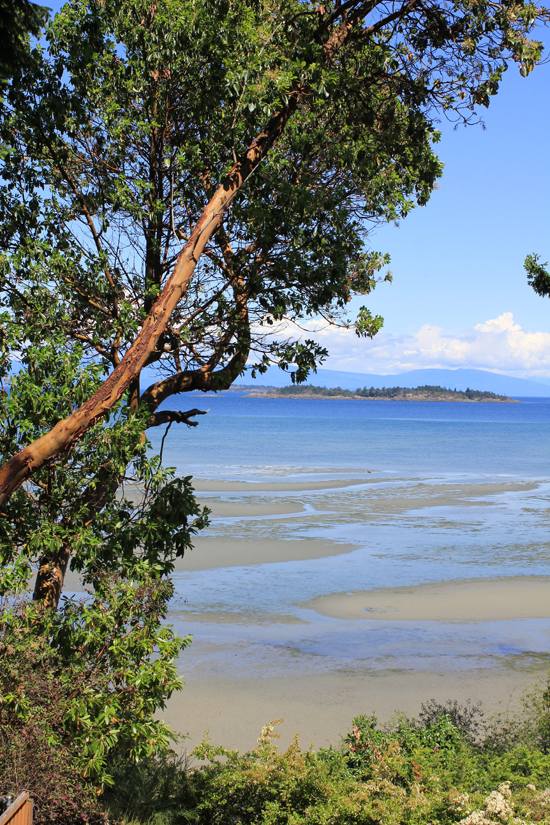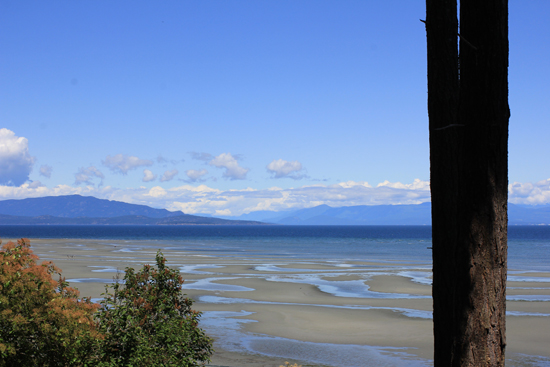 Sooo nice. The first day there, we went for a walk on the beach, which goes out over half a mile at low tide. It was beautiful, and I've never seen so many sand dollars!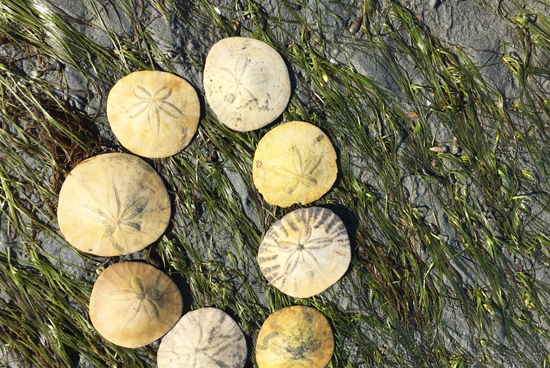 We also checked out Englishman River Falls and the Coombs Country Market, where there really were goats grazing on the roof!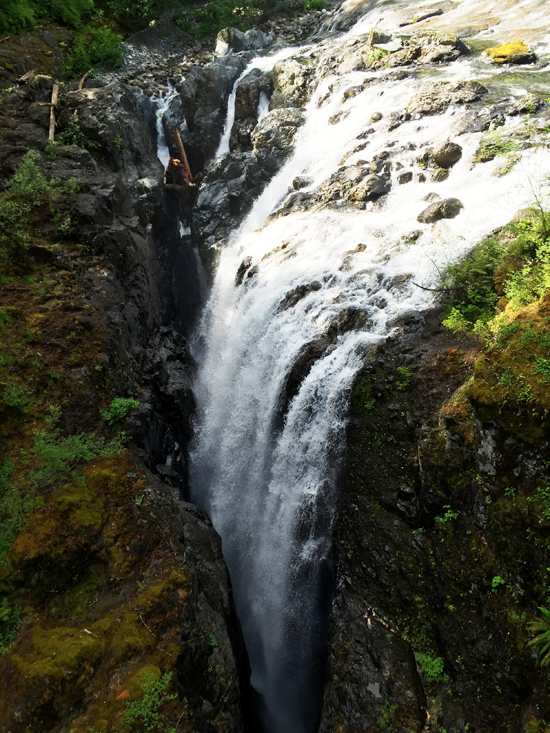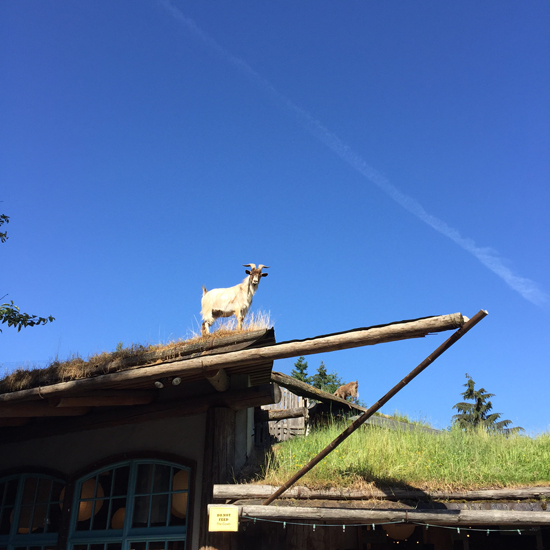 The next day was all about that spaaaaa. We got a couple's massage, which was one of the activities I was looking forward to most. It did not disappoint! The Grotto Spa includes a dip in their detoxifying mineral pool before spa treatments. Unfortunately, my doctor said it might not be a good idea for me, being pregnant, so I didn't get in. But Ben did, while I relaxed poolside. Well, to be honest I dropped my phone in the water right after taking this photo and after that I wasn't so relaxed...luckily, we left it in a bag of rice overnight and it seems to be working okay now!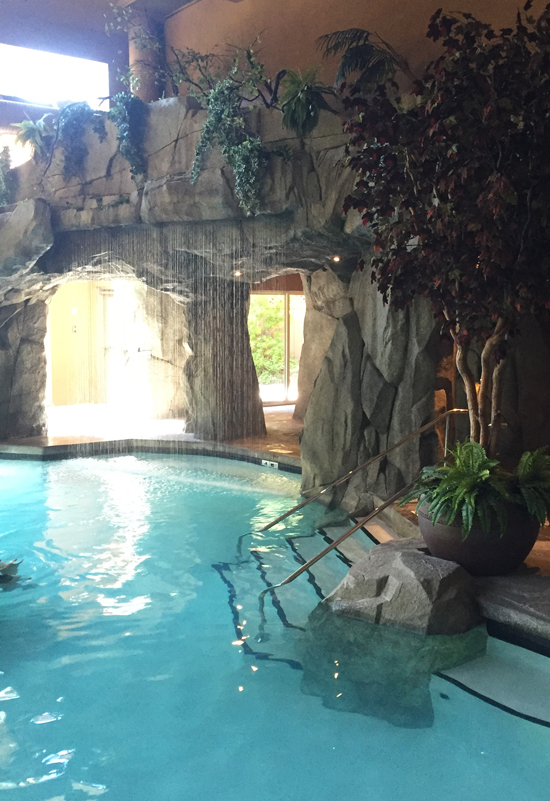 After the pool, we went upstairs to their Relaxation Lounge where we indulged in fresh fruit and coffee while waiting for our massages. And the massage itself! Ahhh, it felt so good. They had special pillows to support my belly, so I actually got to lay on my stomach, which was a treat. The whole experience was amazing and very relaxing!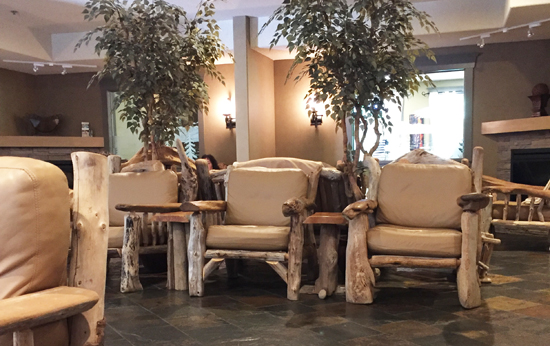 The next day, we decided to drive to the west coast of Vancouver Island and visit Tofino and Ucluelet. We had heard that area was incredibly beautiful, and it was! But I'm not sure if I would choose to do a spontaneous road trip like that again while 30 weeks pregnant (it was about 5 hours total in the car). I was exhausted by the end of the day and my feet had started swelling. Still, no regrets! Who knows when we'll be back to Vancouver Island, so we wanted to see as much as possible.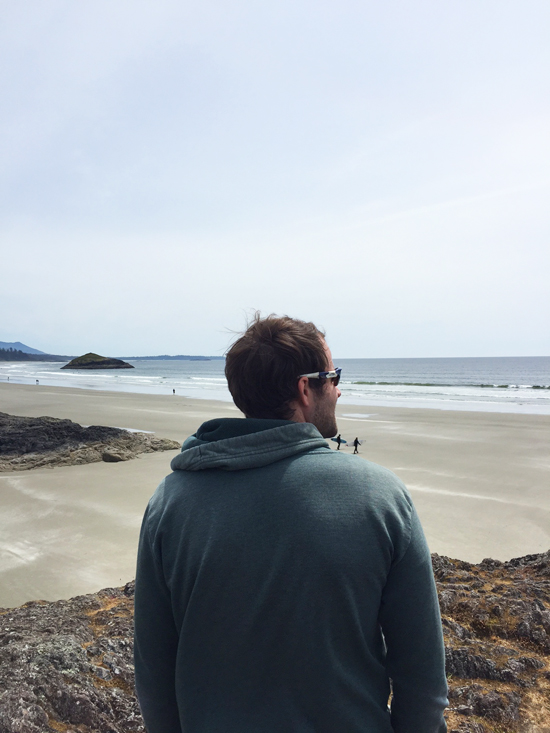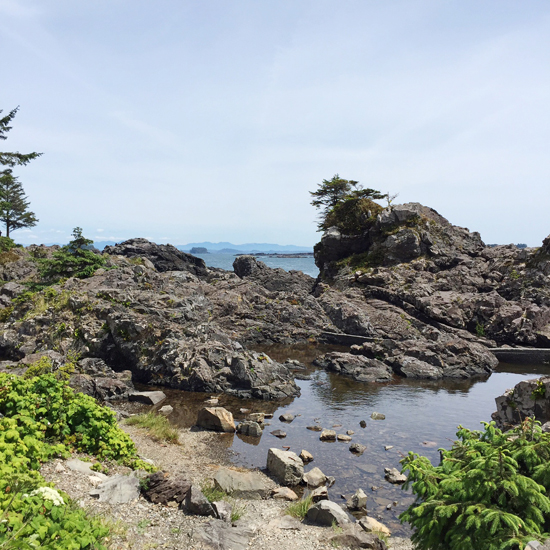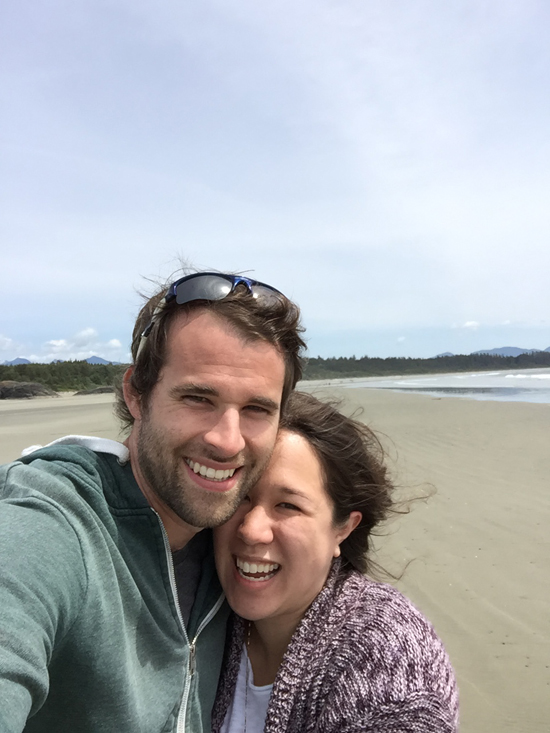 Our last morning in Parksville, we had a yummy breakfast at Cedars Restaurant, then we headed to Victoria! Check back tomorrow for the rest of our babymoon.