It's been SO cold lately, and we live on the ground floor in an old house that doesn't keep the heat in very well. So we piled a few extra blankets on our bed this past week. The one we have on top now is nice and warm, but it's also not very cute--it's a puffy tan comforter that Ben had when he was a kid. I know some people don't have a warm bed to sleep in at all, and I'm very grateful for all that we have. But still...I'd sure like to get a cute blanket instead! I've been enviously pinning bedroom pictures with cute and cozy blankets for the bedroom, and I thought I'd share some of my favorites with you guys. Let me know which one(s) you prefer!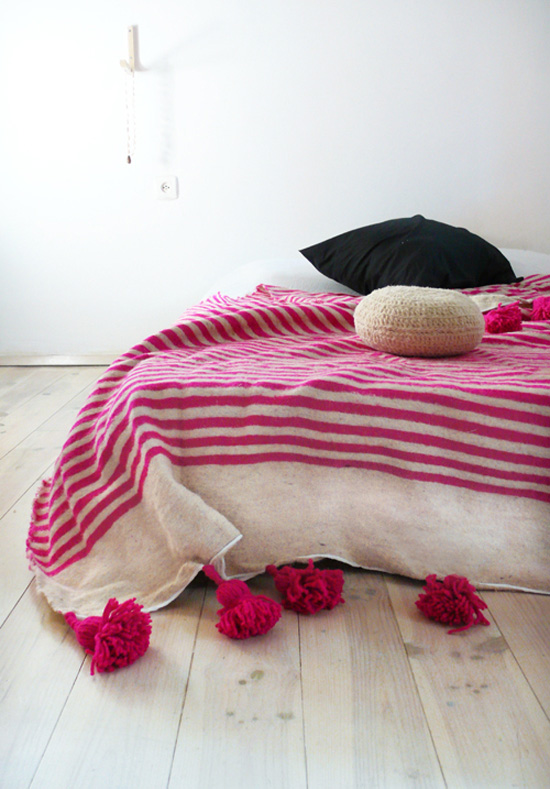 I adore these pom pom blankets from muima*, but in order to get them shipped to the U.S., the total would end up being over $200. Some part of me thinks that's not bad, but another part says that I should try to DIY my own pom pom blanket instead. I could buy a cute striped blanket and add my own pom poms. What do you think? If I go with a pom pom blanket, should I buy or DIY?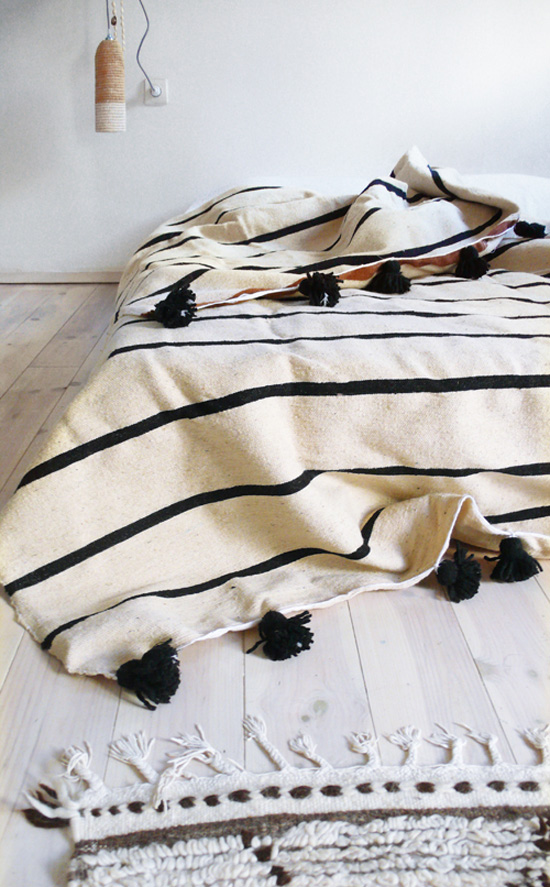 I also can't tell from these photos how warm the blanket will be (if I buy it). They don't look particularly thick.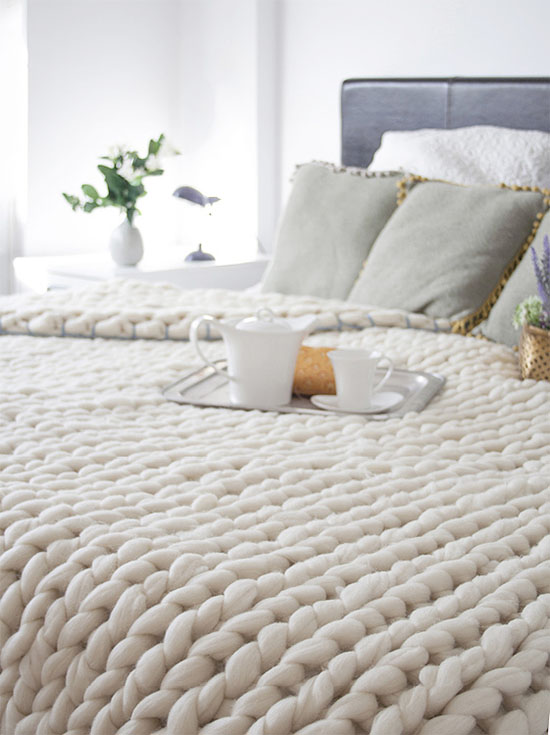 I also looove chunky knit blankets. They would definitely be warm, but they're also definitely not cheap. This one is 470€ for a double size blanket (and we have a king bed!)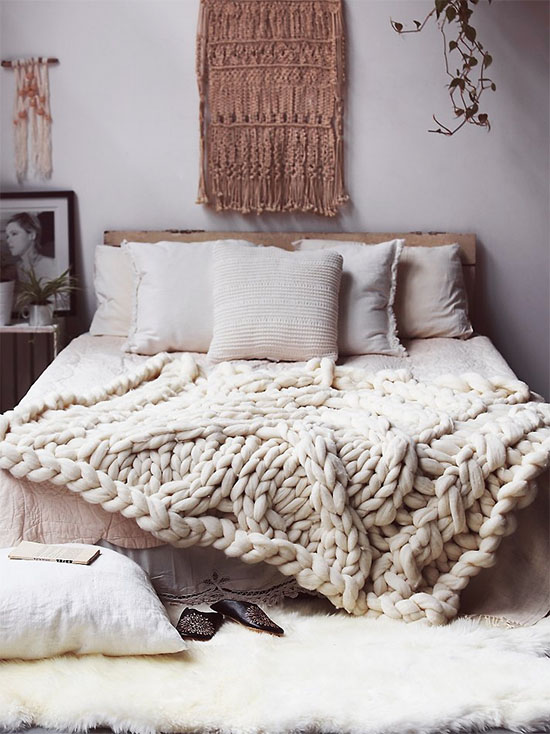 Too bad, the chunky knit blankets are probably my favorite. Of course I like the most expensive option best (isn't that the way it always goes?). I've been coveting one since I wrote this post two years ago.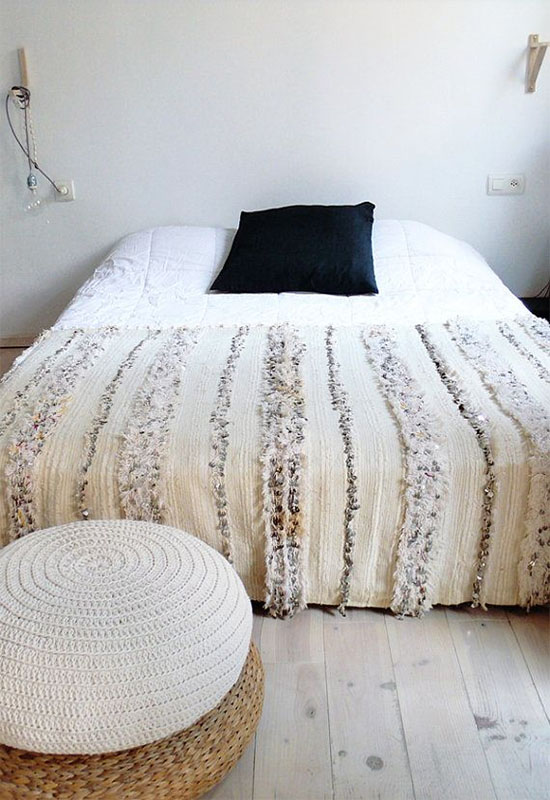 I also still love Moroccan wedding blankets. I'm not sure how much they add in terms of warmth, but in terms of beauty they would definitely take our bedroom up a few notches.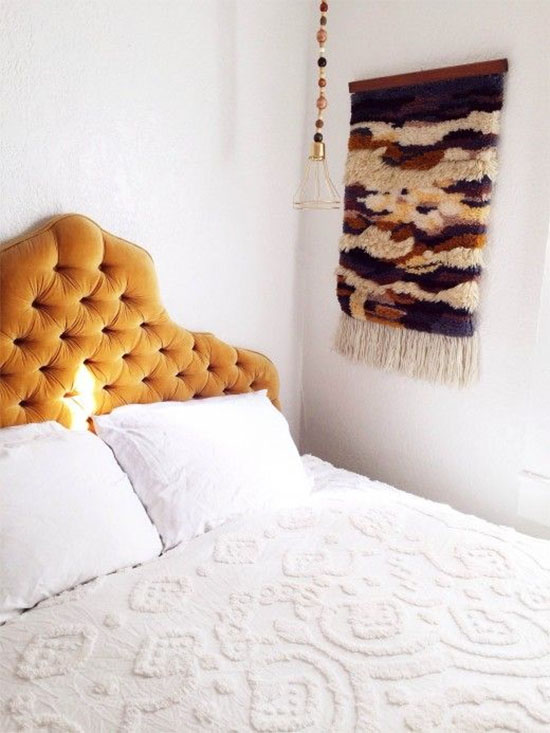 I don't need the blanket to be super fancy, though. Even a simple blanket with a cute textured pattern would be great.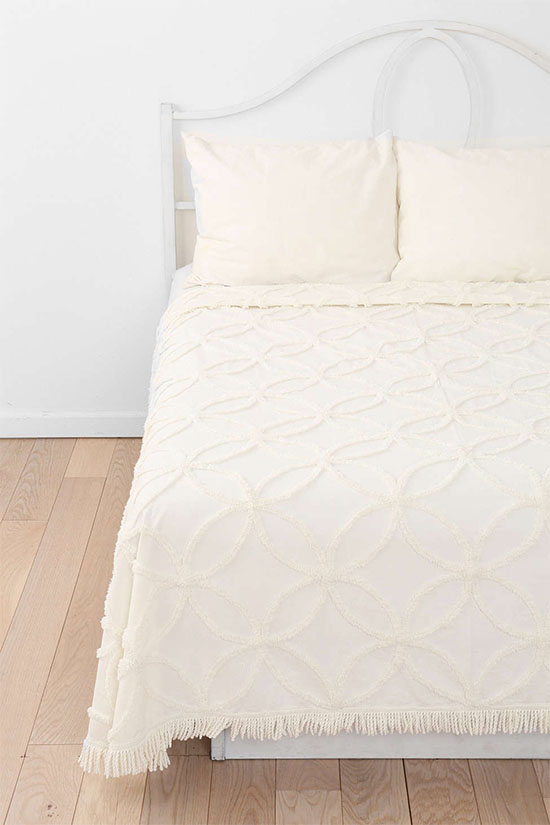 Urban Outfitters has one that's similar and pretty cheap ($79) but unfortunately it only comes in a twin. That's the other thing--it's kind of hard to find a cute blanket that will cover an entire king size bed. For example, I LOVE these Bolivian blankets from Leif, but they're basically just throw-sized and I can't find ones that would be big enough to cover the whole bed. I probably couldn't afford it even if I did find one...but still, I wish the option was there. I don't want just a throw!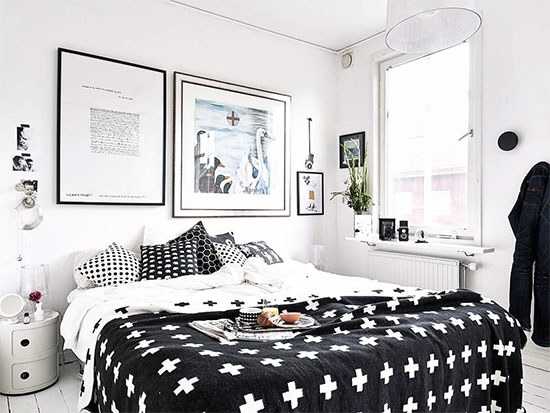 Another option that I like is the Pia Wallen cross blanket. I'm not sure if it's right for our bedroom, but it's definitely worth mentioning.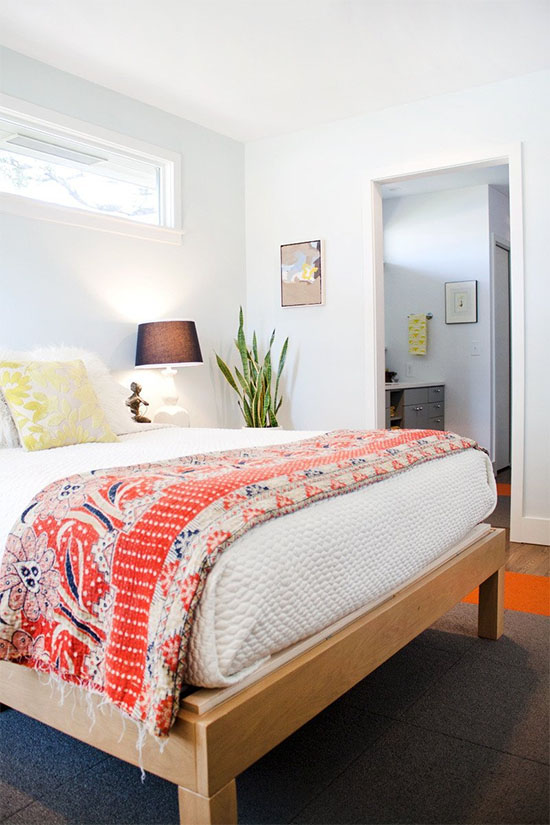 And last but not least, there's always a colorful, patterned quilt. I'm not a huge fan of the "typical" American quilts, but I do really like kantha quilts. I think what makes them better for me is that there are larger pieces of fabric quilted together, so there aren't as many colors and patterns competing for attention. 

Which of these options do you prefer? Speaking of beds, I'm SO glad it's (basically) the weekend. I'm so excited to sleep in, hang out with friends, and relax! Do you have anything fun planned?
1 / 2 / 3 / 4 / 5 / 6 / 7 / 8 / 9


Well, we're more than halfway through November and to be honest, I've already spent most of my fun budget for the month. Dumb...I should have waited for Black Friday. But I still thought I'd put together a wish list! And since I wrote that post yesterday about personal style, I decided to focus this wish list on style picks. A lot of these are more expensive than I'd usually feel comfortable spending on one article of clothing, but now that I'm trying to shop according to my style instead of following trends or buying things without a plan, I think it's more worthwhile. Okay, so it might take me a bit longer to be able to afford all the things on this list, and by then some of them may have sold out. But that's okay...there's no rush. I'll just keep chipping away at these items, and edit the list as I go. I already did a big closet clean-out this weekend and got rid of a bunch of things that were taking up wasted space. It felt so good! I think I have the New Year's bug early...I'm feeling very motivated to start fresh.

On my list: 1. Colorful patterned Keds / 2. A color blocked sweater / 3. Stripes and sparkle…yes please! / 4. Adorable patterned skirt--with pockets!! I'll take one in every color. / 5. A chic wool jacket with a hood? Count me in. / 6. Cute button-up in a fresh pattern - because plaid gets old sometimes. / 7. Leopard slip-ons! I already have leopard flats, so these are probably not necessary...but I still love them.
Plus, I also need a few good pairs of simple, well-fitting skinny jeans. Where do you go to get yours? 
P.S. It was not my intention, but this pretty much turned into a Boden shopping guide. Cuz once I got on their site, I wanted it alllllll. Do you shop there? I've never bought anything from them before, but evidently I need to start.
P.P.S. I also realized that none of these things look very fall/winter...but I think that's a good sign that I'm actually picking things that are true to me instead of just going along with what everyone else is wearing (plaid blanket scarves?! I keep seeing those everywhere and it makes me feel like I'm supposed to get one). Seattle is grey enough as it is, so I'm going to approach clothes in the same way I approach decorating: take the same color scheme that I love year-round and make it cold-weather-appropriate by piling on more layers. In the home, I add throws and blankets and accessories from nature (like my DIY acorn garland). In my wardrobe, I'll add coats and scarves and boots--but still in bright, cheery colors.
So that's my plan! What do you think? Do you know of any shops that I might like?


I'm pretty decisive when it comes to decorating--I can usually pick out what I like right away, and I feel like I "know" my style. But when it comes to fashion, I still feel pretty unsure of myself. What is my personal style? I don't feel like I quite have it pinned down yet. I often like what I see other people wearing on them, but when I try something similar, it doesn't feel right on me. When I was younger, I used to just follow trends...whatever all the cool kids were wearing, that's what I wanted to wear (ummm remember those American Eagle and Abercrombie graphic tees? Anyone?). But as I'm getting older, I'm not that interested in following fashion trends. Instead, I want to pinpoint what my own personal style is, so I can make better shopping decisions and build up a wardrobe that I actually love. Along with that, I want to stop buying things just because they're on sale, but be more intentional about my purchases. If I find something I love and it happens to be on sale, great--but I don't want the main reason I get something to be that it's a "good deal." As I'm trying to figure out my personal style, I thought it might be helpful to find some inspiration photos from some women whose style I admire.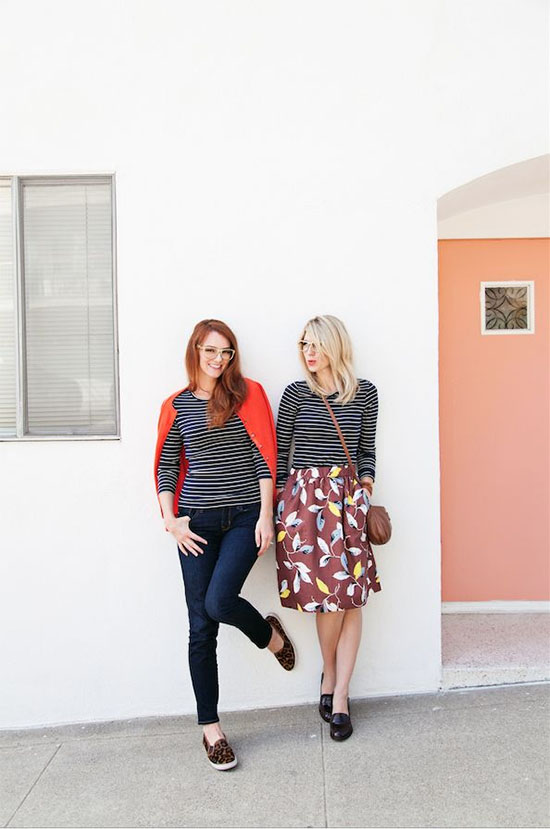 A lot of fashion bloggers are absolutely gorgeous and put together fabulous outfits, but I just can't see myself wearing them. Those Valentino rockstud pumps that everyone seems to have...they're just not "me." And I also can't see myself rocking a fur jacket (faux or not). So I decided to pull together some inspiration photos of outfits I'm drawn to...and can actually see myself wearing.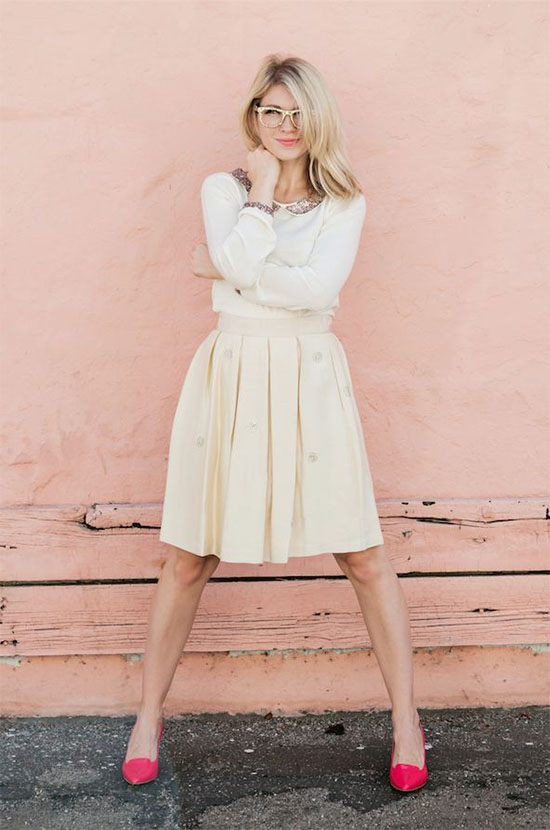 First off, I freaking love The Girls With Glasses. I recently came across their blog and every outfit they put together is perfect--the right mix between preppy and quirky, professional and fun. Here are a few of my favorites. I want literally everything in these photos, glitter glasses included.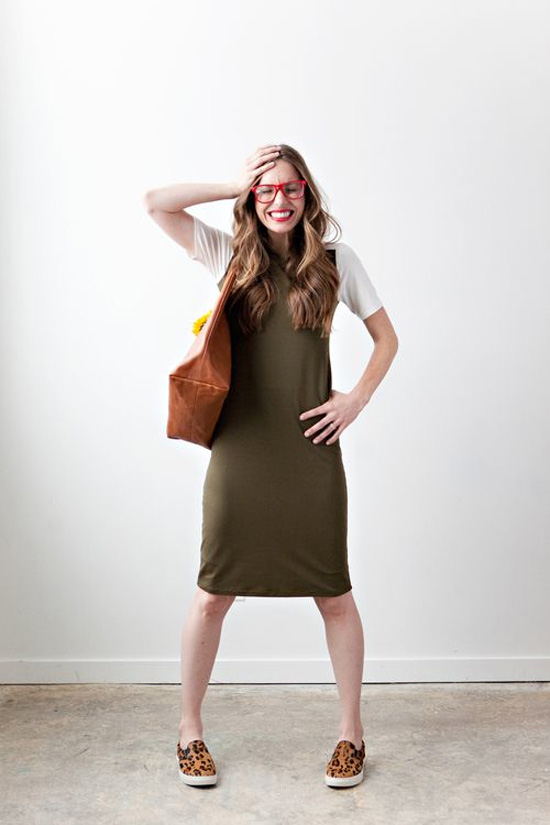 I also just found the shop Sonnet James and it's super cute. Their tagline is "play dresses for playful moms" but hey, why wait til you're a mom? I want one of their baseball tee dresses now!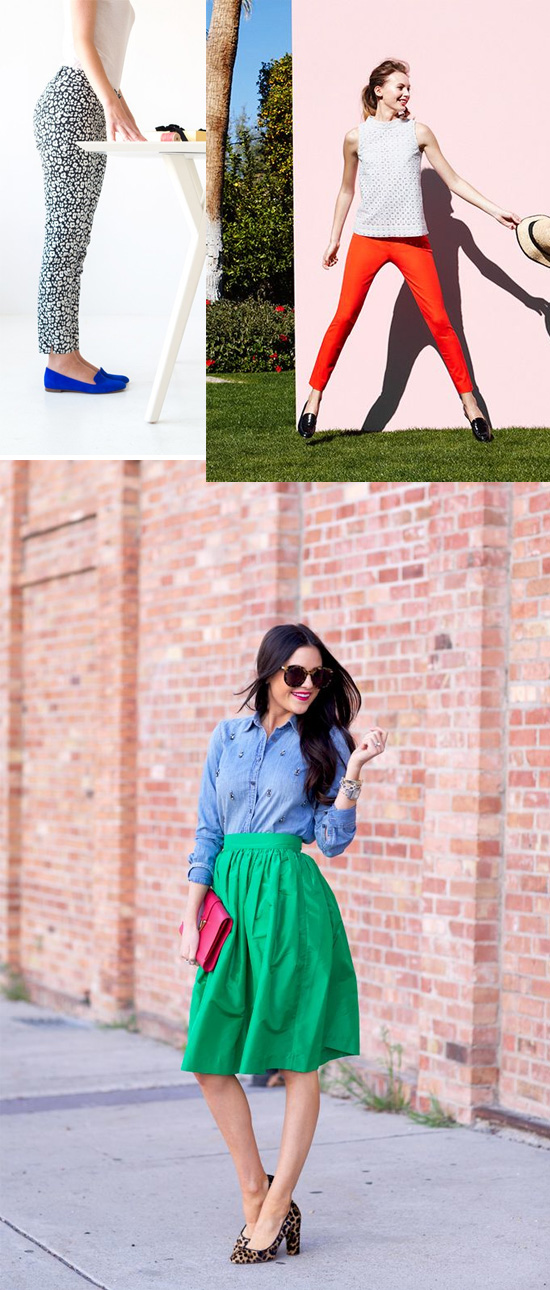 And here are a few other photos I was drawn to, with happy colors, whimsical patterns, and classic silhouettes.
Blue shoes / Red pants / Green skirt
I think one thing I'm noticing is that I need to buy more color and pattern. I have this tendency to think, if I'm going to buy something that's more expensive, I should get it in a neutral color so it goes with everything. So I always buy things in black, grey, cream and navy. But those colors aren't me--at least, not by themselves. I think that actually, how we decorate and how we dress should feel somewhat consistent. If I like bright color and fun patterns in my house (and I do), then it stands to reason that I'd also like to wear bright colors and fun patterns. Why not get a bright red blazer or an emerald green skirt? Why not get the shirt in the flamingo pattern? I'm going to try to remember this the next time I'm shopping and automatically reach for the black top. Plus, Ben always loves when I wear bright and cheery things…so I have a feeling he'll be on board with this plan!
Do you feel like you know your sense of style? Has it changed as you've gotten older? Do you have a consistent look, or do you like to experiment with different looks and trends? I'm super curious!

If you follow me on Instagram, you may remember these colorful acorns that I painted last month. Today, I thought I'd show you what I made out of them! I love bright, cheerful colors, so I don't do a ton of seasonal updates for fall (pink and teal work all year round, if you ask me). But I wanted to do something as a nod to fall. So I painted some acorns and tied them onto string to make a fun little garland. You can see the DIY instructions over on the Bali blog today!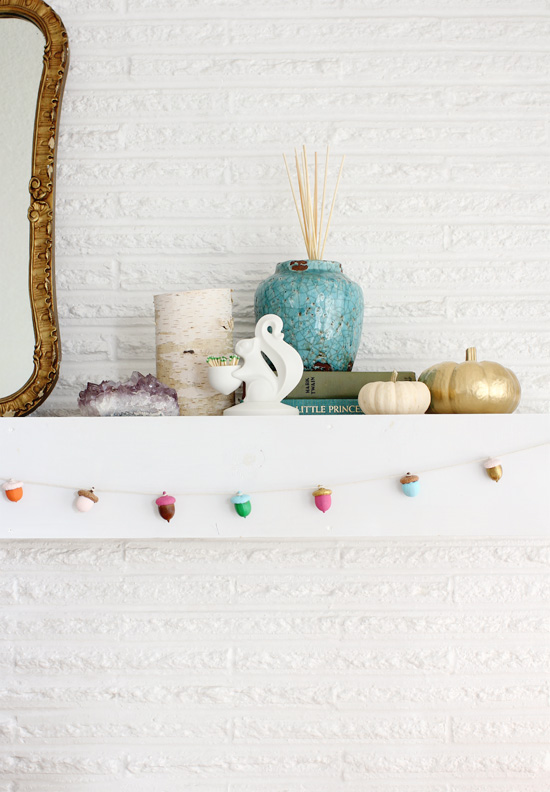 If your mind is already switching to winter/holiday mode, you can apply this same principle to anything, really--pinecones, twigs, magnolia leaves, etc. Add a little paint in your favorite colors and they'll feel more personal and "you-ish." I like leaving some parts unpainted, so there's a fun juxtaposition between the colorful paint and the natural color of the item.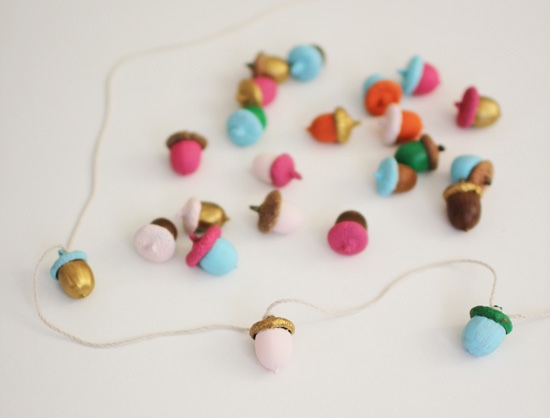 On my acorns, I left some caps and some bottoms unpainted, so there was a good mix. You could also paint leaves halfway up, paint just the tips of pinecones, or mix painted items with totally natural ones.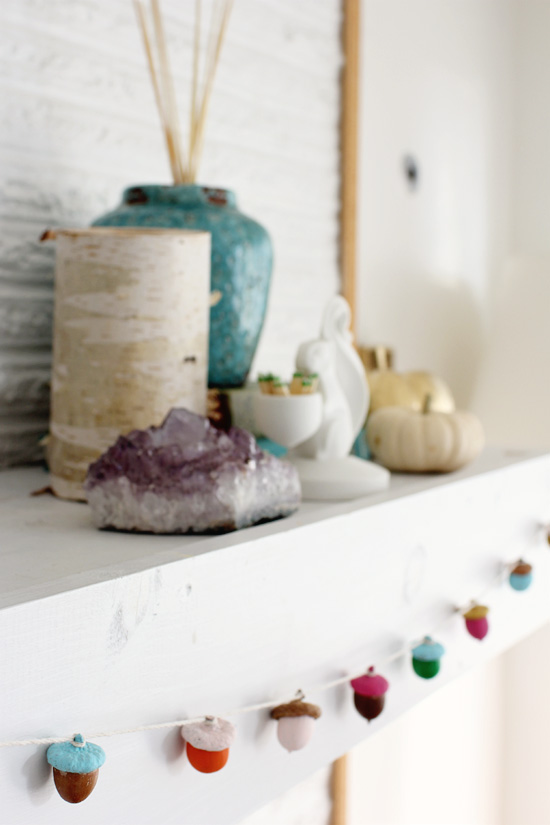 What do you think of my acorn garland? Don't forget to check out the full tutorial over on Bali.