So, Valentine's Day is on Sunday! You ready? In case the answer is a big fat no, I've rounded up some cute, easy, last-minute ideas, for everyone from your husband or boyfriend to your gal pals, coworkers, nanny...really, anyone. You could also combine several of these to make a fun, surprise-filled day from morning to evening!
1. Make/buy a latte and add a punny note.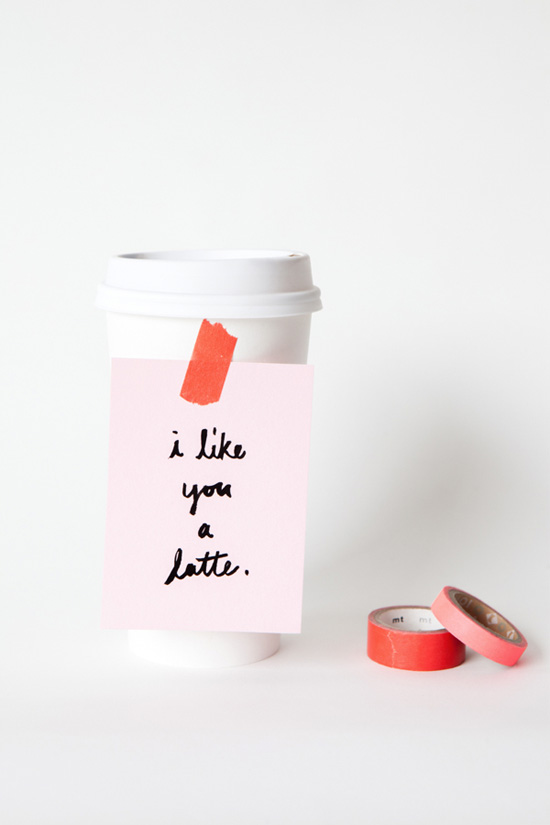 2. Serve up heart-shaped pancakes for breakfast.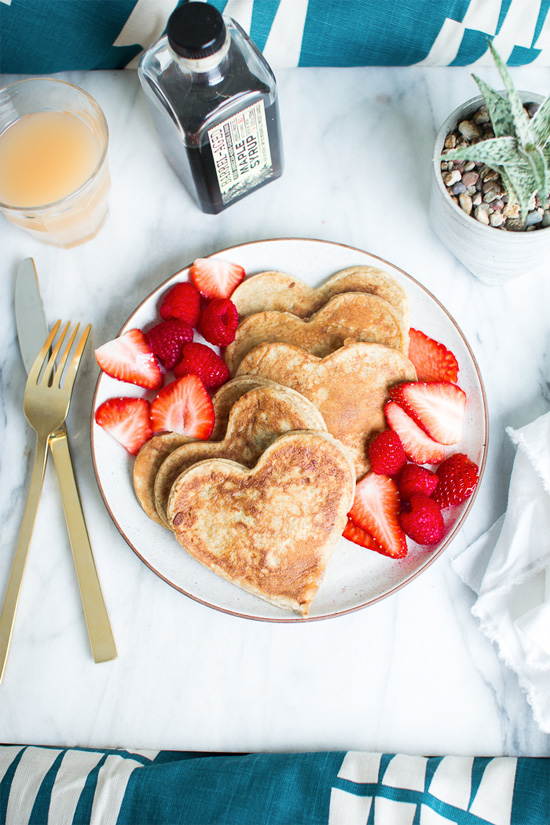 3. Write love notes on Post-its and stick them in the shape of a heart on your bathroom mirror or somewhere obvious.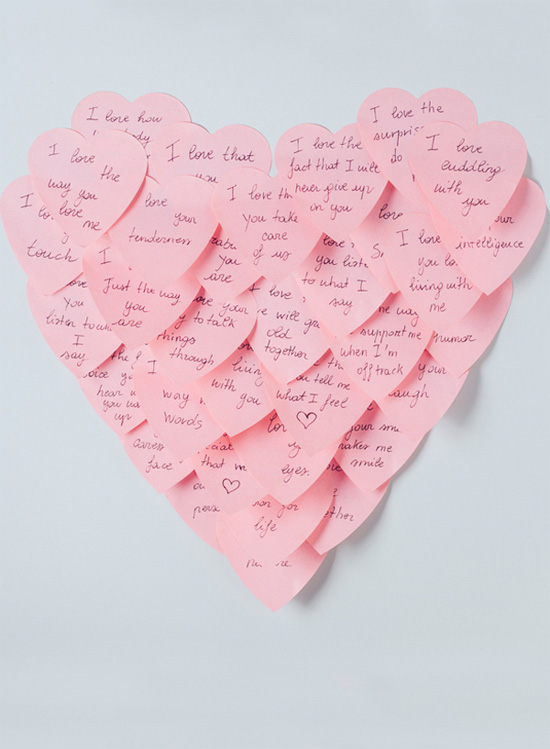 4. Print out these adorable cards and leave them around the house.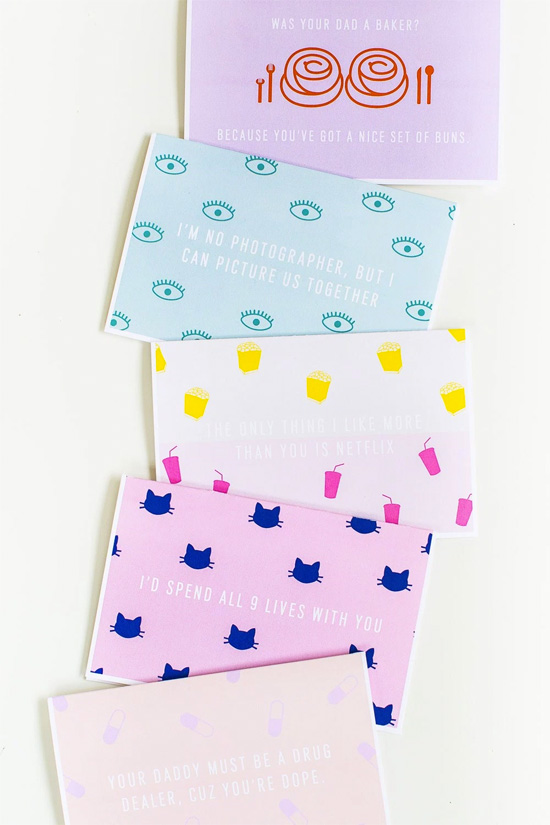 5. DIY these perfectly cheesy valentines for your girlfriends, with lip balm from the drugstore.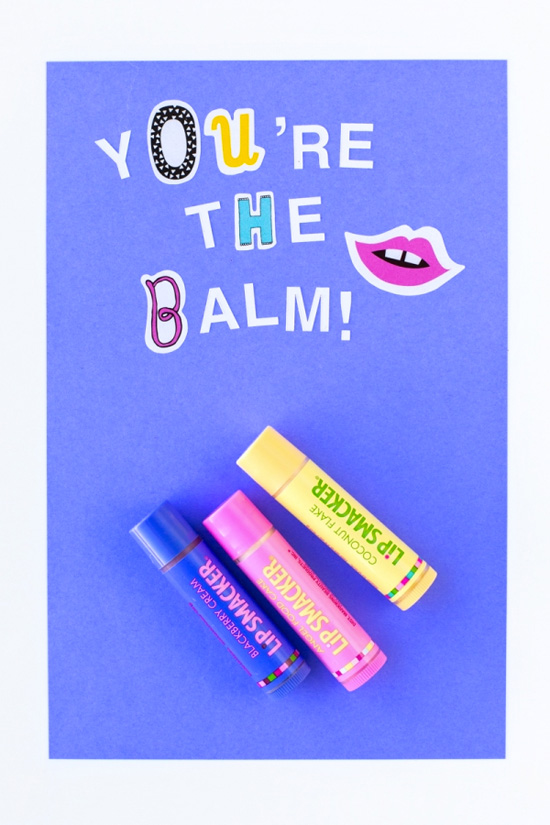 6. Make a bunch of mini-bouquets to give out, and wrap them with these Valentine's Day printables.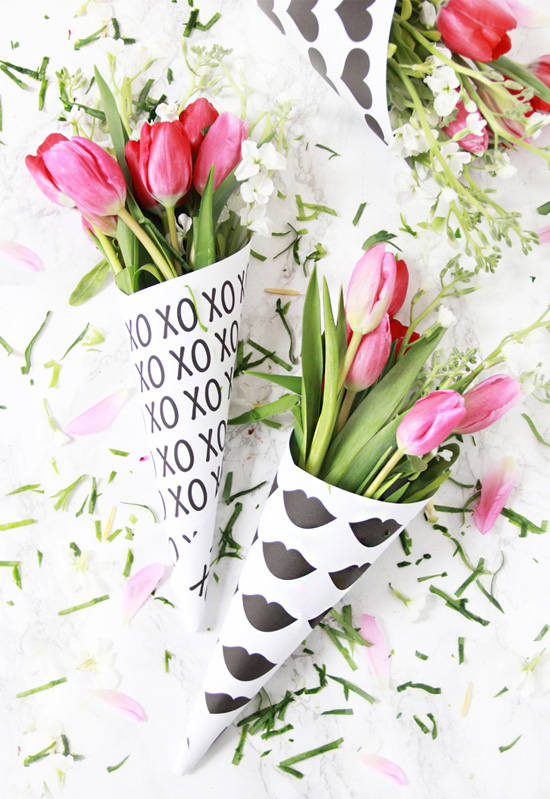 7. Create a heart backdrop with envelopes and tuck a love note inside each one.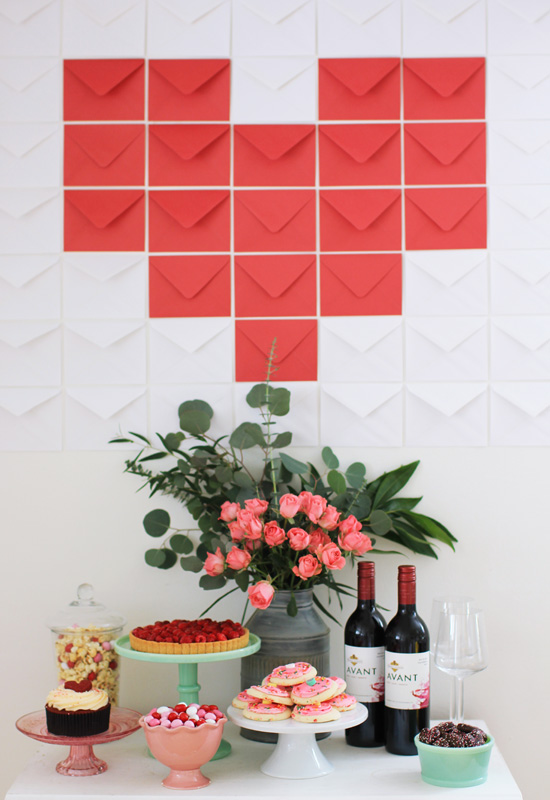 8. Order pizza for dinner and add a punny message to the top of the box. This would be even cuter if your favorite pizza shop makes heart shaped pizza!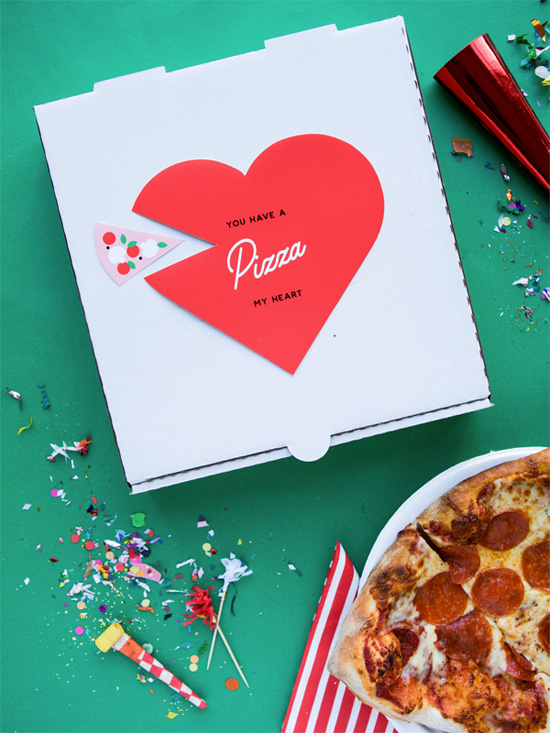 9. Personalize a Jenga game with love notes.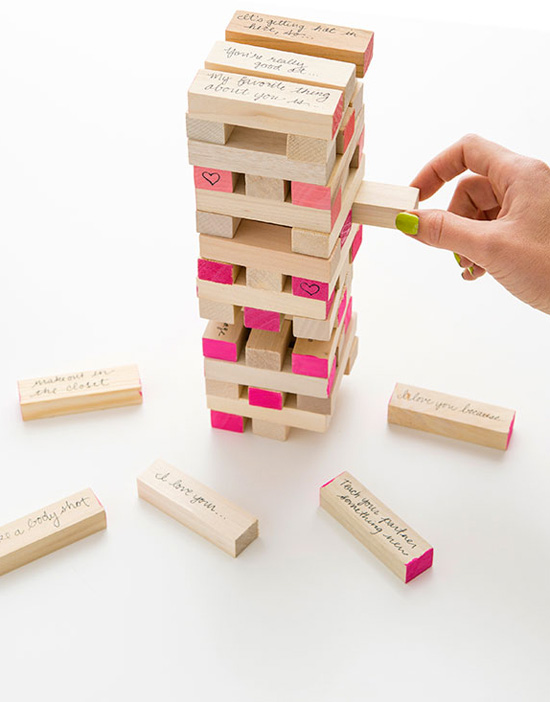 10. Bake/buy cupcakes and add these DIY heart toppers, made with bent wire.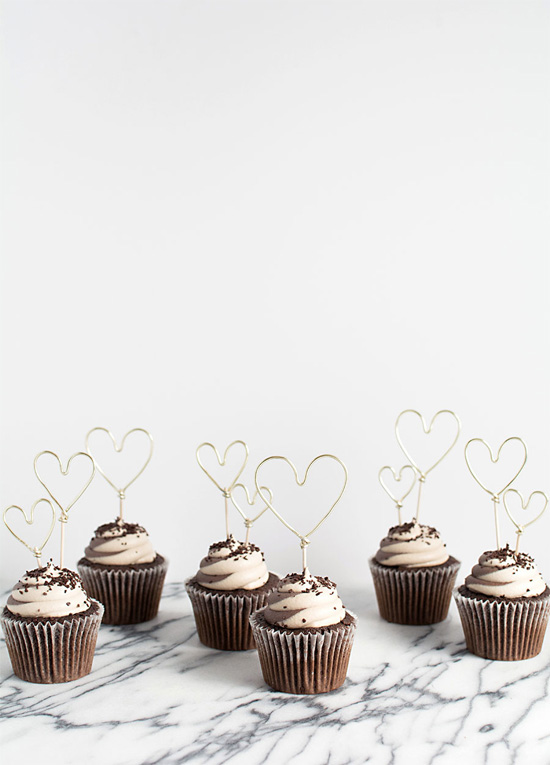 Plus, find more ideas in my Valentine's Day Pinterest board! Happy Friday, and have a great Valentine's Day weekend! xoxo


With Valentine's Day just four short days away, I wanted to share some quick and easy ideas I put together for Kendall-Jackson. Ben and I almost always celebrate Valentine's Day at home (I'd rather go to a nice restaurant some other, less crowded day). But that doesn't mean we don't do anything special! This year, I put together a Valentine's Day dessert table for him. It was really fun to set up, and I got almost everything at the grocery store. E-a-s-y. You could also do something similar with breakfast foods, so your valentine wakes up to a great breakfast in the morning!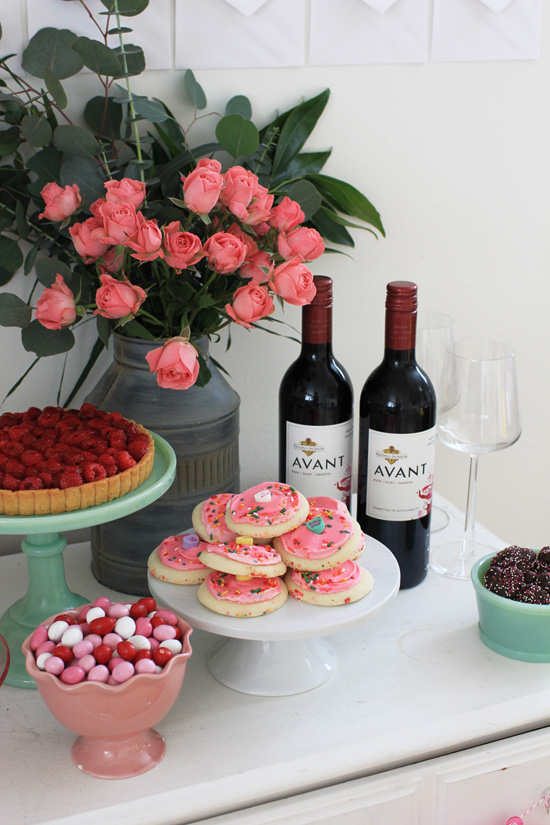 I kept everything fairly simple, from the decor to the desserts themselves. Instead of spending hours baking, I just added some extra touches to store-bought sweets to make them a little more personal. SO much less stressful! And while homemade treats are great, everyone has a few things they always want to get from the store (mine are kettle corn, shortbread, and toffee). Make Valentine's Day your excuse to indulge in them!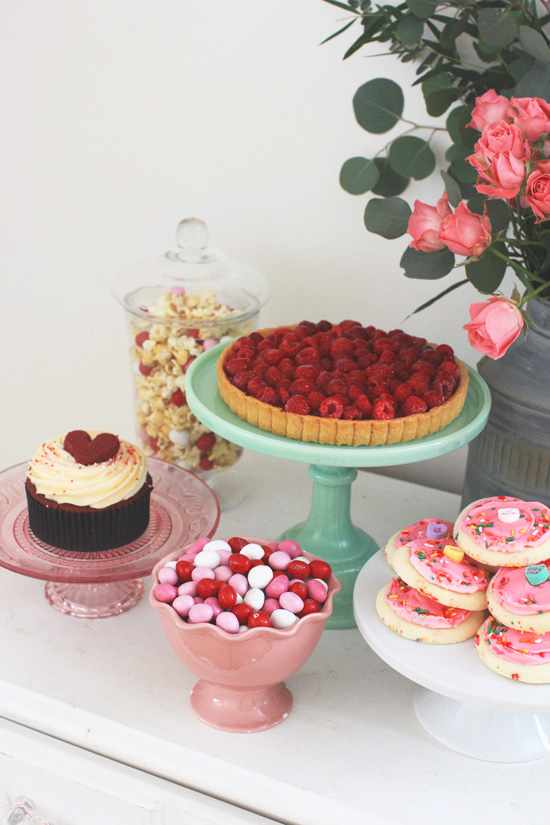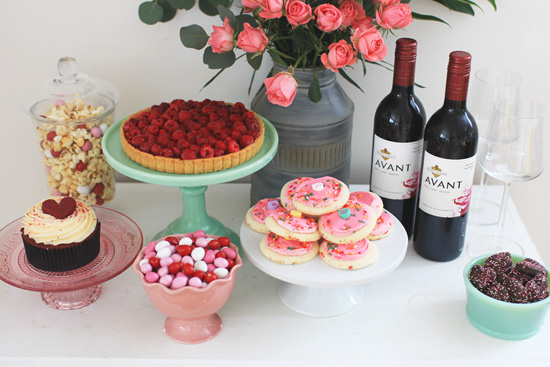 For wine, I went with K-J AVANT Red Blend. It has notes of raspberry, black cherry, spice and dark chocolate, so it was obviously the perfect choice for a dessert table.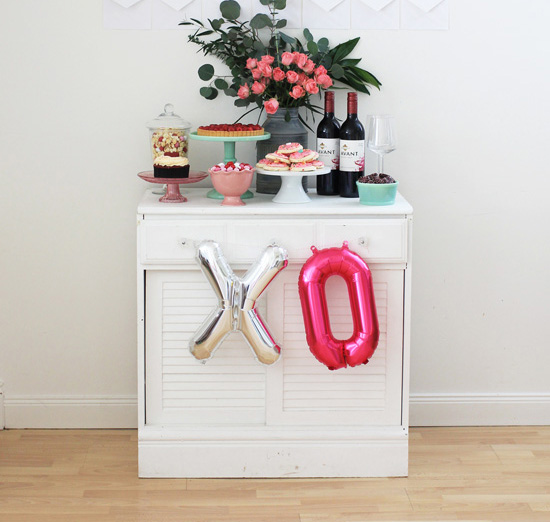 I also put together a fun backdrop idea that adds a special, personal touch...head over to the Kendall-Jackson blog to see what it is! I tried to keep everything really stress-free, for all you last-minute people. So you totally have time to make your own at-home dessert table and impress your sweetie!
What are your plans for Valentine's Day? And what's the most fun or creative way you've ever celebrated it? I'd love to hear!
Thanks to Kendall-Jackson for partnering with me on this post.
.

I'm a little late in talking about the Pantone Color(s!) of the Year...but hey, we still have eleven months left in 2016. And since I've done a post about every Pantone color since 2013, I can't really stop now, right? Luckily, I actually love the color choices this year (no need to convince myself like with last year's marsala!). In case you haven't heard, this year Pantone chose two colors instead of one, for the first time ever. Rose quartz and serenity are both beautiful on their own, but they also work together quite nicely. Pantone's executive director said, "Joined together, rose quartz and serenity demonstrate an inherent balance between a warmer embracing rose tone and the cooler tranquil blue, reflecting connection and wellness as well as a soothing sense of order and peace." Okay, some of that sounds like BS, but I have to agree--rose quartz and serenity definitely do give off some soft, peaceful vibes that I wouldn't mind having in my home! So I pulled together some inspiration for how to use these calming colors, as well as some Pantone-perfect products to buy this year.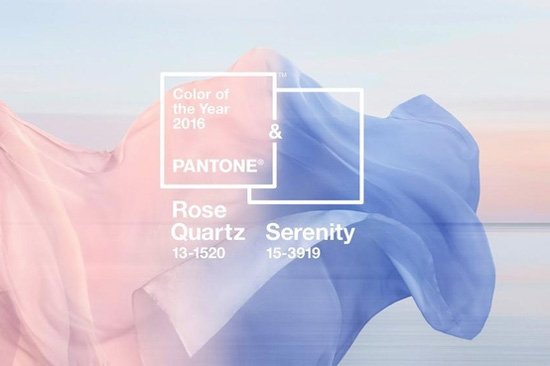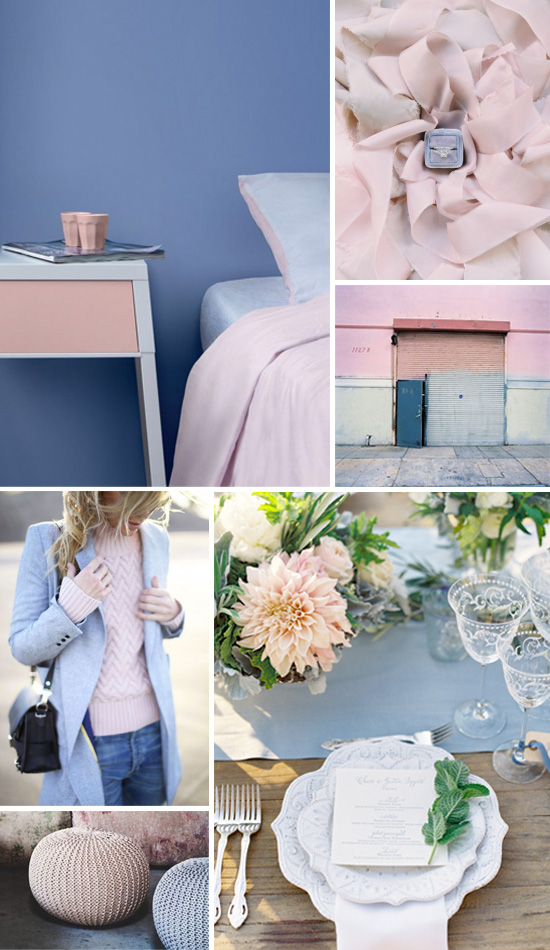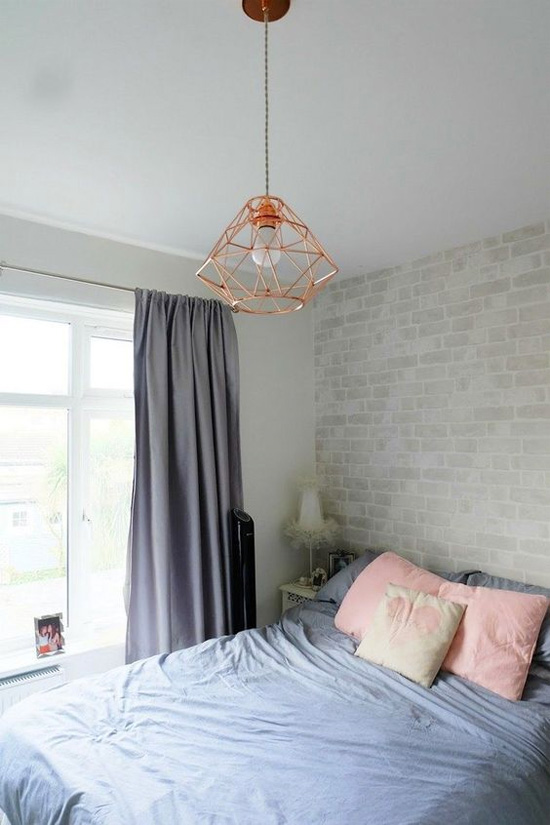 Inspiration photos: 1 / 2 / 3 / 4 / 5 / 6 / 7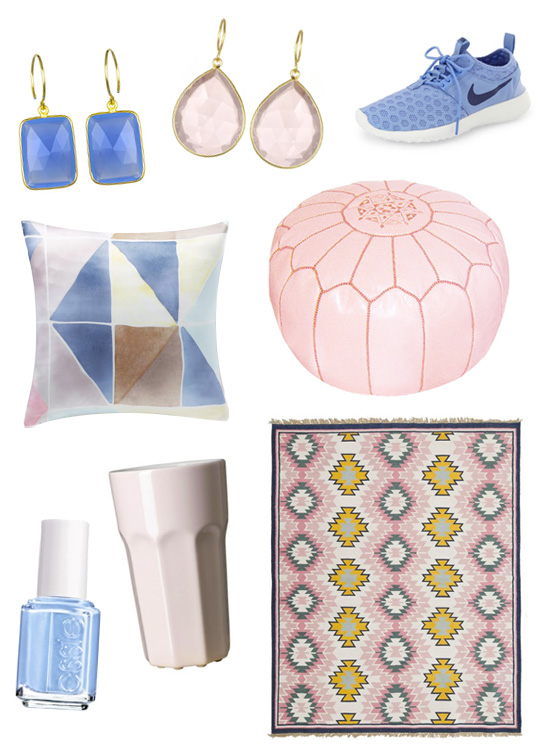 Product sources: Serenity earrings / Rose quartz earrings / Sneakers / Pillow / Moroccan pouf / Nail polish / Tumbler / Rug 
What do you think of rose quartz and serenity? Do you enjoy following Pantone's color choices? If so, you should also check out my most recent post on Bali Blinds. I wrote about one of the other colors Pantone chose this year--lilac gray for spring!
I've kind of dropped the ball on DIY projects lately. As I mentioned before, it's partially because our house is getting so full we don't really need any new decor, and partially because I don't have a lot of extra time to work on "just for fun" projects. But luckily, today's DIY is both practical and super easy--totally worth doing! I finished it in under 10 minutes (not counting drying time).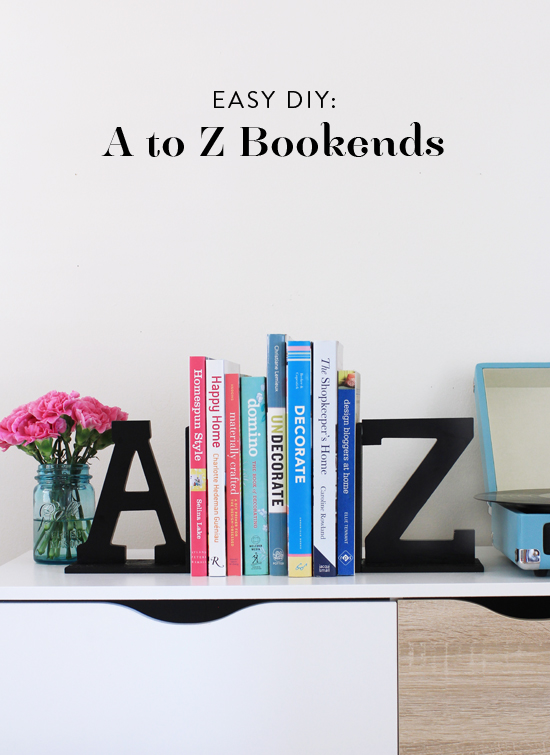 This month, all of the Michaels Makers were challenged to create something with Michaels' new Alphabet Soup by Make Market™ line of products. It's a pretty cool collection, with letters in every style and finish you could dream of! Wood, metal, acrylic, patterned fabric, and more...there were tons of options to choose from, but in the end I went with some simple black letters for my A to Z bookends.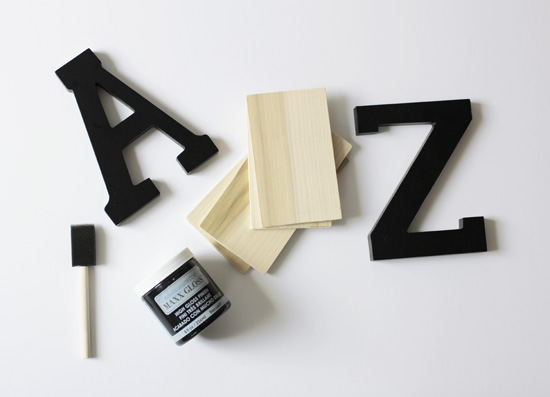 Once I'd picked out my letters, I cut some thin wood boards to size. I measured the length and height of the letters to determine where I should cut the boards. Then, I painted the boards with glossy black paint and waited for them to dry.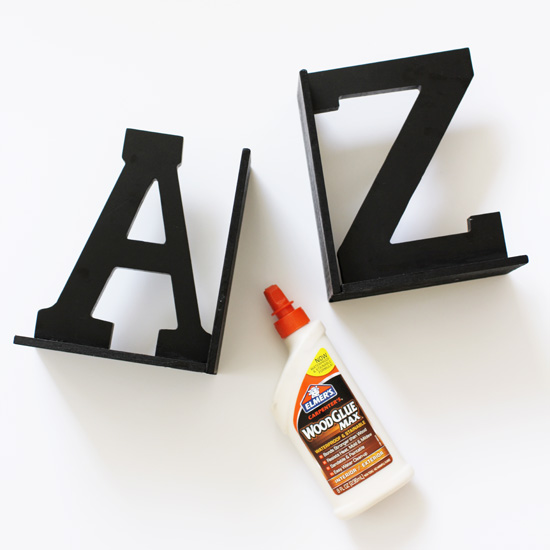 Next, I glued the boards together at a 90 degree angle, to form an "L" shape. Once the glue was dry and secure, I turned one of the L-shaped boards backwards and glued the "A" onto it, then glued the "Z" onto the other.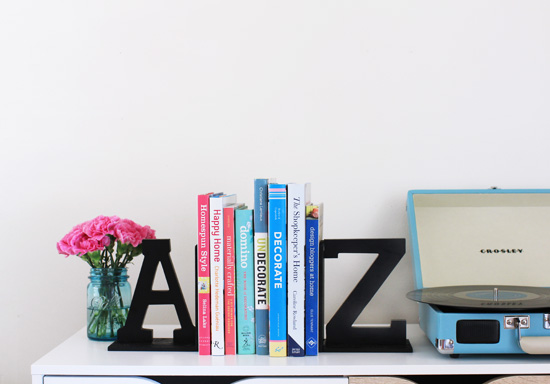 And that was it! Such a simple project, truly. I love the concept of "A to Z" bookends, but you could also use other letters or shapes to make your own! That's the fun thing about crafts...you're not beholden to what a store is selling, and you can design your project and personalize it to fit your style.
If you want more alphabet inspiration, check out the fun projects on Michaels.com and the other 49 Makers' ideas on The Glue String!
Thanks to Michaels for partnering with on this post!