You guys! As of today I have been blogging for two whole years--whoa. See my very first post here (published on October 28th, 2012). If I had my stuff more together, I would have planned an awesome giveaway for you all…but I do not have my stuff together and I literally just realized my blogiversary was coming up yesterday. Sorry, guys!! There is something blogging-related that I had planned to talk about, though. It's not nearly as fun, but still...I would love to get your thoughts on the topic. Warning, though: this post is a long one!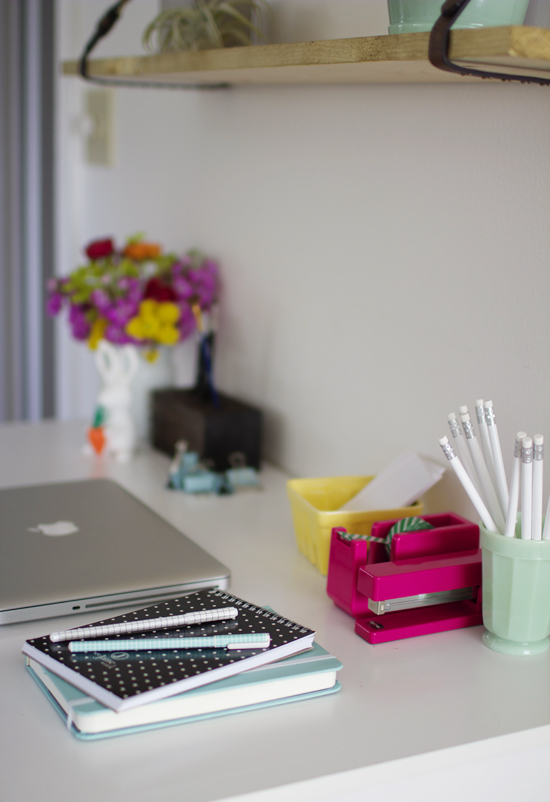 Last week, someone left a comment on this post that kind of surprised me and got me thinking. Here is what she said: IT'S NEVER OK TO POST AN IMAGE WITHOUT ASKING PERMISSION FROM THE OWNER. I dont care if you link to them you MUST ask permission or else you are infringing on copyrights! So obviously linking the pin or tumblr where you found it is even worse! You might want to read this if you dont believe me.
Like most bloggers (pretty much all of us, I'm guessing), I did not read a how-to manual before I started blogging, nor did I take classes in it or anything like that. I basically just looked at what other people were doing and figured it out as I went. When I started, it seemed like what everyone did was simply link to the original source when they posted a photo that wasn't theirs. So I did the same thing...and still do. Sometimes, I reach out and get people's permission to feature them (like for house tours, interviews, or when I do a post that's about one person's work--for example, the Gemma Correll post I did last week). But for inspiration posts and color palettes that feature a mix of photos from all different people, I just track down the original sources as best I can and link to them at the bottom of the post. I've had a few people email me to update the links, and once, I had someone ask me to take down her photos. I figured as long as I complied with those requests right away, that I was covered.
Apparently not. This girl's comment, and the post she linked to, have made me feel uneasy and kind of sad about the future of blogging. Part of what I loved about blogs when I first started reading them, was the sense of community and discovery. Most of my favorite blogs didn't just post photos of their own homes…they also shared other people's homes, forecasted trends, and introduced me to new people to follow, new stores to shop at, and new ideas to incorporate into my own home. Many of them did share photos of their own lives, but these more personal posts were mixed in with other inspirational posts.
I've always felt that the magic was in the mix, and I've tried to do something similar here. Sure, I would like to post more original content (if only our bodies didn't require sleep!), but even if I did blog full-time, I wouldn't want to post only photos that I took myself. You see, I like the inspiration posts. I don't post them because I'm too lazy to take my own photos, but because I think it's fun and interesting to see what other people are doing and talk about what I'm seeing out there in the design world...trends, common threads, and clever ideas. If I only shared photos of my own house every day, I'm pretty sure you would get bored of it.  I would get bored of it.
One of my favorite bloggers, Holly of Decor8, wrote a post on a similar topic awhile ago, so I tracked it down. Here's a little bit of what she said…because she's much more eloquent than me:
"I've long been a champion of sharing and not so much in support of this new idea that every blogger must only blog custom content with projects and photos produced by them. Some blogs only accept exclusive content. Other blogs won't share what another blogger posted no matter how much they loved it because they are scared to upset someone or appear like a copycat...
How can we influence something or adopt it if we fear writing about it because another blogger already covered it?  How can we discuss trends if no one has images to share supporting those discussions unless they take these images themselves – and because they don't have the images they clam up? Many voices combined can start a wave of change; launch a new idea, etc. To be innovators, we have to share our ideas with our tribe and our tribe, in turn, must share with their tribe, and so on.  This is how popular trends are kick–started.
What made us strong should be embraced still: This is why blogging became popular in the first place. We talked, we shared, we made noise. If we all become fearful or run our blogs like they are magazines where only exclusive content is featured and we refuse to share something another blogger covered, what will that mean for blogging?
We aren't magazines. We don't need to be. We are in our own class and that is how it should be because we can spontaneously share and create a very specific energy that can only be shared spontaneously. Planning out every post, organizing shoot days and complicated videos for every single post, and constantly stressing over "exclusive content" and "columns" can really hold lots of bloggers back...I'd say that in the end, we should strive to share in a way that is considerate and fair to others while also opening up the way for conversations can take place. Link back, credit photographers, credit the source if you know it, shoot your own photos if you can but use others with permission when you can't, talk about topics others may be talking about. SHARE!"
I fully agree with what Holly says, and I know that for myself as a reader, I feel very sad about the idea of blogs becoming islands of "original content," ignoring what everyone else is doing. I do understand the importance of giving credit where credit is due, and I'm going to start emailing for permission before sharing any photo. I'm thinking of going back through all my past posts and emailing people for permission on those too, just to cover my bases (I don't want to get sued, after all). But the thought of that makes me as a blogger sad…it means so much more of my time (which is already very limited) will be spent emailing people, following up with those emails, and waiting to hear back…rather than being able to write a post the night before and focus on what's inspiring me in the moment.
I also feel sad if bloggers in general get too scared to share other people's content. It makes me happy to see my photos on Pinterest or on other blogs…after all, my goal is to inspire people! Sure, if I see a photo that's miscredited or not credited at all, I would probably send an email asking the blogger to link to At Home in Love. But as long as images are properly linked, it makes me feel honored to see them around the web!
How do you feel about all of this? Does it bother you to see your images shared on other blogs if they haven't asked for your permission first? Do you ask permission before you post anyone else's photo? Or do you only share your own photos? I'm very curious to hear how everyone else approaches this.
Sorry so long!
P.S. Yes, the photo I included is my own. It's from this post.


The rain has started in Seattle, which means there's nothing I feel like doing more than curling up inside with a mug of hot apple cider and a book! I picked up Dark Places
 at our local bookstore over the weekend, and am excited to start reading it this week. It's by the same author as Gone Girl
, which I really enjoyed. I posted this Instagram yesterday, and got some great suggestions for what to read next. So today, I thought I'd do the same thing here. What have you guys been reading?? Any good books you'd recommend?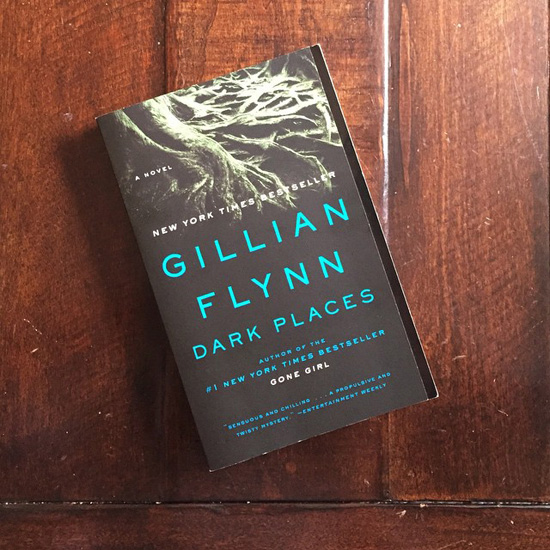 Here are a few of the books I've read lately…plus a few movies for good measure. Cuz let's be honest, I've watched a lot more things than I've read over the last few months.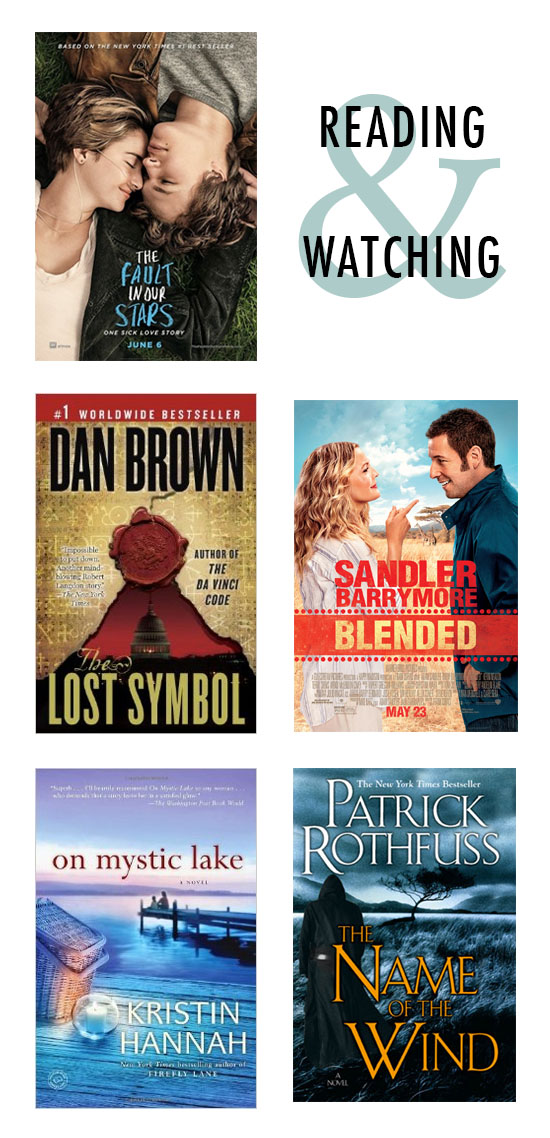 1. The Fault In Our Stars
: It was soooo good, you guys! Ben refused to watch it with me, so I was all by myself on the couch with a bowl of popcorn and tears streaming down my face. / 2. The Lost Symbol
: I read this one mostly because I found it at the little free library by the beach near our house. Do you guys have those little free libraries where you live too? They're awesome. To be honest, I didn't love this book. It was interesting, but not nearly as good as The Da Vinci Code
 (although, to be fair, it's been years since I read that). / 3. Blended
: We randomly rented this from Redbox a few weeks ago and I didn't expect much, but it turned out to be really cute and funny! I liked it a lot. / 4. On Mystic Lake
: I love anything by Kristin Hannah! Don't be scared off by the cheesy covers. / 5. The Name of the Wind
: I read this one after a friend recommended it and let me borrow her copy. I probably wouldn't have picked it out on my own, so I'm glad she told me about it! I loved it, and already read the sequel The Wise Man's Fear
, as well. It reminded me of a grown-up version of Harry Potter.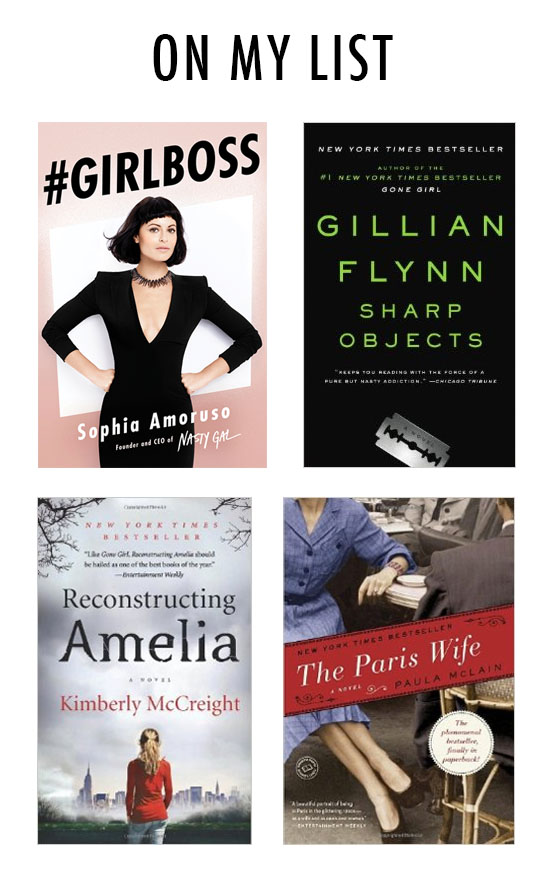 And here are a few that are on my list: 1. #GIRLBOSS
: I've been seeing this book over and over again in my Instagram feed. So I figure, if a bunch of women that I admire are reading it, it must be good, right? Plus I'm a sucker for a pretty cover. / 2. Sharp Objects: This is Gillian Flynn's first book--might as well read 'em all! / 3. Reconstructing Amelia: This book looks interesting, and it was recommended on Instagram.
 / 4. The Paris Wife
: This was another recommendation from Instagram--about Ernest Hemingway and his wife.
SO, what have you been reading and what's on your list to read next? If you haven't had a lot of time for books lately, have you seen any good movies or shows?


Happy Friday, ladies! (and gents?) Hope you all had a great week and have fun plans for an even better weekend. We haven't done a lot of typical "fall activities" yet this year, so tomorrow we are planning to go up to Bellingham by way of Chuckanut Drive. It's supposed to be gorgeous with all the leaves turning color. Then we'll hang out in Bellingham for awhile, and I want to go to an apple orchard while we're there. Fellow Washingtonians, do you know of any specific activities, shops, restaurants, or farms we should visit while we're up in Bellingham?? Or places in the Seattle area for future reference? I'm always up for suggestions. Now, on with the links from this week. Enjoy!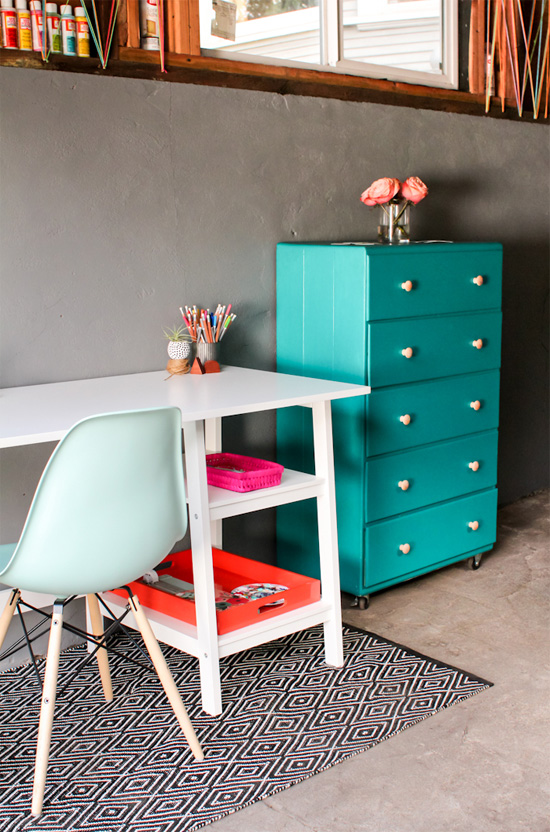 1. My all-time favorite link from this week was The Crafted Life's garage makeover. OMG, she really did it. She turned a nasty garage into a totally inspiring and beautiful space that I would love to spend time in. Ten clapping hands emojis for Rachel...maybe more!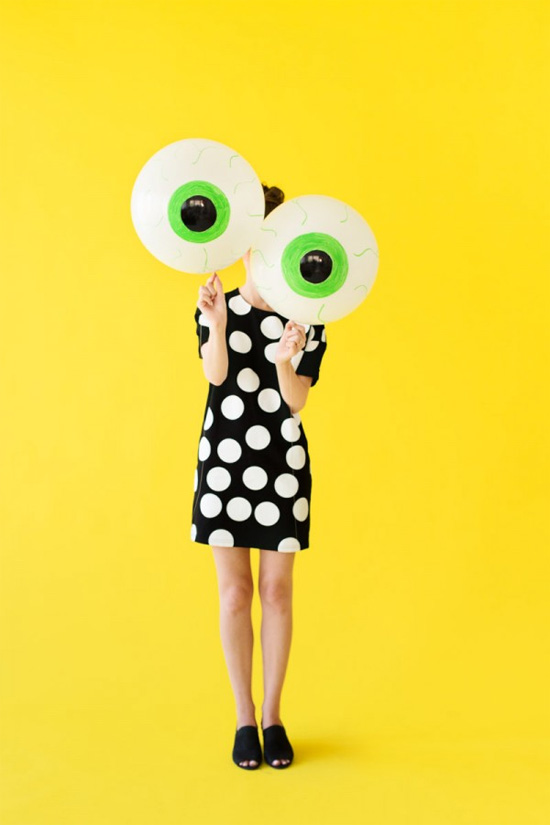 2. These eyeball ballons by Studio DIY are the perfect mix of cute and creepy for Halloween. Eye love 'em!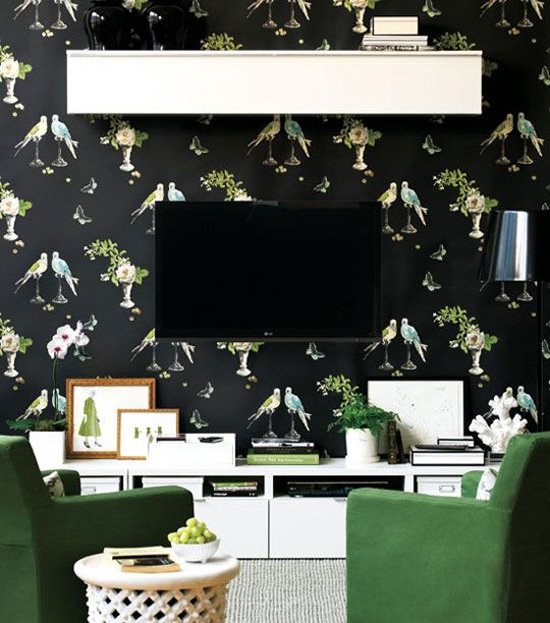 3. I shared some ideas for how to incorporate your TV into your decor seamlessly on Bali Blinds.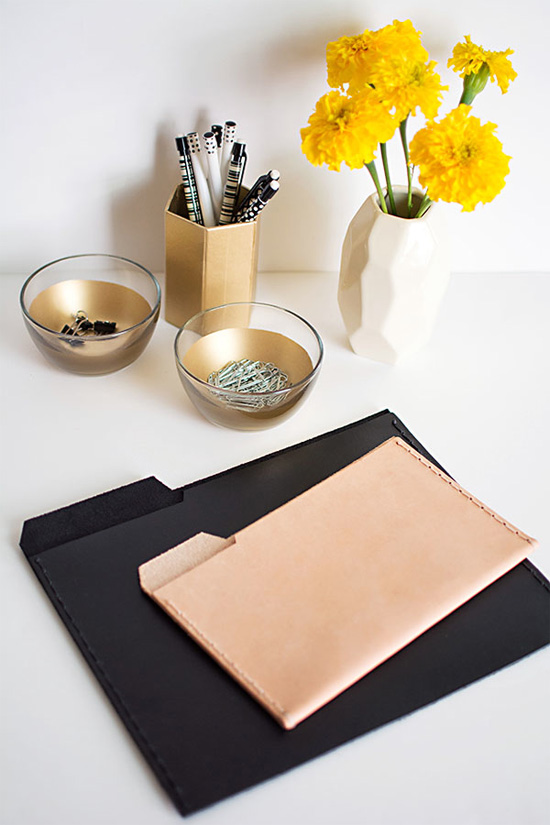 4. These DIY leather file folders by Homey Oh My are absolutely beautiful. I They'd be great as tablet cases too! Christmas gifts? Too soon??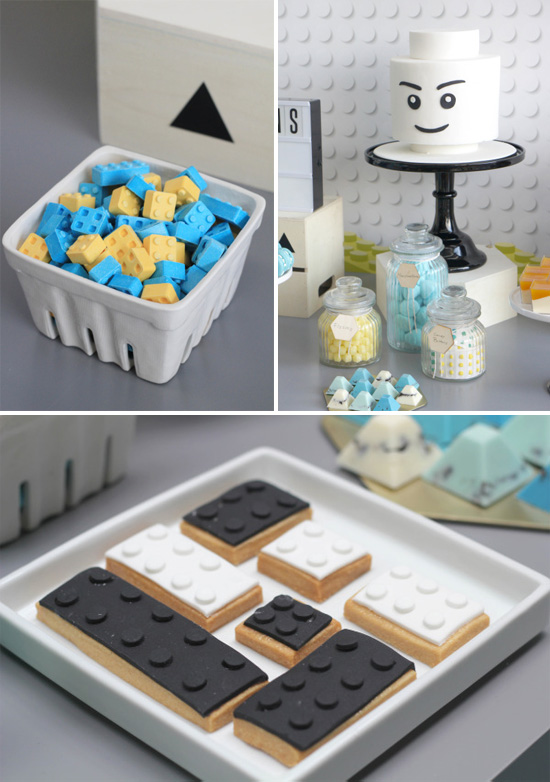 5. I don't have any kids, but I do think Legos are pretty cute...so when I saw this modern Lego birthday party on SMP Living, I was totes a fan. Everything about it is awesome.
6. And last but not least, I fell in love with these colorful paper plants, found on Patchwork Harmony. Do you recognize the monstera leaves? All my fellow black thumbs...this could be our solution! Paper plants for all.
Have a great weekend everyone! Get outside and do something fun :)

Over the weekend, I stumbled across the hashtag #SundayPunday on Instagram and promptly lost about an hour scrolling through it and chuckling to myself. I already showed a bunch to Ben, which he greatly enjoyed tolerated. One of my favorites: "dude, that camping trip was in tents." Ha! But what's even better than a great pun is when you find one that's adorably illustrated as well as funny. And that holy grail combo can be found in the work of Gemma Correll. I seriously LOVE all of her illustrations! Gemma went to art school in Norwich (England) and has worked for an impressive list of clients, including Hallmark, The New York Times, Oxford University Press, Knock Knock, Chronicle Books and The Observer. Besides being a talented illustrator, she is super funny. Even her About Me page cracked me up--especially the section "What other people are saying about my work." See for yourself!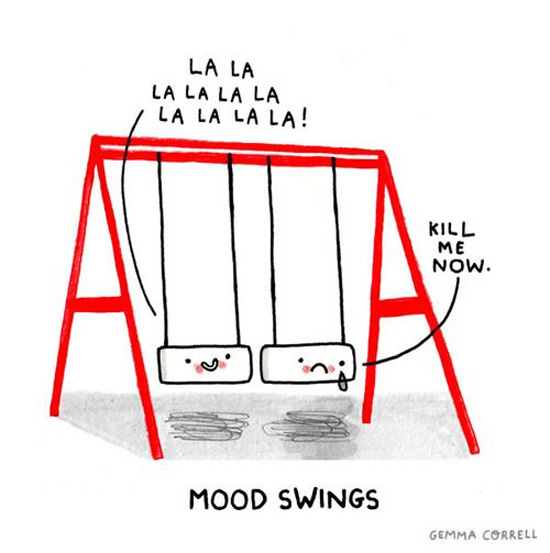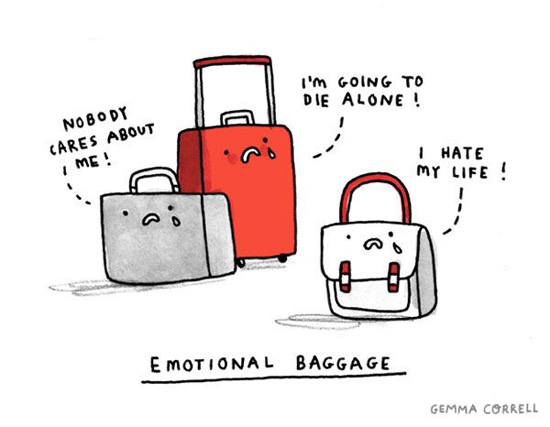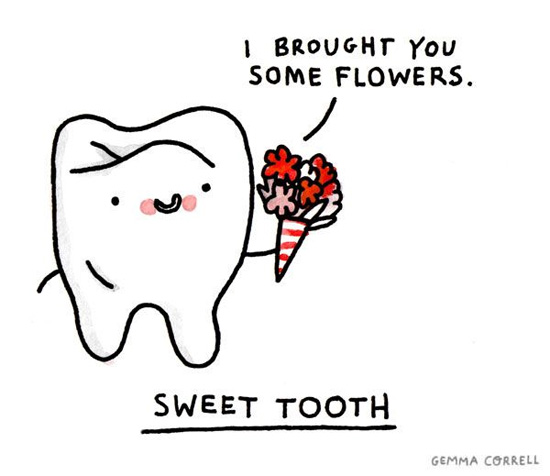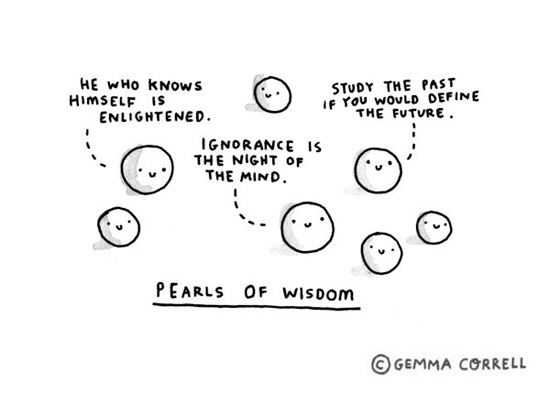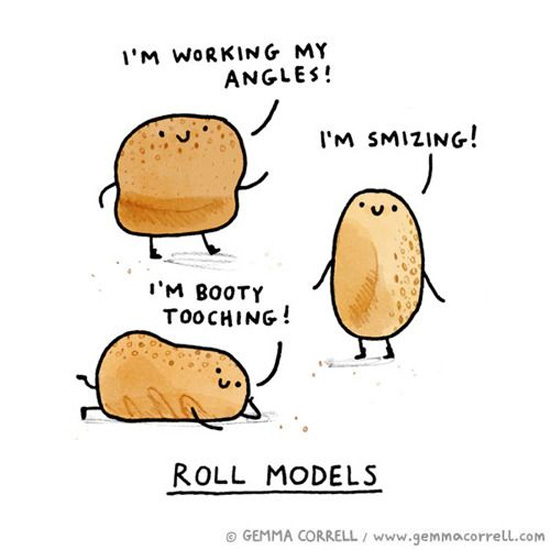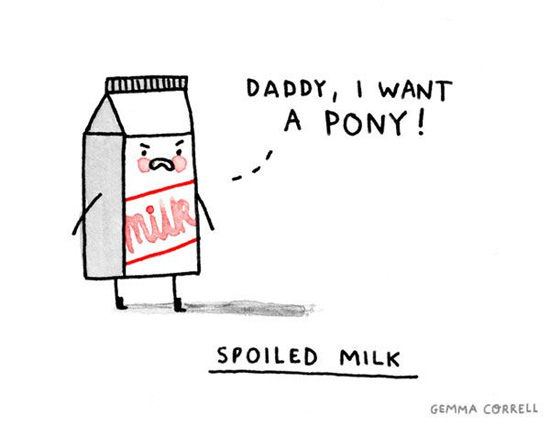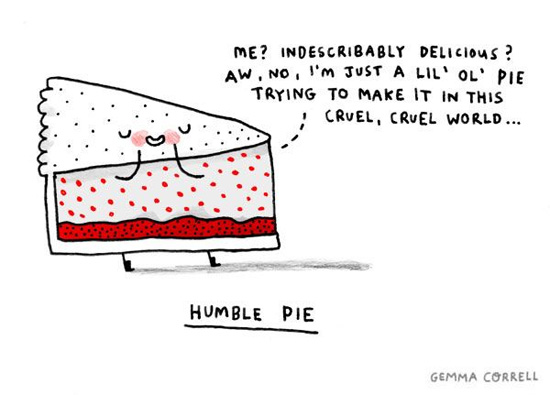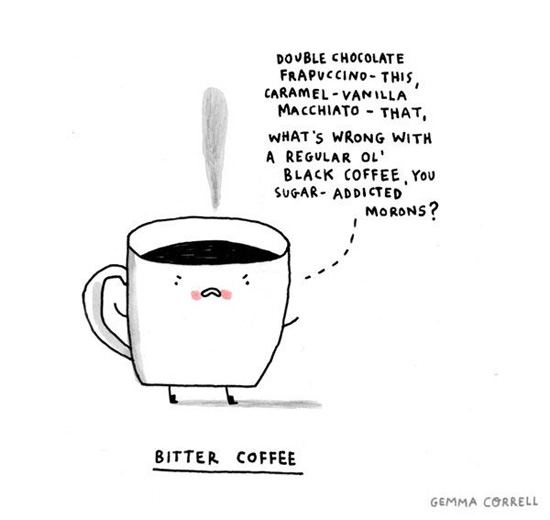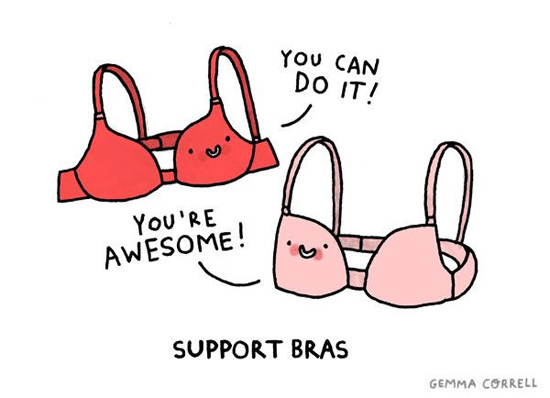 Oh my gosh, they're all so cute, amiright?! Which one is your favorite? I love them all, but I'm particularly fond of the "roll models." Especially the smizing one…too much cuteness to handle.
All images via Gemma Correll. Also check out her blog.